Are Goodyear Wrangler Tires Good for Off-Road?
Goodyear Wrangler tires are among the biggest names in durable, weather-resistant, and all-terrain car equipment. With the right fit, your vehicle can handle mud, dirt, and snow. However, some Wrangler tires handle off-roading much better than others.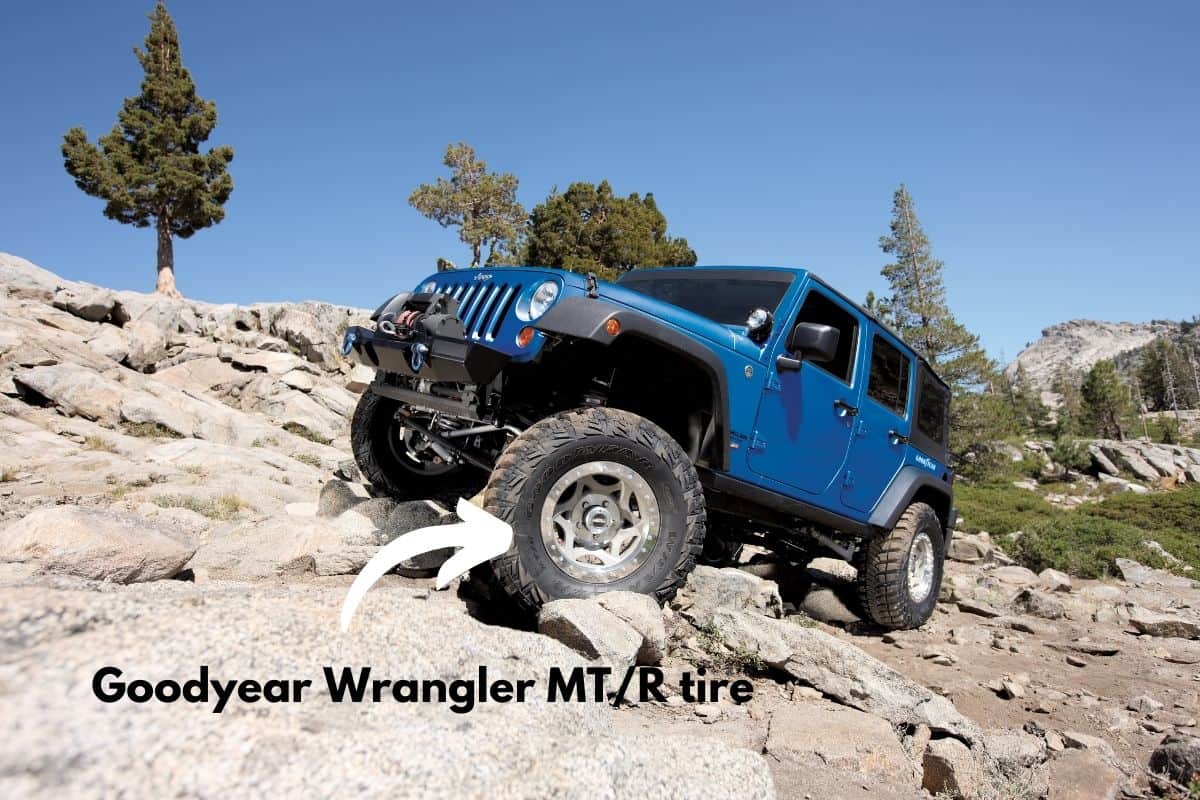 Here's the quick answer: Yes, Goodyear Wrangler tires work well in off-road situations. Although, I suggest you invest in the exact tires that suit your climate, terrain, and weather expectations. Performance varies among Wrangler tires, so identify the best ones for you.
In this article, I will list some of the best Goodyear Wrangler tires for off-roading. I'll also discuss which ones to avoid and address other questions.
What Makes a Tire Ideal for Off-Roading?
Before listing some of the best candidates, it's critical to understand what makes a tire a good off-road option.
Toughness
New standard car tires can handle around 50,000 miles without damage. After that distance on a road, they begin to break down. However, on rough terrain, standard tires break down much faster and risk puncturing.
All-terrain tires need a higher degree of toughness than stock varieties. To this end, many Goodyear Wrangler tires are enhanced with Kevlar and rubber compounds. A durable composition helps wheels resist leaks and slashes during extended off-road periods.
Traction
Traction is what allows tires to grip soft, slippery, and jagged terrain. Ones without enough tracking fail to clutch the surface as they turn, causing a vehicle to stall without moving. High-performance treads with large grooves also resist chipping and other damages.
No tire is truly all-terrain without having better traction than stock tires, but some are better suited for certain ground like snow and mud. I suggest looking at models that suit the type of terrain you most commonly drive on or plan to drive on.
Rim and Sidewall Protection
While the treads of a tire absorb the bulk of the impact of terrain, other parts of the wheel aren't as strong. The rim and sidewall of stock varieties are made of thinner rubbers that sharp, rocky ground can pierce and damage. That's why an off-road tire needs protection for these areas.
Some Goodyear Wrangler tires have Durawall, which is technology protecting the tire's sidewall. Other kinds have rim protectors that guard the rim against impacts from curbs and terrain. I think any worthwhile off-road model should have these components.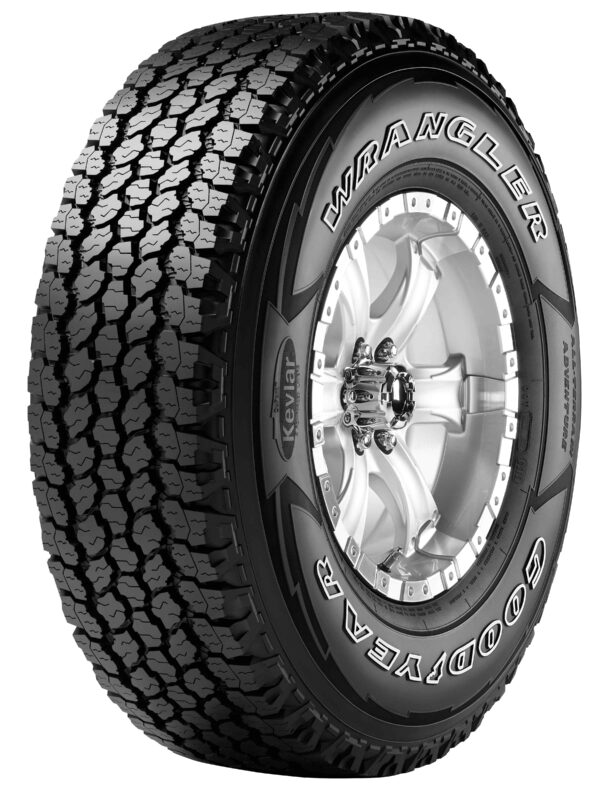 Weather Resistance
Lastly, off-road tires need weather resistance. When you are off-road in the rain or snow, it can make traction slick and ineffective if your wheels aren't well-equipped. Additionally, many types of all-terrain motorsports like mud bogging require wheels that can handle moisture.
Many models like the Wrangler Workhorse have the grip and control to navigate wet, muddy, and snow-covered terrain without slipping. If you live somewhere cold or want to go off-road on rainy days, I highly recommend weather-resistant tires.
Which Goodyear Wrangler Tires are Best for Off-Roading?
Now that you know what tire qualities make them ideal for off-road driving, here are four of the Goodyear Wrangler varieties that fit the bill. 
The SilentArmor is an extremely strong, durable tire that handles off-roading smoothly in any weather.
Specs:
Materials: Enhanced rubber, Kevlar, Durawall, Rim protector
Traction: Open tread pattern with ridges for wet ground
Warranty: 50,000 miles with a 30-day pledge
The name SilentArmor comes from how quiet these tires are. Their thick materials not only climb over terrain smoothly but also absorb the shock and sound from doing it. This makes your ride a lot quieter while enjoying the strong quality.
The SilentArmor is also snow-proof. The high-powered ridges on the treads grip slippery surfaces easily, making winter traversal effortless.
Each tire comes with both a standard warranty and a 30-day pledge, allowing you to swap them for another set if you aren't satisfied. Although they're expensive, I highly recommend these wheels. They're durable, universal, and can take you anywhere.
Last update on 2023-03-27 / If you click this affiliate link and make a purchase, we earn a commission at no additional cost to you.
The Wrangler Workhorse series is a cheaper alternative to the SilentArmor with a unique tread design that excels at gripping snowy ground.
Specs:
Materials: Two-ply polyester casing with steel belts
Traction: Open, rectangular treads with three-peak mountain snowflake designation
Warranty: 50,000 miles with a 30-day pledge
While these tires don't benefit from the pierce resistance of kevlar, they are an affordable option that will still last 50,000 miles under normal conditions. They make quick work of gravel, dirt, and snow. The Workhorse tires also perform well on wet ground.
However, since the tread grooves are thin, these tires don't do that well on jagged, rocky terrain or climbing. If you try them out and don't like the ones you've chosen, swap them out within thirty days.
I think these are great choices for a low price. Tires this cheap usually don't come with warranties and pledges, so it's easy to see why they're a top pick.
The Goodyear Wrangler AT/S has a unique feature that funnels out liquids and coagulates as your car runs off-road. At a fair price, it is a viable middle-cost option for all-terrain travel.
Specs:
Materials: Polyester cord body with steel belt reinforcements
Traction: Wide, deep, lateral grooves with dual-tract lug channels
Warranty: None
The design of these tires improves traction on-road as well as off-road. They handle wet ground very well, and the channel in the treads helps to filter out mud, rain, snow, and other gunk that gets caught towards the middle.
However, the biggest downside of these tires is their lack of warranty. They also don't have any innate pierce resistance or sidewall protection, meaning that if you're too rough with them, these wheels probably won't last long.
I think these tires are a good choice if you want all-terrain wheels that stay clean. Just be careful and take care of them often to make them last.
Last update on 2023-03-27 / If you click this affiliate link and make a purchase, we earn a commission at no additional cost to you.
The MT/R is primarily for rock crawling with large wraparound grooves for enhanced grip.
Specs:
Materials: Silica rubber, Kevlar sidewall protection
Traction: Thick, deep, asymmetric grooves with ideal grip
Warranty: None
The MT/R is Goodyear's premiere rock-crawling tire choice. They're durable thanks to the Kevlar sidewall protection. Furthermore, the innovative tread design helps vehicles cling to rock faces.
However, they don't have the best tread life, which is probably why they're uninsured. Even with good gear, rock crawling takes a toll on tires, so check them carefully before each use to prevent unexpected punctures.
Last update on 2023-03-27 / If you click this affiliate link and make a purchase, we earn a commission at no additional cost to you.
Related Questions
Here are some of the questions people ask me about off-road tires.
What tire pressure should I use for off-roading?
The harder and rougher the terrain you will face, the more pressure your tire should have. 
Look first at the max PSI of your wheels. Soft substances like sand and mud are best traversed with about 50% pressure, which usually falls around 15–20 PSI. 
Uneven ground is easiest when your tires are at about 70% pressure, or about 25–30 PSI. Harder ground requires more, at around 90% pressure or 30–35 PSI.
What do I do if my car gets stuck in the mud?
If your car wheels are spinning in the mud but you aren't moving, turn off the engine. Otherwise, you'll create a deeper ditch for your tires to get stuck in.
You may have to manually get out of the car and place an item underneath the wheels to give them traction. A flat object like a mat or folded tarp works well. You can also try digging the spot in front of the wheel with your hands so it has room to move forward.