Are Jeep Gladiators Good for Road Trips?
This post may contain affiliate links. As an Amazon affiliate, I earn from qualifying purchases.
Today we're going to take a closer look at the Jeep Gladiator.
It's the beastly brute that comes with in-built off-roader genes.
While we all know the reputation of how rugged the Jeep is, we all are curious how well that reputation holds up during road trips.
Are Jeep Gladiators Good for Road Trips?
Jeep Gladiators are great for road trips. They can handle almost any terrain. They're light enough not to slow you down when on the highway. Taking a road trip in a Jeep Gladiator is excellent since these cars give you a chance to see some of the most amazing places in this world!
They also look incredibly cool.
It's always nice if your car is praised for its good looks by everyone you meet on the way.
This isn't to say that off-roading in a Jeep Gladiator is ok during your road trip.
While these cars are built for off-roading, they're just not made for that purpose alone.
You can get into some serious trouble while using them as an off-road vehicle if you are caught trespassing on private property.
As always, know the local laws of off-roading when driving your Gladiator.
What people seem to fear about driving the Jeep Gladiator on the highway is the stereotype from older Jeep Wranglers.
They are scared of the unpredictable and very rough death wobble.
With the Gladiator, you don't have to worry about that.
You get a smooth ride that allows for serious comfort on long trips.
However, don't expect the comfort of driving a more luxurious vehicle like the Jeep Cherokee, for example.
The Gladiator is a truck-based vehicle, and it reflects in its design.
So, if you're looking for a highly comfortable ride that will feel like home, then you might want to look into other Jeep models instead.
But don't let that discourage you from taking a road trip with it. The Gladiator is 100 percent capable of handling any road trip you decide to take!
Let's look into things to consider when choosing to drive your Jeep Gladiator on a road trip.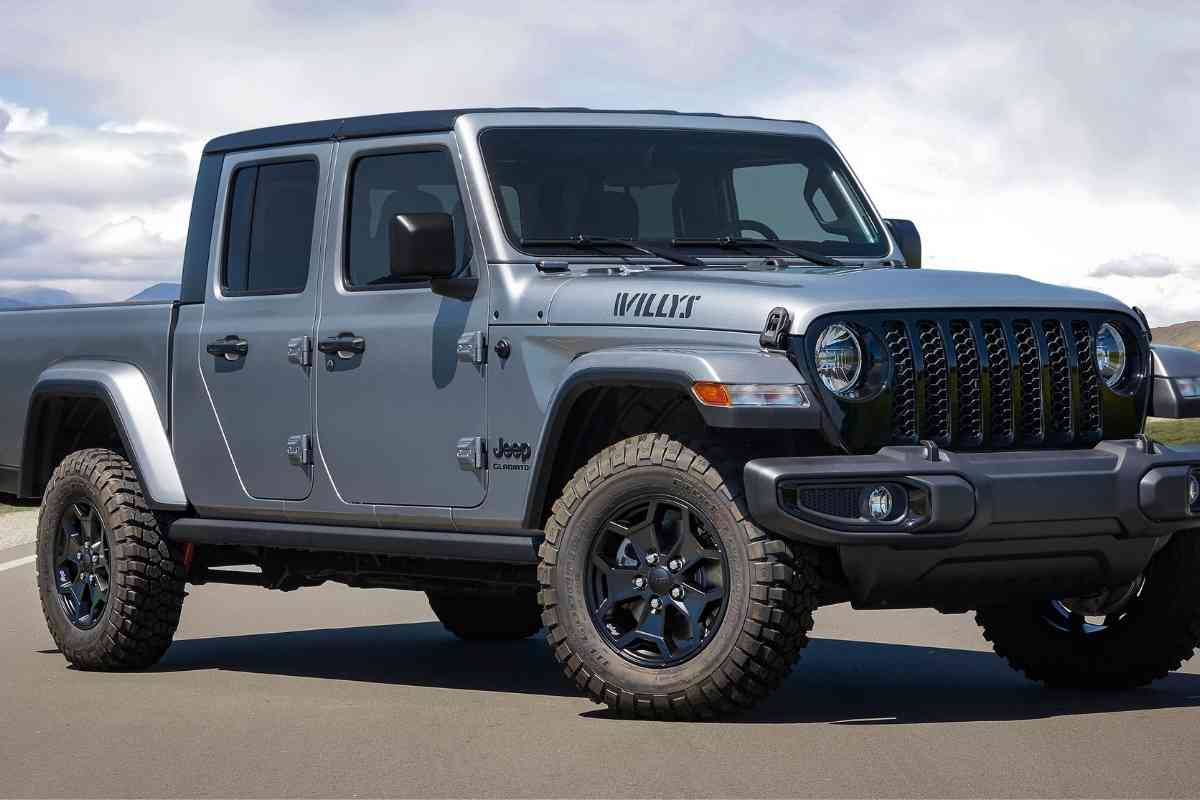 Gas Mileage
Of course, there's always the issue of gas. The Jeep Gladiator goes on average around 14 mpg city and 19 mpg highway.
The good news is that due to the Gladiator's lightweight, you won't have to worry about your gas mileage being too bad.
You shouldn't be paying more than an average of 50 bucks for a full tank of gas.
Ride Noise
Depending on the Jeep Gladiator model you choose, you may experience some ride noise.
Now, the good news is that this will depend entirely on your choice of tires.
Stick to the recommended tire model, and you should have a much quieter ride! On the other hand, it might be louder than expected if you decide to go for a different tire.
Speed
Driving on the highway safely depends on your ability to keep up with and avoid traffic.
You don't have to worry about that with the Jeep Gladiator.
It gets up to traffic speeds quickly and easily.
However, there is one thing to keep in mind when driving down the highway with your Jeep Gladiator when it comes to speed.
If you get up to 70 mph, you should always pay attention.
The Gladiator isn't built for speeds over 70 mph. So, it might have some trouble keeping up!
Death Wobble
The death wobble is what many call an undefined shaking of the vehicle.
Many people believe it might be due to loose parts or poor design.
However, while the death wobble is still largely under debate, there are a few issues that have been identified as being possible causes for this excessive shaking.
Does the Jeep Gladiator Wobble?
The death wobble is always a question when discussing the newer model Wranglers and the Gladiator.
Jeep Gladiators owners have reported the vehicle shaking over 65 miles per hour.
This isn't entirely bad since this is a known safety mechanism for Jeeps.
However, if you start feeling the death wobble, it means there's something wrong with your car, and you should stop driving immediately!
On the other hand, if it does happen while you're still on the highway, don't panic.
You can keep driving at a slower pace.
At the same time, if you are in doubt about whether something is wrong with your Jeep or not, the safest thing to do would be to get it checked out as soon as possible.
Weight
One thing that may cause your Jeep Gladiator to shake is extra weight.
You could be driving too much cargo on the vehicle.
This can affect the tires and suspension of your car, making it wobble.
As long as you keep things in check, though, you should be fine!
Misaligned Wheels
Another reason for the wobble could be misaligned wheels.
To ensure that the problem is not a misalignment, take your Jeep into your local dealer and do an alignment check.
If you typically do a lot of off-roading, the chances of misalignment are higher.
If this is the case, you'll need to get all four wheels aligned to stop the wobbling.
Faulty Wheel Bearings
Faulty wheel bearings are another cause of wobbling.
The wheel bearing is an essential part of the suspension and braking system.
It works by keeping the wheel attached to the axle to have a smooth rotation.
If you keep hearing strange noises, you should take your Jeep in for an inspection as soon as possible!
Over time, they can wear out due to corrosion or other damage.
If the fault lies in the wheel bearings, you'll need to replace them as soon as possible to avoid further damage.
Why You Should Use Your Jeep Gladiator on a Road Trip
Now that we understand what to expect and look out for on a Jeep Gladiator road trip, let's look at why you might choose to drive it.
Reliability
The Jeep Gladiator is a fun vehicle that still lives up to the dependability of the Jeep brand.
This is due to the fact that it has several safety features that are built into it.
For instance, thanks to its weight gain, this vehicle benefits from stability control.
No, stability control isn't just for luxury vehicles!
The good thing about these safety features is they allow you to take your time and drive carefully through dangerous elements.
Space
It has a comfortable interior and enough space for road trips! It has four doors and five seats! That means your whole family will fit in comfortably.
Not to mention, it also has a truck bed that can be used to transport things.
It's Just Fun!
I can't talk about driving the Jeep Gladiator and not mention how fun it is to drive one!
Whether you are popping off the top panels to enjoy the beautiful weather or turning up your favorite song on the highway, it's an experience you will always enjoy.
You'll be driving on and enjoying this vehicle for a long time. And when it comes to road trips, the Gladiator is great.
Final Thoughts
So, are Jeep Gladiators suitable for road trips? The answer is 100 percent yes.
The Gladiator is a genuinely amazing vehicle that's built for adventure! It's an incredibly capable road trip machine.
I can't stress this enough: you're going to have a blast while driving it!
If you're planning your next road trip, don't hesitate to take along one of these truly beastly vehicles!
If you're looking for a sturdy vehicle that can withstand just about anything you can throw at it, then the Jeep Gladiator is for sure one of your best choices.