The 6 Best Coolers For Overlanding
This post may contain affiliate links. As an Amazon affiliate, I earn from qualifying purchases.
Traveling through the backcountry is a thrilling experience that many people are eager to try. But without proper planning, a weekend trip can quickly become a nightmare. One of the fundamental components of a successful overlanding trip is adequate cooling for food and drinks.
Generally speaking, a 40 to 60-quart cooler is ideal for weekend camping trips with two or three people. 45 to 75-quart coolers work well for longer trips or those with more people. Some quality cooler brands to look for include Blue Coolers, Pelican, Dometic, and RTIC.
Don't be intimidated if you're setting off on your first overlanding adventure and aren't quite sure what to bring. Although there's a lot to consider, choosing a suitable cooler is generally a straightforward process. Let's take a look at everything you need to know.
What Is Overlanding?
Let's start with the basics — what does overlanding actually mean?
Overlanding refers to self-reliant travel to remote locations where the journey is the primary purpose of the trip. The journey is usually completed with motorized off-road vehicles, including bicycles, trucks, SUVs, and more.
Most overlanders camp outdoors, and trips can last long periods over international borders.
One essential component of a successful overlanding trip is adequate cooling for food and beverages that are brought along. Without a suitable cooler, your weekend getaway can turn into an outdoor disaster before you know it.
Thankfully, we're going to cover everything you need to know to select the best cooler for your needs.
What Size Cooler Is Best for Overlanding?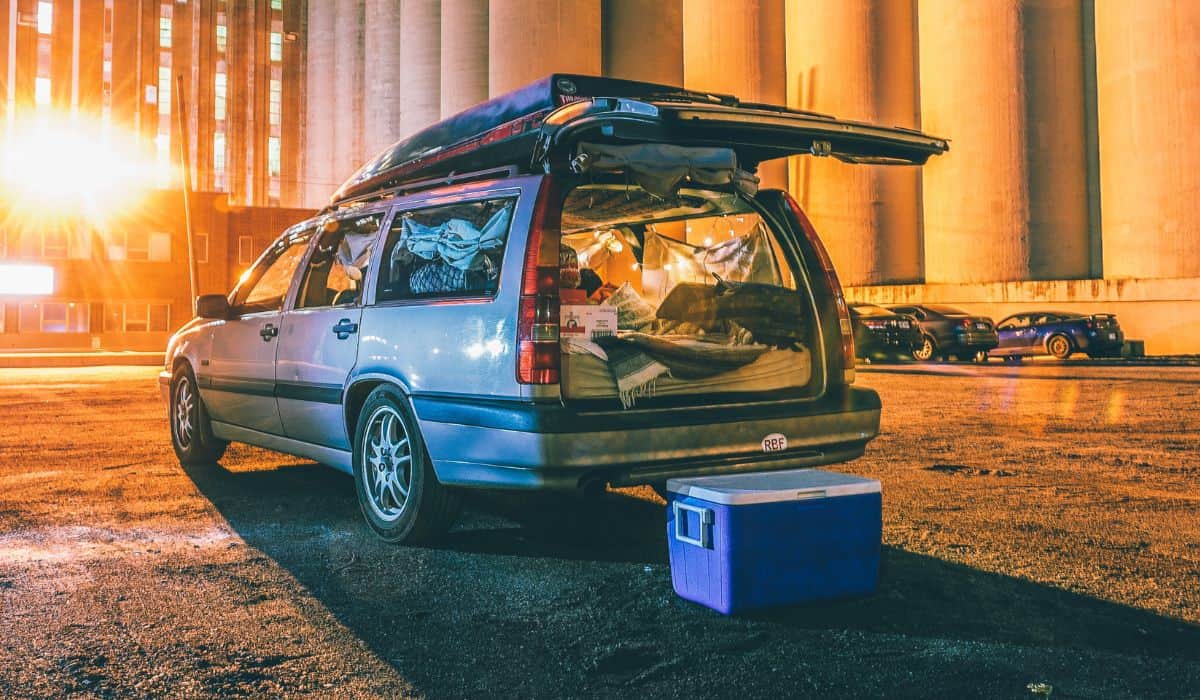 A cooler's capacity is typically measured in quarts, ranging from 16 qts to over 400 qts. For a better picture, a 16-quart cooler can hold around 24 12-oz cans without any ice. In most cases, a cooler that's between 40 and 100 quarts will be suitable for weekend trips with two or three people.
However, the best size cooler for overlanding will vary depending on circumstances like the length of the trip, how much storage space you have, the number of people, and other factors.
Let's take a deeper look into some considerations to keep in mind when selecting a cooler.
Think Long-Term
It's essential to think long-term when selecting a cooler for overlanding adventures, especially if you're only purchasing one cooler.
For example, if you're a hunter who spends extended periods outdoors, you should consider larger coolers, such as those over 100 quarts. If you spend a lot of time in the backcountry, you might want to purchase one medium-sized cooler and one large-sized option.
Consider Different Sizes
Purchasing multiple-sized coolers can be helpful if your budget allows it. For example, you might purchase one small or medium-sized cooler and one very large option.
You might dedicate the smaller cooler for shorter weekend trips or for frequently used food items, like beverages.
The larger cooler is ideal for storing food that's only accessed a few times per day and for longer trips. Keeping food in one cooler and drinks in another is ideal, as repeatedly opening a cooler allows air to escape, causing the food to go bad faster.
Don't Go Overboard Unless You Need the Space
It's important not to purchase too large of a cooler unless you plan to use all of the space available. A tightly packed cooler keeps food items colder, as too much airflow causes the temperature to rise faster.
Generally speaking, a 40 to 100-quart cooler is ideal for weekend camping trips with two to three people. However, as we mentioned, the best size will depend on the trip, situation, food items, temperature, storage room, and more.
What Size Cooler Do You Need for a 5-Day Trip?
Unfortunately, there isn't a one-size-fits-all equation to selecting a cooler for an outdoor adventure. The best cooler size will depend heavily on the trip, the number of people, food items, and other factors.
However, a 40 to 50-quart cooler should easily last two people five days outdoors. If you have more people on the trip, you might need a 45 to 75-quart cooler, depending on the situation.
What Are the Best Brands of Coolers for Overlanding?
Here are some of the best coolers and brands to consider for your next overlanding adventure through the outdoors:
Ice Vault 60-Quart Cooler by Blue Cooler
The 60-quart Ice Vault (on Amazon) by Blue Coolers is an excellent consideration for overlanders who want their ice and food to stay cold as long as possible. The cooler features up to 10 days of ice storage, "easy-close" locks, and airtight seals.
It boasts an adequate size at 17.5" tall and 18" deep, with 2" of insulation. The lockable lid, built-in bottle opener, and rapid drain features also make it tough to beat. Finally, the non-skid feet make it ideal for strapping it down and keeping everything secure.
Patrol 35 by Dometic
Dometic is a popular brand for high-powered coolers and fridges. Luckily, they also create durable ice chests like the Patrol Series. The 35-quart Patrol Ice Chest (on Amazon) offers a rugged design with thick PU insulation.
The 35-quart, 28-can capacity makes it an excellent choice for a medium-sized cooler to store beverages. Additional features like the leakproof drain, deep-freeze seals, and rubber latch openings increase its utility.
Furthermore, the coolers are compatible with accessories like cup holders, bottle openings, and fishing rod attachments.
50-Quart ECOCOOL Cooler by Igloo
If you're looking for an environmentally friendly option, check out the 50-quart ECOCOOL Cooler (on Amazon) designed with post-consumer recycled resin (PCR). The cooler includes THERMECOOL foam on the interior, which offers insulation for up to three days.
The additional Cool Riser Feature lifts the bottom of the cooler off hot surfaces, which keeps it cold for longer.
The included self-draining cup holders, easy-to-access swing-up handles, and connections for bungee cords are all nice additional touches. Although it's not as robust as other options, the Igloo ECOCOOL Cooler is fantastic for the price.
70-Quart Elite by Pelican
Pelican is well-known for its durable, long-lasting, and robust designs. The 70-quart Elite Cooler (on Amazon) is ideal for larger applications and longer trips, thanks to the design. The Polypropylene interior makes a durable container that's fairly light for its size at just over 33 pounds.
The cooler doesn't skimp out on utility either, with the built-in cup holders and bottle openers. The Pelican 70-quart Elite Cooler is ideal for long overland trips, as it can hold up to 52 12-ounce cans with ease.
RollR 80-Quart Cooler by RovR
There's no need to sacrifice utility with the RovR RollR 80-quart Cooler (on Amazon). As the name suggests, this 80-quart cooler has a rollable design that provides accessibility and convenience.
The durable rubber tires are fantastic for tough terrain, while the long-lasting aluminum handles with grips provide comfort.
The RollR can hold up to 120 12-ounce cans and 20 pounds of ice, making it excellent for larger applications and longer trips. The removable interior bin with divided compartments is also nice, as you can keep beverages and food separate.
Finally, many of the components are easy to replace, making the RollR a long-lasting option.
45-Quart Hard Cooler by RTIC
If you're looking for a small or mid-sized option, consider the RTIC 45-quart Hard Cooler (on Amazon). The cooler is roughly 25 pounds and can hold around 36 12-ounce cans or 40 pounds of ice.
The durable, molded design provides a tough construction that can double as a seat if necessary. The freezer-style lid gasket and smart interior insulation can retain ice for up to 10 days, making it excellent for longer trips.
Finally, the RTIC is easy to transport thanks to the robust rope handles and smaller design. As a smaller or secondary cooler, the RTIC 45-Quart is tough to beat.
The Final Word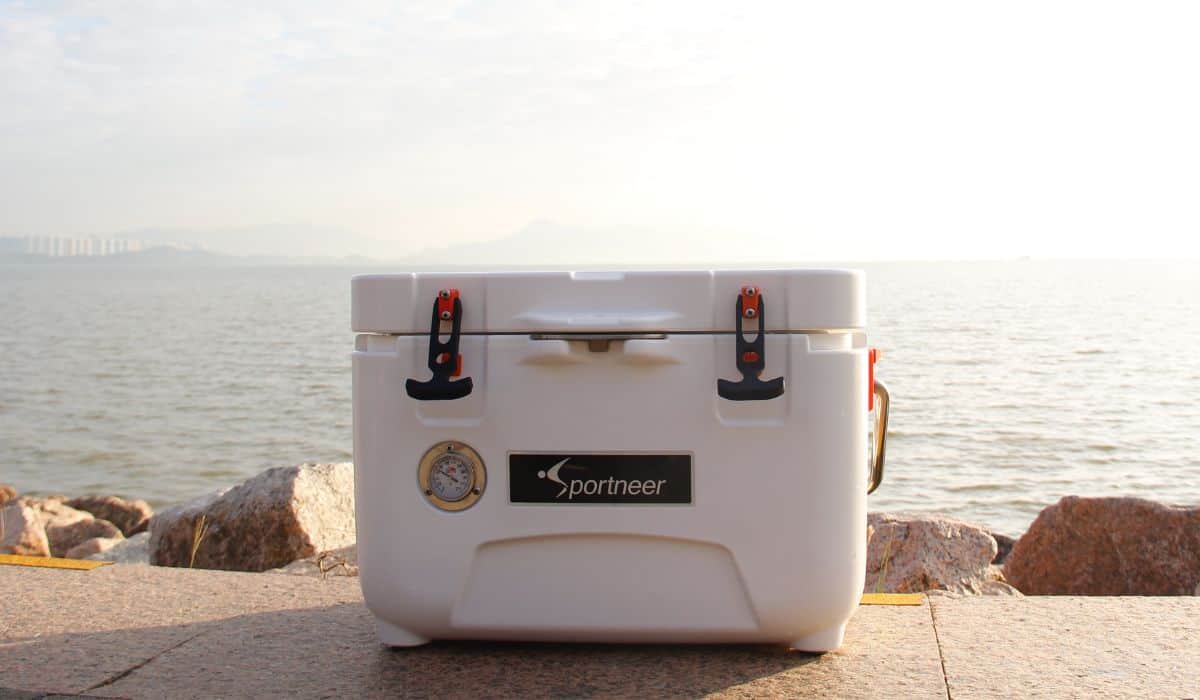 Selecting the right size cooler is essential to a successful camping or overland trip through the outdoors. 40 to 60-quart coolers are ideal for weekend trips with 2-3 people.
If you have a larger party or you're going on a longer trip, 45 to 70-quart coolers work well.