Are you looking for the best Jeep stereo, speaker and audio options? If so, this article is just for you. I love Jeeps and this is especially true when there are great tunes coming from the Jeep radio to go along with it!
You can read about how I built out a great sound system in my Jeep Wrangler YJ and kept the factory Jeep radio! That's right, I actually wanted to keep the Jeep radio because this is a 50k mile 1993 YJ survivor that has not been hacked up yet.
Let's not waste any time, let's get right to the recommended Jeep sound system products:
Best Single-Din Jeep Radio Replacement For The Money!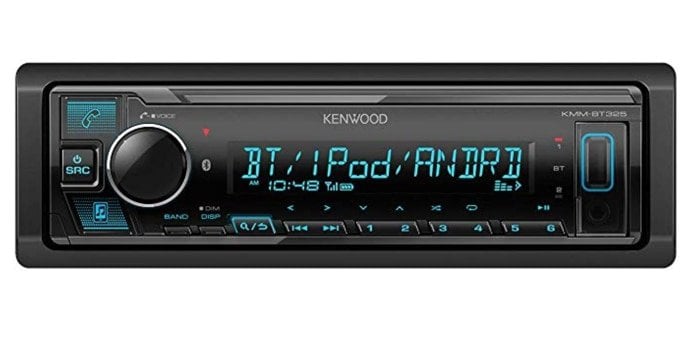 This is the best unit for the lowest amount of money. It gets great reviews and many fellow Jeep owners swear by this head unit.
This single DIN Jeep stereo unit is a great buy for the price and it fits perfectly into a Jeep Cherokee XJ and the Jeep Wrangler YJ, TJ, or LJ. It works well for any Jeep model that holds a single-din Jeep radio.
This unit has less voltage on its pre-outputs and lacks the CD player and HD tuner which offer better AM/FM sound quality. But it is a great unit for the price – [Amazon Link] or [Walmart Link]
The Secret $9 Device To Stream Music On A Factory Radio With A Tape Player
Some of you are asking what is a tape player, while others are fondly thinking back to the time you would wait hours in an effort to record your favorite songs off the radio and then make a mixtape to play in your car!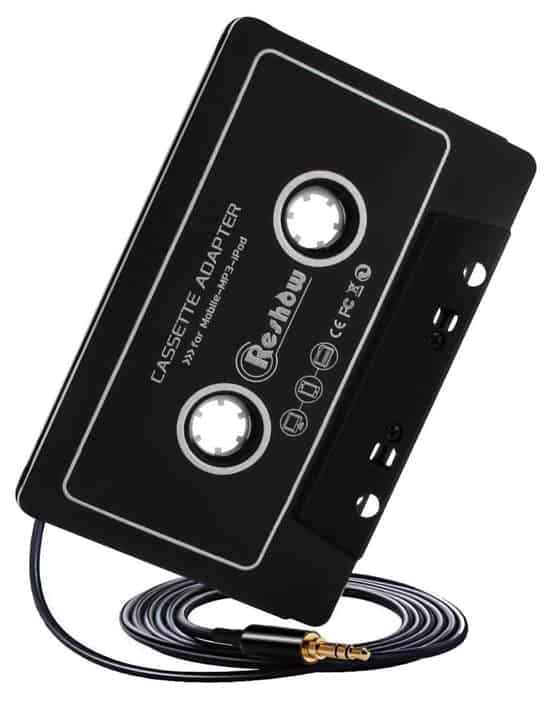 If you don't know what a tape player is, none of that other stuff made any sense to you either and that's okay. For many of us, we barely know what a CD player is anymore!
For those of us with Jeep radios old enough to have a tape player, this $9 device is the secret to streaming music from your iPhone or Android device and getting it to play through your old school radio! [Check Prices, they do vary from time to time]
Best Jeep Speakers For A Sound Bar [Jeep YJ or TJ]
You can spend any amount of money you want to on speakers. You can spend as little at $15 all the way up to many hundreds of dollars.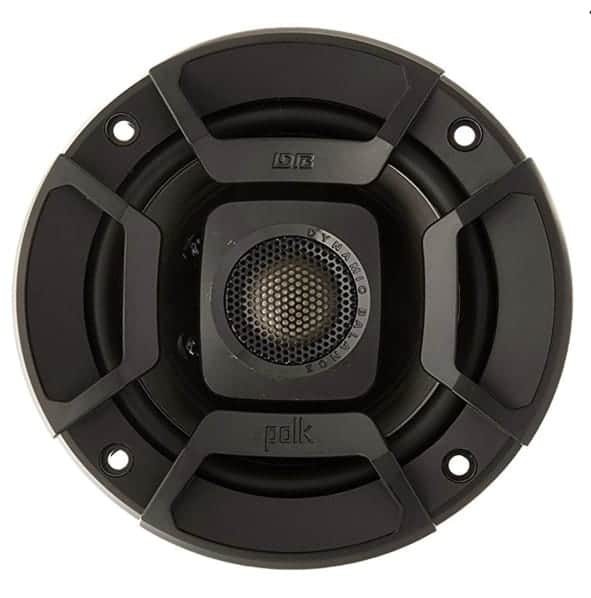 As far as I am concerned, for the 4″ or 5.25″ round speakers in the Jeep YJ or Jeep TJ and LJ, the Polk DB Series speakers are hard to beat.
I have installed these in every Jeep Wrangler and Grand Wagoneer I have ever owned. I have not yet changed Jeep speakers in the Cherokee XJ, Grand Cherokee or any of the currently produced Jeep models.
With this said, if Polk makes a speaker that fits, I am likely to use it. I think they make an excellent speaker for the money.
Also, for a Jeep Wrangler speaker, and also a speaker for the Wagoneer, being a marine speaker that can handle moisture and water effectively is a real benefit.
As you know our Jeeps can be exposed to the elements and the marine-grade construction goes a long way.
Add Rear Speaker Wedges to a Jeep Wrangler YJ or Jeep Wrangler TJ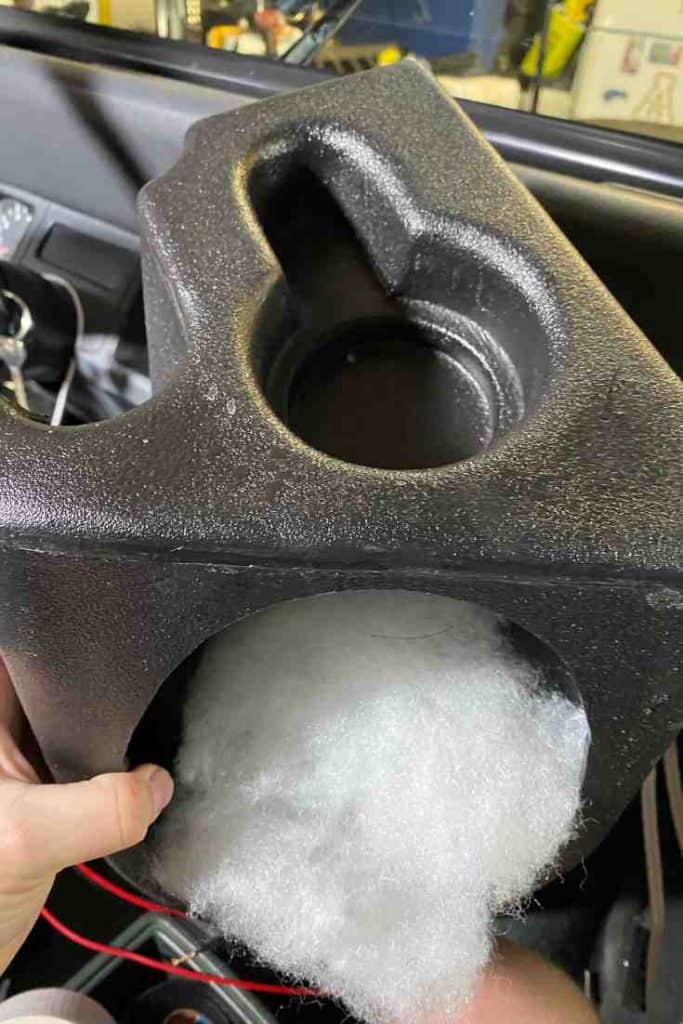 This is one of the better upgrades you can make for your Jeep YJ, TJ or LJ. As you know, extra space is at a premium in our Wranglers.
For this reason, I suggest not going with 6×9 Speaker boxes in the back fender wells of your Jeep Wrangler. Sure they are cheap, but they take up precious space and they signal to the world that you have a sound system in your Jeep they might want to steal!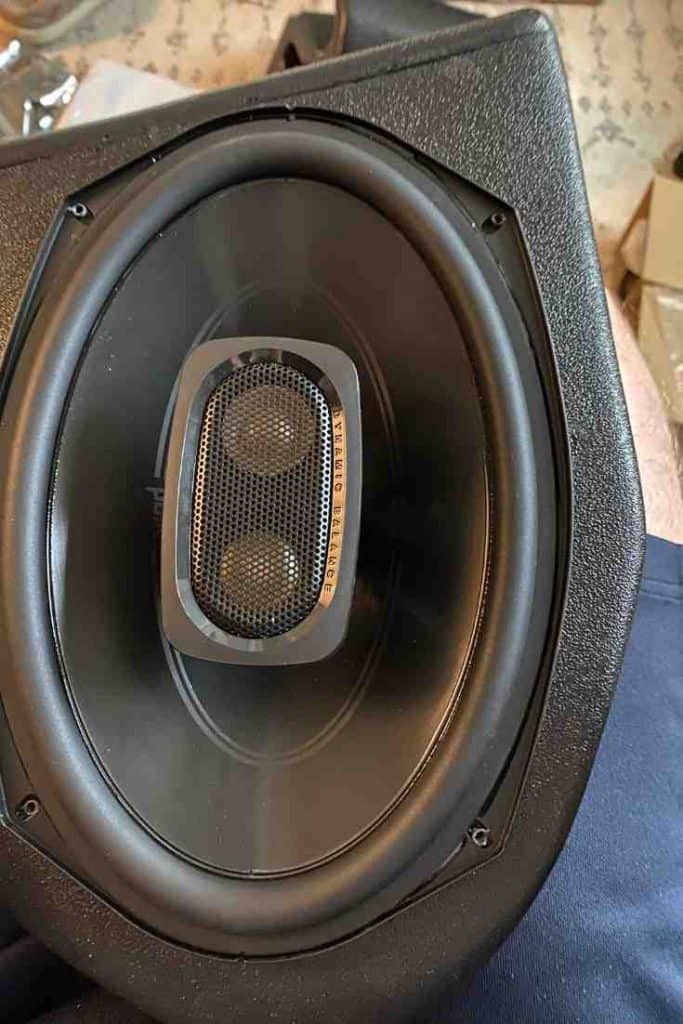 For this reason, I am a big fan of these speaker wedges which nicely tuck into wasted space between the rollbar and the fender wells. In my opinion, these Jeeps should have come from the factory with these Jeep speaker wedges installed in the back seat.
It really does make for a much fuller-sounding Jeep stereo system and it takes up zero extra space!
The Easiest Way To Add Big Bass To A Jeep!
Whether you want to add bass to the open-air Jeep Wrangler, an XJ Cherokee or even the brand new Jeep Wrangler Gladiator truck, this next product is just the right product with its built-in amplifier, small size, and booming sound.
I really like that you can add this subwoofer easily to any factory Jeep stereo system. This way if you have a new Cherokee, Grand Cherokee, Wrangler or even Gladiator, you do not have to swap out a Jeep radio with a ton of built in features.
You can simply add this to the existing Jeep radio and get an instant bass response from your Jeep.
I was able to find it refurbished on Amazon and then I paid for the extended warranty just in case since it was at a discounted price. [Check Prices]
The Best Jeep Stereo, Speaker and Audio Options!