Best Tires for Ford Ranger
The Ford Ranger is a great option for those who value handling and hauling capabilities as well as the unbeatable off-roading packages that have been available since 2020. With such a great vehicle, though, you will want to make sure you give it the best care and, of course, equip it with the best tires. The only question, then, is which tires should you be getting for your Ford Ranger and where can you find them?
Ford recommends Goodyear, Michelin, Continental, and Kumho for Rangers with sixteen, seventeen, or eighteen-inch wheels. The tire type will vary somewhat depending on the size as well as the model of Ranger. However, regardless of the Ranger model, these brands should be safe choices.
If you are currently in the market for a Ranger or at least in the market for new tires, you undoubtedly want a few questions answered before investing. Read on if you would like to learn a few more tips about shopping for Ford Ranger tires as well as the pros and cons of owning one. Hopefully, this information will help you to do whatever is best for your car!
Ford Ranger: What Kind of Tires do I Need?
As mentioned above, Ford has recommended tires from Goodyear and Continental as well as a couple of others like Kumho and Michelin. The tire type will, as you know, vary depending on the car's model as well as the size of the wheel. Here are a few tips on finding the perfect tires for your Ford Ranger!
First of all, you should know that Goodyear and Continental are both fairly expensive tires to invest in. While there will be a bit more money required upfront, but this might be worth it in the long run because you won't have to replace your tires as often or worry about issues with them.
However, if a smaller budget fits better within your wheelhouse, that's okay too. Kumho tires are perfectly reliable, even if they're less pricey.
Ford also recommends Continental tires for the Ranger. These will be a couple of hundred dollars per package, but if you want your Ranger to have the best, these are probably the ones you should go for. The package you buy will depend largely on the model of Ranger you drive.
To determine the size and type of tires you need, the best thing to do is consult your owner's manual.
If you'd like more specifics you can consult Ford's tire finder at Ford.com!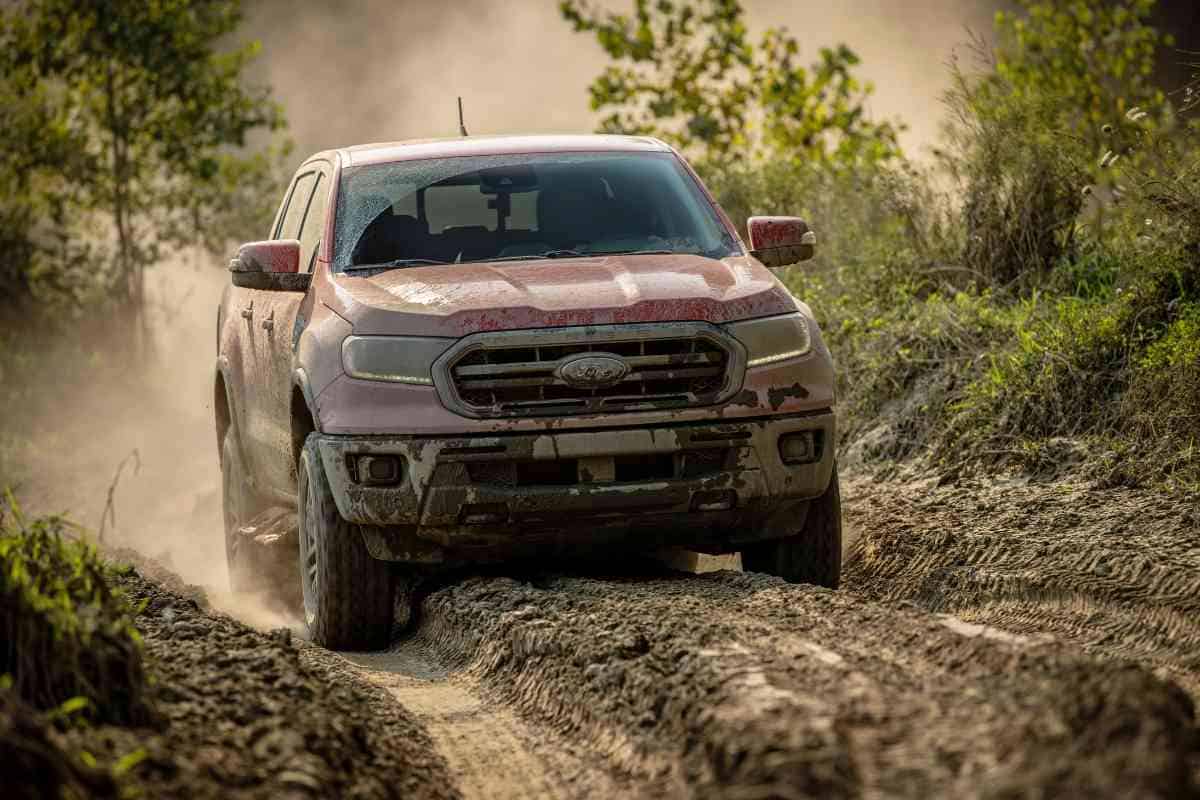 Ford Ranger: Pros and Cons
The Ford Ranger is a great car, naturally, but if you have any doubts whatsoever about the car and its tires, you should know about the pros and cons of getting one and continuing to replace the tires for it. This will help you to decide whether or not you should continue to buy tires and if you should replace the car with a different one when the time comes.
Pros
First of all, the Ford Ranger is a great truck for those who enjoy off-roading and pristine handling. The Ranger's handling capabilities are second to none, and with the all-new FX2 off-roading package, the deal sweetens.
The Ranger was equipped with 4WD even before the FX2 came out and whether or not you buy that package, you will not have a more fun off-road experience anywhere.
Additionally, the Ranger is just an exceptionally comfortable car. Many trucks with such off-roading capabilities often sacrifice comfort for strength and handling. That is not so with the Ranger. Thanks to its well-padded seats and secure cabin, you will not only experience a comfortable car ride but also a quiet one. The ride's sound quality is incredible.
Cons
Unfortunately, the Ranger is not without its flaws. Though the cabin is roomy enough and fairly comfortable, it isn't all that big. This means that for large parties, the Ranger may not be an ideal car because it can't accommodate that many people.
You will have better luck with a different vehicle if you are a lover of road trips with large groups. Plus, it's not a great family car so it won't work for those with lots of kids.
You can learn more about the Ranger's pros and cons here.
Maintenance Tips
Once you have purchased the tires (and maybe even the car) you need, the only thing left to do is to take good care of them!
The quality of the tires you buy is an important factor, but the better care you take of your car, the less you'll have to replace them and the longer they and your car will last! Here are a few important maintenance tips that every Ranger owner should know!
First of all, make sure you get your Ranger in for regular checkups at the auto shop. Don't take it in more often than is necessary of course (because who needs to spend that kind of money?), but just like people, trucks do need their regular inspections. Take it in as often as is necessary, and you should be in good shape.
Keep your Ranger's fluids regular and topped off. Too little engine/motor oil will quickly result in the engine experiencing unnecessary and unhealthy stress. Checking your oil levels regularly will prevent that problem from happening. Likewise, you should regularly change your oil filter.
It doesn't always take long for dirt and bacteria to work their way into your oil tank if the filter goes too long without being replaced. Experts would recommend that you change your oil filter every second or third time you get your oil changed. This will keep your oil tank from getting grimy and contaminated too quickly and too often!
This is possibly one of the most important points: keep your tires well inflated! One of the worst things you can do is drive your car around on partially flat tires! This will not only potentially damage your tires but it could also do serious damage to your vehicle as well. Keep the tires well inflated and aired and you're golden.