Do I Need A Rubicon For Overlanding? [What's Best?]
This post may contain affiliate links. As an Amazon affiliate, I earn from qualifying purchases.
When it comes to overlanding, it's fairly natural to worry about getting the best possible vehicle. When you're going to be out in the wilderness for weeks at a time with your car or truck as your only lifeline, you want to make sure you have the right car!
Do I Need A Rubicon For Overlanding?
A Jeep Rubicon is not necessary for overlanding. Jeeps are great starter vehicles for overlanding, but any model with 4WD will be good enough for any challenges encountered during the journey. Any truck or car in reasonably good condition with 4WD capabilities is suitable for overlanding.
But are Jeep Rubicons better for your overlanding adventure than other Wrangler frames? What makes a vehicle a good overlanding vehicle?
Is The Wrangler Rubicon The Best Jeep for Overlanding?
The Jeep Wrangler Rubicon is one of several Jeep Wrangler frames. The Rubicon is the most high-end of these and has more technological gadgets than the others as well as a more luxury-focused trim.
It has some features which make it ideal for camping, such as its 115-volt auxiliary outlet and lots of storage for your camping gear, but ultimately it is the same vehicle as any other Jeep wrangler.
Other features are fairly pointless for overlanding. The electronic sway bar disconnect is very useful, but if you're on a budget you might be better off doing aftermarket for cheaper.
And the larger screen is a cool novelty but will do absolutely nothing to help you in a pinch.
While other Wrangler models do lack these things, the lack hardly makes them any worse for wear. The Sahara and the Overland both have the same engine and the same four-wheel drive, which means that where it really matters the Rubicon is no better than its cheaper brethren.
And how does the Wrangler Rubicon compare to the Gladiator, one of the other Jeep SUVs that you might take overlanding? The gladiator has the same specs as the Wrangler but also has a truck bed for keeping extra materials in. This negates the need for a travel trailer and allows for significantly more efficient movement.
There is a Rubicon trim level for the Gladiator as well, but like with the Wrangler most of the extra features are purely luxuries, things that you would be fine without.
While a front-facing trail-cam might have its uses, many many people have survived overlanding without it, and many more will.
The one advantage that the Rubicon has over less luxurious models is its winch-capable front bumper.
Winches are incredibly useful tools, so being able to put one on the front of the vehicle is a big advantage, but all of the back bumpers for the Gladiator are winch capable so it's not like you're missing out if you didn't spring the extra ten-thousand dollars for the Rubicon.
Ironically, while there is an "Overland" trim level for the gladiator, it lacks any particular features to help with overlanding.
And the story is mostly the same for the Jeep Cherokee. The Cherokee has 4WD and all trim levels are perfectly useable for offroading. It doesn't have a Rubicon model, the more expensive models offer some luxury features that you would likely enjoy but certainly don't need.
The best Jeep for overlanding right out of the box is probably the Gladiator Rubicon, but any trim level of any of the three models discussed here will be able to do the job just fine.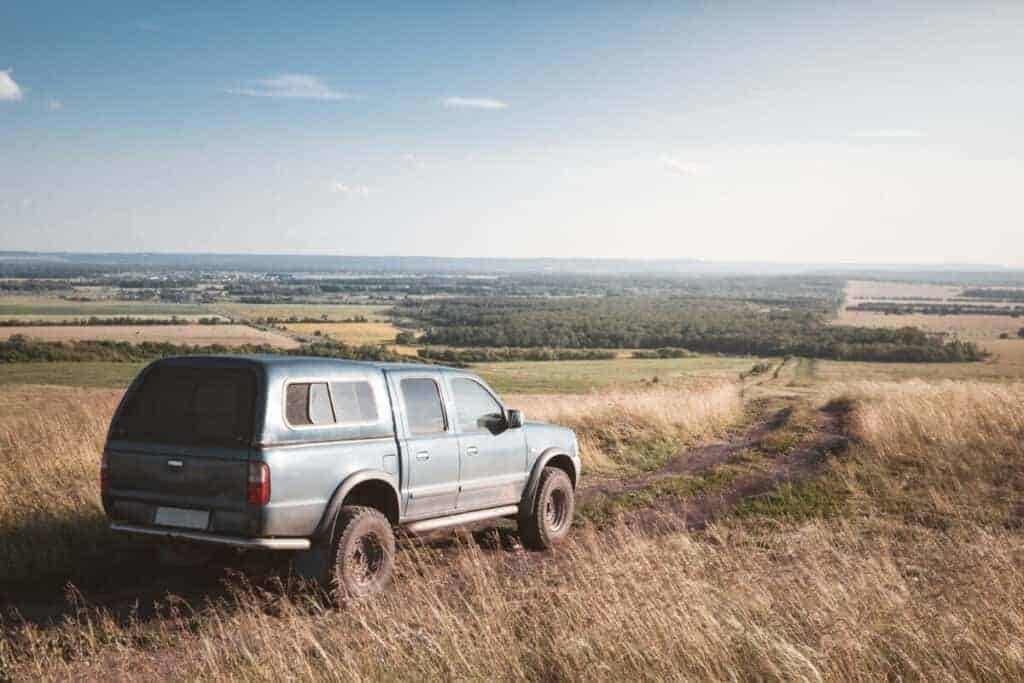 What Makes a Vehicle Good for Overlanding
The most important thing that a vehicle needs for overlanding is four-wheel drive.
When you're out in the wilderness far away from help you need to know that your vehicle can handle itself in a difficult situation. Access to winches, a strong engine, and other tools is also a contributing factor.
Equally important is a secure interior or compatibility with a rooftop tent.
Because you'll be camping for the duration of the trip, you need to have a space where you'll be safe from the elements whatever they may be.
The best laid plans of mice and men often go awry, and in many parts of the country, you run the risk of getting rained on with pretty much no notice with only a day or two of notice from meteorologists.
Of course, you can always sleep in your car, but if there isn't a lot of space in the cab you'll still be miserable even if you are dry.
Once you have a vehicle that will be able to move itself along and can keep you safe at night, you can start looking at extras.
When looking at extra features, your primary concern is durability. You want to make sure that it won't become a liability somewhere down the line.
This is what makes luxury vehicles bad for overlanding. Vehicles that use highly specialized parts or parts that have a high likelihood of breaking down become dangerous to you, the driver, when you're miles and miles away from civilization and nobody is coming to help you. You can't afford to have liabilities in your vehicle!
Alternatives to a Jeep
Keeping in mind that you need a vehicle with 4WD and you want something that will be able to go out offroad for long periods of time, Toyota's 4Runner, Land Cruiser, and FJ Cruiser come to mind.
While some of the early 4Runners are can struggle, anything from the last twenty years should work great and come with all the reliability Toyota is known for.
If you can find a van that has 4WD, then that could also be a prime candidate. Vans have the living space that you need but most don't have the right specs for offroading, so finding one that will work can be a challenge.
And finally, any vehicle that has 4WD and you want to take overlanding. If you think it will work, then you can probably make it work.
You don't need a jeep or anything else fancy, all you need is a car or truck that has the required output and the persistence to go to it. The point of overlanding is freedom, and that extends to the vehicle you use.