Do Truck Bed Campers Have Bathrooms?
This post may contain affiliate links. As an Amazon affiliate, I earn from qualifying purchases.
Truck bed campers are great because they are compact and easy to transport. But because they have limited space, they have to prioritize certain features over others. So, do truck campers have bathrooms?
Small Truck bed campers typically do not have bathrooms because there isn't enough space for one. However, many large truck bed campers do have some type of bathroom. The bathrooms that are inside of truck bed campers are typically very small and are usually wet baths, not dry baths.
There are many different truck bed campers out there and you can find options that have bathrooms it that's something you're looking for. Let's explore the pros and cons of these truck campers below and look at the models that offer bathrooms.
Bathrooms in Truck Bed Campers
Many large and luxurious truck bed campers have a bathroom available for the users of the camper to use while they are camping. Many have the capability to be hooked up to a water line so you can flush the toilet. However, the bathrooms in these campers are typically very small, so you will not have a lot of room to get ready in the bathroom like you may be used to doing. But a small bathroom to use while camping is better than no bathroom at all.
Small truck bed campers are not likely to have a bathroom because all of the space is taken up by other things, like a bed or a small kitchen. If you want to get a small truck bed camper that has a bathroom, you may be able to find one, but it will narrow down your choices quite a bit. You may have to go to a campground with a public bathroom instead if you have a small truck bed camper.
Truck bed campers, even very large ones, will only ever have one bathroom, which may be difficult when you are traveling with a large number of people. Truck bed campers are only large enough to support one bathroom, even if the camper is very large. Many companies that manufacture truck bed campers would rather give you a lot of space to socialize with others than make more than one bathroom available in the camper.
What Types of Bathrooms Do Truck Bed Campers Have?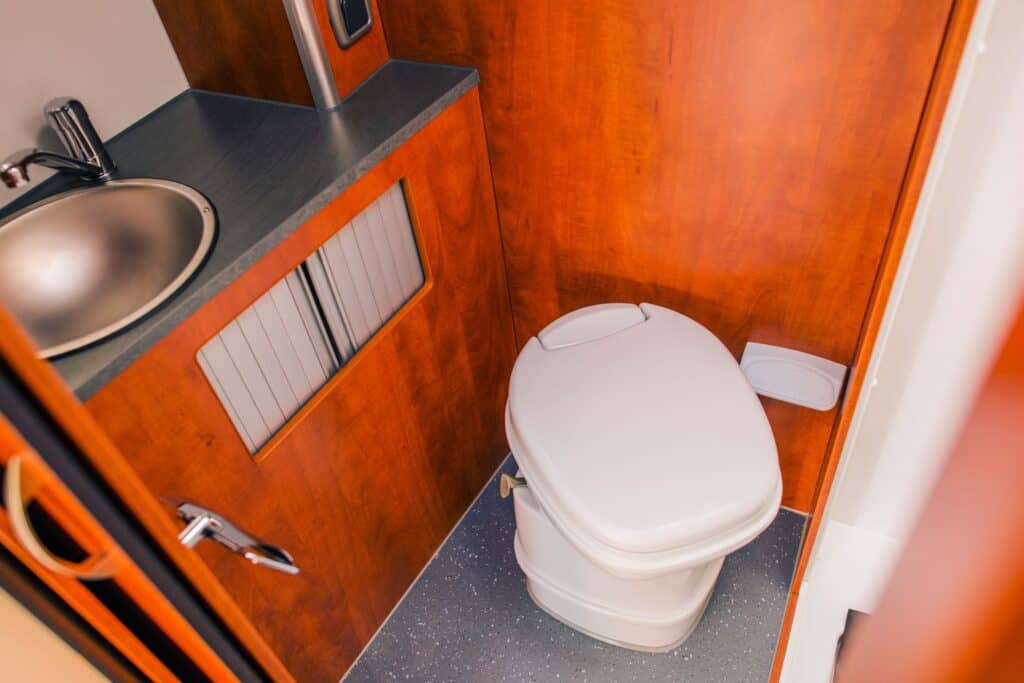 Truck bed campers that have a bathroom will either have a toilet-only room, a dry bath, or a wet bath. The type of bathroom in a truck bed camper will vary depending on the camper floor plans and the size limitations. Every company makes their truck bed campers a little differently.
Toilet-Only
Toilet-only rooms in a truck bed camper will be just that—a room that has a toilet in it. The toilet-only room will seem to be more like a closet than an actual room, but it will serve the purpose it was designed for; it will let you go to the bathroom in relative peace and privacy.
If the toilet-only room has a shelf or some other area where you can place hand-cleaning supplies, do so. Hand sanitizer is great to place in this room. The toilet-only bathrooms are often found in smaller-sized truck bed campers, but they can be found in larger truck bed campers as well.
Dry Bath
A truck bed camper with a dry bath will have a shower area that is separate from the toilet. Dry bath bathrooms tend to be more cramped than wet bathrooms because they need to fit multiple elements in a small room. Likely, you'll only find dry baths in medium-large campers because there has to be enough room for a separate toilet and shower. However, since the dry baths are small, you may feel very cramped while you try to go to the bathroom or take a shower.
A dry bath in a truck bed camper may not actually include an interior shower at all; it may simply include a place to shower outside of the camper and a toilet inside. While this shower type isn't great to have when you want to take a private shower while camping, it is a great one to have when you need to rinse off dirty items before you walk inside of the camper. If your truck bed camper does have a showerhead on the outside, then it will likely have a toilet inside. However, this will depend on what truck bed camper you are using.
Source
Wet Bath
A wet bathroom will have a sink, shower, and toilet in one room of the camper. Depending on the camper and the size of it, there may be a bathtub/shower available in the room, but there will likely only be a shower to give you more space outside of the bathroom area.
Wet bathrooms can be found in campers of any size because they are pretty flexible and compact in their design. If you prefer wet baths, you'll be in luck because these are fairly common in truck bed campers.
Source
Should I Purchase a Truck Bed Camper That Has a Bathroom?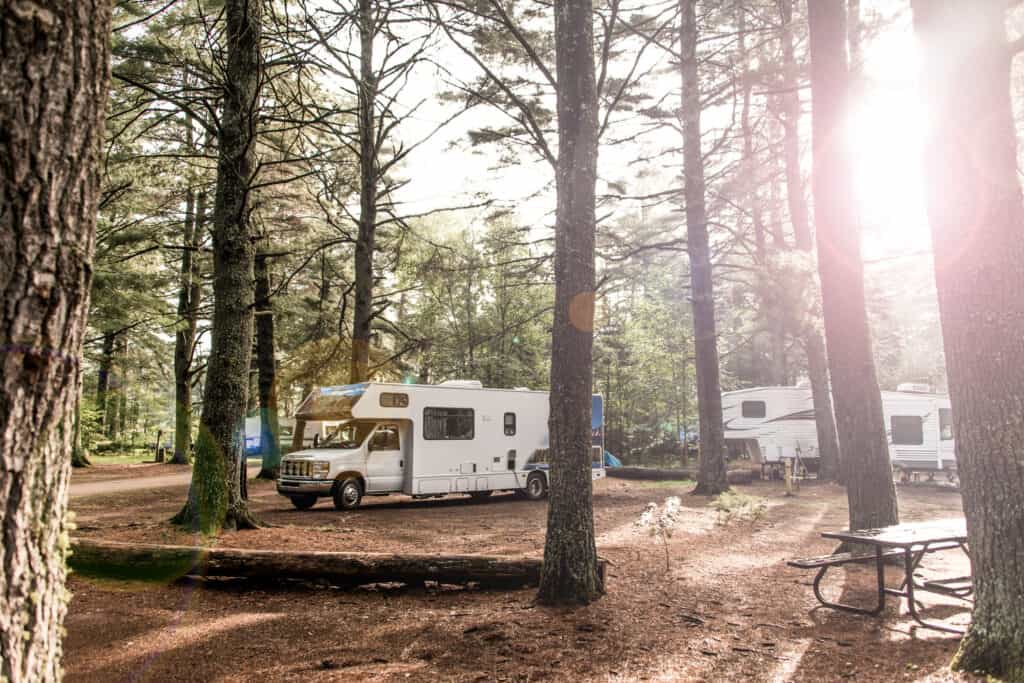 You should purchase a truck bed camper that has a bathroom if you frequently go camping in areas that do not have public bathrooms available for you to use, or if you're traveling through remote areas that don't offer many rest stops.
You should purchase a truck bed camper with a bathroom if you would like to have some privacy while camping with your family and friends. While it is always nice to spend time with the people you care about, sometimes you simply want to go to the bathroom alone and do not want to walk anywhere to do so.
Sometimes it is better to pay more money for a larger truck bed camper with a bathroom than go to the bathroom in the woods, as that is not always a pleasant experience. The decision is yours though, and you can find truck bed campers with and without bathrooms for a decent price.
Whether or not you should buy a truck bed camper with a bathroom depends on your needs and the comforts that you want to have while camping.