Do You Need 4×4 for Overlanding? (Explained)
This post may contain affiliate links. As an Amazon affiliate, I earn from qualifying purchases.
Overlanding has become quite popular in outdoor and offroading communities. It combines several different aspects of outdoor activities, some of which involve vehicles, and creates an all-inclusive experience that many strive for. However, do you need a 4X4 to go overlanding?
4×4 is not needed for overlanding in most cases. The terrain is usually traversable with two-wheel drive. The need for a four-wheel-drive capable vehicle is only necessary when overlanding if a trail is difficult to cross or the weather is bad. Plan accordingly and 4×4 won't be needed.
When planning an overlanding trip, ensuring that all the right equipment is ready and that the vehicle can handle the trip is crucial.
Overlanding has its own challenges, and being aware of the challenges you may face will make it easier to determine what tools will be necessary to make the trip safe and enjoyable.
What is Overlanding?
Overlanding is an adventurous outdoor activity that combines many elements together to create an almost nomadic experience for people who like to take their vehicles on their adventures. For most, this type of outdoor activity is less intense than off-roading, although they are similar in some ways.
Overlanding combines parts of offroading, camping, and remote travel into one ultimate package that allows people to enjoy the wonders of the world and often goes beyond country borders. The need for a vehicle to go overlanding raises several questions that we will answer in the coming sections.
Off-roading
Off-roading is an intense activity that requires the use of a vehicle well adapted to traversing difficult terrain and the proper preparation from an individual that likes to go off-roading.
The individual will have prepared safety equipment, rescue equipment, and rescue points on their vehicle that are not part of the original body or structure of the vehicle, all designed to help when the vehicle gets stuck in some predicament or other.
Off-roaders will often have vehicles capable of four-wheel drive, have all-terrain tires, winches, safety equipment, and a vehicle that is designed or modified to ensure they stay safe and can get un-stuck if needed while off-roading.
While offroading doesn't typically involve camping, the equipment needed to go off-roading is quite expensive, seeing as the terrain and trails off-roaders typically go on are challenging and extremely fairly uneven.
There's a reason it's called off-roading. However, this doesn't mean that people that go off-roading don't camp whole on an extended off-roading trip, so feel free to do so if you want to go camping while off-roading.
Camping
Camping is another element of overlanding. The idea is for someone to be able to travel a long distance on some fairly easy terrain and explore the great outdoors before camping under the stars and continuing on their journey the next day.
This gives us something of a backpacking feel, and ultimately, that's what overlanding is. Overlanding is basically backpacking with a vehicle. As such, the equipment needed for the camping portion can vary in price depending on what camping gear people choose to bring.
Some people choose to sleep in their cars while overlanding, while others bring a tent and other camping gear.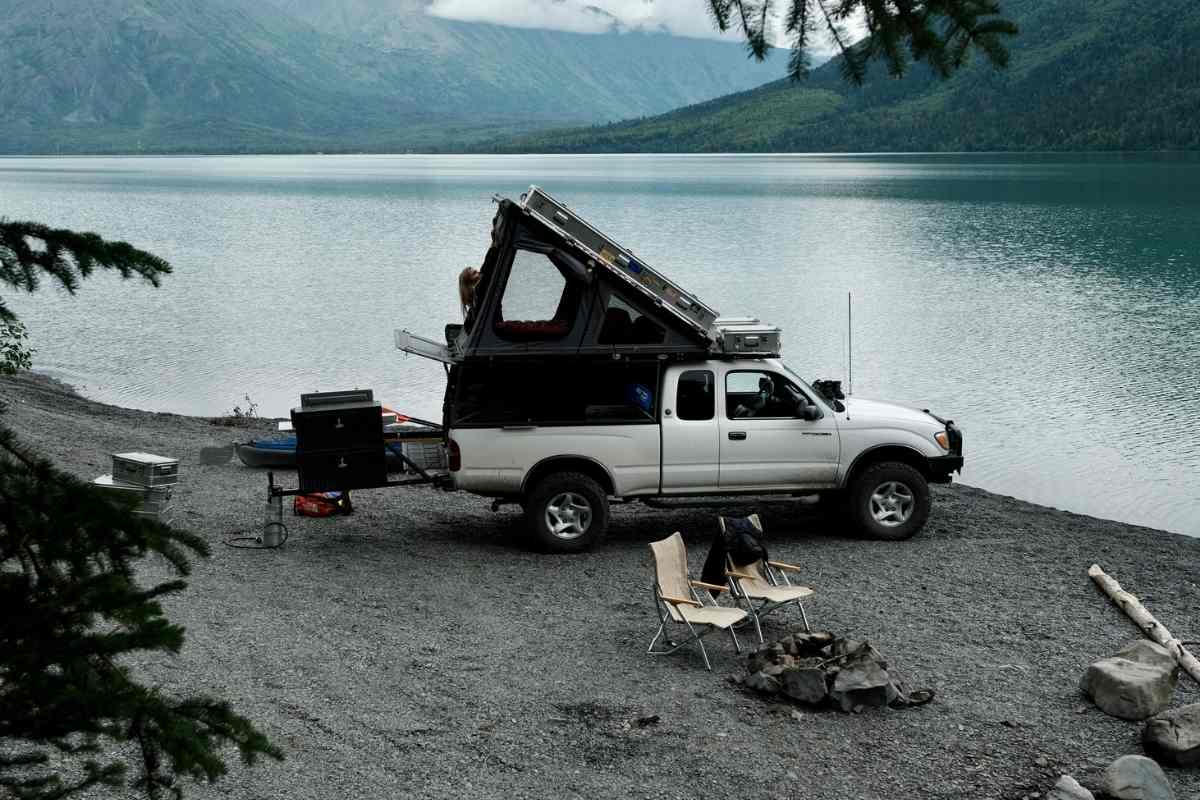 Remote Travel
Remote travel is perhaps the most important part of off-roading and overlanding. It's important to get away from the cities and civilizations that we commonly congregate in and explore the world around us.
However, there are risks to overlanding, as you will be too far away from civilization to receive help quickly. This is when the tools you bring and the drivetrain of your vehicle come in handy.
Do You Really Need a 4×4?
Having a four-wheel-drive vehicle is extremely helpful when the weather turns sour. Mud, sand, uneven surfaces, snow, and even tight quarters can all be extremely hard to navigate without having a 4X4 vehicle.
Having a vehicle with 4×4 while overlanding is great, but they are extremely expensive. If you have a tight budget, you may not be able to rent or purchase a 4X4 vehicle for your overlanding trip.
Now, you don't necessarily need 4×4 to go overlanding, as it is supposed to be less intense than off-roading. But trails aren't really a thing in overlanding or offroading.
That means that the terrain that the vehicle is traveling over can pop up some unexpected obstacles that make things un-traversable without the proper gear and equipment, which might include 4×4.
The good news is that if the route is preplanned and the weather is good, you shouldn't run into any of these issues and will be free to go overlanding with a vehicle that has only two-wheel drive. Make sure that you have good tires made to work well in bad weather and rough terrain. (Source)
Is Offroading or Overlanding Possible with 2WD?
Overlanding is possible with two-wheel drive, but off-roading is more complicated and is extremely hard to do if your vehicle only has two-wheel drive.
You will need a four-wheel-drive vehicle if you want to go off-roading and want to avoid getting stuck. The ability to move four wheels as you drive is meant to help your vehicle get over rough roads and terrain.
Overlanding is a mellow version of off-roading, but it takes longer to complete. You can use a vehicle with two-wheel drive while overlanding.
However, if you want to attempt a riskier path with only two-wheel drive, it is highly recommended that you bring people with you that can help you if you get stuck. Safety should always be your first concern while overlanding.
Is Overlanding the Same as Off-Roading?
Overlanding is not the same as off-roading. Off-roading is much more intense and involves going over rough terrain, including large rocks and rivers. Off-roading trips are much shorter than overlanding trips.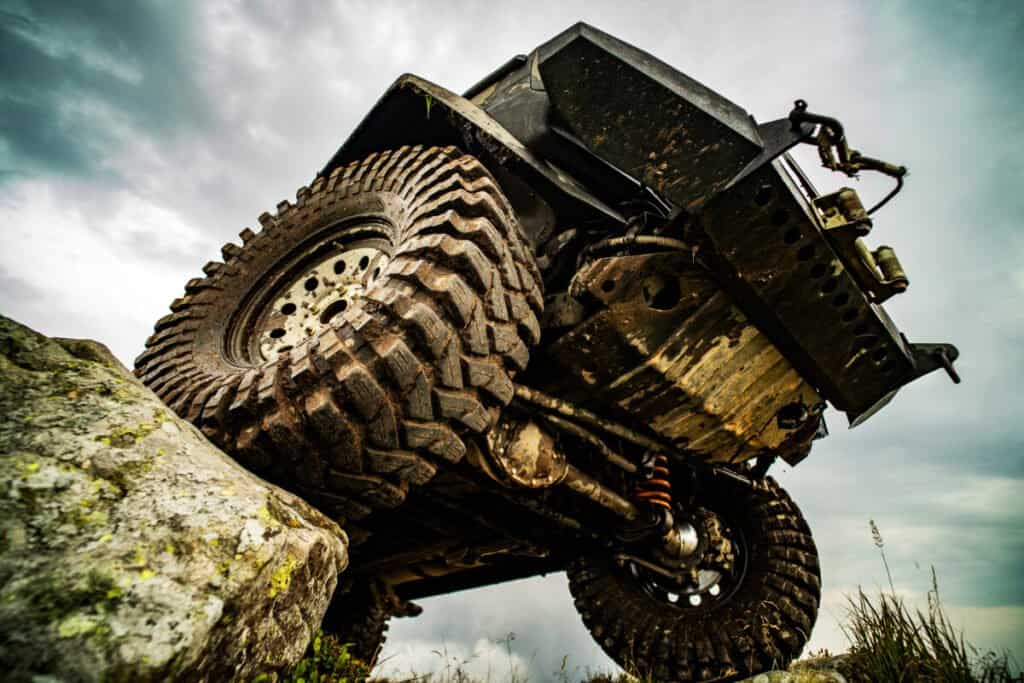 Overlanding involves less rough terrain and focuses more on the travel aspect rather than going over rough terrain, which is why most overlanders can use a two-wheel-drive vehicle rather than a 4-wheel drive one.
Overall, overlanding and off-roading are quite different, so you will need vehicles with different drivetrains. It is safer to go overlanding with a 4X4 vehicle, but it isn't required.