Does the Jeep Gladiator Drive Better than the Jeep Wrangler?
Jeeps are known for their ruggedness, sleek design, and off-roading capabilities.
Two of their most popular models are the Jeep Gladiator and Jeep Wrangler.
How do these two compare to one another, and which one is suitable for you?
Does the Jeep Gladiator Drive Better than the Jeep Wrangler?
The Jeep Gladiator is better for on-road driving while the Jeep Wrangler is better for off-road driving. If you do much off-roading, you'll be better off with a Wrangler but if most of your driving is done on paved streets, the Gladiator is the better driver.
Read on to learn more about how the Jeep Gladiator, Jeep's first pick-up truck, compares to the Jeep Wrangler and why they're better for different types of driving.
Powertrain
The powertrain on a vehicle includes every major part that gives a car its power. Whether you're interested in power or not, knowing about the vehicle's powertrain is important.
Possibly the most essential part is the engine. Knowing what type of engine each Jeep has will help you determine which one drives better.
Gladiator
With the Jeep Gladiator, you have the option between two engines. A 3.6L Pentastar V6 engine powers this model's most popular and standard option.
This comes power-packed with 285 horsepower and 260 lb-feet of torque.
The TorqueFlite 8HP75 eight-speed automatic transmission provides power to the wheels with full-time four-wheel drive.
The vehicle is equipped with an auto start-stop system to help reduce fuel use and release fewer emissions in traffic.
The other engine option with a Jeep Gladiator is a diesel engine with 260 horsepower and 442 lb-feet torque.
Wrangler
The Jeep Wrangler's powertrain provides the power and torque needed for trail-rated off-road capability with the fuel economy of an exclusively on-road vehicle.
This specific horsepower and torque make it ideal for driving off-road.
When considering a Jeep Wrangler, a few engine options are available on their various trim levels.
The powertrain includes a standard four-wheel-drive system, and most trims come standard with a 3.6L Pentastar V6 engine. It's available on all eight trims.
The 3.6L V6 engine has 285 horsepower and 260 lb-feet of torque.
Three other engine options on the Wrangler include a V8 engine with 470 horsepower and torque, the same engine with e-torque, and then a 3.0L Ecodiesel V6 with about 260 horsepower.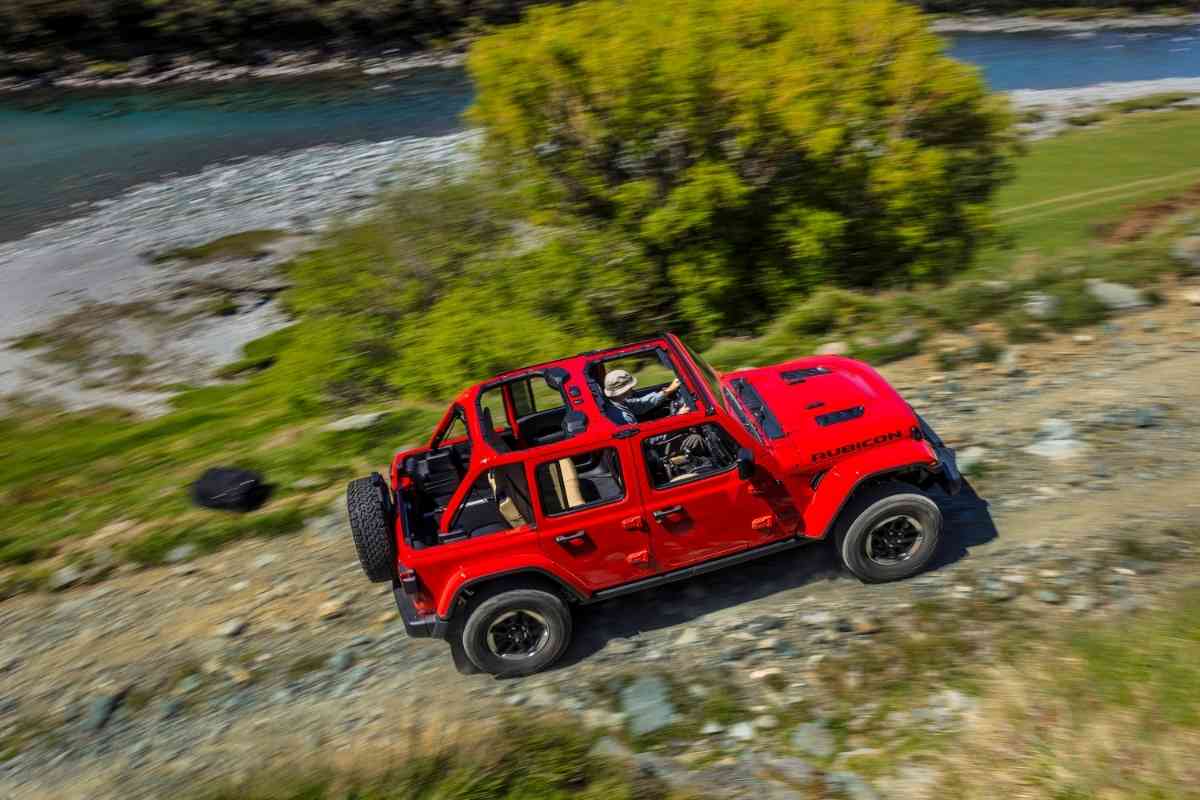 Performance and Style
It may seem like we're comparing apples and oranges with the Gladiator and Wrangler, but these two are nearly identical from the front.
They both have that classic Jeep appearance that Jeep fanatics love.
Once you take a look at their side profiles, the differences in style are unmistakable.
The Gladiator and Wrangler are highly rated for their sleek, iconic, and rugged aesthetic.
Design: Gladiator vs. Wrangler
Although the ride and handling are comparable, both vehicles' designs offer distinct advantages and disadvantages.
One of the key differences in design between these two Jeep models is that the Gladiator has four doors, and the Wrangler can have two or four doors.
When looking at the Gladiator and four-door Wrangler, you may think that they'd be close to if not the same length, but they're not.
The four-door Wrangler is approximately 188.4 inches long, while the Gladiator is exactly 218 inches in length. The two-door Wrangler is 166.4 inches long.
The luggage space on the Wrangler is replaced with a truck bed for the Gladiator.
You can purchase a cover to protect the belongings that you're storing there.
The solid axles and ladder frames of these vehicles provide a bouncing ride typical of Jeeps.
While some people aren't fans of this, true Jeep fans know that this is part of the appeal.
The Gladiator's extended wheelbase reduces up-and-down oscillations.
This makes it a better cruiser. The wheelbase of the Gladiator is 137.3 inches which is significantly larger than the Wrangler.
The Wrangler's wheelbase depends on whether you get a two or four-door. The wheelbase can range from 96.8 to 118.4 inches.
The reduced dimensions of the Wrangler, particularly in the two-door, improve its break-over angle and capacity to control tight corners for off-roading.
The Gladiator's large back overhang may scratch certain surfaces. Both vehicles have low-range transmissions, detachable sway bars, locking differentials, and knobby tires, among the other fantastic off-road characteristics.
Towing: Gladiator vs. Wrangler
Not everyone uses their Jeep to tow things, but it's a great type of vehicle to have if you plan to. The Gladiator has a more robust towing capacity than all versions of the Wrangler.
Looking at the Jeep Gladiator, you'll have a towing capacity of 4,000 to 4,500 pounds. The curb weight of this vehicle is 4,650 to 5,050 pounds, so it's not a surprise that it can tow a heavier load.
For the Jeep Wrangler, you'll still have a pretty solid towing capacity. While it's an excellent towing capacity, it's nowhere near how much the Gladiator can handle.
Depending on the trim and year you purchase, the Wrangler can tow between 2,000 and 3,500 pounds.
The curb weight of the Wrangler is between 3,948 to 4,449 pounds.
Compared to the curb weight, the towing capacity of the Wrangler is solid.
Taking into consideration the towing capacity, you can decide which vehicle is a better fit for you.
If you're planning on towing anything over 4,450 pounds, the Gladiator is the way to go.
Technology, Safety, and Comfort
We live in a day and age where technology is constantly changing and getting better.
Jeep and other car companies are always finding ways to improve the technology included in their newest models. This technology adds that extra layer of luxury and safety that people need when hitting the road.
Jeeps get a reputation for not being comfortable, but Jeep is always improving.
They've improved their interior to provide extra comfort whether you're driving on smooth pavement or through rocky terrain when off-roading.
Gladiator
The Gladiator is the perfect combination of off-road capabilities and the latest technology.
This technology helps keep you and your passengers safe and comfortable while driving wherever you're going.
Some of the best safety features of the Gladiator include anti-lock brakes, traction control, rear parking sensors, blind-spot monitoring, adaptive cruise control, seatbelt pretensioners, airbags throughout the vehicle daytime running lights, and a rear-view camera.
Something that you'll also have with the Gladiator is power steering.
You'll be able to hook your phone, iPhone or Android up to your Jeep to provide you with hands-free listening and calling if need be.
Wrangler
The Wrangler is a great option when it comes to Jeep vehicles.
It has many of the same safety and technology features as the Gladiator because they're so popular and helpful.
With most newer Wranglers, you'll have the ability to connect your phone for hands-free listening.
You'll have plenty of airbags, a rear-view camera, blind-spot monitoring, and the like. One downside to the Wrangler is that there is no power steering.
Final Thoughts
Both the Jeep Gladiator and Jeep Wrangler are fantastic vehicle options.
Both have a classic Jeep appearance, while the Gladiator is a pick-up truck, and the Wrangler is a compact SUV.
They're stylish and will get you anywhere you want to go.
The Jeep Gladiator drives better than the Wrangler when driving on roads due to the larger wheelbase.
The Wrangler drives better than the Gladiator off-road because of its shorter wheelbase and departure angles.
So, ultimately, both Jeep vehicles are great cars that offer a great driving experience.
It ultimately depends on your primary purpose for purchasing one, whether which one drives better over the other.