How Fast Is The Jeep Trackhawk?
This post may contain affiliate links. As an Amazon affiliate, I earn from qualifying purchases.
With a rise in the popularity of SUVs and crossovers in the past decade, automakers have been competing to capture segments of this growing market.
Jeep has taken an exciting approach to this by offering high-performance versions of several popular models, and the coolest yet is the high-torque high-speed Jeep Trackhawk.
How fast is the Jeep Trackhawk?
The Jeep Trackhawk's top speed is 180mph, which is fast by most standards. But in a car this size, it's a marvel of physics. Compounding this abundance of power is the Trackhawk's 0-60 time of 3.5 seconds, making it quicker than most small sports cars.
All of this performance masquerades in the body of a modified Jeep Grand Cherokee, taking one of their most popular vehicles and turning it into their highest performance offering yet.
What Makes the Jeep Trackhawk so Fast?
The Trackhawk was debuted for the 2018 model year and built upon the success of the previous souped-up Grand Cherokee: the Grand Cherokee SRT.
Stripping the SRT of its title as the fastest Grand Cherokee to date, the Trackhawk uses a slightly smaller but supercharged V8 to get it up to speed.
This 707 horsepower force to be reckoned with is the same 6.2-liter engine used in the Dodge Charger SRT Hellcat and the Dodge Challenger SRT Hellcat.
A high-end set of brakes by Italian manufacturer Brembo provide the stopping power necessary for a vehicle as large and powerful as the Trackhawk.
To make stopping the Trackhawk a smooth process, adaptive suspension and top-of-the-line tires also come standard.
A surreal addition to this muscular performance is the singular luxury trim level included with the Trackhawk.
A flat bottomed steering wheel reminds drivers they're not just in any Grand Cherokee.
Meanwhile, the numerous safety aids and a 19 speaker stereo give the essence that you're in any other family vehicle, albeit a luxurious one.
Trackhawk Pros and Cons
No car is perfect, and while the Trackhawk boasts some incredible power and features, it's not for everyone.
The Trackhawk is a well-rounded vehicle but features subtle styling, SUV handling, and all at a hefty price point.
Check out these pros and cons to see if a Trackhawk is worth it for you.
There are only a handful of exterior factors that differentiate the Jeep Trackhawk from other Grand Cherokee models.
The Brembo brakes stand out on their massive wheels, and the tires mounted on these wheels are also Trackhawk-specific.
Save for a Trackhawk badge and Supercharged marker, these are the only outside indicators that this isn't another SRT.
For some buyers, this understated "sleeper" aesthetic is appealing. Others may be disappointed to spend upwards of eighty-thousand dollars and not get to flaunt their awesome ride.
This price tag can get substantially higher with options and is a lot to pay for a five-seater Jeep, which alone can make the Trackhawk unobtainable or undesirable to some drivers, but you get a lot of cars and substantial tech for this price.
There is also talk of stopping production of the Trackhawk in the near future, so this amazing SUV will likely hold its value, if not appreciate its value.
The value is also excellent when compared with rivals with which it competes.
A pro and a con that go hand and hand are the Trackhawk's commendable 7200-pound towing capacity and its extremely low fuel economy.
The vehicle's extreme speed and acceleration, alongside its ability to haul goods, require a lot of fuel from this heavy vehicle.
The final con worth noting is that the Trackhawk steers like an SUV, despite its sporty performance, which should be no surprise from a true "jack of all trades" vehicle, but winding backroads may be less fun than straight-line acceleration.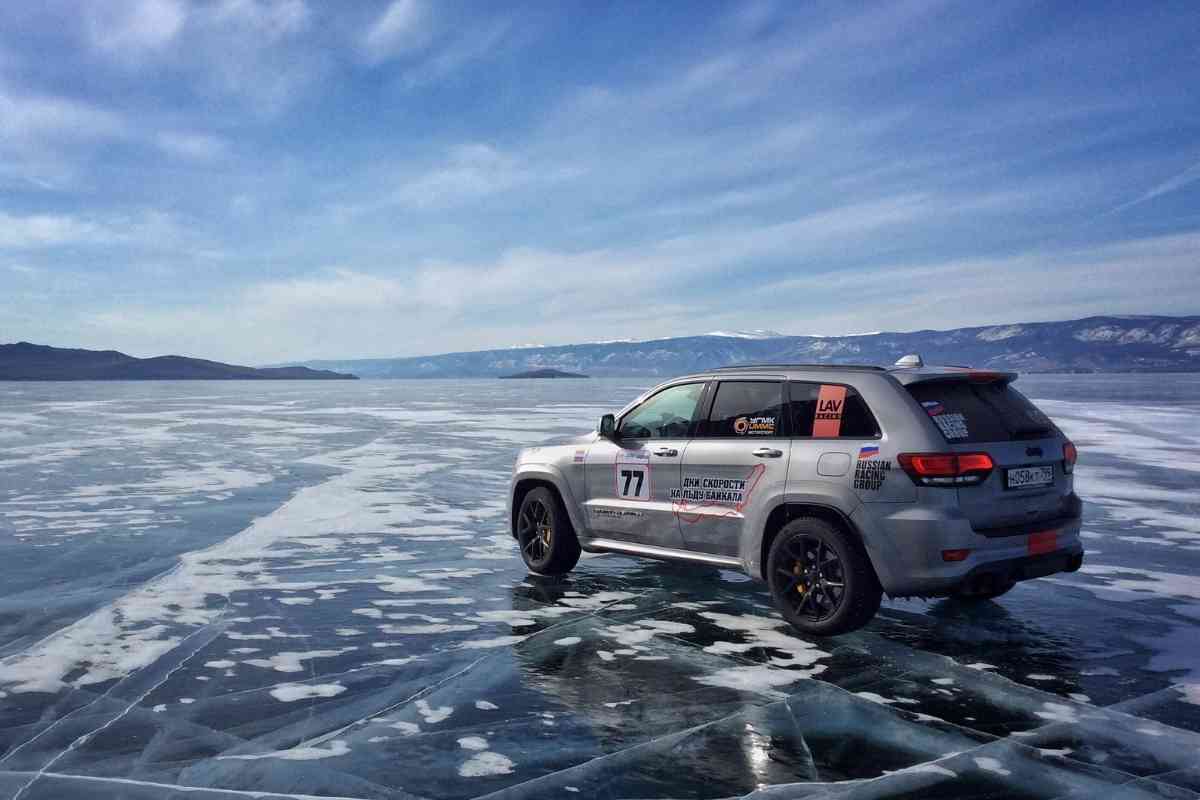 Trackhawk Competitors
The Jeep Trackhawk beats out many impressive competitors, many of which are far pricier than this American behemoth.
While 0-60 times don't mean everything, it's worth basing this section on since not all of these cars are SUVs.
Notable SUVs that the Trackhawk can beat on a drag strip are the legendary Bentley Bentayga and Porsche Cayenne Turbo.
Neither of these cars are slouches on their own, with comparable 0-60 times despite being slower off of the line than the Trackhawk.
The Cayenne offers a more interesting exterior design than the Trackhawk, and Bentley's vehicle is notably higher quality inside.
If you're considering either alternative for their European styling, be prepared to sacrifice a little torque and pay a higher price at the lot.
It's not just SUVs the Trackhawk gives a run for their money.
The Lamborghini Gallardo and Audi R8 V10 both fall short in a potential drag race, despite being respected supercars.
If you have the extra money to consider one of these exciting sedans, you'll be treated to sportier handling and suspension than in a Trackhawk.
That being said, don't expect to tow anything behind you or take the kids to hockey practice in the back seat!
Frequently Asked Questions
How much does the Trackhawk cost?
The Trackhawk sells for around $90,000 but can reach higher than $100,000 with options, which is big money for a Grand Cherokee.
But, when you consider the competitors mentioned above, it could be a bargain in comparison.
How is the Trackhawk's Fuel Economy?
Fuel economy is a major drawback of the Jeep Trackhawk, but not an unexpected one, given the vehicle's turbocharged V8 engine and ample features.
All this adds up to a heavy vehicle, making its performance stats even more impressive, but the secret behind it is a lot of fuel.
Shifting regulations in the US, and a push towards greener vehicles globally, are both reasons why this will be the last year of the Trackhawk's massive V8.
While the future may be disappointing to muscle car enthusiasts, this makes the current Trackhawk even more special.
How Practical is the Trackhawk?
Unlike the Dodge Charger SRT and Challenger SRT that give the Trackhawk its HEMI engine, their SUV brethren have five seats.
Comfortable leather, automatic transmission with five settings, and state-of-the-art technology make this a very practical car for daily driving.
All that being said, the fuel economy may scare non-enthusiasts away from the Trackhawk.
If you want the comfort of a Trackhawk or SRT model but don't care about performance, you may want to opt for a less equipped Grand Cherokee and save a few pennies.
Is the Trackhawk Comfortable Inside?
The interior of the Trackhawk is a mix of suede and Nappa leather, coming in two distinct color options. It's also equipped with ventilated front seats offering heating and cooling.
There's an impressive 19 speaker stereo system standard with all Jeep Performance models, and you can connect to it via Android Auto, Apple CarPlay, AM/FM, or Sirius XM.
Despite all of these luxury features, the sportiness of the Trackhawk means it's tuned quite stiff.
You may have comfy leather seats, but the suspension and handling will keep you locked into them.
Excellent on the racetrack, but less so on a bumpy ride to the grocery store.