Is BMW X3 Worth The Money? (Answered!)
This post may contain affiliate links. As an Amazon affiliate, I earn from qualifying purchases.
For many, the BMW X3's gorgeous design and luxury features make it their dream car. However, those features do come at a pretty high price, so you'll have to ask yourself whether the BMW X3 is indeed worth the expense.
Most people would say that the BMW X3 is worth it. There have been a few problems with this model in the past which have resulted in a few cars getting recalled. Regardless of its faults, the BMW X3 has proven itself as a quality vehicle that still appeals to car enthusiasts.
While many BMW X3 owners are satisfied with their vehicle, not everyone agrees that it is worth the money. If you have further questions about the X3's reliability, then read on! In this article we will discuss the pros and cons of getting a BMW X3.
BMW X3 Specs
First, let's talk about some of the features you'll have access to if you buy a BMW X3. The comfort you'll find in the interior is pretty difficult to surpass with another vehicle. The seats are upholstered with SensaTech upholstery and leather, making them both durable and very comfortable. The seats in your BMW X3 should be durable enough to withstand years of wear and tear.
The BMW X3 features an improved, larger infotainment center and several technological upgrades. The enlarged screen makes it very convenient and user-friendly for drivers to use, especially when they can't look away from the road for too long.
As far as the exterior is concerned, it is very much customizable. There are not only plenty of colors from which to choose but there are plenty of engine options as well. Each of the available engines is turbocharged and very powerful. This gives the car a good amount of kick while still allowing it to glide smoothly and quietly down the road.
There are plenty of trim packages to choose from as well. Regardless of the trim package you choose, you can choose between a rear-wheel drive or an all-wheel drive system. If you were to invest in a package offering AWD, you might even be able to take your BMW off-roading. That is a feat that not a lot of other luxury vehicles can accomplish! However, this option best for those who frequently drive on snowy and icy roads.
Read more about the X3 at BMWUSA.com.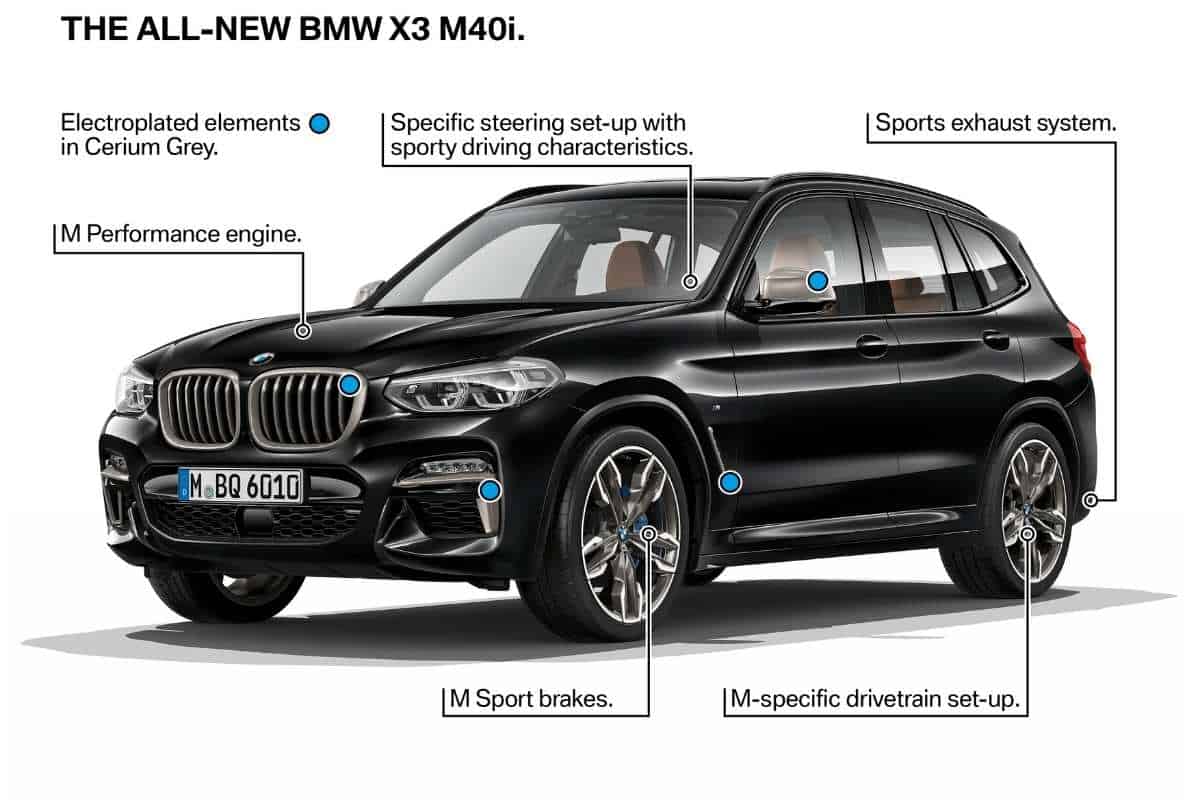 Common Problems
All those features sound pretty nice, right? Well, you should know that in addition to having such nice features, the X3 has had its fair share of quirks and issues. According to Consumer Reports, there have been issues with the airbags and electrical systems in past BMW X3 models, and those issues have resulted in the recall of several vehicles.
In several cases, the airbags in the X3 have failed to deploy correctly which could be a major violation of safety regulations in the future. Additionally, if the airbag were to hit a pressure point on the dash, that could result in some disastrous damage. This has been a major factor in the recall of past models.
Another problem that has been found with the X3 is with the in-car electronics. Many owners have reported their car having issues with using Apple Play or another music system, not being able to use their backup cameras, and other similar problems, according to Consumer Reports. The infotainment center sometimes freezes up as well, making it impossible to use.
There have also been other, more serious electrical issues with the X3. Some have reported that their gauges aren't working properly which, if left unresolved, could prove disastrous. There have even been reports of the transmission, spark plugs, headlights, ignition switch, and batteries having problems. While a lot of these things can be fixed quickly, it can be frustrating to make so many simple repairs.
While there have been plenty of recalls issued, the problems only affected nine or so X3s. In the big scheme of things, this isn't a big deal. However, if these issues have been problematic in the past, they could arise in the future. So before you purchase a BMW X3, remember that these are repairs you may have to deal with.
BMW X3: The Pros and Cons
Now for the big question: what are the pros and cons of investing in a BMW X3? First, let's consider how much is it to purchase a BMW X3?
The BMW X3 is sold in three packages: the sDrive30i / xDrive30i, starting price of $43,700; the M40i, starting price of $57,800; and the M, starting price $69,900. As you can see, even the basic BMW X3 model is a significant investment.
Now that you know how large of an investment you would be making, here are some basic pros and cons of getting a BMW X3!
Pros
If nothing else, you can at least buy an X3 for the comfort and luxury of the seating. The seats are covered in SensaTech upholstery leather and have power adjusters. On top of that, both the front and rear seating areas are surprisingly spacious. This means that no matter where you go and who is riding in the car with you, everybody will be comfortable and will enjoy the ride.
Speaking of space, the BMW X3 features a plenty large cargo area. With so much space, you carry all of your passengers and their luggage regardless of how long the road trip is.
This makes it not only easy to stow luggage for when you go on road trips, but it also makes the car great for off-roading. You'll be able to stow all the gear you'll need including food, safety gear, and first aid supplies.
Cons
There are a few issues with purchasing an X3. First of all, the price is going to be much higher for the X3 than most of its competitors. When you buy a BMW you're paying for a luxury brand. If the price tag is too large, consider looking at similar models made by Chevrolet, Jeep, or even Subaru.
As we saw earlier, each trim package is significantly more expensive than the one before it. This price does not include any add-on features you might want. There are plenty of extra costs that start to add up to quite the undertaking. This can be a pretty high price to pay at the end of the day.