Is the Jeep Gladiator a Good Truck?
Now that the Jeep Gladiator is finally back after much hiatus, I started asking myself, "Is the Jeep Gladiator still a good truck?" Veterans of the truck hobby will remember Jeep's iconic Gladiator and its status as an American symbol. But how does it hold up?
Is the Jeep Gladiator a Good Truck?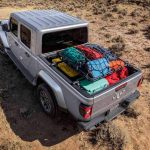 The Jeep Gladiator is a good truck. This new Gladiator has an impressive new engine and many suspension options. It has a very competitive fuel economy and excellent off-road capability. There are a few places where it falls behind the pack, but overall it is a solid and sound addition to truck lovers and newcomers alike.
But just how good is the Jeep Gladiator? How does it stack up against its competition? I intend to take you through the Gladiator's features and customer response to satisfy this question.
Continue reading to find out more!
The Jeep Gladiator Competes on Its Features
Since its reintroduction in 2019, Jeep has carefully crafted its list of features to give a modern experience on a classic truck frame.
2020 Jeep Gladiator
The Jeep Gladiator was released as a brand new, utterly original model with a massive selection in trim packages.
Jeep offered the Gladiator in Sport, Sport S, Overland, and Rubicon packages and a pretty exclusive Gladiator Launch edition for collectors. Jeep only produced less than 5,000 of the launch models.
The Jeep Gladiator featured the well-established Jeep V6 engine. The engine could generate 285 horsepower and 260 lb-feet of torque. While not possessing the craziest stats, the engine was above average and held its own against competitors.
At the time of release, the 2020 Jeep Gladiator was the only convertible truck on the market. The gimmick of having both a truck and convertible is very tempting to truck owners who want to stand out.
The Gladiator has a removable soft top and a folding windshield to go with it. The doors on the Gladiator are also removable.
When someone wants to go into the convertible model, the drive needs first to remove the wear window and quarter panels, allowing the Sunrider Soft top roof to let the sun in.
There are also multiple rigid top panels on the vehicle that can be removed to customize your convertible and give it more of an open concept for an open-air feel while driving.
The Jeep Gladiator has an excellent towing capacity. It can tow up to 4,000 pounds through its trailer hitch, and specific models such as the Gladiator Sahara and Gladiator Rubicons can increase that amount to as much as 7,000 pounds.
Offroad Capability
The 2020 Jeep Gladiator's main marketing draw was its offroad capabilities. Jeep pulled out all the bells and whistles to make offroading an enjoyable experience.
Included was a waterproof push-button start for when you are out and exposed to the elements. Its four-wheel drive was upgraded with Dana 44 wide heavy-duty axels. Jeep also introduced a crawl capability for high and heavy terrain obstacles.
There was also a Rock-Track system for keeping your vehicle stable while navigating rough areas. With the inclusion of a back-facing trail camera, navigation became less stressful.
Since Jeep also used a five-link suspension, it had one of the better ride qualities that provided an insane level of comfort. Ram had been using them in their popular Ram 1500 trucks for years.
The Jeep Gladiator was the first truck outside Ram trucks to utilize a five-link suspension.
2021 Jeep Gladiator
New for the 2021 version of the Gladiator was an option for a diesel-powered engine. This engine was also a V6 and could boast a best-in-class figure of 442 lb-feet of torque.
The engine also increased the fuel economy up to 24 miles per gallon.
The engine also had Variable Geometry Turbo Technology, a type of engine turbocharger that allows a higher performance efficiency at higher speeds without much time delay.
It added new-trim options, including the Altitude and Willy's Wheeler Models. There was also a special 80th-anniversary edition for collectors that included some luxury features and unique color choices.
Full-time four-wheel-drive was offered on all models on the 2021 Jeep Gladiator instead of just a few of the model options, and the Gladiator Overland got a forward-facing Trailcam.
2022 Jeep Gladiator
For 2022, The Gladiator received an infotainment screen size upgrade and a cabin filtration system that comes standard with all models.
This filtration system removes up to 95 percent of particulates, and you can tell the difference in air quality driving around in one.
Specific trim models of the Gladiator also receive different 4-inch infotainment screens, an upgrade to navigation and audio systems, and a keyless vehicle entry.
The 2022 model of the Jeep Gladiator didn't have many changes compared to the difference between the 2020 model and the 2021 model.
One reason is that the famous Gladiators received a massive spike in 2021 when they weren't producing Gladiators fast enough to meet the explosive demand.
The thinking with the 2022 Gladiator was to not mess too much with the model design that is already so popular while still providing some updates for people looking to update their Gladiators.
Of course, they also used the opportunity to increase the Gladiator's price so that their supply could keep up with the craze of anticipated demand. Jeep increased the sticker tag by a little over $2,000 on the base model.
The Gladiator still comes with two engine options, and Jeep kept the trim options of Willy's Sport, Sport S, Texas, Trail, Willy's, and High Altitude.
The 2022 version will be released during Fall 2021.
Jeep Gladiator's Public Perception
Many people agree with the conclusion that the Jeep Gladiator is a good truck. The numbers don't lie.
Although the Gladiator had a somewhat disappointing sales release during its original run in 2019, during 2021, sales suddenly started to skyrocket.
Gladiator sales increased 53% in a single quarter and had a better quarter recorded in U.S retail and total sales. The Gladiator and Jeep's other models helped Jeep see the most significant monthly increase of any car brand for that quarter.
Many attribute higher sales numbers in 2021 to the Coronavirus pandemic in 2020, distorting the typical sales to trend lower because of uncertainty and country-wide lockdowns.
Now that people are confident they will be able to go places again, vehicle sales across the industry have shot up.
The Gladiator was at the right place at the right time to take advantage of consumer demand coming out of hibernation.
This doesn't quite tell the whole story, however. The Jeep Gladiator outsold its competition handily despite being in the same environment. It had significantly more sales than Chevy's Colorado Model and the Ford Ranger Model.
This turn of events seems due to the visual aesthetic and how well the Jeep Gladiator functions as a truck. This combination of factors appeals to collectors and investors alike, who will likely see good returns on the value of Gladiators due to their increased demand.
Very much like its name, the Gladiator has fervent defenders online who declared they knew all along that the Gladiator would have this much market impact.
They view Jeeps as having a 'fun' factor that is very customizable and built tough enough for trail travel and highway travel.