Is the Tacoma TRD Pro Worth It?
This post may contain affiliate links. As an Amazon affiliate, I earn from qualifying purchases.
Cars keep getting better and better every year, which inevitably means they also cost a lot more. The Tacoma TRD Pro costs double the price of a normal Tacoma, but is it really worth that much more?
The Tacoma TRD Pro is filled with features to improve its lifespan and minimize repairs no matter the terrain it's driven on. It is user-friendly and built with various devices to protect the driver from collisions or dangerous terrain while off-road. It is worth the cost for all off-roading needs.
Below, we will go into specifics of what the car offers based on what the Toyota website says and what that really translates to.
Exterior
Beneath the car in the front, there is a skid plate that is 1/4 of an inch thick. This is meant to protect the bottom of the car when you are going over rough patches. If you are driving over tall grass or bushes while off-roading, this will keep the bottom of your car pretty safe. Protecting the underbelly of your off-roading vehicle is pretty important!
The headlights on the TRD Pro are LED and have a specific setting that is designed to stream straight through the fog. This is great for dirt roads that cause a lot of dust to fly up and for those early morning drives to a campsite.
The carrying capacity for the TRD Pro is about 1,440 pounds, which is equal to the weight of two ATVs or 57 Ninja Foodies. It can also tow about 6,800 pounds, which is equal to one camper or about 113 mini-fridges. They also have sway control, which helps create traction for the wheels to maintain control of whatever you're pulling or carrying.
Crawl Control is another major feature of the TRD Pro that helps free the car if it gets stuck. The video below will show an example of it in action and explain how it works in more detail.
The flatbed of the TRD has lockable storage and an outlet for when you're out in the woods and still need to charge your phone. It is incredibly sturdy and comes with 4 hooks for when you need to tie stuff down, such as bikes or mattresses. Things won't fall out of the back of this vehicle as long as you take advantage of the tie-downs.
Mechanics
The shocks on a TRD are built for off-roading and tough terrain. They have thicker housing and oversized shafts on the shock, which prevents them from breaking and lets them handle more shock to the vehicle. They also have a remote reservoir; this is meant to make it easier to blast through rough terrain without breaking the shocks as well. Shocks usually cost about $600 to replace, and these are definitely meant to last no matter what you put them through.
This vehicle has a 6-speed transmission. This makes it easier for the car to drive faster. By putting it into the 6th gear, the vehicle can adjust to driving faster while lowering the number of times each wheel needs to turn. This way, you won't waste energy spinning your wheels.
Inside
A great addition to this vehicle is the ability to select the level of difficulty of the terrain you are on. Then, your vehicle can adjust as needed to help you move forward. It can automatically sense when you need more help and can engage features like the crawl control.
One thing that many modern car drivers love is the backup camera. The TRD has cameras on all sides to provide the driver with a 360-degree view of their surroundings. You can see the terrain coming up, what could be on either side of your vehicle, and what's behind you. It also includes alerts with these cameras to help prevent collisions. It will let you know if a car is in your blind spot when switching lanes or if a car came out of nowhere. It can even break your vehicle for you if you don't react soon enough. This also applies to cruise control and even controls the distance of your car from other cars.
Don't worry, whatever type of smartphone you have, you can still plug it into your system and it will show you a couple of apps such as music, phone, texting, etc. It even has an Amazon Alexa installed to help you use all these apps hands-free. If you don't know what to listen to, they also provide a 3-month trial of SiriusXM.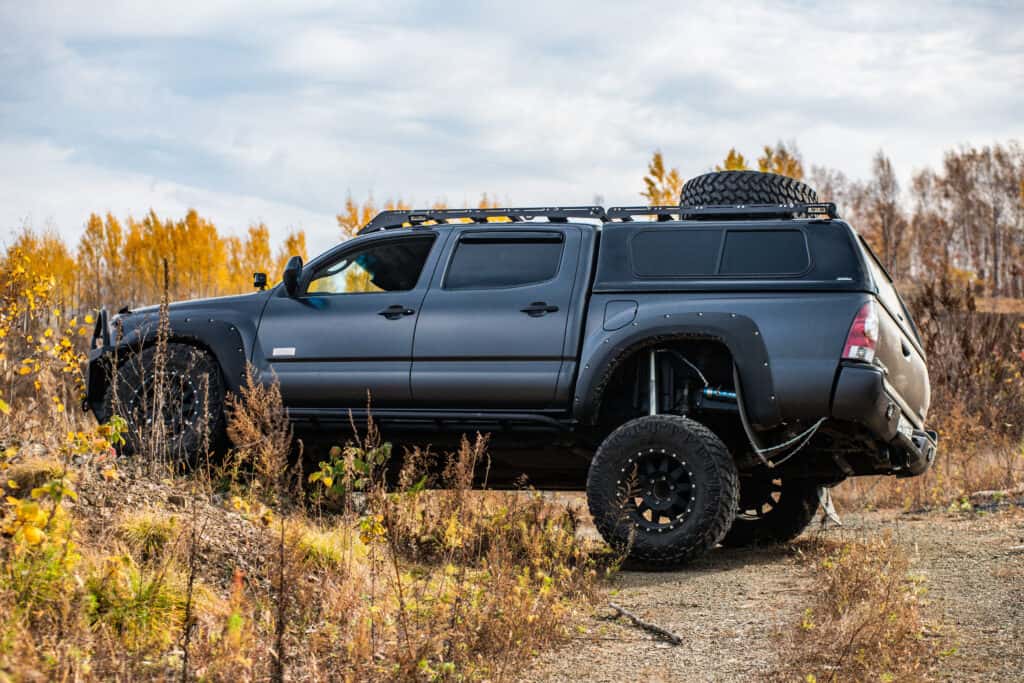 Main Cons
A regular Toyota Tacoma costs about $26,400, while the Toyota Tacoma TRD Pro costs about $44,325. That is almost double the price. Given that it has a lot more features than the normal Tacoma, it makes sense that the price would be higher, but that investment is going to be draining your wallet until you are able to pay it off. Also, most of the features you get in the TRD Pro you can buy and add to your regular Tacoma. One of those add-on options is the Tow Package, which is $1,200.
The wheels are 16 inches in diameter and are meant to be balanced and sturdy. However, this whole vehicle is built for off-roading, so you will need to buy all-terrain tires, which can cost up to $200 each.
The TRD Pro has a direct injection engine. Most of the time, this engine is meant to increase fuel economy and lower emissions, which it does for the TDR Pro. However, it also has a pretty low mpg of 18-22, which means more money is spent on gas. It may also need a specific fuel that helps clean the engine because overuse can cause carbon build-up. Which then needs to be cleaned by a professional for about $400.
This car is meant for all-terrain mostly. It is something you would buy if you go off-roading a lot, use it for moving a lot of cargo, camping, etc. If you aren't moving too much and mostly use it on normal roads, you do not need a TRD Pro.