Jeep Pickup Truck: Everything You Need to Know About Buying The Hot New 2020 Jeep Gladiator
One of the most anticipated new vehicles on the market this year is the new 2020 Jeep Gladiator truck released by Jeep. The question on many peoples mind is if I get a Jeep Truck, which Jeep Gladiator should I buy?
For this reason, I did a lot of research into the new 2020 Jeep Gladiator, listened to what current owners like and dislike and put everything together in one place to make your decision on which Gladiator to buy easy!
Which Jeep Gladiator To Buy?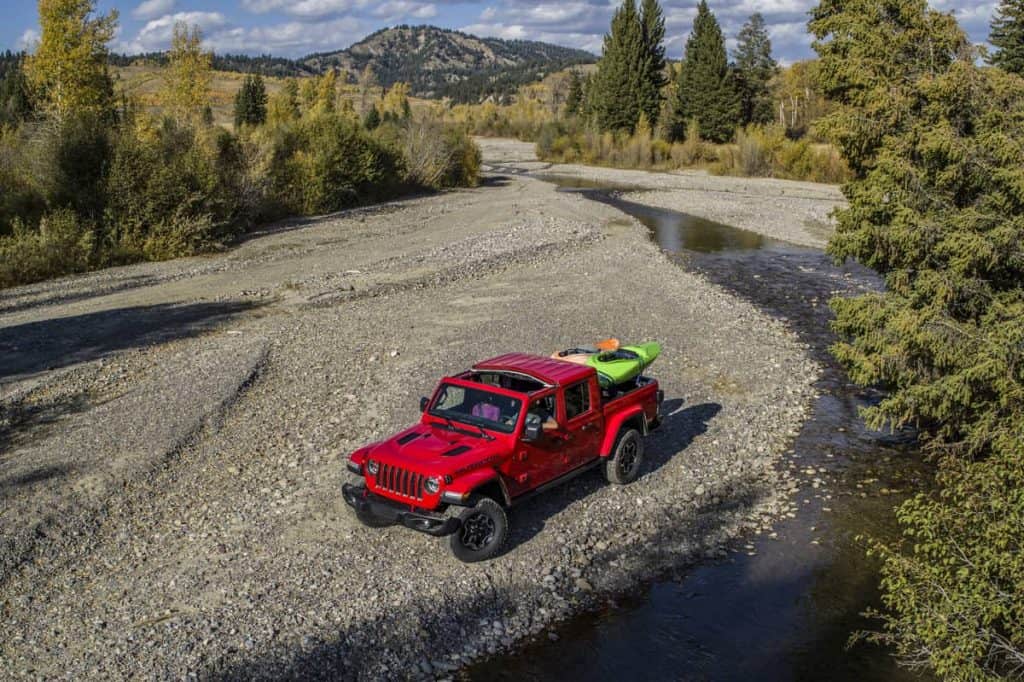 There are four trim levels for the new 2020 Jeep Gladiator. These trims start out with the base Sport model and move up in features from there. The other trim levels include the Sport S, Overland and Rubicon.
Watch The Video: New Jeep Gladiator Ad
Price: How Much Does A New 2020 Jeep Gladiator Cost?
So, how much does the new 2020 Jeep Gladiator cost? The new jeep pickup truck starts at an MSRP of $33,545 for the base Sport trim and moves up to the most expensive Rubicon edition which has a starting MSRP of $43,545.
Jeep Gladiator MSRP Comparison
| | | | |
| --- | --- | --- | --- |
| SPORT | SPORT S | OVERLAND | RUBICON |
| Starting MSRP: | Starting MSRP: | Starting MSRP: | Starting MSRP: |
| $33,545 | $36,745 | $40,395 | $43,545 |
Gladiator Sales & Discounts: How To Get A Good Deal On A New Gladiator Truck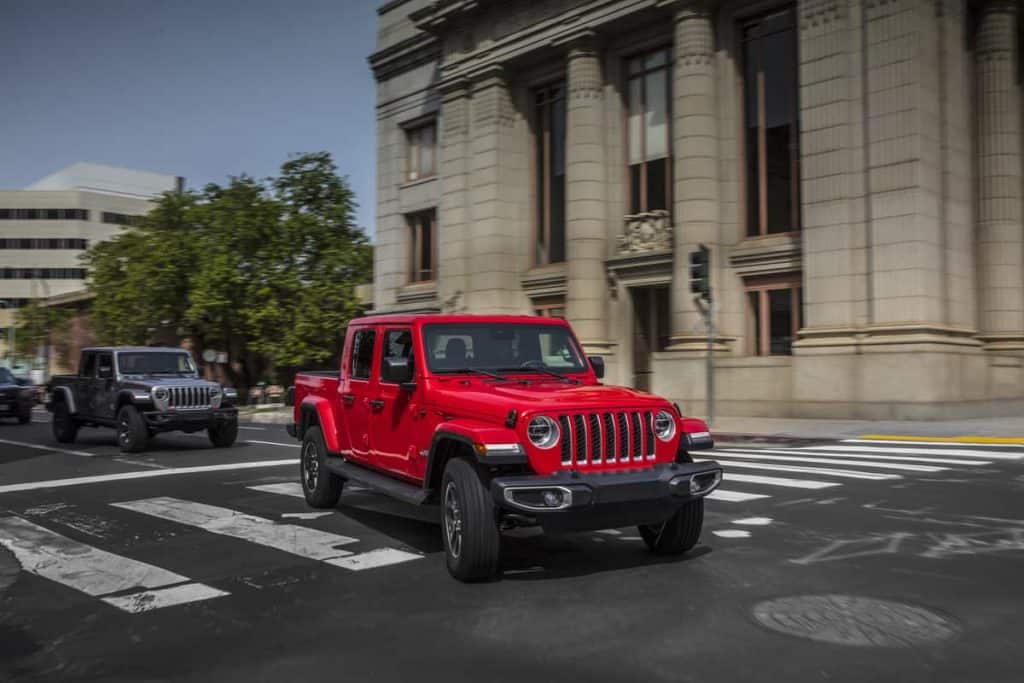 The new Jeep Gladiator pickup is a H.O.T. (????,????,????) vehicle right now. It's amazing the interest in the new truck that some people are paying above MSRP for their trucks, but don't let this happen to you.
I've got some special insight into how to get the best deal on a new 2020 Jeep Gladiator truck.
SPECIAL DEAL: Earlier this year, I published an article about how to get the best prices on a new 2019 Jeep Wrangler. I showed you how to get over 7% below invoice on the Wrangler. You can use this same process to get the very best deal on a new Gladiator truck and throw in a few truck accessories too!
---
Gladiator Features: Exterior & Interior Options
In addition to their being four different trim levels [Sport, Sport S, Overland & Rubicon), there are many exterior and interior features and color combos for you to select from.
Let's start by discussing the optional features on the Gladiator.
2020 Jeep Gladiator Color Options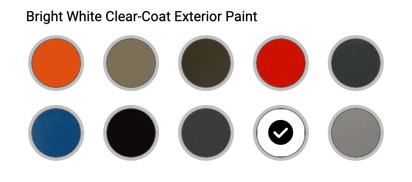 Punk'n Metallic Clear-Coat Exterior Paint
Gobi Clear-Coat Exterior Paint (Late Availability)
Gator Clear-Coat Exterior Paint (Late Availability)
Firecracker Red Clear-Coat Exterior Paint
Granite Crystal Metallic Clear-Coat Exterior Paint
Hydro Blue Pearl-Coat Exterior Paint (Late Availability)
Black Clear-Coat Exterior Paint
Sting-Gray Clear-Coat Exterior Paint
Bright White Clear-Coat Exterior Paint
Billet Silver Metallic Clear-Coat Exterior Paint (Late Availability)
2020 Jeep Gladiator: Factory Wheels and Tires
SPORT
SPORT S
OVERLAND
RUBICON
17-Inch x 7.5-Inch Black Steel Styled Wheels
17-Inch x 7.5-Inch Tech Silver Aluminum Wheels
18-Inch x 7.5-Inch Granite Crystal Aluminum Wheels
17-Inch x 7.5-Inch Granite Crystal Aluminum Wheels


245/75R17 All-Season Tires

245/75R17 All-Terrain Tires
245/75R17 All-Season Tires

245/75R17 All-Terrain Tires
255/70R18 All-Season Tires
33-Inch LT285/70R17C All-Terrain Tires (Standard)

33-Inch LT285/70R17C Mud-Terrain Tires
Jeep Gladiator: Soft & Hard Top Options
The 2020 Jeep Gladiator provides buyers with four different roof options. They consist of a dual top option, a premium soft top, 3 part hardtop and a body-colored 3 part hardtop.
Dual Gladiator Top Group: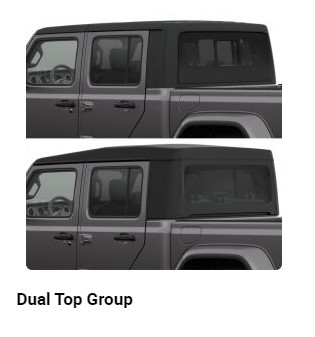 Premium Black Gladiator Sunrider Soft Top: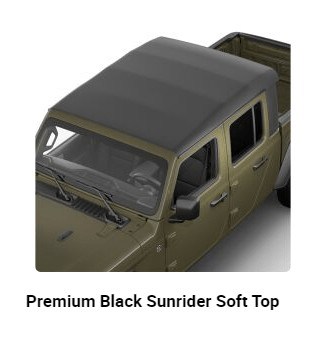 Black Freedom Top® Gladiator 3-Piece Hard Top: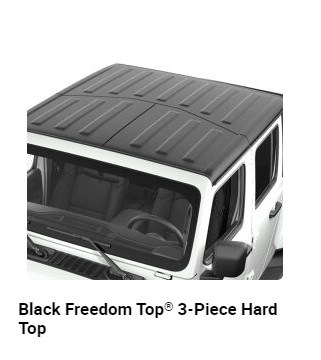 Body Color 3 Piece Gladiator Hard Top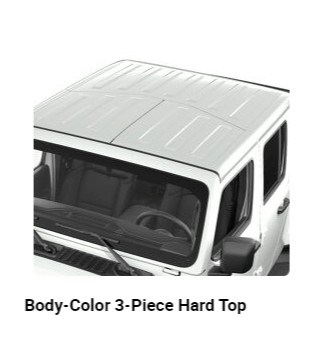 Jeep Gladiator: Exterior Factory Accessories
Three popular exterior accessories include:
Roll-Up Tonneau Cover
Spray-In Bedliner
Remote Proximity Keyless Entry
---
Jeep Gladiator Truck Interior Options
While your friends, family, and neighbors usually see and judge your truck from the outside and how it looks, I suspect most of your time will be spent noticing the fine details of the interior of the new Jeep pickup truck.
For this reason, we need to do a deep dive into the interior features.
Sport and Sport S Interior Seating Options
Black Interior Color
Black / Heritage Tan Interior Color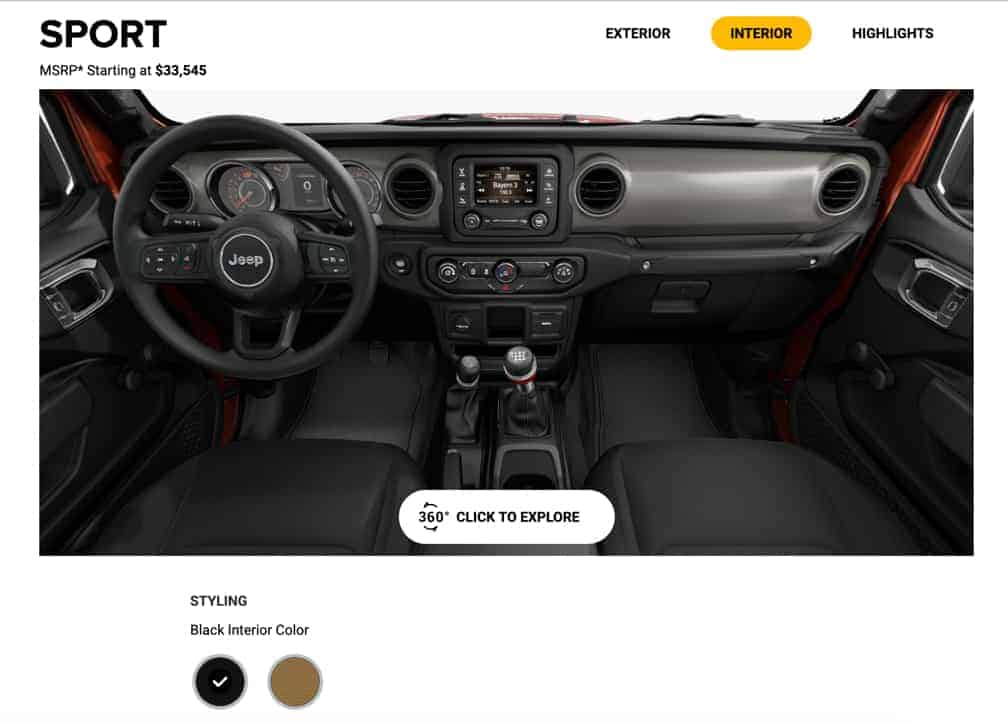 Overland Interior Options
Black / Heritage Tan Interior Color
Black Interior Color
Black / Dark Saddle Interior Colors
Black Interior Color (Version 2)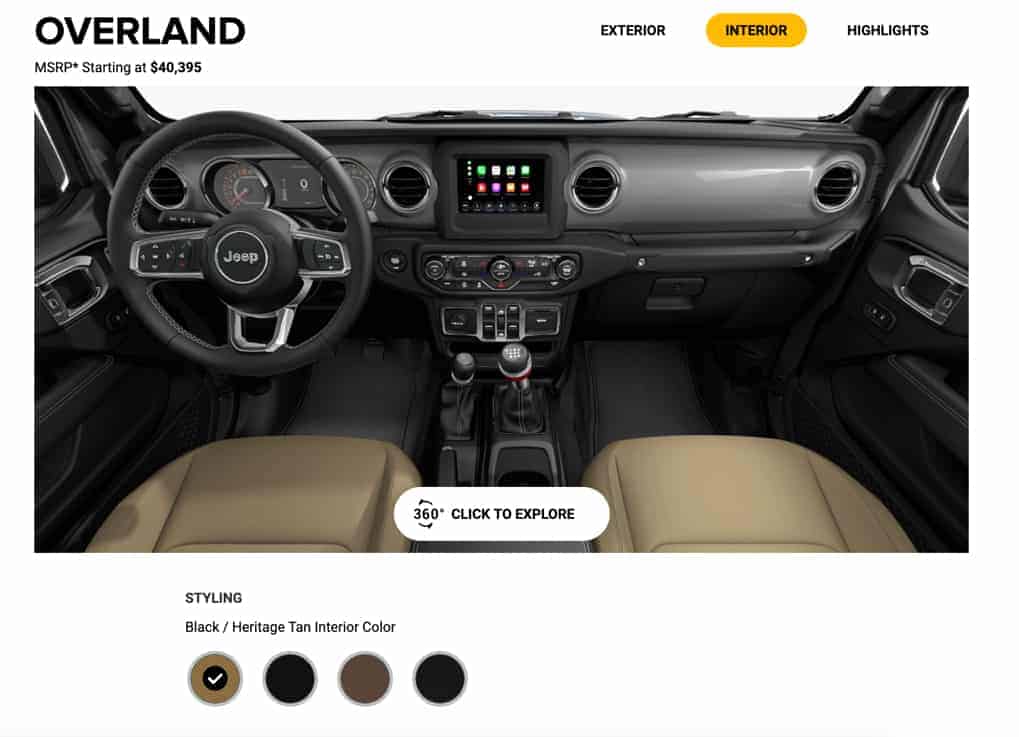 Rubicon Interior Options
Black / Dark Saddle Interior Colors
Black Interior Color
Black Interior Color (Version 2)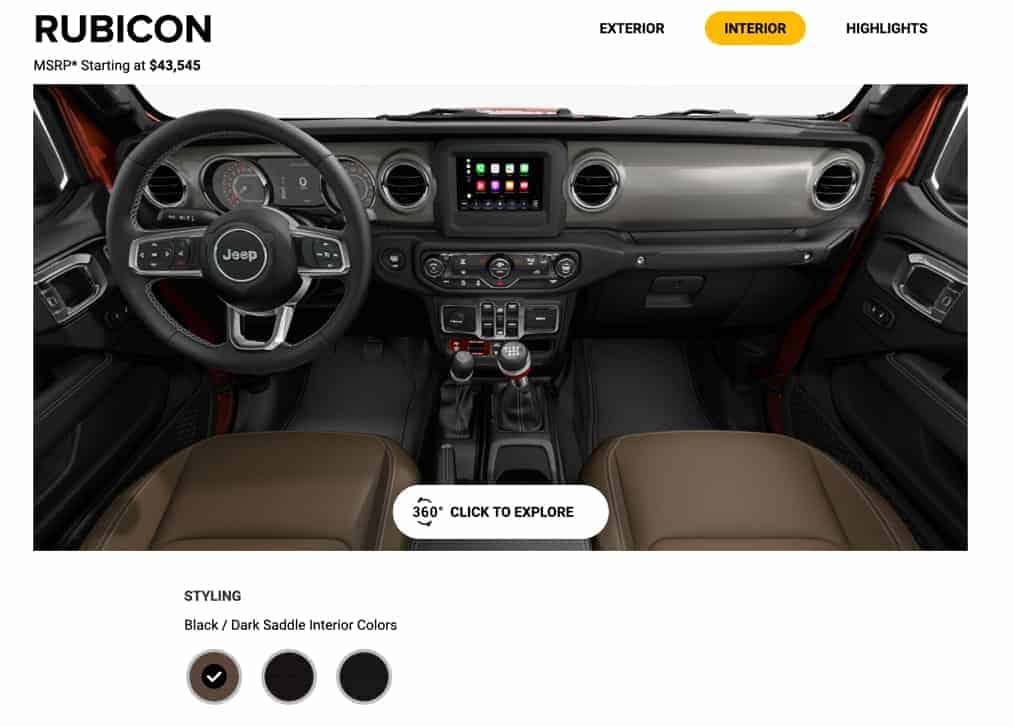 Jeep Gladiator: Stereo System Options
| | | | |
| --- | --- | --- | --- |
| SPORT | SPORT S | OVERLAND | RUBICON |
| | | | |
---
Jeep Gladiator: Additional Options You Should Consider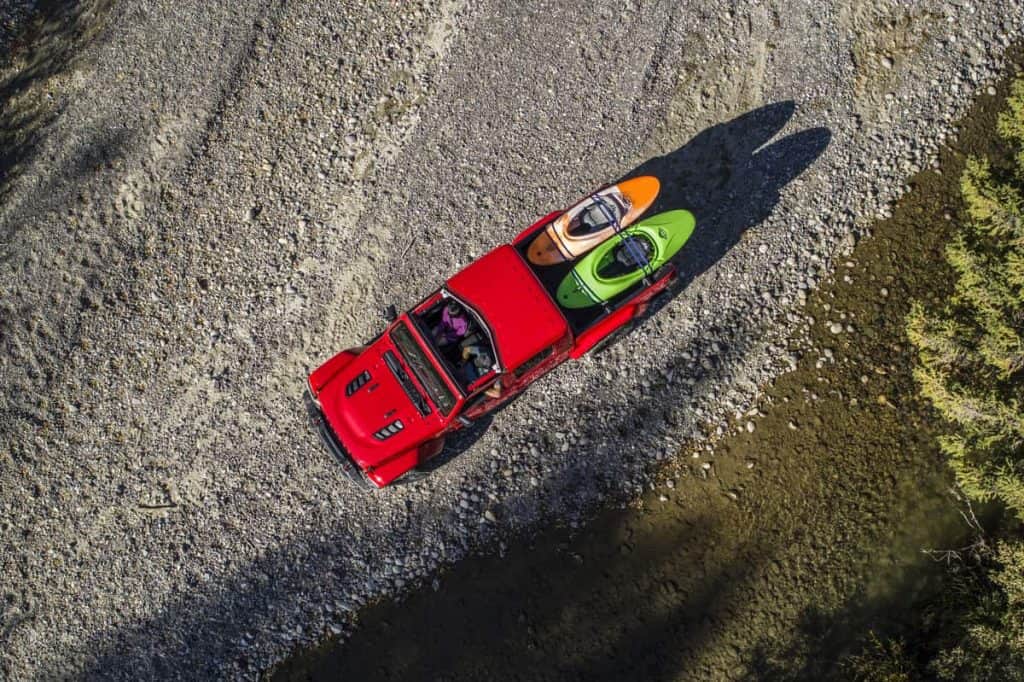 With the release of the Jeep Gladiator comes many different trim levels and options. With the Jeep Gladiator being a brand new mid-sized pickup truck for the 2020 model year, it may take us all a while to get familiar with the different packages available for these trucks.
I've done some research to understand what is (or will be) available for the 2020 model year.
Here's what I have compiled from Jeep.com:
Trailer Tow Group
240-Amp Alternator
Class IV Receiver Hitch
Heavy-Duty Engine Cooling
Trailer Hitch Zoom
Max Tow Package With 4.10:1 Rear Axle Ratio
240-Amp Alternator
4.10:1 Rear Axle Ratio
Class IV Receiver Hitch
Heavy-Duty Dana® 44 Wide Front Axle and Heavy-Duty Dana 44 Wide Rear Axle
Daytime Running Lamps
Gross Vehicle Weight Rating—6,250 Pounds
Heavy-Duty Engine Cooling
Trailer Hitch Zoom
All-Terrain tires
LED Lighting Group
Daytime Running Lamp LED Accents
Front LED Fog Lamps
LED Front Turn Signal and Parking Lamps
LED Reflector Headlamps
LED Taillamps
8.4-Inch Radio & Premium Audio Group
8.4-Inch Touchscreen
Alpine® Premium Audio System
Emergency / Assistance Call
GPS Navigation
HD™ Radio
Auto-Dimming Rearview Mirror
SiriusXM Guardian™ with One Year of Service Included
SiriusXM®with One Year of Service Included
SiriusXM® Traffic Plus and SiriusXM Travel Link with Five Years of Service Included
7-Inch Radio Group
Uconnect® 4 with 7-Inch Touchscreen
Apple CarPlay®Support
Android Auto™Integration
SiriusXM® with One Year of Service Included
7-Inch Driver Information Digital Cluster Display
USB Host Flip
Air Conditioning with Automatic Temperature Control
Active Safety Group
Blind Spot Monitoring
and Rear Cross Path Detection
LED Taillamps
ParkSense® Rear Park Assist System
Advanced Safety Group
Advanced Brake Assist
Full-Speed Forward Collision Warning with Active Braking
Adaptive Cruise Control with Stop (Automatic Transmission)
Adaptive Cruise Control (Manual Transmission)
Cold Weather Group
Heated Front Seats
Heated Steering Wheel
Remote Vehicle Start (Unavailable with Manual Transmission)
Cargo Management Group with Trail Rail™ System
240-Amp Alternator
400-Watt Inverter
Truck Bed 115-Volt AC Outlet
Lockable Rear Underseat Storage Bin
Bed Trail Rail™ System
Auxillary Switch Group
240-Amp Alternator
700-Amp Maintenance-Free Battery
Four Programmable Auxiliary Switches
Convenience Group
Universal Garage Door Opener
Remote Vehicle Start
---
Gladiator Owners: What Do They Say About Their Jeep Truck?
It's one thing to take a salesman's word for the new truck, but I prefer hearing from real Jeep owners about their experience with the new Jeep pickup truck.
As a result, I listened to Gladiator owners and compiled a list of features they both love and hate about the new Jeep. The reality is, there is no such thing as the perfect vehicle. What works great for one person, maybe a detractor for another.
However, there were several common themes about the truck and this is what I found: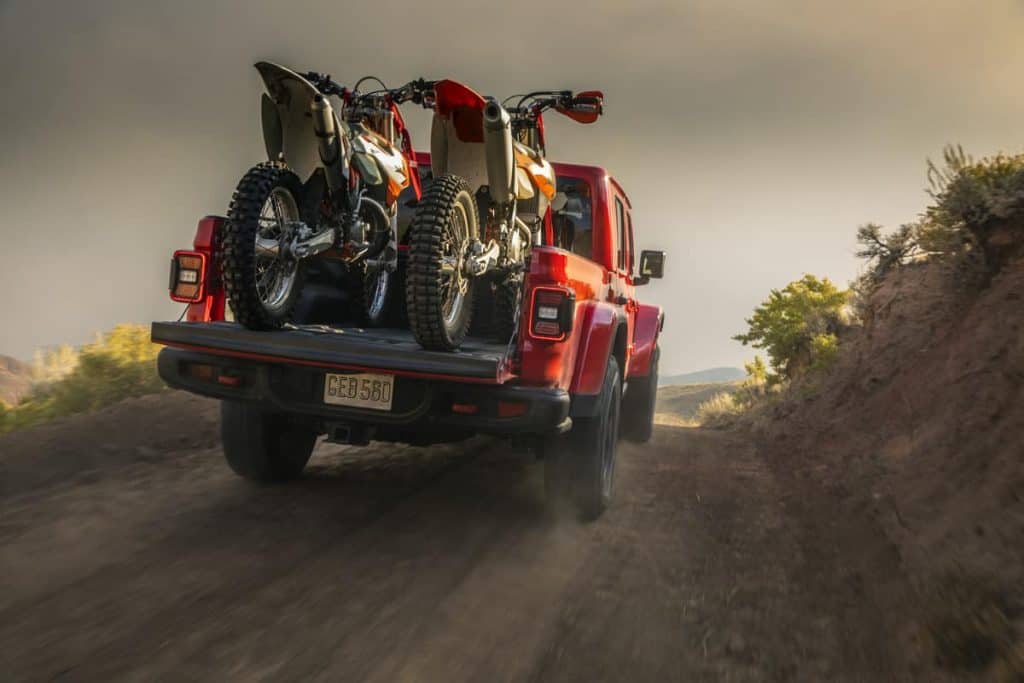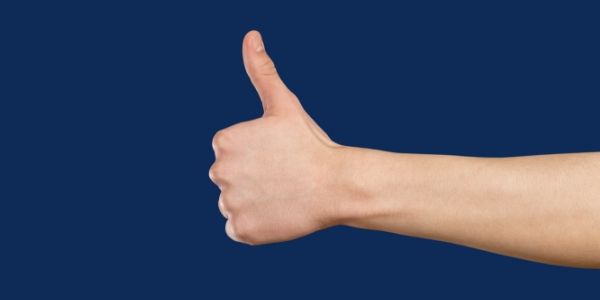 Information Screen – It gives you so much information including pitch and roll while offroad and the oil temp while towing. It is a great collection of user information all in one easy to read screen.
Fuel Door and Gas Cap – unline the new JL Wrangler, the gas cap tether is long enough to get the fuel cap out of the way when filling up with gas (and soon Diesel).
Good Gas Mileage – Some owners have complained about the fuel efficiency, but most of those have much larger tires. A Jeep Gladiator Sport with a small lift and 33″ tires is getting 20 mpg in routine daily driving behavior.
Max Towing Package – The max towing package allows the Jeep Gladiator Truck to have the best towing capacity in its peer group.
The Doors and Roof are Removable – This is the only truck on the market that allows you to remove the doors and roof. It makes the truck a lot more fun when you can change it up. It's not just a truck, but something you can modify and enjoy great weather with the top and doors down while still towing a camper or trailer.
Heated Steering Wheel – If you live in colder climates, the heated steering wheel is a nice feature. This comes as part of the cold weather packing if this is a feature you might want on your Gladiatory.
Multi-Directional Folding Rear Seat – This is a feature not many people have considered about the Jeep Gladiator! The rear seat is a split-bench design that folds flat to allow good cargo room in the cab. What's even more impressive is the fact the seat bottoms and backs fold up vertically giving you full access to the floor. This would be great if you needed to put a big screen TV box or another similar sized item in the back of the Jeep without having to load it into the truck bed.
LED Lights In The Truck Bed – The next time you are carrying items to the truck at night, you will be really glad Jeep installed these LED lights into the truck bed. With many competitors trucks, you have to carry a flashlight or install aftermarket lights to be able to have this feature.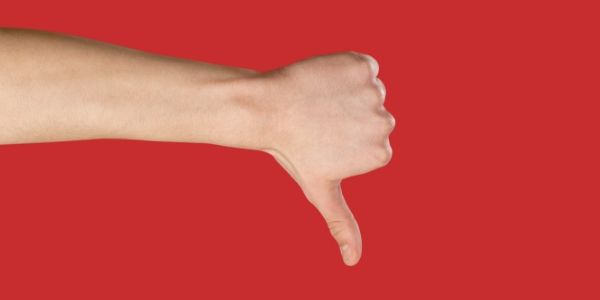 Auto Park Feature – From my research, the Jeep Auto Park Feature is probably the most hated feature of all on the Jeep Gladiator. If you push the start button and then step on the brake, auto park engages. If you start, then open the door and then shift into gear, auto park engages. Owners talk about having to turn off the Jeep and start all over even though the display tells them to shift into park and then back to drive. Some will argue this is not a big deal, just close your door, but in the event, you are backing up to a trailer or launching a boat, you may need to get in and out of the Jeep multiple times to check where you are. This gets really annoying when you are only backing an inch or two at a time and it is easier to just leave the door open.
The Seats – The seats are terrible when compared to almost any competitor. The manually controlled seats offer no tilt feature. For the price tag of these Gladiators, you would expect the seat to adjust in multiple ways to help accommodate drivers of all sizes. A tall driver may have a hard getting comfortable due to the lack of support for their legs. This is all due to the lack of a tilt feature in the seat.
Steering Wheel Controls for the Dash Display – The buttons that control the dash display are counter-intuitive. You press the down button and the menu goes up. If you press the up button the menu goes down.
Inner Fender Liners – The liners are getting ripped off running down the road. They are cheap and flimsy. I assume this is something Jeep will need to correct going forward.
Side View Mirrors – The side view mirrors are identical to those on the new JL Wrangler. For a truck that is designed to tow trailers, campers, and boats, these mirrors are not adequate for seeing your Jeep, the lane beside you and keeping an eye on your trailer. Jeep may want to consider a new design for the Jeep Gladiator side view mirrors.
Rear Tail Light Design – This may be a subjective item on the list, but it seems a lot of people do not care for the rear taillight design. Instead of being seamlessly integrated into the body, they look like they are pods that are simply stuck to the side of the truck bed.
Trailer Brake Controller – This feature is hated because it does not exist. As of the time of this article, Jeep has not produced a Gladiator with a trailer brake controller. Many competitors like the Chevy Colorado have had them for years. The trailer brake controller is a feature owners who want to tow with their Gladiator will want to have as part of the max towing package. Clearly Jeep knows they are in the wrong here because they have it listed on their website, but they are not selling it.
Best Seller Comparison | Gladiator Sport vs Sport S
The Jeep Gladiator Sport and Sport S are the two fastest selling models of the Gradiator pickup truck currently. This could be due to the leasing specials or many other features, but we need to discuss both models in detail.
Since more than likely you will be buying one of these two models.
So let's do a deep dive into the Sport and Sport S trims.
Jeep Gladiator Sport vs. Sport S Trims
Have you been trying to decide whether Jeep Gladiator Sport or Jeep Gladiator Sport S is best for you?
This is not an easy decision to make as buying a car is one of the major purchases one makes in a lifetime.
Jeep is known for being a high quality brand that offers a lot of different options when it comes to buying a vehicle.
Both the Gladiator Sport and Gladiator Sport S give you a lot of flexibility depending on what you're looking to do with your Jeep.
Regardless of whether you're trying to find a car for work, the car that you drive daily, a "fun" Jeep for the weekend adventures or if you want to be off-road 24/7 – it probably makes sense to be looking at a Jeep due to their overall high quality.
All four of the Gladiator models offer awesome towing and payload specs, however the Gladiator Sport and Gladiator Sport S both offer more in this area than higher priced packages. That's great news for those looking for a heavy duty use Jeep.
However, how does one make that final decision between the Gladiator Sport and Gladiator Sport S?
The Gladiator Sport is more of a purist's vehicle. There are a lot of features that beat out other brands of vehicles to be sure, but when compared to the Gladiator Sport S it definitely has less features overall.
The benefit here is that the Gladiator Sport also comes home with a more reasonable price tag.
On top of the base purchase features and price difference, the Gladiator Sport S opens the door for some future package purchases that you may consider; where as if you buy the Gladiator Sport model you won't be able to even think about buying those packages because they aren't compatible.
While that may seem unfortunate, you really need to weigh price with the features you're getting.
Buying a vehicle is never a cheap process so you really want to take your time to research what you're getting so that you are satisfied with your purchase long down the road.
How can you decide if the extra money is worth it to spend for the Gladiator Sport S over the Gladiator Sport?
We're going to take you through every single pro, con, difference and similarity to help you make the perfect purchasing decision that will make you a happy camper.
Jeep Gladiator Sport vs Sport S Similarities
It's important to realize that when you are deciding between the Gladiator Sport & the Gladiator Sport S that you truly are the same vehicle and you are only debating on a trim package.
I mention that because at times people can over-estimate the differences of the vehicle. The differences sound like a lot when you are listing off all kinds of differences, however you should also pay some mind to these similarities.
Yes, additional features do matter. However, most people buy a vehicle for the basics as well and if you are thinking in that mode; here are some ways that the Sport & Sport S perform exactly the same. Even though the names are so similar, people really do forget to think this way.
Let's start with the engine. Both packages offer a 285-horsepower 3.6 liter V6 engine. This has got a nice feel to it and should give you enough power whether you're using the vehicle for work or play.
The torque, payload, and towing capacity also both match up on these vehicles. You've got a towing capacity of 7,650 pounds and a max payload capacity of 1,600 pounds with either door you go through. That's deceiving as some people will think that they're getting more power when they pay more, obviously that's not the case here.
To get up to those maximum capacities advertised by Jeep, you will need to get the Max Tow Package that has 4.10 Axle Ratio. Some people can feel a bit misled by that, but that's somewhat of an industry standard when advertising for towing capabilities.
The size of the vehicles stays the same as far as length, width, and height goes, and with all of these similar stats you are getting the same fuel capacity as well as fuel performance.
Both vehicles are going to average around 19 MPG if you are combining some level of highway and city driving.
On top of that, your off-road capability will not be affected if you go with either set-up. The Command-Trac Part-Time 4WD System will be identical no matter what you choose.
Jeeps are known for heading off-road and the 17" wheels give you a lot of traction with that Command-Trac system. Most customers are satisfied when they buy through Jeep and they'll continue to lead the field when it comes to off-road vehicles.
When it comes to some of what could be considered the "hard" specs, you'll find that the Gladiator Sport and Sport S are exactly identical.
For those thinking they can get a leg up in power or in size by simply spending a bit more, they will be disappointed as they could have got the same performance from the Gladiator Sport.
When you get to the interior, you're still going to find a lot of similarities between the two trims. Both models come with standard air conditioning to keep you cool on hot summer days. The interior designs are the same so nothing really stands out here as far as picking a superior package.
Of course, Jeep wants to keep their drivers safe so anything you can think of that is related to safety will be included on both models.
They feature back-up cameras which can help get you out of sticky mountain situations (or just bad parking from your neighbors). The Jeep models also come with electronic stability and swaying trailer controls which allow you to navigate with confidence.
At the end of the day, the biggest features in the Gladiator Sport & Sport S really do match up with each other and the differences end up being things that are more "convenience" based.
Whether you're willing to pay that convenience will be the deciding factor about which model you should go with at the end of the day.
Jeep Gladiator Sport vs Sport S Differences
To effectively decide which Jeep Gladiator trim is for you; you need to know the essential differences between the Gladiator Sport & Sports S.
The Gladiator Sports S trim is more expensive – getting priced over $3,000 more than the Gladiator Sport when going by the Manufacturer Suggested Pricing.
Of course, that means that the Gladiator Sports S is going to have more features that are either added or improved when compared to the Gladiator Sport.
The big question you have to ask yourself is "Do these additional features add up to more than $3,000 in value for my personal needs?"
Let's take a look at the differences and clear up that thought process for you.
Let's start with the windows.
The Jeep Gladiator Sport really lags behind its counterpart when you take a look at the windows.
The first difference most people notice is that the Gladiator Sport has manual crank windows. Yes, that's still a thing. It's a big deal for some buyers and this level of inconvenience doesn't stop there.
The Gladiator Sport also has manual door locks.
The Jeep Gladiator Sports S really stands out with these two factors alone when you consider that is has power windows, power door locks that offer keyless entry, and even a nice 1-touch down option that means you don't even have to hold your finger on the down key to get the windows down on that nice sunny day.
The side mirrors also get the electronic upgrade as well – they're powered and the Gladiator Sport has manually adjustable side mirrors.
For drivers who don't want to go back to the old days of cranking their window down; this feature along is going to be a deal-breaker.
As one last note on the windows; it should be noted that the rear windows of the Gladiator Sport are clear where as the Sport S have tinted rear & rear door windows tinted automatically.
Those buying the Gladiator Sport can choose this tinted option for just under $500; however that means you're cutting into your saving that you had from buying this model.
As we move around the two models, we come to the tires, another big difference point here between the two.
The Sport S has what many will consider a better wheel set up (aluminum with silver finish vs. steel w/ black finish).
When you look at the steering wheel, you see the Sport S has a leather upgraded version which will feel a bit more comfortable when driving.
You've got one more major difference to consider when deciding on the Sport or Sport S which is additional "miscellaneous" options.
If you are looking for a Bluetooth speaker or premium audio system, those are only available for purchase on the Sport S. That also goes for some "camping" features like a Hard Top Headliner or Side Steps.
There are also some packages that cannot be added to the Sport such as a Remote Start package or a Cold Weather package that includes heated front seats and a heated steering wheel.
None of the packages are "do or die", however there are also same safety ones like Adaptive Cruise Control or a Jeep Active Safety Package (offers blind spot detection, parking assist, etc.) that may interest you if you are looking for the absolute safest option.
Making A Final Decision: Jeep Gladiator Sport vs. Gladiator Sport S
When you're considering the Gladiator Sport & Sport S, you need to be thinking about the convenience options that are the big difference between the two.
There are no major performance differences between the two when comparing activities like towing, on-road performance, or off-road performance. Both vehicles are pretty solid in the statistics and reputation that they bring to the table, so you are in the right area of consideration.
The Gladiator Sport gives you exactly what you need and nothing more. If your main consideration is performance and price, that is probably where you need to go.
Some drivers may be put off by the fact that you've got crank windows; however others may feel a bit of nostalgia for rolling the window down on a beautiful day. Either way, the Gladiator Sport gives you the basics and gets you on the road (and off it) at the bare minimum price for a Jeep with these capabilities.
The Gladiator Sport S gives you a bit more – features that you will have to decide if they are worth the bang for your buck.
You've got convenience when it comes to the windows and doors with the electronic system there.
You've got a nicer feel when it comes to your steering wheel, and you've got a tire package that is generally accepted as a bit nicer than the Gladiator Sport. For those upgrades; however you're also upgrading your price tag just over $3,000 more than the Gladiator Sport would run.
On top of those convenience and extra features; you definitely want to check everything that the additional packages offer that are only available for the Sport S.
You can't go back and change your mind if you buy the Gladiator Sport; you're not even going to have the ability to add the Jeep Convenience package Group or the Cold Weather package Group if you wanted to.
That shouldn't scare you away, but you should think about your needs and consider closely if you'll need those extras.
At the end of the day, you have to do the math that makes sense for you and your budget.
Making a decision between these two similar models isn't easy – but you should imagine yourself with each package and what the extra options truly add to your life. Will it be worth the extra money that you pay?
When you are able to think that way; you will have made the perfect decision when picking between the Gladiator Sport and Gladiator Sport S.
---
Closing Thoughts
Whether you opt for the Sport, Sport S, Overland or a maxed-out Rubicon, I am confident the Jeep Gladiator has the features and ability to be customized to serve almost every need you could want.
Whether you want to put car seats for the family, dirt bikes in the bed, or go on an offroad adventure, this new 2020 Jeep pickup truck has you covered.
It also has what I consider a game-changer for the Jeep brand. It offers amazing towing capacity. I am always thinking about towing capacity because Jeep owners are known for their outdoor adventure spirit, unfortunately, not all Jeep vehicles are great at towing.
Here are a few towing capacity guides that may be of interest:
Recommended Feature: Because most Jeep owners seem to spend time outdoors, one Gladiator option I believe most every buyer should include on their Gladiator build sheet is the maximum tow package.
The maximum tow package will be a key feature for resale purposes in my opinion. Currently, the Gladiator is the only Jeep product with a towing capacity above 5,000 pounds except for the V8 powered Jeep Grand Cherokee.
If you are serious about buying a Gladiator, follow my guide and talk to one of these Jeep Dealerships known for offering the best deals on a new Jeep.
Best of luck on the purchase of your new Jeep Gladiator pickup truck. If you found this article helpful, do me a big favor and share it on social media and with your friends. I want to keep producing helpful content for you and the only way I can continue is to get these articles out into the hands of interested readers!
Thanks in advance for all of your support!