What Size Propane Tank Should I Use For Overlanding?
This post may contain affiliate links. As an Amazon affiliate, I earn from qualifying purchases.
Exploring the backcountry is a thrilling experience. However, there are a lot of factors to consider as you prepare for any situation that might arise while you're on your journey. Propane canisters and tank sizes are among the most important things to keep in mind.
It's generally recommended to use 5-10 lb propane tanks for overlanding. Most campers use ~1/2 pound of propane per day, depending on the situation. 5-10 lb canisters can last several days or less with lots of cooking and heating. Brands to consider include Worthington, Ignik, and Manchester.
You'll need the right supplies in order for your next overlanding adventure to be a success. Let's take a closer look at propane tank sizes so that you can check this item off your packing list and get one step closer to hitting the road.
What Size Propane Tank Should I Use for Overlanding?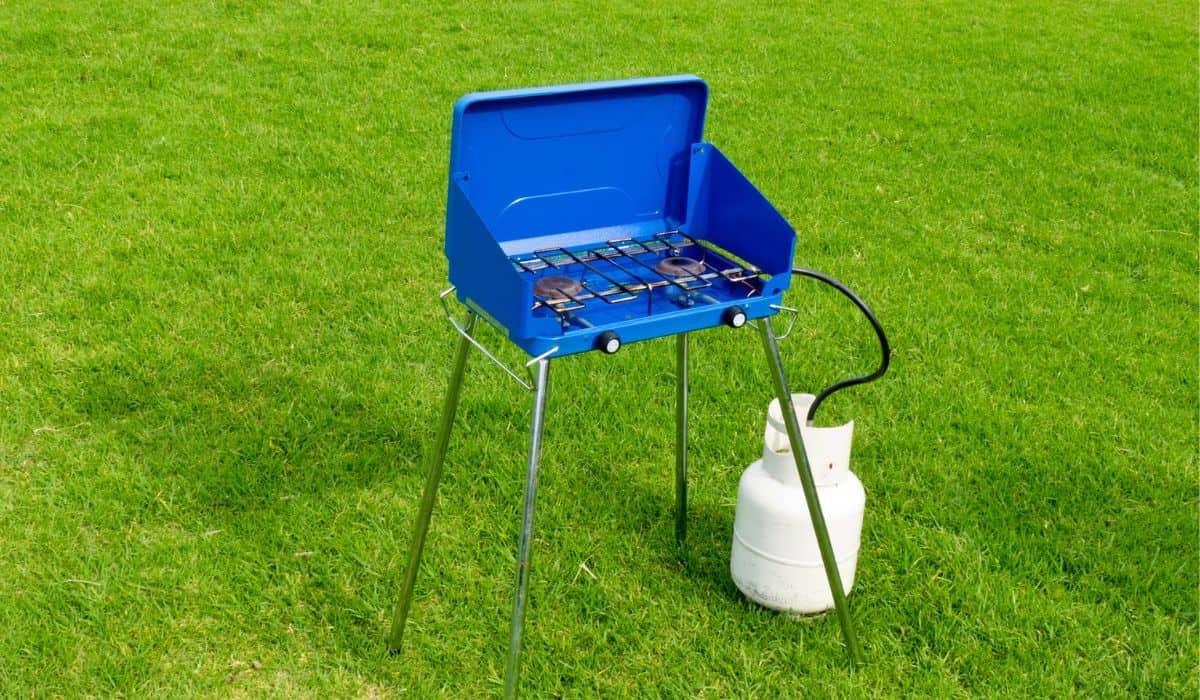 Many beginner overlanders choose small 1-pound propane tanks like these (example on Amazon) to power stoves, grills, heaters, and other devices. However, it's advised to select 5-10 lb propane tanks instead. These propane tanks are the most frequently used amongst the off-roading and overlanding communities for small grills that only need to be used a few times.
Medium-sized tanks between 5 and 10 lbs offer enough fuel for multiple days, allowing you to get rid of several small tanks. Most 5-10 lb propane tanks can also be refilled, while 1 lb tanks are typically for one-time use.
These pieces of hardware, also referred to as "gas growlers" when sold with a jacket kit like this one (example on Amazon) are smaller than the typical 20lb grill propane tanks.
The tanks can also usually be stored in the same place you would have kept multiple 1 lb tanks.
Factors to Consider When Choosing a Propane Tank Size
When it comes to exploring the backcountry in your car, the size of your propane tank is an important factor to consider. Here's what to keep in mind when purchasing your next propane tank:
The Tank Capacity
Many campers use around half a pound of propane or more per day, depending on the equipment they're using. It's common to bring several 1 lb propane tanks while overlanding or camping in order to avoid running out of fuel in the middle of nowhere.
However, instead of carrying 3-4 small tanks, you can get one 5-10 lb propane tank to last you several days.
One-Time Use vs. Refillable Propane Tanks
Most 1 lb propane tanks are single-use and must be properly disposed of once they're out of fuel. You can easily use 2-3 small canisters of propane over a long weekend, which quickly adds waste, frustration, and expenses to your trip.
Instead, you can use refillable 5 lb propane tanks — like this one (on Amazon) — to resolve these issues. You can find refill areas at gas stations, repair stores, hardware shops, and U-Haul sites.
However, most tanks must be purged beforehand, and you'll need to call ahead to see if your location offers these services.
Storage Space
Another factor to consider is your available storage space. Luckily, medium-sized propane tanks between 5 and 10 lbs can usually be stored in the same areas you would put multiple small tanks.
However, be sure you never store propane inside a hot vehicle. Also keep the tank in an upright position, so that it doesn't fall, shift, or roll while you're driving. You can use different mounting solutions if necessary.
Adapter Hoses
Many pieces of camping equipment, like stoves and grills, use small, green 1 lb propane canisters. These small tanks typically screw into the device via threads. Unfortunately, common camping gear doesn't typically fit larger 5-10 lb propane canisters.
Luckily, you can purchase a propane adapter hose (on Amazon) for 1-5 lb canisters. Most adapters will also work on 20 lb or 10 lb tanks, but you'll need to read the manufacturer's specifications to be sure.
How Much Propane Do I Need for Overlanding?
Generally speaking, medium-sized propane tanks between 5 and 10 lbs are recommended for weekend camping trips. Five-pound propane canisters can last between 5-7 hours, depending on the level of heat.
As we mentioned above, most campers use roughly half a pound or more of propane per day, depending on the specific equipment they're using. Using grills, stoves, and lanterns can increase propane usage.
It's possible to get multiple days out of a 5-10 lb propane tank or 5-10 hours of high-heat cooking, depending on the situation.
What Are the Best Propane Tank Options?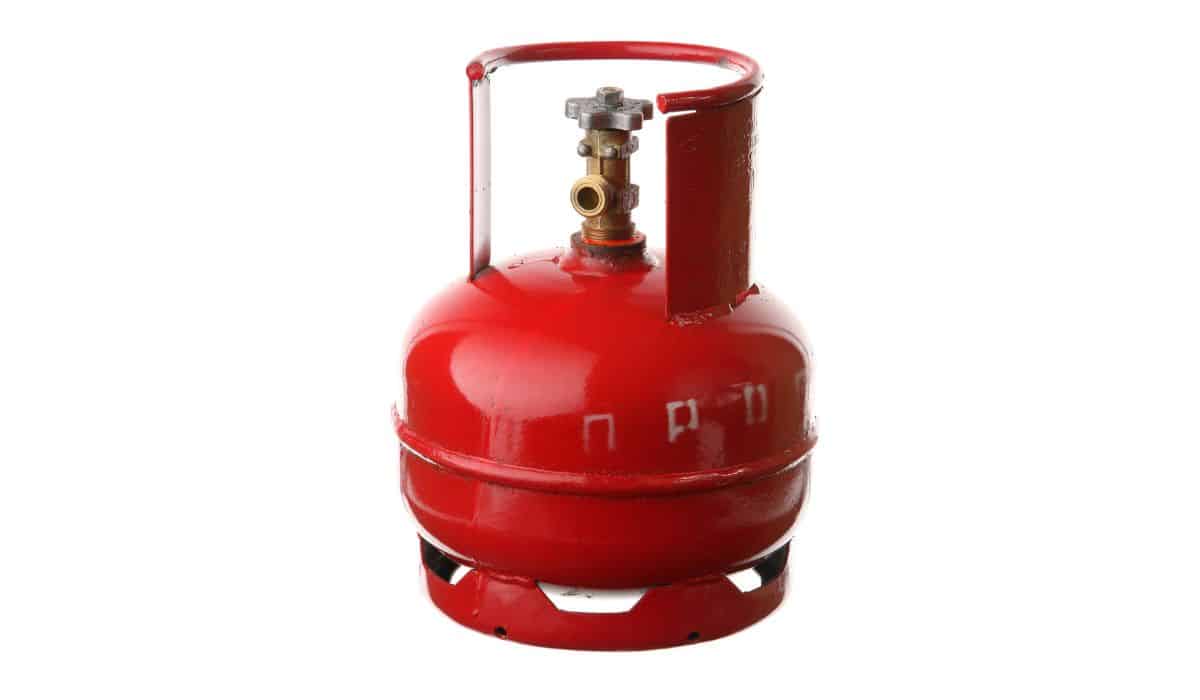 It's important to choose a reliable propane brand that's long-lasting when camping or overlanding. So, what propane canisters and brands should you consider?
Worthington 10-20 LB Propane Tank
Worthington (on Amazon) is a trusted brand for campers, RV owners, and overlanders alike. You can find 5, 10, and 20 lb tanks online or at major retailers. Worthington also has overflow prevention installed, which increases overall safety.
With hundreds of positive reviews, you can't go wrong with a Worthington propane canister for your next overlanding adventure.
Ignik Gas Growler Deluxe
The Gas Growler Deluxe (on Amazon) is a popular five-pound canister that strikes the sweet spot between small tanks and larger options.
The durable, easy-to-carry, and refillable design makes it a versatile piece of equipment. Although the up-front cost can be intimidating, the ready-to-use and refillable design makes the Ignik Gas Growler Deluxe hard to beat.
Manchester 11 LB Tank
If you don't have a lot of storage space or an odd set-up, consider the Manchester 11 lb Tank (on Amazon) — or the 5 lb option.
The canister offers a shorter, wider form factor that can fit certain spaces better than other options. Just be sure you keep the tank upright and out of hot vehicles when storing.