What Size Fridge Should I Use In My Overlander?
This post may contain affiliate links. As an Amazon affiliate, I earn from qualifying purchases.
We've all heard the saying, "the kitchen is the heart of the home." But the fridge might also be the heart of an overlanding rig. Purchasing a high-quality fridge that can support you on longer trips and weekend getaways alike is crucial for any successful overlanding setup.
Smaller 25 to 35-liter fridges are ideal for solo overlanding trips, while 50-liter models are better for families. Smaller models are more affordable and require fewer amps to operate. Some features to look for are hot weather resistance, low-voltage shutoff, and built-in battery protection.
Choosing the right fridge for overlanding can be tough, with several important factors to consider. Luckily, we'll go through everything you need to know to make the best possible choice.
How to Choose the Right Fridge Size for Your Overlander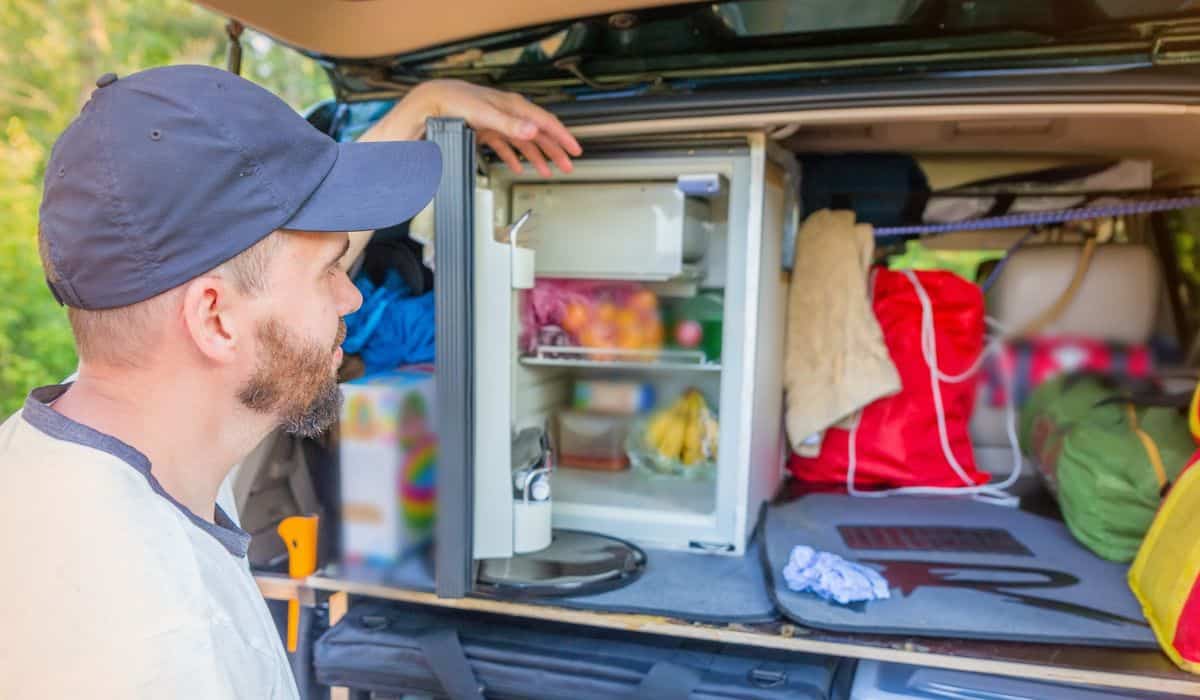 Purchasing a high-quality fridge can transform your motorized vehicle into a home away from home — and it's one of the most important planning decisions you can make.
It's all too easy to select a flashy fridge model that touts features like Bluetooth, USB, and remotes — but is actually too large and takes up unnecessary space. Don't just go for the biggest and best fridge, or you may regret it later.
Solo adventurers can benefit from smaller 25 to 35-liter fridge units, while families will do well with a 50-liter fridge. Smaller models are typically cheaper, they take up less space, and they usually require fewer amps to operate.
However, there are more considerations and questions to ask before hitting the purchase button on a new fridge.
The Number of Travelers
One of the most important factors to consider when selecting a fridge for your overlander is the number of travelers. As you can imagine, the more travelers are involved, the larger the unit you'll need.
If you're a solo traveler, smaller to mid-sized units (between 25 to 35 liters) will work for most applications. Couples and larger families require more storage capacity, and 50-liter units can work well.
Units larger than 60 liters can be a challenge to integrate into most vehicles and are best suited for large four-wheel drives, trailers, or camper vans.
Battery & Solar Capacity
Other factors to consider include the unit's efficiency and the battery or solar capacity available. Generally speaking, the lower power consumption a fridge uses, the better.
Most models intended for overlanding use 12-volt DC power. These fridges are designed to operate with a vehicle's 12-volt system and draw power from the car battery or portable power station. Today's market is full of models that can use AC power and solar power, so you can connect them to standard power sockets or use a solar panel.
At the end of the day, look for units that are compatible with a 12-volt source, and if your budget allows it, look for options that also work with AC and solar power.
Tips for Conserving Power
An overlanding fridge uses roughly 1-4 amps during compressor use, but power usage can significantly vary depending on several factors.
Here are some factors to consider as well as some tips for conserving power with your overland fridge unit.
Hot Climates
As you can imagine, higher temperatures require a fridge to work harder to keep food at the proper temperature. High temperatures increase the number of amps a unit will use. Your unit may use 3-5 amps during compressor use.
Opening and Closing the Unit
Like normal refrigerators, overlanding units compensate for temperature variations when you open and close the door.
When the door is open, hot air flows in, and the unit must re-balance the interior temperature every time. It's important to keep the door shut when you're not using it and open the unit sparingly.
The Position in Your Vehicle
If your overlanding fridge is getting belted with direct sunlight, it can result in higher temperatures and more power consumption. It's important to place your fridge in a location of your vehicle that's shady and out of the way.
Useful Features
Some overland fridge models include useful features that can help you conserve the battery and prevent unnecessary wear and tear. A few features to keep in mind include the following:
Low-voltage shutoff

Remote temperature monitoring

Removable lids and specific designs

Built-in battery protection

Hot weather resistance

Dual-zone temperature settings
Consider the Material
The construction of an overland fridge can greatly impact its performance and energy consumption. Different designs will work well in some vehicles, while other models are nearly incompatible. Consider the material that a unit is made out of, which may including the following:
Fiberglass: Fiberglass units are lightweight and have fantastic insulation. These models can cool food faster than other materials, even in hot climates. However, fiberglass fridges are typically less durable and can't take as much damage as plastic or steel.
Steel: Steel is the strongest and most durable material for overland fridges. Steel units can take wear and tear but weigh more than other options. Steel can be an excellent choice if your rig can support it and you don't plan on moving your fridge around.
Plastic: Plastic units rank somewhere between fiberglass and steel. These units cool food better than steel and offer more durability than fiberglass. Unfortunately, they're not as strong as steel or as efficient as fiberglass. Plastic is a decent middle-of-the-road option for overland fridge units.
Comparing the Best Fridges for Overlanding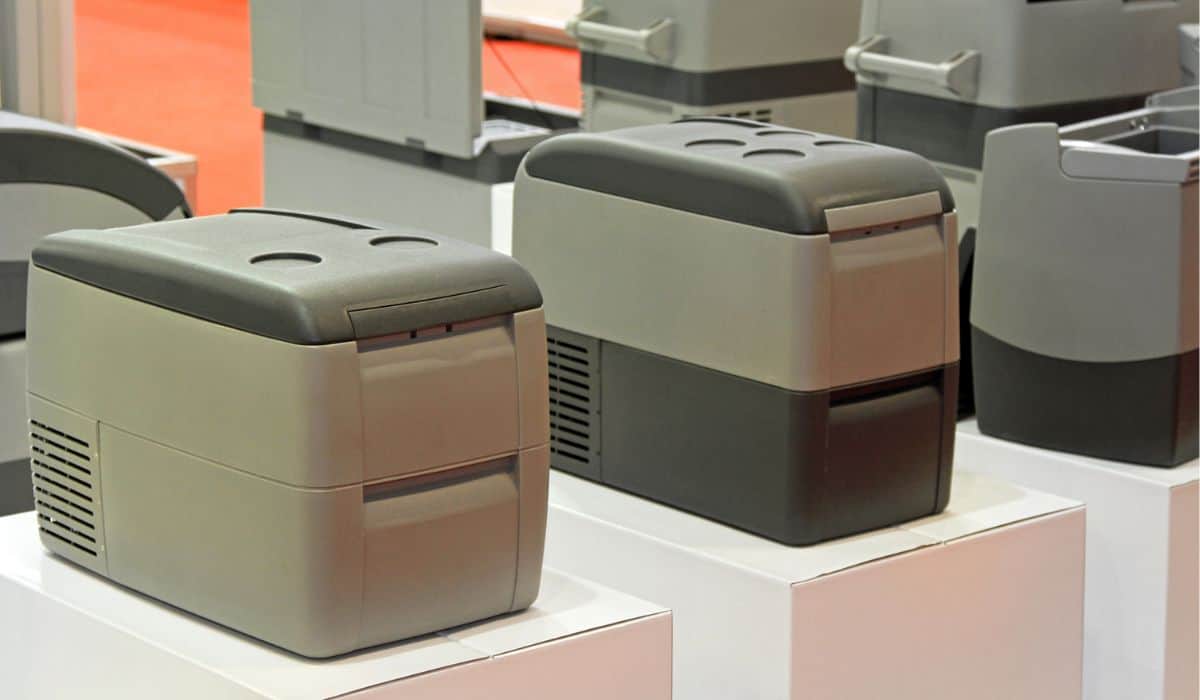 Now that you know what to look for in a fridge and how to conserve power, which options should you consider for your next overlanding trip? Although it can be quite tough to figure out the best unit for your rig, we've compiled a few of our favorite options to consider below.
ARB 50-QuartFridge
The ARB 50-Quart Fridge (on Amazon) is one of the most popular portable fridges/freezers for overlanding and off-roading. The unit's cabinet and handles are constructed from powder-coated zinc steel, which prevents corrosion.
The 50-quart fridge weighs around 50 pounds when empty, making it easy to transport for most travelers. Some of its other features include:
Adjustable internal battery monitor

Easy to remove lid

LED light interior

Easy-to-read digital display and control panel

Durable design

Compatible with aftermarket insulation/travel bag accessories

Removable drain plug for easy cleaning

Fridge/freezer temperature control
The ARB 50-Quart Fridge can easily hold a week's worth of perishable items, and useful features like low-voltage shut-off, digital display, and temperature control make it a versatile unit for any scenario.
Furthermore, the premium Danfoss Compressor, three-year warranty, and excellent customer service make the ARB 50-Quart Fridge a hard option to pass up.
Dometic CFX40
Dometic isn't a slouch when it comes to creating high-quality overlanding and off-roading products. The manufacturer has a wide category of 30 different thermoelectric coolers and true compressor-driven fridge/freezer units.

With so many options, it should be easy to find a unit that suits your setup, but the Dometic CFX40 (on Amazon) is one that stands out, thanks to these features:
Spring-loaded handles

LED interior

Lightweight design

Smartphone app compatibility

Features for alarms, temperature fluctuations, power loss, and more.

Removable interior basket and separator with multiple compartments

Low-voltage cutoff

Multi-level battery monitor
Although the CFX40 is smaller than other models, the efficient and quiet design makes it a great unit to consider. The unit weighs roughly 40 pounds empty, which makes it easy to transport while having enough space to carry products for multi-day trips.
The smartphone app is easy-to-use and has a wide array of useful features that are hard to beat.
Engel MT45F-U1
The Engel MT45-U1 Fridge/Freezer (on Amazon) is straightforward, efficient, and well-designed. The unit is capable of toughing out short weekend trips or multi-day extravaganzas through the backcountry.
The Engel fridge comes with the following features:
Functional and durable design

Robust exterior

Efficient cooling in high temperatures

Handles also work as tie-downs

Resists vibration

Swing motor compressor
The galvanized steel exterior shell provides a robust, durable, and long-lasting unit that's vibrations resistant. However, the MT45F-U1 weighs over 65 lbs when empty and provides 43 quarts of storage, making it a heavier option on our list.
The spacious interior with a removable food basket can hold enough food and beverages for several days.
With an efficient swing motor compressor, the MT45F-U1 can cool down perishable food and drinks with ease. The removable vinyl mat provides an easy-to-clean experience that improves the overall convenience of the unit.
The straightforward, powerful construction and affordable price tag make the Engel MT45F-U1 a fantastic overland fridge to consider.
SnoMaster CL56D
If you're looking for a dual-zone, dual-door fridge/freezer combination, look no further than the SnoMaster CL56D. The two separate compartments have individual temperature controls, making them versatile and effective for nearly any application. Either side can be a fridge or a freezer, ensuring it's the best long-distance unit.
Some of its other features include:
Dual-zone and dual-door design

Visually appealing

Insulation cover included

Solar-powered remote controller

Low-voltage cutoff

Display and control panel with voltage monitor

Easy-to-use drain plugs
With nearly 2.5 inches of insulation on the interior, the CL56D is excellent at maintaining low temperatures and holding frozen treats. Useful features like insulation bags, wireless controllers, and bottle opener mounts add utility and convenience.
The LED display is easy-to-read, while the wireless remote is convenient and handy to have. Not to mention, the low-voltage cut-off prevents you from accidentally killing the battery while traversing the outdoors.
Although the premium stainless steel design is robust, the unit weighs over 57 pounds when empty. The model also requires a larger compressor capable of handling dual-zone technology.
That being said, the SnowMaster CL56D is a powerhouse that can carry large quantities of food and is ideal for long-term trips.
The Final Word
Choosing the right fridge is essential for a successful overlanding trip through the backcountry. The best Overlanding fridge will be large enough to support your travelers but won't take up too much space or use excessive power.
Some of the best options to consider are the models we described above. Each of these units provides adequate storage space, durable construction, and a wide range of features that you'll love.