4 Simple Steps To Clean Your WeatherTech Car Mats Fast!
This post may contain affiliate links. As an Amazon affiliate, I earn from qualifying purchases.
If you have WeatherTech mats and are trying to clean them, there are several specific steps you can take that will have them looking like new again. WeatherTech mats are designed to be durable and able to stand up to just about anything that the interior of your car throws at them (or on them!) But because of the amount of abuse they take, it can also be a challenge to restore them back to their natural look.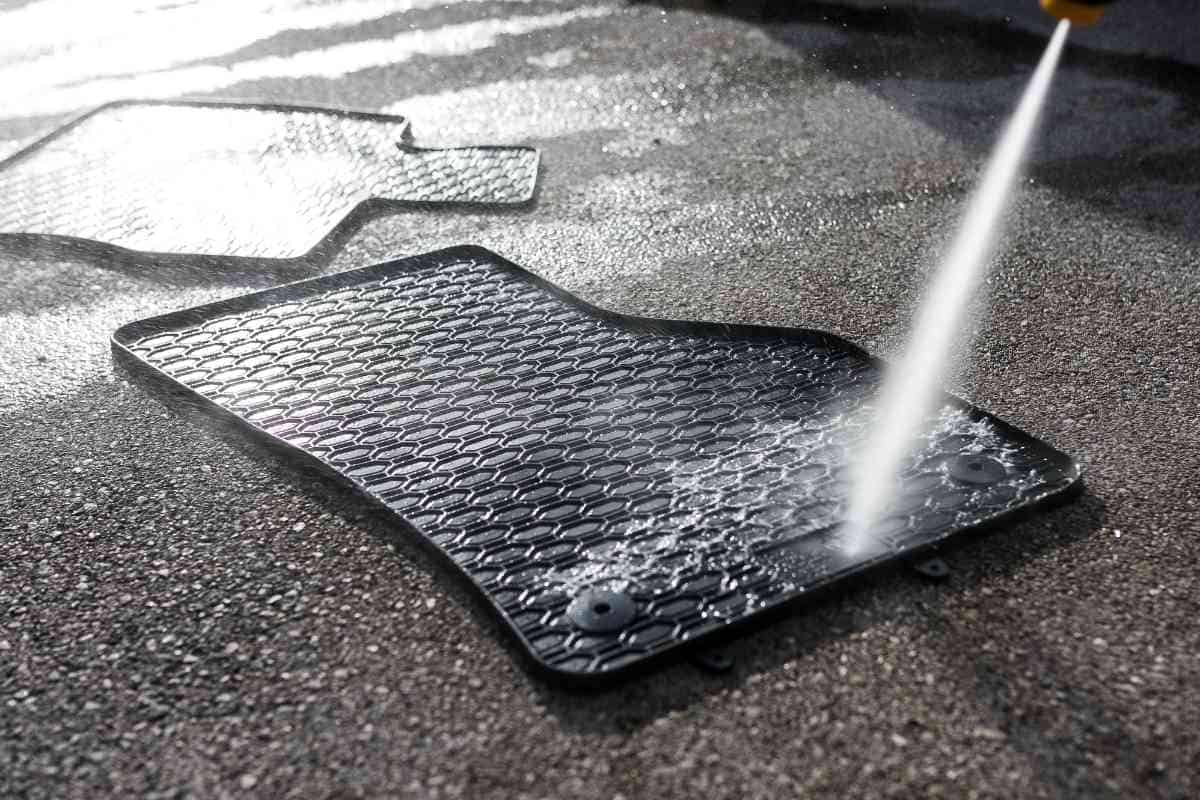 Table of Contents
How do you clean WeatherTech car mats?
Here are the steps you need to take to get your WeatherTech car mats clean:
pick the best place to clean your mats
remove the mat and lay it out flat
use a garden hose or pressure washer to rinse off excess dirt
choose your cleaning solution and apply
let the mat dry
WeatherTech mats are not only tough, but they are also terrific-looking when new. If you've invested the money in these mats, it's been for a good reason – they are resistant to all kinds of dirt and grime, they are well-made and long-lasting, and look great long after you first install them into your truck or car.
Knowing how to properly clean them can be tough, especially if you want to restore them to their natural attractiveness. But luckily, the steps are more straightforward than you might think.
It is amazing what a good set of WeatherTech floor mats can do for the overall look of our vehicles, and I love keeping mine as clean as the rest of my car. Let me walk you through the best way to keep these mats clean so you can enjoy many years of use from them.
How to Clean WeatherTech Car Mats
WeatherTech floor mats were originally invented by a man who was tired of the poor quality of most vehicle floor mats, even in the more high-end models.
The company, which has been in existence since 1989, has always held a strong belief in creating a product that is of high quality, good value, and will improve the look of your vehicle's interior, even though its main job is to collect dirt and grime.
If ever there was a floor mat that actually adds to your car or truck's interior, it is this one.
But keeping them clean can sometimes be tough. As these floor mats are customized to your car, they often have more nooks, crannies, and crevices than the average floor mat. Not only that, but WeatherTech mats are made with a thick material that works great for floorboards, but isn't always easy to remove, clean, and reinstall.
Let's look at how best to clean these mats and get your truck or car looking like new again.
1. Pick the Best place to Clean Your Mats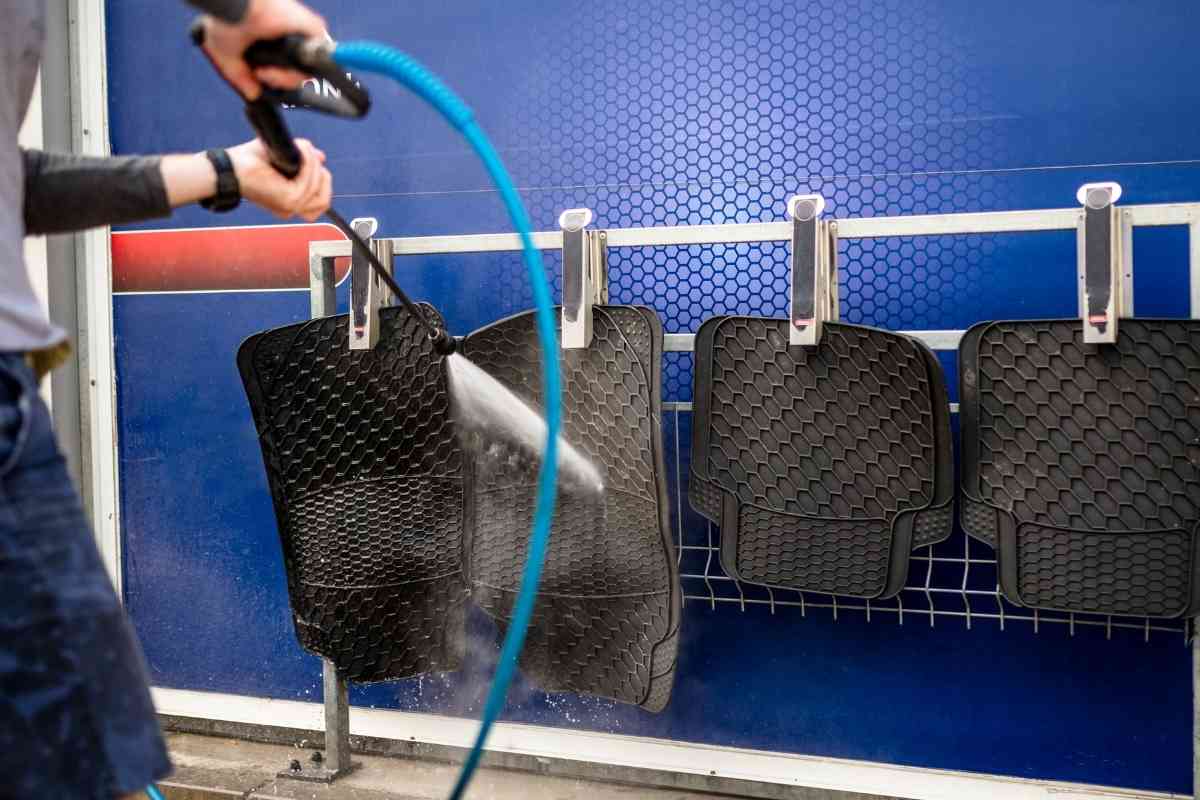 Before doing anything else, decide where you are going to clean your mats.
You will want to have a space that is relatively flat and already clean. You will also want to make sure you can leave your WeatherTech out to dry and they will not be in a spot where pets or kids will step on them while they're wet. (Not only would this be a safety concern, but it would ruin all your hard work!)
Usually, a driveway is a good place to clean your mats, or a patio in a backyard. You will also want to try for a place that gets a decent amount of direct sun so the drying process will move along more quickly.
Once you find your ideal spot, remove the mat from your vehicle, give them a good shake, and lay it out flat.
2. Use a Garden Hose or Pressure Washer to Rinse Off Excess Dirt
Once you have your chosen spot, and your mats are laid out and ready to go, you can decide to start the rinsing-off process.
If you have a garden hose, this will usually work fine for dirt buildup on a WeatherTech mat.
Last update on 2023-09-28 / If you click this affiliate link and make a purchase, we earn a commission at no additional cost to you.
The patented protection on the surface allows the mat to trap dirt and grime when in use, but makes it relatively easy to remove the dirt once you apply water to it.
On the other hand, if your mats are really soiled, there are large stains, or it's been quite a while since you have cleaned them, you may need something more powerful than a garden hose to get the initial dirt and grime off before you can apply any product.
Having a power washer comes in handy for this task.
Last update on 2023-09-28 / If you click this affiliate link and make a purchase, we earn a commission at no additional cost to you.
Power washers are built to create a level of water pressure that a regular hose can't, and lift and remove stubborn stains and dirt in a quick and seemingly effortless way.
3. Choose Your Cleaning Solution and Apply
There are a ton of car cleaning products on the market, but finding a mild detergent specifically for car mats like your WeatherTech ones is ideal, if you really want to restore their shine. Finding one that fits your budget and needs should not be hard, and most floor mat cleaning products are sold anywhere that other car accessories are sold, from the internet to big box stores.
Last update on 2023-09-28 / If you click this affiliate link and make a purchase, we earn a commission at no additional cost to you.
When looking for a car mat cleaner for your WeatherTech mats, I would suggest you find one that is not only great at removing dirt and grime, but that is also slip-proof and leaves no residue. However, any common dish soap will also work.
It's also nice to find a brand that boasts they are eco-friendly and biodegradable, particularly if you will be washing your mats outdoors near your lawn or other vegetation.
Apply the cleaning solution directly to the mat, then continue to spray water as it pools on the surface. Let it soak for a few minutes before you rinse the mat with clean water. You can repeat this process if you need to, but most times one application will be sufficient.
If you find that the cleaning solution is still not pulling all the stains and grime from your mats, enlisting the help of a good scrub brush will also help. You can buy brushes that are specifically designed for mat cleaning and they can be used for other parts of your car detail as well.
Last update on 2023-09-28 / If you click this affiliate link and make a purchase, we earn a commission at no additional cost to you.
4. Let the Mat Dry
After you've applied all the cleaning product necessary, have scrubbed out any of the more stubborn spots, and rinsed it all clean with clear water, the next thing to do is wait.
WeatherTech car mats air dry quickly. Even if you used gallons of water, or a power washer, it won't take these mats long to be ready to reinstall into your car or truck.
Try to get some sun on the finished mat, and be sure to flip it a time or two so all sides are fully dry.
Though any remaining moisture won't affect the mat, you don't want any excess water getting trapped in the carpet underneath.
Reinstalling your WeatherTech mats is pretty straightforward. Start with the top and slide them in, moving your seats forward and back as necessary. The interior of your car should look (and smell!) like it's brand new.