Toyota 4Runners | Why Do They Hold Their Value?
This post may contain affiliate links. As an Amazon affiliate, I earn from qualifying purchases.
It's time for you to buy a new SUV! But you don't want just any SUV – you want an SUV that will make you look cool while also protecting your family and friends. That's where the Toyota 4runner comes in!
Why Do Toyota 4Runners Hold Their Value?
Toyota 4Runner hold its value because they last a long time. The 4Runner is also very capable of driving over lots of different, difficult terrains. They have the latest up-to-date technology. There are great internal features. Above all else, the Toyota 4Runner is one of the most reliable SUVs you could ever want to purchase.
A lot of great features make the Toyota 4Runner one of the best SUVs available. Read on to find out what makes the Toyota 4Runner so amazing!
The Toyota 4Runner lasts a long time
You're going to want an SUV that lasts a long time. Who can blame you? The 4Runner is just the SUV for you! There are Toyota 4Runners from as early as 2004 that have been on the road for over 221,000 miles.
One Toyota 4Runner driver had a great experience. According to him, his Toyota 4Runner took him across America, from Texas to Maryland, and then from Maryland to Chicago. That was back in 2008; imagine what a 2020 4Runner could do for all you travelers!
Most cars last up to 250,000 miles before the driver starts to notice that it isn't driving as well as it once was. The 4Runner has been known to go up to 400,000 miles with proper care and maintenance.
Internal Features
When you are driving your car, you want to be both comfortable and stylish. The interior of a 4Runner is surrounded by quality! You get an 8-inch touchscreen for all of your needs.
Additionally, you have Optitron instrumentation, which allows you to see all of the gauges in your car easy to see, regardless of the time of day! Adjust your driver's seat as you seem fit with powerful lumbar support.
Certain models, such as the SR5 Premium and the TRD Off-Road Premium, get you a 4 power-adjustable front passenger seat. These models also allow you to heat the front two seats for those cold, icy days.
Other models, like the Limited, adds heated and ventilated front seats. The Limited also adds a driver's seat memory, which will allow you to automatically go back to your most comfortable position when you are driving.
Do you like feeling the sun come down on you while you're driving? What about looking at the stars at night? How about having your kids watch the clouds? With the moonroof that comes on 4Runner SR Premium and TRD Off-Road Premium, and standard on Limited and TRD Pro, get closer to nature without ever getting out of your car!
Not only does the inside of the car look good, it feels good too! SoftEX is used on certain models, and a leather trim is used on others. Regardless of which model you get, you will be riding in style with all of the wonderful internal features.
What makes a Toyota 4Runner so reliable?
That's right – this car is extremely reliable and has some wonderful features! Let's break it down:
Compatibility
Safety
Capability
Durability
Compatibility
The 4Runner comes with the most up-to-date technology! The 2020 4Runner is compatible with Apple Carplay by plugging in your iPhone, Amazon Alexa, and Android Auto.
Whichever device you use, it will connect on your 8-inch touchscreen. If you don't want to connect your devices, use this touchscreen as a back-up camera!
Use any of those devices to play your music loud and proud with the 4Runner's 15 speaker JBL with Clari-Fi audio system! Have your passengers in the black choose the music – the rear USB ports allow them to charger their phones and other portable devices.
Use remote connect to lock and unlock your doors, start and stop the engine, and more from any Smart Device. Use Wi-Fi Connect to make your vehicle a hotspot with 4G connectivity.
The Available Destination Assist allows you to talk to a live agent when you are lost, and they will help you safely arrive! You get a one-year free trial of all of these features.
Safety
All 4Runners come standard with the Star Safety System. This contains six safety features, including Smart Stop Technology and multiple ways for the SUV to assist with braking.
4Runners also come with Lane Departure Alert. When there are visible lines on the road and you accidentally go over them, Lane Departure Alert will signal you! Please note that this will only work if you are traveling over 31 mph.
The 2020 4Runner also comes with Pre-Collison System with Pedestrian Detect. This is great for when you are driving at night, or in foggy or stormy weather.
When the camera picks up certain shapes, the 4Runner will provide you with both an audio and visual cue. If you do not react, then the system will engage in automatic brake support, to ensure that no collisions or damages occur.
As with every new Toyota, the 4Runner comes with a maintenance plan that covers the first two years or the first 25,000 miles that are driven by you. It also comes with 24-hour Roadside Assistance.
Capability
The 4Runner can venture across all sorts of terrain! This is definitely the vehicle for you if you like to take long trips across different environments. 4Runners come with two 4-Wheel Drive systems, even including a limited slip-center with a locking feature.
Go across multiple terrains with the 4Runner! There are four modes, which the driver can select and toggle through, that will keep you moving forward and avoid wheelspin across all sorts of difficult terrains. Thanks to CRAWL Control, you will be able to drive over many different challenging terrains without a problem!
With the 4-Runner, you don't have to travel lightly anymore, since it can tow up to 5,000 pounds! Bring your motorboat, bring your camping gear, bring your jet skis – bring all three if you really want to!
Whatever you bring, you can be sure it won't fall off, thanks to Hill Start Assist Control (HAC) and Downhill Assist Control (DAC)!
When you are traveling cross all those challenging terrains, HAC helps to keep your 4Runner from rolling back. DAC selectively applies the brakes to keep a controlled speed on steep, slippery inclines and descents.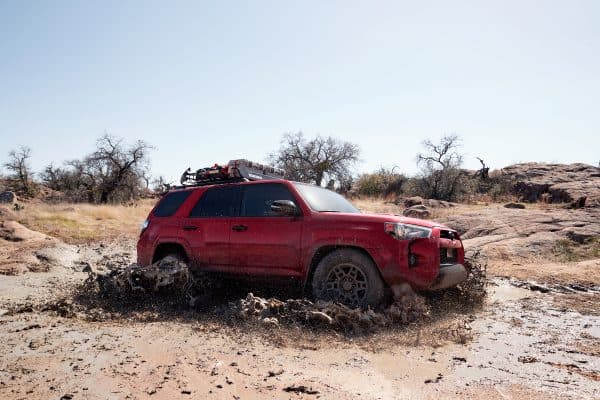 Thanks to the locking rear differential, your SUV's back wheels will have evenly distributed engine power.
This will allow your back two wheels to move at the same speed, even if one or both of them is off the ground for some reason. When going over obstacles, the locking rear differential helps your 4Runner keep a controlled, steady pace.
Durability
All superior off-road vehicles will have a great body-on-frame construction. The 4Runner is one of the last SUVs to be built like this, making it one of the last few vehicles out there to be considered truly rugged.
Power is important in whatever vehicle you drive. The 4Runner has a 4.0-liter V6 engine, which pumps out 270 horsepower, as well as 278 lb.-ft. of torque!
This will be extremely helpful whatever your situation may be, whether it is passing a giant truck on the highway or driving over challenging grades or needing to get somewhere fast!
You know you want to take care of your 4Runner's exterior. A Toyota 4Runner comes with skid plates to help protect the engine, the front suspension, and the fuel tank. This underbody armor is going to be great when you drive over rocky terrain!
A spare tire is vital to have in case of emergencies. 4Runners come with a full-size spare tire. That's one less extra that you have to worry about buying, since all 2020 4Runner models come with one.
According to Logan Calkins, manager of Hagerty Motor Sports, 4Runners "were just as capable as they were dependable" back in 2002.
Think about all of the advances in the past 18 years and imagine how much the car will suit your needs even better, like with all of the improved technology capabilities and rear-facing camera!
Without a doubt, the Toyota 4Runner is an amazing car for you to purchase. These cars last an extremely long time. There are some wonderful internal features.
The compatibility with your technology, safety for your family, capability for multiple terrains, and durability for your external features make this a no-brainer. If you have any questions or doubts, call your local Toyota dealer! They would be able to help you pick the best 4Runner for you!