What Are the Toyota Truck Models?
Toyota was founded way back in 1937, and since then it has been providing the public with reliable vehicles that have been built to last. Among these vehicles are included a few trucks that are very much worth mentioning. If you have been on the hunt for a Toyota truck, then you have come to the right place.
Toyota's only two trucks are the Tacoma and the Tundra. The Tacoma is the smaller of the two and is designed for off-roading. The Tundra is larger and has a much higher towing capacity. Both are reliable, sporty, reasonably priced, and have been built to last for many years.
Even though there aren't very many options here, having only two tracks to choose from should help make your decision easier. Below you will find some information about each truck as well as a few pros and cons. Knowing these should help you to know exactly what you'll be getting as well as which vehicle will suit your needs the best.
The Toyota Tundra
The Toyota Tundra is a large vehicle that was built to haul and tow. It has a strong, sturdy appearance that pretty well indicates its level of power and strength. While rear-wheel drive (RWD) is usually the standard configuration for the Tundra, there are also plenty of four-wheel drive (4WD) options that you can choose from as well. Not only is 4WD usually preferable, but that also means you can take your Tundra off-roading as well.
The Tundra also has six different trim packages that come with a pretty huge variety of features that you can choose from. You can choose from the SR, SR5, Limited, Platinum, 1794 Edition, or the TRD Pro. The SR is the basic package that will provide you with some essential features. The TRD Pro is generally the best package for off-roaders and adventurers.
A few things you can expect to get from most of these packages are safety sense features, styled wheels, LED headlights, six-passenger seating, a smart key feature, and dozens of others. You can read more about each package individually and in detail at Toyota.com.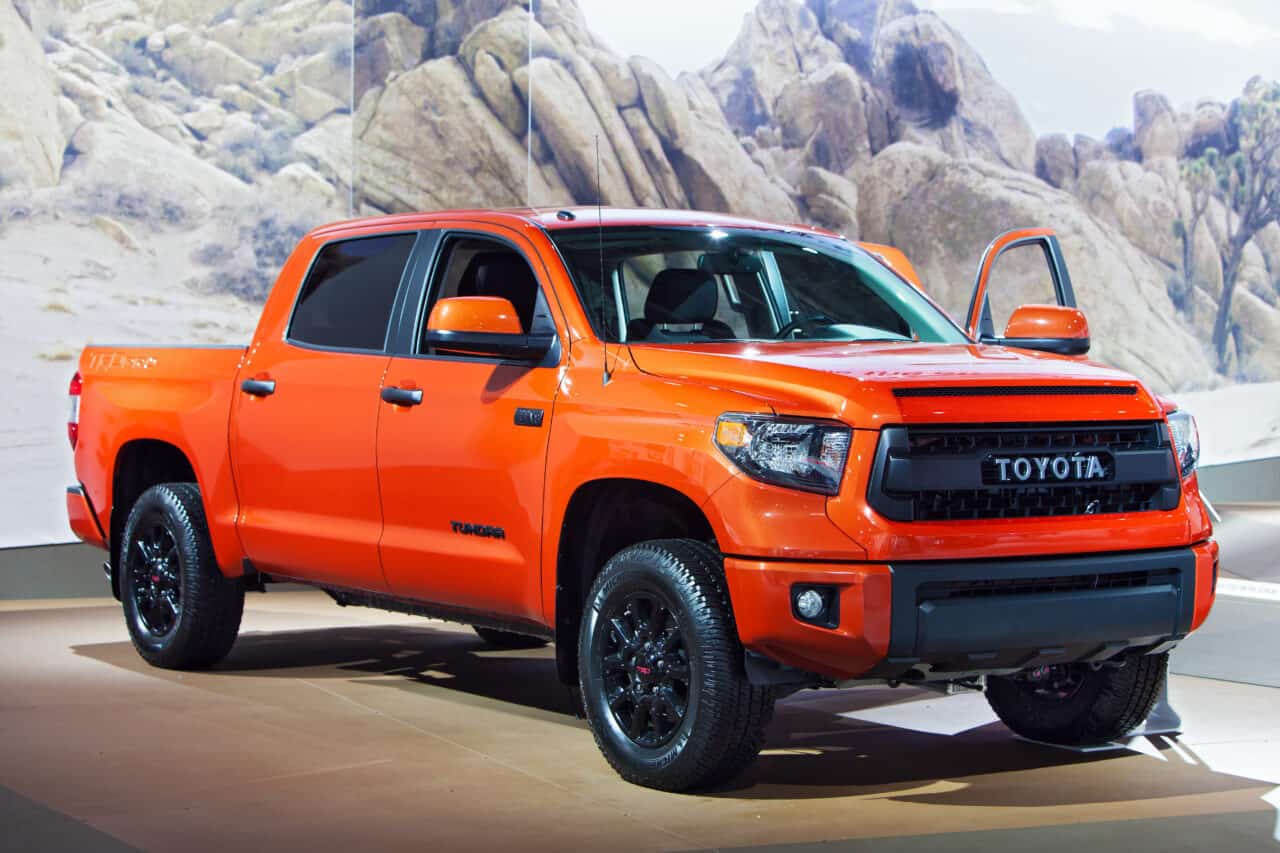 Let's now go over a few pros and cons of the Toyota Tundra. We'll start positively by mentioning the Tundra's fierce strength and personality. The TRD Pro is, as said, at the top of the trim list for a reason. It has shocks, suspension, and luxury leather seats that will ensure you get a comfortable ride as well as a capable one.
Another nice thing about the Tundra is its ability to haul cargo fairly well. Unlike the Tacoma, the Tundra has a towing capacity of about 10,200 pounds which will allow you to pull most trailers and campers if necessary. This means you'll be able to experience perfect peace of mind when you're hauling that camper to the lake.
Unfortunately, this truck isn't perfect. The Tundra is, first and foremost, a gas guzzler, though this probably doesn't come as a surprise. Most huge and powerful trucks are usually the most expensive to fill up no matter what brand they are. It only scrapes about an estimated fifteen miles per gallon, which is pretty poor for a Toyota vehicle.
You can read more about the pros and cons of the Tundra right here!
The Toyota Tacoma
Though it may be smaller, the Toyota Tacoma still has a lot to say for itself. The Tundra is more than capable of off-roading, it's true, but the Tacoma might actually be considered a bit more rugged in that department. It has a chic, sporty look and will most likely wow you with its performance.
Like the Tundra, the Tacoma has several different trim packages to choose from (though it only has five where the Tundra has six). These include the SR, SR5, TRD Sport, TRD Off-Road, and the Limited, all of which offer superb features. You may notice that the Tundra has a package devoted entirely to off-roading, which says something about the Tacoma's abilities.
The SR is, as with the Tundra, the most basic package you can get, but it still will provide you with plenty of fun features, including projector-beam headlights (which make nighttime driving easier), a deck rail system, and dual automatic climate control. If you're not satisfied with this, though, there are also plenty of other options.
The TRD Off-Road package is quite popular, especially if you want to bring out the superb off-roading capabilities of your Tacoma. This package will provide you with multi-terrain select crawl control, locking differentials (or diff locks), and sixteen-inch alloy wheels. All of these will give your Tacoma an edge when you hit the dirt.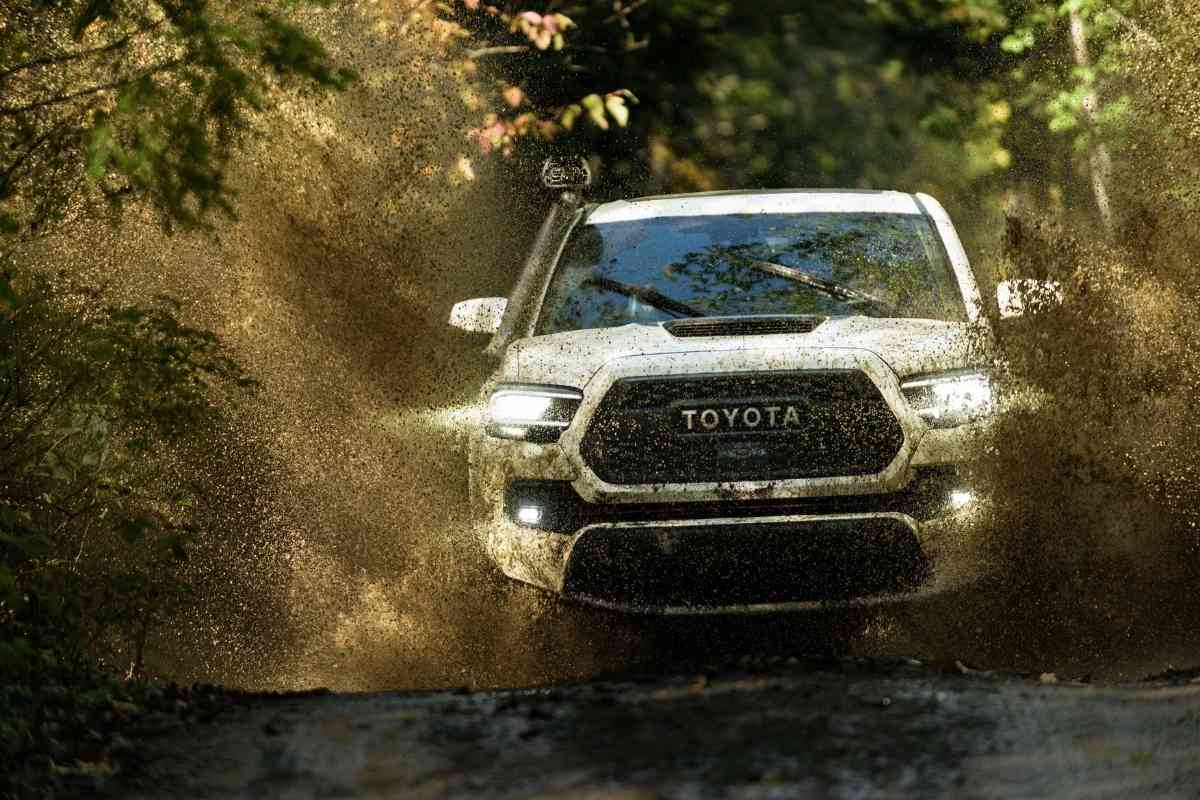 You can read more about each package in detail by clicking here.
There are pros and cons to the Toyota Tacoma as well as the Tundra, and owners need to understand these fully. One of the nicest things about this truck is its aforementioned off-roading capability. As mid-size trucks go, few can compete with this agile little truck and its many off-road features. Thanks to its crawl technology, a ride in a Tacoma truck will be perfectly comfortable, even when tackling rough terrain.
The Tacoma is also nifty and reliable. There have been very few reports of engine failure and breakdowns in general with Tacomas. There are also several reports of Tacomas lasting for years upon years at a time. This means you'll have a truck on your hands that will not only last for years but will also hold its value quite well and resell pretty easily.
Sadly, the Tacoma has a few flaws as well. One of the biggest complaints about this truck is its size and passenger space. While the Tacoma's small stature makes it great for off-roading, it also means the cargo and passenger area is going to be a bit cramped. The seats are comfortable, to be sure, but even the most comfortable seats won't help if your legs are stuck together for hours on end.
To learn more about the strengths and weaknesses of the Toyota Tacoma go here.