What is Honda's Best Selling SUV?
This post may contain affiliate links. As an Amazon affiliate, I earn from qualifying purchases.
Established in 1948, Honda has since been serving us well with reliable, sporty vehicles with enough capabilities to satisfy even the most hardcore automobile enthusiast. If you are currently in the market for a new car, Honda has plenty of choices to offer, although this could lead to the dilemma of which to choose. You might be wanting the best and most popular model currently on the market, so the question is: what is currently Honda's best-selling SUV?
The Honda CRV is currently Honda's best-selling SUV. This compact SUV comes in at least eight different base models which are nice for those who appreciate variety. One of its most popular features, however, is the smooth, quiet ride. It seats up to 5 people and is both sporty and stylish.
If you are currently wondering which model you may want to invest in, you might consider getting a Honda CRV. There are pros and cons of course, but overall it is unlikely that you will be disappointed with your choice. Read on to learn about the specs and features of the Honda CRV as well as a few pros and cons, which will help you to decide whether or not the CRV is right for you!
Honda CRV: The Features and Details
First, you will undoubtedly want to know what the Honda CRV has to offer. You ought to know that there are few cars out there that can offer as beautiful the ride quality of the CRV. When riding inside the car, you can barely notice that it's even running. The cabin is spacious and comfortable, and you likely won't be able to feel all the bumps and obstacles you may encounter on the road.
In addition to having excellent ride quality, the Honda CRV has a quiet engine and a soundproof cabin. As mentioned earlier, when riding in the cabin you will barely notice that the car is even running. It has a turbocharged, four-cylinder engine that purrs rather than roars, and that is a beautiful quality. A quality that cannot often be found in a lot of cars out there now.
In addition to being sporty and stylish, the CRV has an abundance of cargo and passenger space. It also has two engine options, both of which are pretty fuel-efficient. The Honda CRV pulls an impressive 27 mpg in the city and 35 mpg on the highway. If fuel efficiency matters to you, as it matters to most people, the Honda CRV is a crossover SUV you should consider purchasing.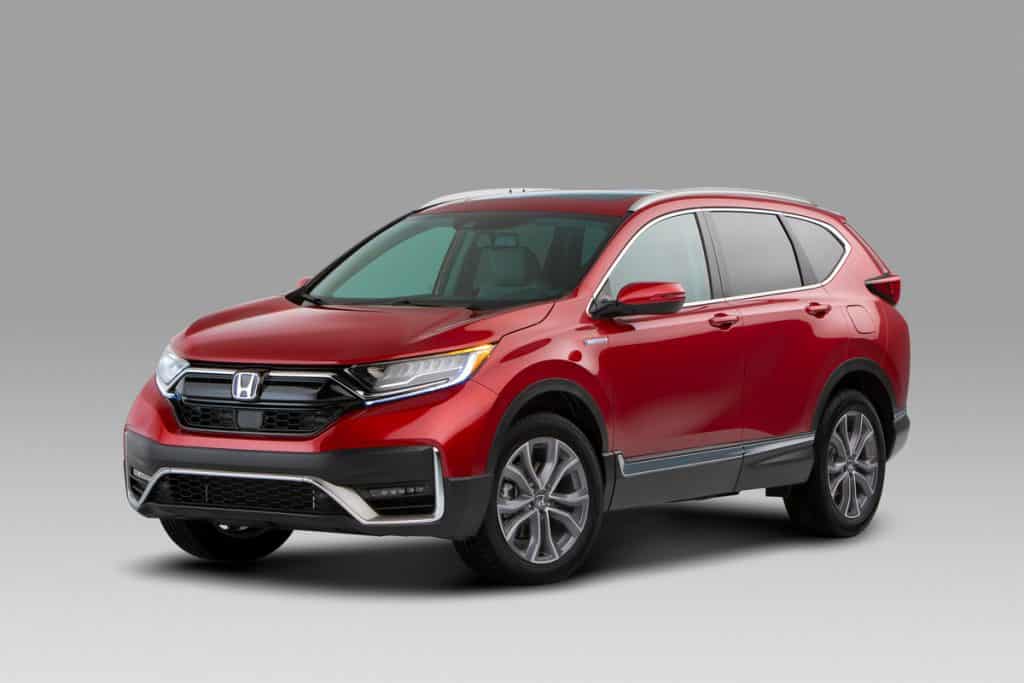 Another thing the CRV has to boast is its safety features. It comes equipped with safety sensors in the front, back, and even on the sides. This is a nice feature, especially when you are driving on the freeway. If a car starts to get too close, those sensors will let you know and you'll be able to adjust accordingly. Driving with features will give you great peace of mind while driving!
Honda CRV: The Pros and Cons
Now that you know a little more about what you can expect from a Honda CRV, it is probably best that you know what some of the pros and cons are. This will hopefully be the defining factor of whether you buy a CRV or not. So, without further ado, here are some of the basic pros and cons of buying a Honda CRV.
Pros
As mentioned earlier, the ride quality that the CRV offers is nearly unbeatable. The car purrs and glides along smoothly to the point where it's difficult to even tell if the car is running. The sound and feel are both incredibly smooth and no matter where you are sitting in the car, you are almost guaranteed a comfortable ride.
Some CRV hybrids have difficulty with rolling, but overall the CRV handles beautifully. It can take sharp turns and manage just fine. Plus, you won't have to worry much about bumping or being jostled around. You can also take your CRV off-road and plow through dirt and snow just fine. AWD is standard on all CRV models so driving through rough terrain never needs to be a concern.
Another nice thing about the CRV is the accessibility. Some compact SUVs are extremely comfortable once you're inside, but getting in and out might be something of a chore. However, this is not the case with the CRV. It has wide-opening doors and heights that work for just about everybody. If nothing else, buy the CRV because it's comfortable and easy to access!
There is also plenty of space in the trunk. You can store just about anything you can think of in the trunk as it is big and roomy. Plus, your passengers will also be guaranteed plenty of room for them to spread out some. This makes the CRV an excellent choice for off-roading and road trips of any kind.
Cons
Unfortunately, as perfect as the Honda CRV seems to be, there are still a few downsides to getting a CRV as well. One of these problems includes poor acceleration. Acceleration still happens and the car handles well, but that acceleration is very sluggish. You can climb hills and get through muck and mud, but it requires you to floor the gas to make it. This can be an unsettling feeling, plus it adds nothing to the car's performance.
The ride is pretty quiet for the most part thanks to the CRV's quiet engine and transmission. However, if you hit wind on the highway at top speed, you will likely be the recipient of a lot of wind and traffic noise. This is generally the case in most cars, but it can get especially bad while in the Honda CRV.
While the CRV's fuel economy isn't terrible, it also isn't the best either. If fuel efficiency is something that matters a great deal to you, you probably want to invest in something a little more reliable in that field. Again, the fuel economy isn't much to complain about, it's just that there are similar cars that get better gas mileage than the Honda CRV.