What is Kia's Best Selling SUV? (Revealed!)
This post may contain affiliate links. As an Amazon affiliate, I earn from qualifying purchases.
Kia has a variety of SUVs: midsized, full-sized, and compact. There is one for everyone, but that doesn't mean all of these SUVs sell well. What is Kia's best selling SUV?
As of 2020, Kia's best selling SUV is the Sportage. It has a consistent number of sales throughout the years and in 2020, Kia sold 84,343 Sportage SUVs. The Kia Sportage is relatively cheap and has the J.D. Power award for dependability, as well as a variety of features that keep passengers safe.
Below we'll look into all of Kia's SUVs over the years and how many have been sold in the United States. We will also look at why these cars are popular and what features the Kia Sportage has.
Statistics
First, let us get the numbers straight. Below is a graph that has a list of all of Kia's SUVs and how many have been sold over the last 5 years. This is from the year 2015 to 2020. Most of these numbers are a rough estimate of sales numbers, as it is nearly impossible to determine how many have been sold without getting the exact sales numbers from Kia, and they don't typically release that information.
Number of Kia SUVs Sold From 2015-2020
| | | | | | | |
| --- | --- | --- | --- | --- | --- | --- |
| Kia SUV Models | 2015 Sales | 2016 Sales | 2017 Sales | 2018 Sales | 2019 Sales | 2020 Sales |
| Carnival MPV | N/A | N/A | N/A | N/A | N/A | 20,898 |
| Niro | N/A | N/A | 27,237 | 28,232 | 24,467 | 17,434 |
| Seltos | N/A | N/A | N/A | N/A | N/A | 46,280 |
| Sorento | 116,249 | 114,733 | 99,684 | 107,846 | 95,951 | 74,677 |
| Soul | 147,133 | 154,768 | 115,712 | 104,709 | 98,033 | 71,832 |
| Sportage | 53,739 | 81,066 | 72,824 | 82,823 | 89,278 | 84,343 |
| Telluride | N/A | N/A | N/A | N/A | 58,604 | 75,129 |
Sources: 2020 and 2019, Niro, Sorento, Soul, Sportage,
As you can see, the Kia Sportage had the most number of sales in 2020, but in years past there has been a battle between the Sorento and the Soul. Now we'll take a look at one other chart below, which will tell us the number of sales for each of the Kia SUV models that were included in the previous table for the month of September in 2021.
This will tell us how the SUVs are doing so far this year. There are no sales or holidays that can influence the number of vehicles in the month of September.
| | |
| --- | --- |
| Kia SUV Model | September 2021 Sales |
| Carnival MPV | 2,782 |
| Niro | 2,566 |
| Seltos | 2,933 |
| Sorento | 4,112 |
| Soul | 6,191 |
| Sportage | 6,596 |
| Telluride | 9,278 |
Source
In this chart, we can see that the Kia Telluride sold the most in September 2021. While looking at both charts, although the Carnival, Niro, Seltos, and Telluride are relatively new, only the Telluride is being sold often and can compete with the other Kia SUV models.
The Sportage from 2015 to 2016 made a similar jump to the Telluride in 2019 to 2020, so the best selling Kia SUV may change from the Kia Sportage to the Kia Telluride in the future.
The Kia Niro is the only new model that has been slowly declining over the years and has sold the least number of vehicles over the years and in September 2021.
Sportage SUV
If the Sportage is so popular recently, the real question is what makes it so popular. It costs about $24,090, which is very cheap for cars these days. It has a 5 out of 5 rating in the Kelly Blue Book and is the best brand for vehicle dependability according to J.D. Power.
The Kia Sportage also has a 10 year and 100,000-mile warranty, so you don't have to worry too much about paying for vehicle damages that are the responsibility of the manufacturer.
This vehicle also has great horsepower in its 240 HP turbocharged engine. It has all-wheel drive, so you can cruise on various road conditions without having to worry about losing traction or getting stuck.
When it comes to comfort for your ride, the Kia Sportage is one of the best as the seats have plenty of leg room for everyone and the seats are comfortable.
The Kia Sportage has plenty of storage space, and the ability to put seats down increases the amount of storage that it has available so you can take everything you need on the go, and you can fit all of your family's belongings inside without any problems.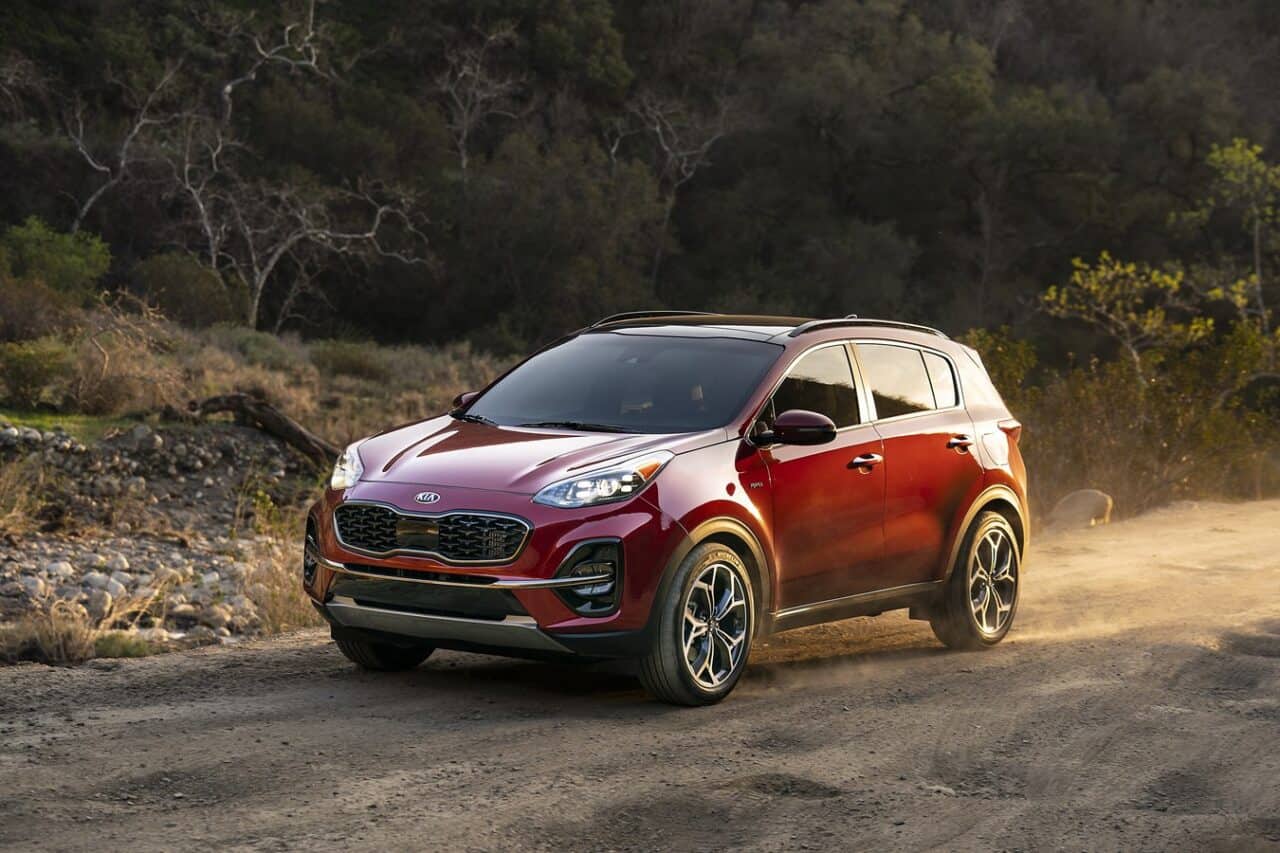 Its truck door has the ability to automatically move up or down with its automatic liftgate so you don't have to try and open the trunk while your hands are full. It also has an extra storage hidden beneath the cargo floor area.
On the inside, there is a touch-screen display that lets you connect your Apple or Android phone to the vehicle so it is easy for you to use your favorite navigation app, play your favorite music, and communicate with others hands free. There is also a wireless charging area, so you don't have to have cords cluttering your vehicle.
Let's not forget the amazing sound system throughout the car to make all rides a party.
There is a good amount of technology in the Kia Sportage to make it operate easier and safer for you. You can start, lock, unlock, heat, cool, and find your vehicle from your phone. No more having to head out to heat up your car first thing on cold winter mornings.
For safety features, your Sportage comes with a strong frame to keep it rigid, and it will not crush as easily in the event of a crash. For cold and wet months, it comes with traction control and a downhill brake control to make sure you don't lose control while driving.
While driving, there are plenty of blind spots that have led to crashes, and this SUV has the technology needed to remove human error and prevent said accidents.
The Kia Sportage has a blind spot collision warning, forward collision avoidance, pedestrian detection, smart stop and go cruise control, and rear traffic collision warning to keep you safe wherever you are. It also has bright LED headlights and high beams to make sure you can see at night and through the fog.