What Is The Best Used SUV To Buy For Your Money?
This post may contain affiliate links. As an Amazon affiliate, I earn from qualifying purchases.
SUVs are trendy these days, and there are plenty out there to choose from.
With practicality and comfort, an SUV solves most needs in a complete package.
But new models can be pretty expensive, so it's common for people to look for older SUVs.
In this article, we will answer the following question: what is the best used SUV to buy for your money?
Recommended Reading: Our Top Picks — 10 Used SUVs with Best Gas Mileage
What Is The Best Used SUV To Buy For Your Money?
Some of the bestused SUVs for the money are the Honda CR-V, the Subaru Outback, and the Chevrolet Tahoe. There are plenty of great used SUVs out there that won't break the bank, but figuring out what features you need and where you can compromise is the hard part.
But, with so many categories, it's hard to list them all.
o, in this article, we'll list some of the better options out there.
What is the best used small SUV?
Small SUVs are ideal for those drivers that want to make the jump from a compact car.
The added ground clearance and larger cargo area make a world of difference. In addition, their smaller powertrains provide excellent fuel economy.
Plus, given the smaller size, these aren't expensive options.
It's no surprise that the Honda CR-V is on this list.
Having dominated the reliability ranks for years, the CR-V is comfortable, spacious, and has good fuel economy.
Though it might be more expensive than other models on this list, the higher price is worth it.
This small SUV isn't only comfortable and reliable; it also comes with heaps of extras.
2015 and 2016 models are a great buy, and you can expect to pay between $19,000 and $21,000 for them.
Mazda CX-5
The Mazda CX-5 is an excellent used small SUV because it's a complete package.
It has exceptional reliability, handling, and adequate interior space.
If you're looking for one, the ideal engine is the 2.5L; it powers the CX-5 just right and has decent fuel economy.
An excellent year would be 2016, as it's the final year before a major redesign, so most of the problems are gone.
Nevertheless, you can expect to pay between $18,000 and $20,000 for a great sample.
While the first Tucson was a rudimentary SUV, Hyundai has gone to great lengths to improve its compact SUV.
As a result, the 2016 Tucson is an excellent option that's cheaper than Mazda and Honda.
It comes with plenty of interior extras, plus a decent powertrain that gives good fuel economy.
Given its quality, you can expect to pay between $17,000 and $19,000 for them.
What is the best used midsize SUV?
Midsize SUVs are a complete package, especially if you have kids.
Thanks to a larger interior, and a more powerful engine, they're great for long trips.
So, vacationing on the weekends got easier.
Plus, there are more options out there as manufacturers realize that this is a popular segment.
Chevrolet Traverse
The Chevrolet Traverse is one of the most popular midsize SUVs, thanks to its reliability, comfort, and low price.
It might not have the best fuel economy, but it doesn't matter when you weigh the pros and cons.
The Traverse has impressive cargo room, a quiet ride, and outstanding reliability.
Another downside is sluggish acceleration, but it's nothing that should put you off buying one, especially those between 2015 and 2017.
You should expect to pay between $22,000 and $25,000.
Subaru Outback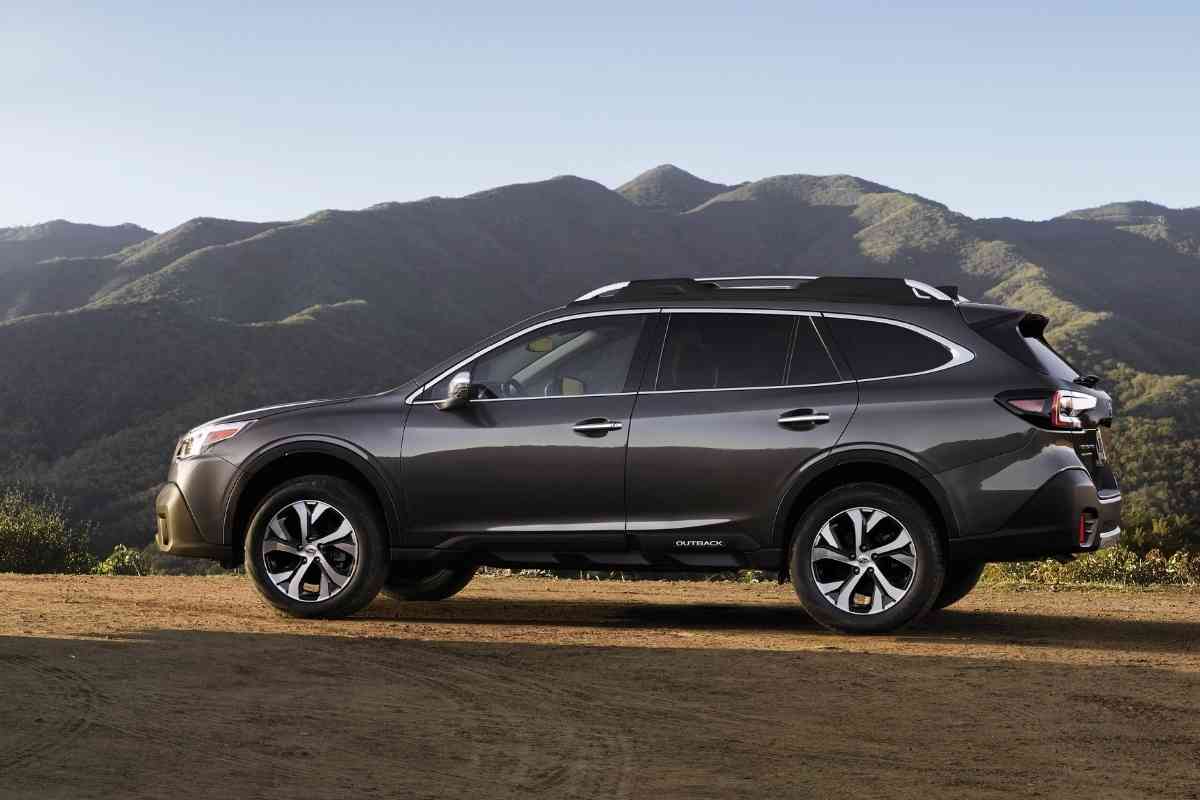 The Outback is a midsize SUV that can suit the adventurous one.
It has excellent ground clearance, an advanced 4WD system, and excellent performance.
Plus, it has plenty of cargo room, so you can fit anything and everything you want.
While fuel economy isn't its strongest point, it's still decent.
Plus, with excellent safety ratings, it makes for a great family vehicle.
You can expect to pay between $22,000 and $24,000 for a 2016 Subaru Outback.
Kia Sorento
Whenever you see used SUV lists, you can expect the Kia Sorento to be on top of them.
This midsize SUV offers everything that you need, especially the 2016 model.
The Sorento went through a significant redesign that year.
It comes with more cargo room, safety features, and slight upgrades in performance.
Other years to consider are the 2017 and 2018 models, but these can be pricier.
You can expect to pay between $23,000 and $26,000 for them.
What is the best used full-size SUV?
Full-size SUVs are tough to categorize because some are massive, and others aren't that big.
So, one way to go about this list is to think about what you need.
For example, if you have a large family and hauling plenty of kids around, then a third-row SUV is a great choice.
But do you want more than that? Then, you have to consider seating and more cargo room.
So, we'll cover both.
We're covering both these SUVs in the same category because they're mechanically identical.
The only difference is in dimensions.
The Tahoe and Suburban are both large SUVs that can carry plenty of people and cargo.
Their powertrains won't win economy awards but have plenty of power.
The ride is comfortable and quiet.
But, these SUVs use a body-on-frame platform, so their handling isn't extraordinary.
In this case, we recommend that you look for a 2010 model, as they are reliable and cheaper.
You can expect to pay between $14,000 and $18,000 for them.
Toyota Sequoia
Another large SUV that's very reliable is the Toyota Sequoia.
Thanks to its veteran engine and transmission, this SUV is reliable and has good power.
Its interior is comfortable and full of luxury. Plus, the over-engineering that characterizes Toyota is evident.
The Sequoia has excellent reliability records. But don't expect excellent handling characteristics.
Any year between 2010 and 2014 is the way to go, and you can expect to pay between $17,000 and $21,000.
If you want to carry a lot of cargo and have class-leading towing capacities, then the Ford Expedition is your SUV.
It's exceptionally safe, as it ranks high in crash ratings, plus it's reliable. But, you have to be willing to pay a premium for them, as the Expedition has earned a very positive reputation.
Good years include 2014 and 2017, and you can expect to pay between $27,000 and $31,000 for them.
What is the best luxury used SUV?
If you want a bit more fancy in your SUV game, then you can consider luxury SUVs.
These span all the sizes, from compact to large, and include more European brands than the previous lists.
There are plenty of models out there, so remember that this is a summary.
What is the best used small luxury SUV?
Acura RDX
The Acura RDX is the best used small luxury SUV.
It has outstanding reliability with luxurious interiors, a comfortable ride, and a heap of features.
Plus, resale values are high, so you have that in your favor when selling it.
But, you might not want to, as the RDX is an excellent choice.
You can expect good fuel economy, a responsive engine, and decent legroom in the back for adults.
We recommend the 2016 model, and you can expect to pay from $26,000 to $30,000.
What is the best used midsize luxury SUV?
Mercedes-Benz GLE
The Mercedes-Benz GLE is the best used midsize luxury SUV because it offers a complete package.
It's luxurious, comfortable, handles great, and has exceptional performance.
As it's tradition with Mercedes-Benz, you can expect the latest technology in every aspect, so safety ratings are high in the GLE.
Plus, the AMG can provide you with excellent performance if you're willing to pay a premium.
Plus, expensive spares mean that the AMG version isn't for everyone.
The best year to buy is the 2016 model, with any powertrain, and the price goes from $35,000 to $40,000.
What is the best used full-size luxury SUV?
Mercedes-Benz GL
It's Mercedes-Benz again, this time with the GL. Everything is a step above the norm, from the quality of materials to the technology and features.
Once you step inside, you know you're in a league of your own.
Plus, German reliability will give you peace of mind.
As you might expect, the GL isn't fuel-friendly or cheap, but you'd be surprised by the diesel options. Although, they aren't the most reliable powertrains.
You should opt for V6 engines or V8 if you want the complete package.
You can expect to pay between $37,500 and $45,000 for a 2016 model.
How to know which is the right SUV for you?
This article provides a small list of options, but plenty of SUVs out there can suit your needs.
You might feel overwhelmed when thinking about your next purchase, and that's normal.
The first step is reading an article like this one, where you can find a great starting point.
The most important aspect of buying an SUV is what you need and what you expect. A lot of factors come into play when answering these questions.
Think about how much money you are willing to spend, how many passengers you will be hauling, and what use you'll give your SUV.
Closing thoughts
Buying a used SUV is a great way to upgrade your current ride.
Since there are so many models to choose from, you're bound to find a good option and pay less than a new car.
SUVs are extremely popular these days, so finding one with low mileage is easy.
That's why many people ask: what is the best used SUV to buy for your money?
That's why we wrote this article. In it, we covered small, mid, and full-size options.
Plus, we included luxury options and provided you with several options of the best SUVs per segment.
Hopefully, the information here helps you find the ideal used SUV for you.