What Is The Best Year For The GMC Terrain?
This post may contain affiliate links. As an Amazon affiliate, I earn from qualifying purchases.
GMC Terrian's are reliable and durable cars.
However, some GMC model years are better than others.
What Is The Best Year For The GMC Terrain?
The best year for the GMC Terrain is the 2020 model. GMC equipped this model year with great safety features, room for the family, and a modern finish. The 2020 GMC Terrain's powerful engine and balanced frame make it the perfect vehicle for most terrain. It is an all-around reliable vehicle.
This article explores the feature of the 2020 GMC Terrain and other notable GMCs.
We'll also discuss the worst GMC Terrain model year.
Features of the 2020 GMC Terrain
The 2020 GMC Terrain is an overall great vehicle; however, what makes it so great is all the minor details.
To get a better understanding of why the 2020 GMC Terrain ranks the highest, we'll take a look at some of the many features included in this model year.
Interior
The GMC Terrain is a compact SUV that seats up to five people.
It has heated front and rear seats.
The front seats are also ventilated, and the steering wheel is heated.
GMC embraced a very luxurious look for the 2020 Terrain.
The 2020 GMC Terrian guarantees comfort.
The interior of this car is very sleek and modern.
This SUV can hold a good-sized family and has a significant amount of storage space.
The inside of the car also supports Apple CarPlay.
The touchscreen interfaces are easy to use and very intuitive.
The touchscreen feature is a great way to safely make phone calls and send messages.
This GMC has a very modern feel to it.
It comes in black and white, and it has a simple, clean interior.
It is a great newer, family car.
It can fit the typical sized family and makes road trips and long drives very comfortable.
Safety
In the past, drivers have criticized GMC for its lack of active safety features.
GMC kept this critique in mind when designing the 2020 GMC Terrain.
This model prioritizes safety.
The 2020 GMC Terrain comes with adaptive cruise control to make maintaining the speed limit easier.
GMC Pro Safety is now standard for this 2020 GMC Terrain.
This system is intuitive and includes forward-collision warning, automatic emergency braking, lane departure warning, lane-keep assist, and automatic high-beam headlights.
These new features showcase what GMC prioritized when creating this vehicle: safety.
The 2020 GMC Terrain is an example of how newer models are using technology to make the car as safe as possible. The 2020 GMC Terrain is smart.
You can count on it to correct slight drifts and be aware of the other vehicles around it.
The two biggest pros of this car are its abundance of safety features and its family-friendly design.
This is what makes the 2020 GMC Terrain stand out.
GMC has worked hard to create a reliable model.
Reliability is important when choosing a car.
A reliable vehicle will keep your family safe and last a long time.
This will end up saving the customer money in the end.
You won't be spending money on unnecessary repairs, and you can count on the 2020 GMC Terrain to last for years.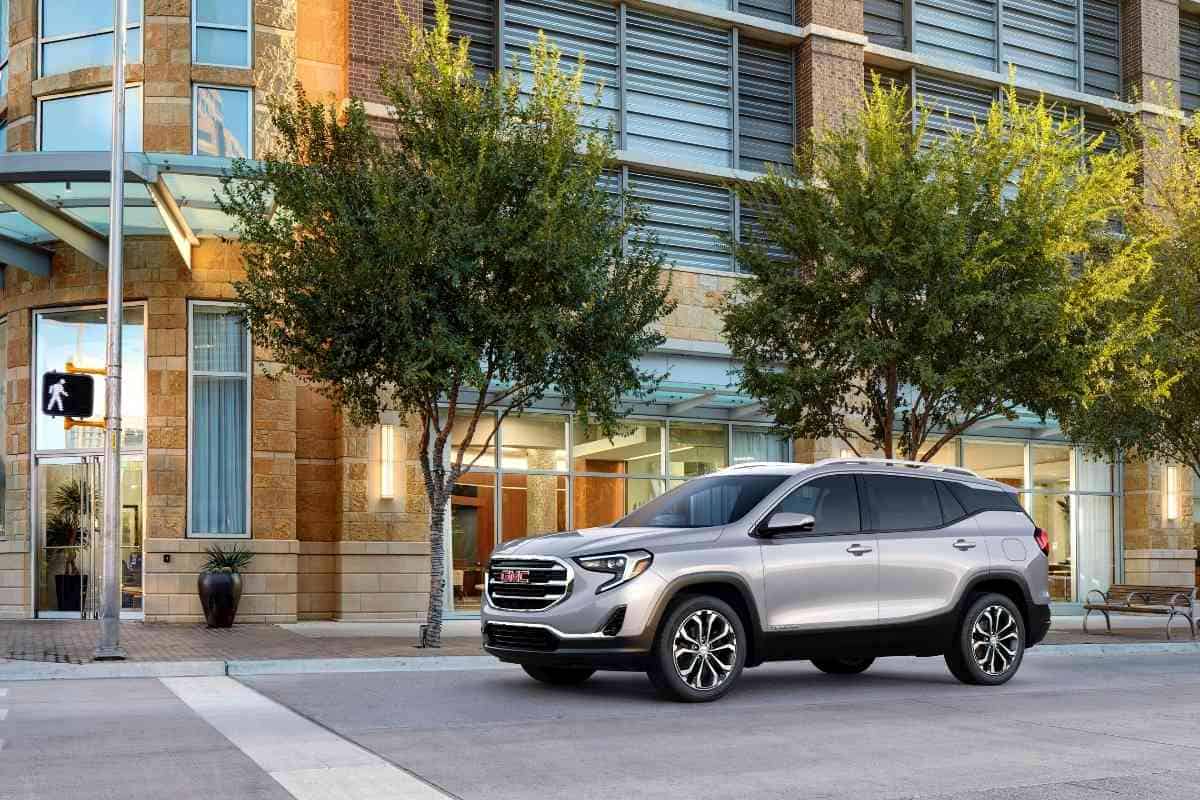 Other Features
The 2020 GMC Terrain has a powerful engine.
It runs on a standard 170-horsepower, turbocharged 1.5-liter four-cylinder engine paired with a nine-speed automatic transmission.
This type of power allows the GMC Terrain to go anywhere.
The 2020 GMC Terrain is balanced and has little danger of rolling.
This car is known for its power.
Its engine will get you where you need to go, and it will do so in an efficient way.
This model is front-wheel drive. Cars with front-wheel drive typically get better fuel economy.
The 2020 GMC Terrain gets 26 MPG in the city and 30 MPG while driving on the highway.
In simpler terms, this model gets great gas mileage! This is an important quality to have in a vehicle.
A car with good fuel economy can save you significant amounts of money over time. You will save money by refueling the 2020 GMC Terrain less often.
Pricing for the vehicle is relatively reasonable for a newer GMC model. This car usually runs for around $25,000.
If you want to invest in a vehicle that prioritizes safety, can hold your family, and has some of the most innovative features, then the 2020 GMC Terrain is a great option.
Other Great GMC Models
The 2018 GMC Terrain is also a great option when looking for the right GMC.
This car received lots of positive reviews after its initial release.
Additionally, this model year was the Finalist for the Best Compact SUV for Families award.
The 2018 GMC Terrain is known for its safety features, family-friendly design, and spacious interior.
The 2018 Terrain is a durable vehicle designed to last up to 300,000 miles with no serious issues.
As you can tell, this vehicle is long-lasting.
GMC also equipped the 2018 Terrain with a fuel-efficient turbodiesel engine.
Since this is an older model, it is a great option for those looking for something more affordable than the 2020 GMC Terrain.
Worst Model Year for GMC Terrain
While shopping for a GMC Terrain, you should avoid some models.
The worst model year for the GMC Terrain is the year 2011.
The 2011 GMC Terrain has the worst record, according to Car Complaints.
This model year received a significant amount of complaints about faulty mechanics; however, as the first of a new generation, these problems are expected.
The three largest issues surrounding this model were: engine troubles, transmission failure, and excessive oil consumption.
Engine troubles were the most prominent customer complaint, particularly with the 2010 and 2011 models.
Engine problems can be expensive to repair, and they can also be dangerous if not dealt with immediately.
A problematic engine stops your car from being reliable.
Reliability is important in a vehicle, especially in a family car.
This is the main reason why consumers should avoid the 2011 model.
Even though the price is lower on this older model, the repair costs that come with this car will lead to expenses that aren't worth it.