What Is the Difference Between the Ford Edge and the Chevy Equinox?
There are so many fantastic SUVs out there these days that it can be difficult to even discern what the differences are between them.
Chevy and Ford have both put out their own excellent SUVs: The Chevy Equinox and the Ford Edge.
The 2021 Ford Edge and the 2021 Chevy Equinox are similar with a few differences.
The Ford Edge and the Chevrolet Equinox have many differences, but they are also similar in their features, size, and price. The Edge has a portrait touch screen, while the Equinox has a smaller, horizontal screen. The Edge comes with AWD, and the Equinox has FWD with optional AWD and 4WD. The Equinox has better gas mileage than the Edge.
There are a lot of differences between these cars, but many features are similar. Let's compare them in some more detail to truly understand what makes these two cars different.
Technology
There are so many reasons to have technology features in cars.
With how prevalent phones are today, being able to use voice commands to access your phone is important.
People can get so distracted by phones, so creating easy hand-free systems that are convenient to use is a technology feature, but also a huge safety feature.
The technology features are where these cars have a lot of differences.
The design of the touch screen display is different in each car by shape and size.
In the Ford, the touch screen display is a 12-inch verticle rectangle screen, and the Chevy has a 7-inch rectangle horizontal screen.
Another cool technology included in the cars is Apple CarPlay, Android Auto, and Amazon Alexa. 
The Ford also has SYNC 4A, which will recognize the driver's voice for voice commands.
In the Chevy Equinox, you can use voice commands like Siri and Alexa when you connect your devices.
Safety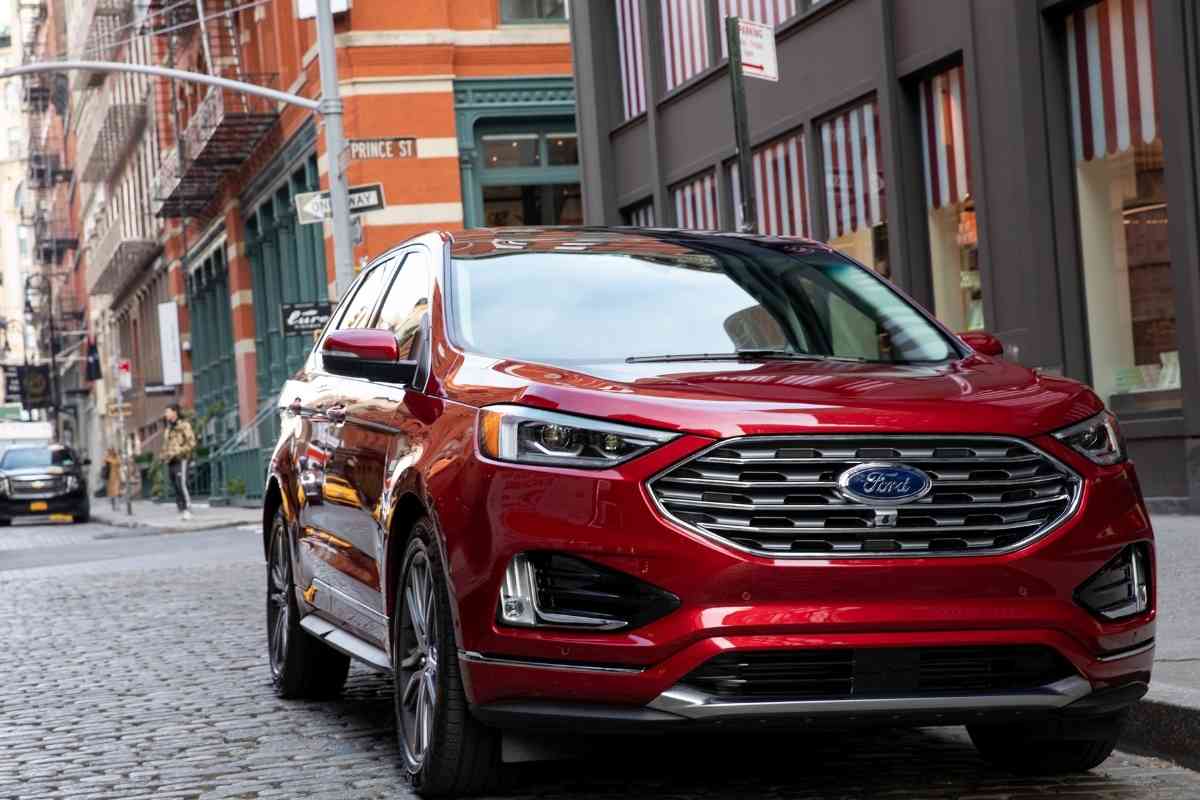 Safety features in cars prevent accidents and make driving safer than in years past.
The advancements make driving more enjoyable as well.
When you have trust in yourself and your car, you can drive safely.
Cars have had backup cameras for a few years now, but with the newer 2021 cars, you get more camera angles to help you with all of your driving needs.
Just as important as driving is parking, and the Ford Edge and the Chevy Equinox have multiple cameras and camera angles to help you view the outside of your car.
It is great for backing up in tight spaces, parallel parking, and more.
The 2021 Ford Edge has a rearview camera and blind-spot cross-traffic alert on both sides of the car but is known for transmission issues.
You also get lane-keeping assist, pre-collision assist with automatic emergency brakes and automatic high beams.
It also has Ford Co-Pilot 360 that can help assist with driving and parking.
It even has smart cruise control that adjusts the cruise control speed based on the car in front of you.
The 2021 Chevy Equinox has forward collision alert with automatic emergency braking, a rear vision camera, adaptive cruise control, rear cross-traffic alert, rear park assist, lane change alert, HD surround definition, safety alert seat, rear seat reminder, and teen driver technology.
The teen driver technology can be adjusted by an adult to limit certain settings for teen drivers.
That way, parents can limit the features their teen may become distracted by when learning to drive.
For those who have kids who are or will be learning to drive in whatever car you buy next, then the Chevy Equinox might be a better option for you.
More safety features are standard and available to put in the car, and the teen driver technology is unbeatable.
Phones are very distracting, especially for a new driver.
Being able to limit the car's abilities to simple things like maps is great. For this feature, Chevy takes the prize.
But, the safety features and smart features included on the Ford are amazing as well.
Interior
The interior of a car is where you will be sitting, and you want it to be comfortable.
If you have a family, you want every seat to be comfortable for the other passengers, and you want the seats to be nice to sit in for hours at a time for road trips and long car rides.
These cars have their own features that make them comfortable and looking nice, so here's the comparison.
The Ford Edge has space and comfort, which is great in any car, and it has great style.
The interior color options are cream-white or black, and the seats are designed to give the driver and passengers space and comfort.
Simply looking at the car shows you how comfortable it is.
The controls for the driver are easily accessible and they are also built into the steering wheel.
The Chevy Equinox has amazing comfort, style, and space as well.
The interior color options are a brown and black combo, and an all-black interior.
The back can open up without touch, and there is hidden storage under the seats.
The seats in the back row can fold down as well to allow for more cargo space.
Exterior
The exterior can be a variety of colors on both cars, including black, white, red, and blue.
There are a few different shade options for these colors as well.
These cars have their own unique style of design because they are made by different companies, but they both have top-of-the-line designs on the exterior.
The grille on both cars is designed well and stands out against the car.
They both have great headlights and taillights that match the cars well.
The cars as a whole look very seamless, and they are both equally beautiful cars.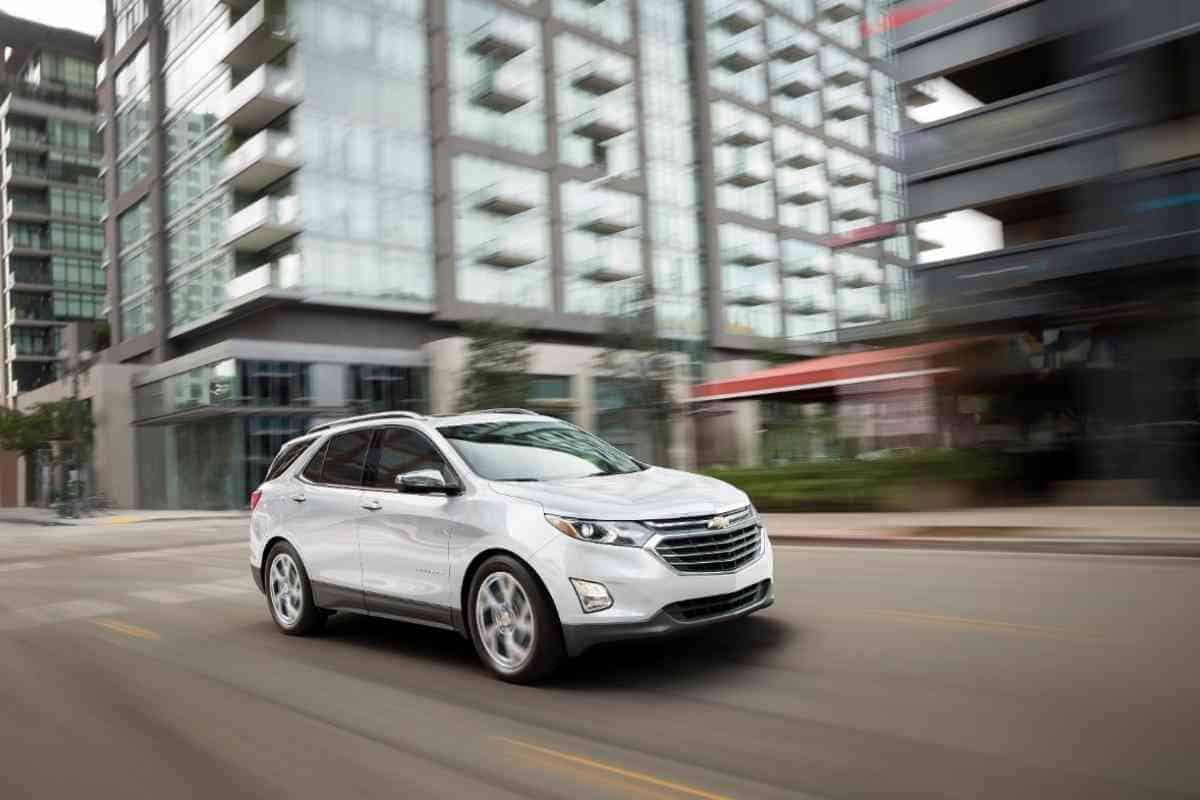 Storage
Storage in cars is needed.
Cars the size of the Chevy Equinox and the Ford Edge need to be capable of plenty of storage for how big they are.
Both cars can have the back seats fold down flat to allow for maximum packing.
The cars also have plenty of head and leg space, which can be converted to more cargo space when necessary.
These cars are both great, and they serve different people, couples, and families well.
For more information on these cars, visit the 2021 Chevy Equinox and the 2021 Ford Edge websites—there you will get a full list of all the specs and features these vehicles have to offer.