What Size SUVs Does Nissan Offer?
This post may contain affiliate links. As an Amazon affiliate, I earn from qualifying purchases.
I am very impressed by Nissan's SUV lineup and the amount of serious care they have put into them.
SUVs offer the perfect blend of space and utility and have extreme adaptability to my needs as a driver concerned with comfort, safety, and fuel economy.
What Size SUVs Does Nissan Offer?
Nissan has many kinds of SUVs as part of its consumer lineup. These SUVs range from small to mid-sized to full-size class SUVs, giving the customer numerous choices and customization options. Nissan SUVs are equally capable of providing comparably great opportunities in the sport, offroad, and economy categories.
Before you start looking, you should investigate the benefits of each SUV and considerations for families or solo drivers.
I was surprised by how different they compared when you broke down their feature list.
Let's look at some kinds of SUVs Nissan is blessed with being able to offer.
Nissan SUV Classes
Nissan divides their selection of SUVs into several classes, with each class member being variations on similar design philosophy.
Small (Compact)
Small-sized SUVs, also sometimes known as compact SUVs, offer the most direct upgrade from a sedan in space and utility.
Because of their size, an advantage to small-sized SUVs is that they are more accessible to maneuver and would feel more natural to handle for a first-time SUV driver.
I noticed you would typically get the most fuel efficiency out of a smaller SUV due to the already mentioned maneuverability advantage.
The smaller frame and weight typically equates to better gas mileage over the longer term.
I was not suffering too much for space either, as a small SUV doesn't sacrifice very much storage space for its size, still feeling like a storage upgrade compared to a sedan and not too much removed from the heavier SUV categories.
I will admit that there is a bit of a downgrade in terms of safety compared to its heavier class counterparts, but this is not too much of a disadvantage because the safety rating on Nissan SUVs is still higher than an average car would be.
Compact SUVs are also generally less expensive in terms of sticker price and over time because of their lower fuel costs and economic impact.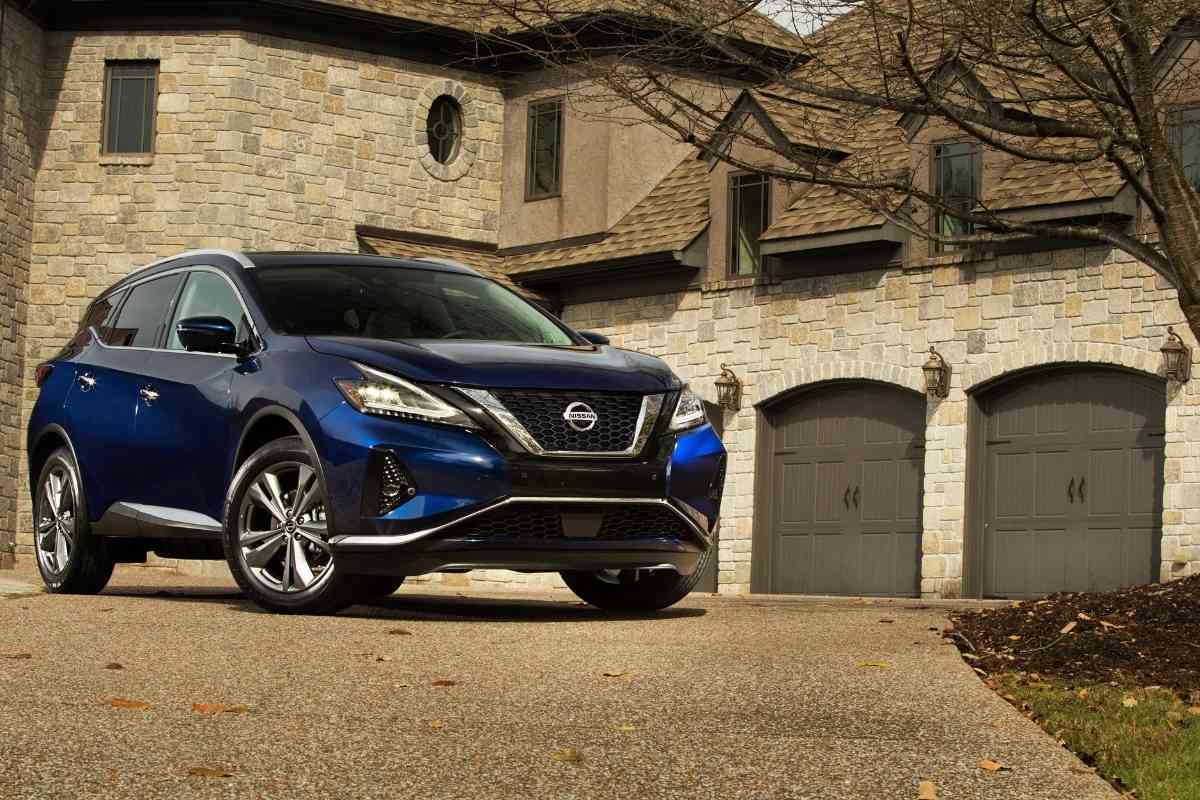 Mid-sized (Standard)
Stepping up from small size, the line between small and midsize isn't always 100% defined.
Also known as standard size, mid-size SUVs are often defined by having an extra row of seating, bringing their seat rows up to three rows total.
I have found this rule is not always the case, as some mid-sizes skip out of passenger space to make extra room for cargo, but looking at the number of seating rows is an excellent way to know you have at least a mid-sized SUV if it doesn't have more than two.
Regardless of the particular features of a mid-sized, they are generally harder to maneuver and noticeably bigger overall compared to a compact or small-sized SUV.
They also suffer from a diminished fuel economy because the engine needs to be more powerful to drive the weight of the larger frame.
What they lack in handling due to size can offer several advantages that make a case for a larger vehicle for some drivers.
More weight means the vehicle's safety improves and its traction on road surfaces.
The bigger size always means that drivers will better view the road, increasing their situational awareness.
Standard Size SUVs represent the first step into the needs category of an SUV.
Someone should be looking into the mid-sized category if they have a particular need and not just a preference.
Such preferences could include more passenger space for family members or more cargo space for hobbies and equipment.
As most luxury Nissan choices begin at the standard class, there is also a prestige factor to consider.
Full-size
Full-sized SUVs represent the most size and power the SUV can offer.
Nissan SUVs in this class offer a plethora of space, with some 7-8 seats that come in multiple arrangements.
SUVs in this class will also be safety-rated for towing large items and driving through and on rougher terrain.
The disadvantages of size from the standard class are still here and are heightened, as fuel economy and handling suffer more in this class of SUV.
Although there are some disadvantages, the versatility of the full-size Nissan SUVs is unmatched.
Full-size SUVs are powerful enough to pull trailers, making them ideal for outdoor activities like camping, and they can get to these outdoor venues thanks to their offroading capabilities.
The price tag will be more expensive all around for this class of SUV, so consideration should be made of the needs level of the individual or group of individuals considering a full-size upgrade.
Cross-overs
While not technically a different class on its own, cross-overs are still a kind of SUV classification that Nissan uses.
Cross-over SUVs come in all shapes and sizes and are defined by the unibody frame construction.
This type of construction means that the body and frame are built in a single piece, which helps achieve lighter weight and better field efficiency.
This technique essentially makes SUVs more like trucks or sedans, based on the size and type of crossover the SUV is.
Breaking Down Popular Nissan SUV Models
I was keen to investigate the different models Nissan had on offer. Here are the ones in the most recent lineup listed in ascending price order.
This smallest-sized Nissan SUV is barely more than a sedan.
It boasts the lowest price tag and the highest fuel efficiency of the entire lot.
It has become a popular choice because of its excellent fuel efficiency and is a relative newcomer, only arriving on the scene in 2018.
A smaller version of the classic Rogue model offers a similar passenger capacity but a slightly cheaper price tag.
It prices somewhat higher than the Kicks model but shares its affinity for street aesthetics but adds some extra technological features to keep up with it.
The Nissan Rogue is the last compact class model before getting into mid-size territory. It offers all the features of the Rogue Sport but at a slighter higher size.
It also provides additional equipment packages to be customized further, including interior and sound packages.
The Murano is a midsize crossover available with an all-wheel-drive set at premium pricing.
It boasts a lounge-like interior and extra features like Intelligent Mobility safety features.
Hailed as Nissan's "most capable' crossover, it is very practical and is designed with a smooth ride in line.
It is perfect for long-distance on the highway, boasting a finely tuned suspension to make the ride easy and peaceful.
The first passenger row upgrade comes with the Nissan Pathfinder.
It is the second-largest SUV in Nissan's latest offering.
It is a midsized SUV that is exceptionally spacious inside and has an above-average towing capacity rating.
The Pathfinder's stand-out features are its ten airbags and blind-spot monitoring, which improves its safety on the road.
The Armada is the only full-size SUV offered in the current Nissan lineup.
It boasts the highest price tag and also the highest features.
It has the most passenger capacity of 8 passengers and can pull up to 8,500 pounds.