What Small SUV Can Tow a Travel Trailer?
Small (or compact) SUVs are made for those who want the style and capability of an SUV but don't need or want a full-sized option.
Sometimes these are referred to as "crossover" SUVs, which has become a more popular term than compact.
When I needed to tow a travel trailer, I required something more powerful than my minivan, so I needed to buy a small SUV that could tow.
What Small SUV Can Tow a Travel Trailer?
Many small SUVs can tow small, fully-loaded travel trailers, which usually max out around 3,500 pounds. The Honda CR-V, Ford Escape, the Range Rover Evoque, and the Chevy Captiva Sport can all tow a 3,500-pound travel trailer while many more models can tow slightly less.
Travel trailers can weigh close to 10,000 pounds, but small, fully loaded trailers usually max out around 3,500 pounds.
Read on to the end to explore some of the most popular compact SUVs with the capacity to tow small travel trailers:
Honda CR-V
The Honda CR-V can tow a trailer weighing up to 3,500 pounds.
The main benefit of buying this small SUV is its fuel efficiency.
The CR-V gets 40 mpg on the city and 35 mpg on the highway, much better than most other small SUVs.
Ford Escape
Another popular option is the Ford Escape.
This SUV can handle up to 3,500 lbs. I always recommend going with a Ford SUV because they have a strong reliability record, important when you need a vehicle to tow.
It's also quite affordable, which gets my attention.
Chevrolet Equinox
The Chevrolet Equinox has a 3,500 pounds tow rating.
The 1.5L engine has a towing capacity of 1,500 pounds, and the optional 2.0L engine has a towing capacity of 3,500 pounds.
I would upgrade to the 2.0 for towing most trailers.
Kia Sportage
The Kia Sportage can tow up to 1,653 pounds or 2,000 pounds with trailer brakes.
I like the included all-wheel drive and optional 240-hp turbocharged engine.
Jeep Patriot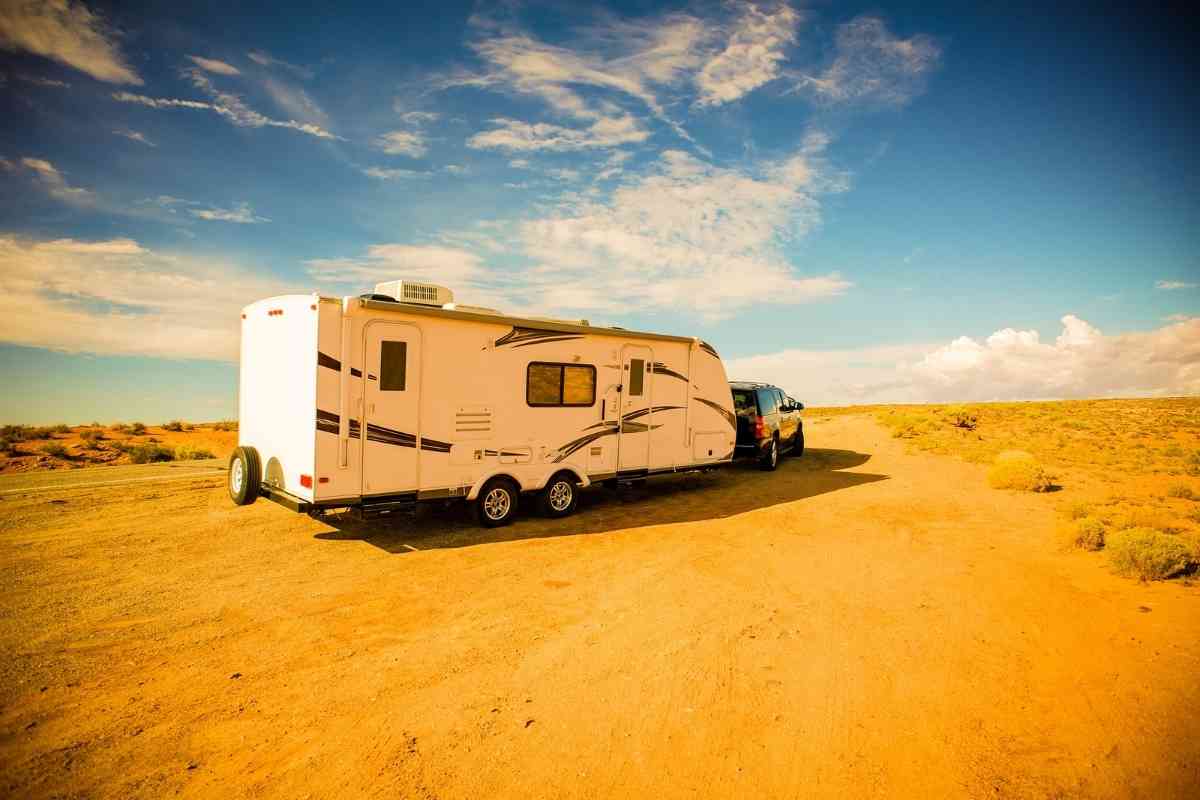 The Jeep Patriot is an American-made small SUV that got 4 out of 5 stars in government crash tests for passenger safety.
It can tow up to 2,000 pounds with the addition of a towing package, which is good enough for most small trailers.
However, I read some reviews that said it doesn't feel sturdy when driving on the highway, and 2017 was the last model year for this SUV, knocking it out of contention for anyone who wants a new vehicle.
Nissan Rogue
The Nissan Rogue is another small SUV that can tow 1,350 pounds, and there is plenty of cargo space inside the vehicle to pack more stuff.
I like seeing that the Rogue has a smooth ride, which I'll want when towing a trailer.
Range Rover Evoque
This small SUV is not the cheapest option I found, but since it's ranked as one of the safest SUVs in recent years, maybe it's worth a little extra money.
The Evoque can tow an impressive 4,000 pounds, so you can bring all of your mother-in-law's belongings.
Chevrolet Captiva Sport
This SUV can handle towing up to 3,500 pounds, but I see that you must get the towing package.
The towing capacity will be significantly reduced without the correct hitch installed.
GMC Terrain SLE
This crossover SUV can tow up to 1,500 pounds.
I like the high safety ratings for this vehicle based on all-wheel-drive, traction select system, and hill descent control.
Mazda CX-5
Featuring a towing capacity of 2,000 pounds, the Mazda CX-5 is one of the cheapest SUVs on this list, and it gets4 out of 5 stars for occupant protection in government crash tests.
I see some reviewers saying there is too much road noise, if that's a concern for you.
How Is Towing Capacity Calculated?
I located several data points manufacturers use to find towing capacity:
Gross vehicle weight rating is the first thing manufacturers consider. This is the vehicle's maximum weight, including passengers, cargo, and equipment. This does not include trailer weight.
Gross combined weight rating is another consideration for manufacturers. This is the maximum allowable combined weight of the towed unit or trailer and its load. This is determined by the resistance of all tires on the ground.
Gross axle weight rating is the maximum allowable weight a single axle can support.
Tongue weight is the force applied to the trailer's tongue, which brings down the rear end. The more weight placed in the front of the trailer, the more tongue weight is created.
Curb weight is the total weight without passengers or cargo but full fluid tanks.
Dry weight is the vehicle's weight without passengers, cargo, or fluids.
Payload is the weight a vehicle can safely carry, including passengers and cargo.
Towing capacity is determined by looking at the gross combined weight rating and subtracting the combined weight of the SUV, passengers, and cargo.
How Can I Increase Towing Capacity?
I know it's tempting to increase towing capacity without purchasing a new SUV.
To juice the towing, some things can be done but do not exceed manufacturer-recommended weight limits.
This can lead to your trailer detaching or your brakes failing.
Shocks: I recommend checking the shocks of your SUV to make sure they are up for the task. Installing more durable shocks will help your vehicle tolerate more weight.
Brake Controller: If you're planning on towing heavier loads, it will be essential to find an adequate brake controller that can handle the load. The brake controller activates the trailer's brakes, allowing the trailer to gradually slow down.
Tires: People often try to save money when buying tires, but I find it's better to invest in high-quality tires that are rated for the loads you want to haul. You don't want to have a blowout because you decided to move your gold bar collection.
Weight distribution: If your trailer is heavy on one end, it's essential to make sure there is weight distribution across all vehicle axles.
Trailer Hitch: The hitch attached to your SUV may be too slight for larger trailers. I recommend paying for quality as having a trailer detach is obviously a hazardous situation.
Engine oil cooler: If your SUV is towing for extended periods, it might be a good idea to get an engine oil cooler. This will help the engine stay cool, so you don't have to worry about overheating or damage while on the road. I thought this was some kind of additive, but it's actually similar to a radiator and positioned to cool circulating oil.
Wrapping Up
Whether you want a small SUV just for the city, or something that can hold a boat or travel trailer, there's one out there to meet your needs.
Every vehicle has its pros and cons, so you'll have to decide if it's worth it to you – but either way, you'll get a stylish SUV that has the capabilities of a big one.
Safety is always a concern and these will get you where you need to go.