What SUV Has The Best Resale Value?
This post may contain affiliate links. As an Amazon affiliate, I earn from qualifying purchases.
Automotive prices have left many scratching their heads; the importance of understanding your SUV's resale value has become essential.
In addition, we've seen an increase in supply issues in the past years, which leads some people with no vehicle to buy and others with a potential moneymaker in their hands.
The SUV is now the vehicle of choice for North America, making matters more interesting.
Its versatility and practicality mean that it's what the market wants and could pay a high price for one that's in good condition.
What SUV Has The Best Resale Value?
Below are the SUVs with the best resale value in their class:
Subcompact Crossover: Honda HR-V
Compact Crossover: Subaru Forester
Luxury compact: Lexus NX300h
Midsize: Toyota Highlander
Luxury Midsize: Lexus RX
Full-size: Chevrolet Tahoe
Luxury full-size: Lexus LX
Compact Off-Road: Jeep Wrangler Two-Door
Midsize Off-road: Toyota 4Runner
Specialty Full-Size: Mercedes Benz G-Class
There are many ways to talk about resale value, and the most common is the percent retained value.
This number tells us how much of the original price the vehicle still holds, usually five years after it was sold.
This will be our guide for this article, plus we'll cover other important factors that could determine resale value.
Subcompact Crossover: Honda HR-V
Honda has historically maintained high resale values thanks to its reliability and high quality.
The HR-V is no exception, as it comes with the same powerplant and transmission as the Honda Civic, one of the most reputable vehicles from the brand.
The smallest SUV in the Honda lineup yields excellent fuel economy and decent cargo room.
Also, the manual transmission has good acceleration and sporty handling. So, it's a versatile option for those who want the complete package.
These factors help the HR-V maintain a 5-year retained value of 57%, which is in the upper ranks for any vehicle. It's a popular option, but there is one downside.
People love the HR-V, so the initial price is higher than most competition.
The Subaru Forester is the go-to choice for all-around versatility. It comes with excellent ground clearance, plus Subaru's famous AWD system.
It's also a pleasure to drive, as it handles excellent and provides more than enough power.
This SUV has also earned top ranks regarding reliability in magazines such as Consumer Reports and JD Power.
So, you know you're getting a complete package.
The only downside could be that its looks might come off as a bit bland.
Bland aesthetics aside, the Subaru Forester provides excellent cargo room and interior for an SUV in its category.
However, it also comes at a premium, as Subaru vehicles are more expensive than the competition. Still, all these factors give the Forester an excellent 56.8% retained value.
It's hard to argue with Lexus's quality in the game, and the NX is no exception.
The smallest SUV in its lineup comes with everything you'd expect from the luxury brand.
An excellent interior combines with decent cargo room and handling to offer a complete package.
The other strong selling point is that it comes with a level of reliability that only Lexus can provide.
This brand has ranked on top of the rankings for years when it comes to this aspect. So, you know that you're not getting a clunker.
There is a twist to this story. One model stands out regarding resale value, and it's a big difference.
If you want the best-retained percentage, you're better off with the hybrid.
The NX300h has an impressive 58.1% retained value, while the non-hybrid version comes at a lower but still respectable 55.1%.
This category could be a coin toss because there are so many options.
In fact, as honorable mentions, we can include the Kia Telluride and Subaru Ascent.
Yet, the first place belongs to the Toyota Highlander.
This SUV is the definition of practicality and reliability
It has hauled families across the country for years, and maintenance issues would be the least of your concerns.
Plus, Toyota has worked to improve its interior and provide it with a more powerful engine, so it has shed a bit of its boring reputation.
The Toyota Highlander has replaced the minivan in endless driveways around the country, and still, people want one. So, the resale value is high.
In fact, the Toyota Highlander has a 5-year percentage retained value of 65%.
Luxury Midsize SUV: Lexus RX
You might start noticing a trend here, but it's the cold hard truth.
Lexus makes reliable vehicles, and the RX line is one of its most important products.
This SUV comes with a wide array of trim options and powertrains, including a hybrid, which means there's an option for many buyers.
The RX isn't perfect, and there are two major downsides.
The first is that this luxury SUV only comes with two-row seating.
The second is that it's got a restricted cargo space, but this vehicle makes up several factors.
The Lexus RX combines excellent handling, adequate acceleration, and a luxurious interior to provide a complete driving experience.
When it comes to which model to have, the RX350 has an excellent 59% retained value.
The hybrid also has a good number, but it's a lower 53% retained value.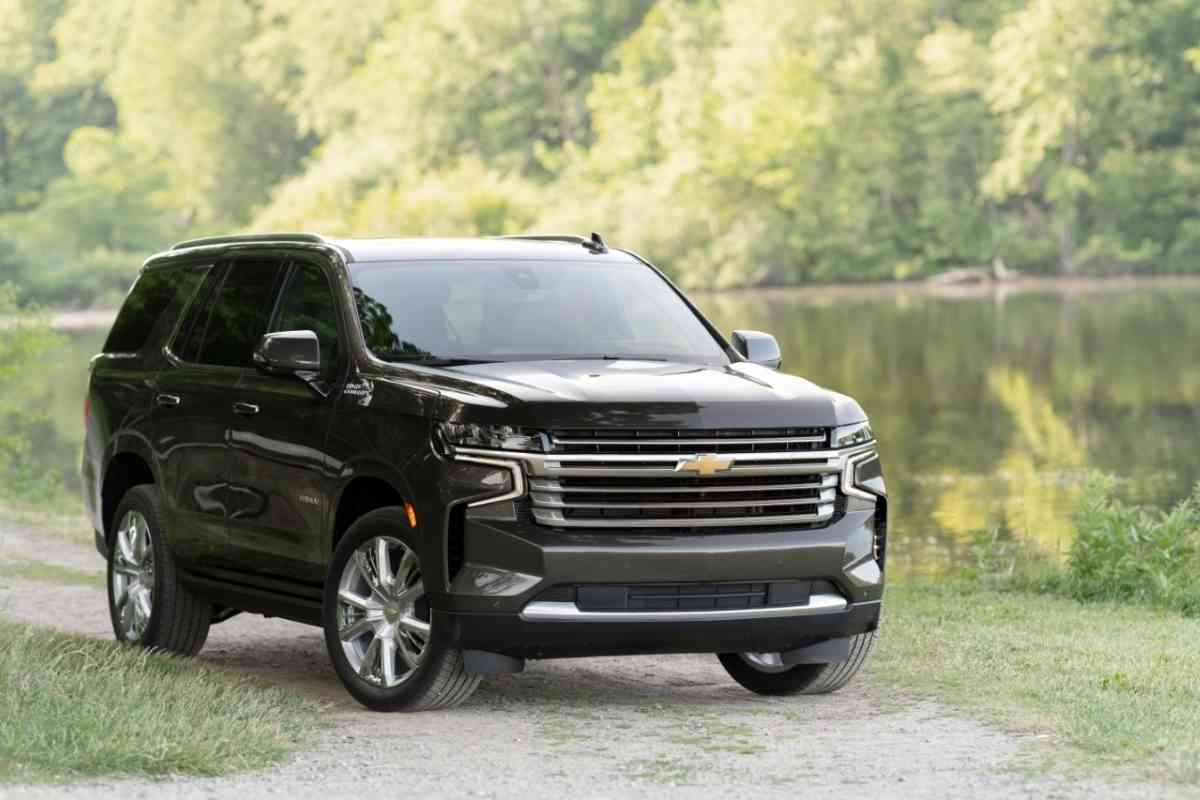 The Chevrolet Tahoe has built quite a reputation over the years.
After all, it does check several marks, including a spacious interior, a powerful engine, and off-roading ability.
Plus, its engine can take a beating and go for thousand of miles.
This history has earned the Tahoe a cult following of sorts.
We say "of sorts" because many people love it and are willing to pay big bucks for used models in pristine conditions.
This means that the market for the Chevrolet Tahoe is very much active.
As a result of its reputation and a bubbling market, the Chevrolet Tahoe has a 59% retained value. Such a value places it among the top in the full-size SUV sector.
Plus, spares are still relatively cheap and easy to get with so many of them out there.
Luxury full-size SUV: Lexus LX
The Lexus LX combines luxury, versatility, and reliability.
So, it's no surprise that it has held its value relatively well. Plus, don't let its wide rims fool you.
This SUV can hold its own in challenging terrain.
While its engine is on the aging side, Lexus has managed to squeeze 380 hp, so it moves adequately. The interior is comfortable and luxurious, everything you'd expect from the brand.
In addition, the third-row seats are spacious enough for adults to ride in comfort during long trips.
These features allow Lexus to have a 58% of retained value.
People know that the Lexus LX is reliable and comfortable. So, they're willing to pay big bucks.
You will probably read the value twice because you won't believe how much the Wrangler holds over five years.
So, it's safe to say that people love this vehicle, and it has earned a place at the top of the resale value annals.
One main reason the Jeep Wrangler holds its value so well. It's its DNA. The Wrangler has iconic looks and an off-roading capability that no brand can match. In addition, it's one of the few SUVs available with stiff-axle suspension and actual low-range gearing.
The Jeep Wrangler's engine is also famous. If you maintain it well, its tried-and-true powerplant will not let you down.
So, enough intrigue. We've given you why it's so valuable; now, here's the value. The Jeep Wrangler has an 84% retained value.
This is for the two-door, and the four-door version holds 82%.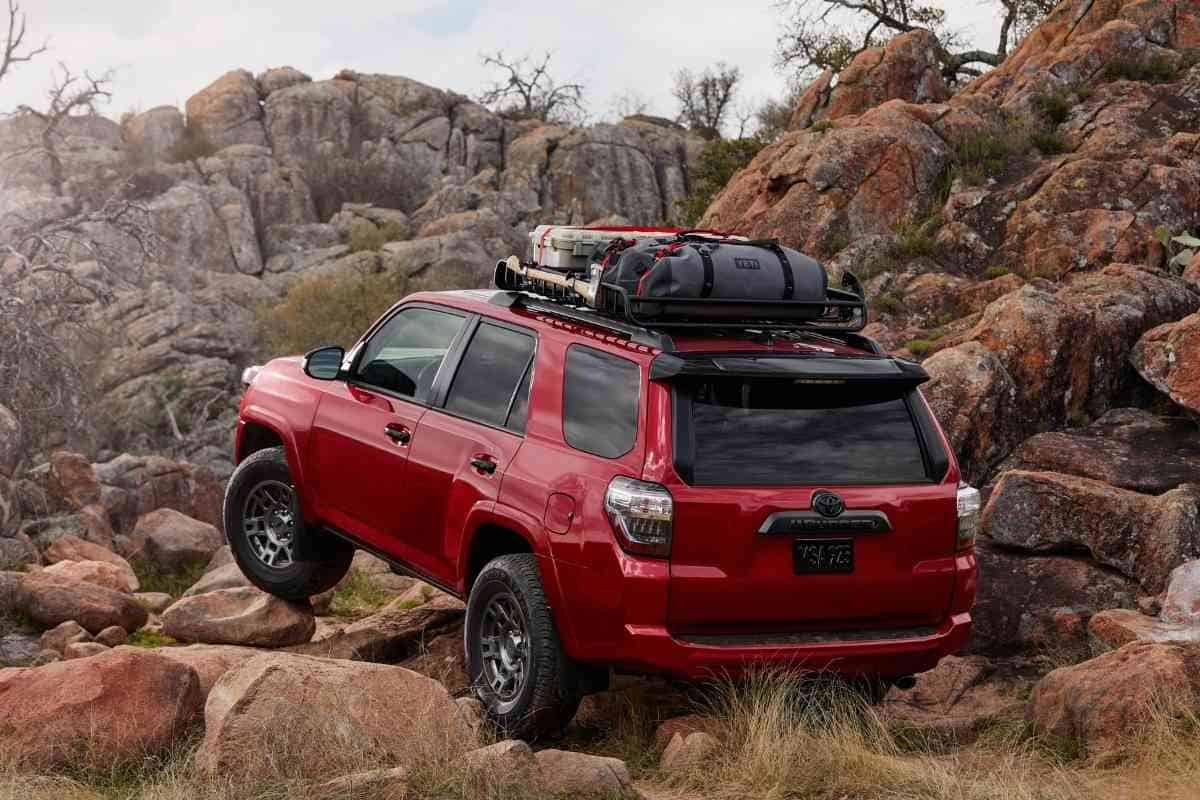 The Toyota 4Runner has an equation that hasn't changed in years, which makes it great.
This SUV has an excellent off-roading ability, thanks to its body-on-frame construction and ground clearance.
Plus, it has adequate power to move about with ease.
Unfortunately, it has aged and could feel wobbly in highway driving.
The Toyota 4Runner has an engine and transmission that deserve a refresh.
Don't get us wrong, they're both bulletproof, but they're already showing their age.
Still, thanks to its looks and off-roading prowess, the Toyota 4Runner has an excellent resale value.
The Toyota 4Runner has a 68.1% retained value, placing it well above others. Here's a disclaimer: the four-door Jeep Wrangler is also a midsize SUV, but we already mentioned it.
We've covered a lot of SUVs on this list, but we haven't talked about the expensive end of the market.
This sector is difficult to gauge for several reasons.
First of all, it's only until recently that more brands are expanding into selling their own high-end luxury SUV.
Second, their original price is so high that they're prone to fast depreciation.
There's one SUV that manages to hold a good resale value. The Mercedes Benz G-Class stands out.
It has classic looks, enviable off-roading capabilities, and a flurry of powerplants that challenge many sports cars.
If you go for the AMG version, this is even more evident.
The Mercedes Benz G-Class has a 56% retained value.
This is respectable but not as impressive as others on this list. Still, this SUV will likely keep holding its value for years to come.
So it is a desirable choice, but there are also few, if any, actual competitors out there.
Closing Thoughts
The SUV market is evolving rapidly.
More and more people desire them, leading to a volatile resale market. We've seen how values can go up and down and surprise us in the past years.
So, it's always important to know what SUV has the best resale value.
This is essential information, not only for buying one but also for selling it in the future.
This article gives you ten SUVs with the best resale value. It covers everything from subcompact to midsize to luxury full-size.
There are some expected examples here, and some might surprise you.
So, in the end, we hope that it provides you with enough information to help you in your decision, be it buying or selling.