There are many reasons why people love SUVs and one of those reasons is the fact that SUVs are so versatile. They have the strength and endurance that many people love from a truck but they are also family-friendly. SUVs are also great for camping because they are spacious enough to where you can fit your family or friends in your car as well as your luggage and they have a powerful engine to get you through any rocky terrains.
Camping is a great way to disconnect with technology and take a breather into nature, not to mention, it is a great way to create quality time with your loved ones. If you are thinking of taking your family or friends on a camping trip and are wondering "what SUVs are good for camping" then we have got you covered.
Let's get started!
Best SUVs for Camping
There are many great SUVs (and non-SUV vehicles) for camping but these are our top favorites and for many reasons as well. These SUVs will not let you down and many campers have driven these SUVs and can attest to them as well.
Do you see your favorite SUV on this list? Let's find out!
● Toyota 4Runner
Most people think that you need a big car in order to have a comfortable camping experience, but the Toyota 4Runner challenges that mindset.

The Toyota 4Runner is first on our list because of its size-it is small and compact-which makes it ideal for narrow roads and smaller camping grounds.

Have you ever had to go around a street or entrance because it was too narrow for your camper or RV? Well with the Toyota 4Runner, you will not run into that problem at all.

The Toyota 4Runner is a bit under 16 feet long which makes it so much easier to drive compared to big Class A motorhomes.

You also do not have to deal with a travel trailer either which also means you do not need to worry about towing safety and all that hassle. Camping is supposed to be fun, so why shackle yourself down with extra worries?

However, do not mistake the compactness of the Toyota 4Runner for an uncomfortable time. Just because it is more compact does not mean that it is cramped.

If you are someone that usually camps with a camper, then you can replicate that experience in your Toyota 4Runner. Just pack a mattress, camping gear, and some cooking gear and you are good to go!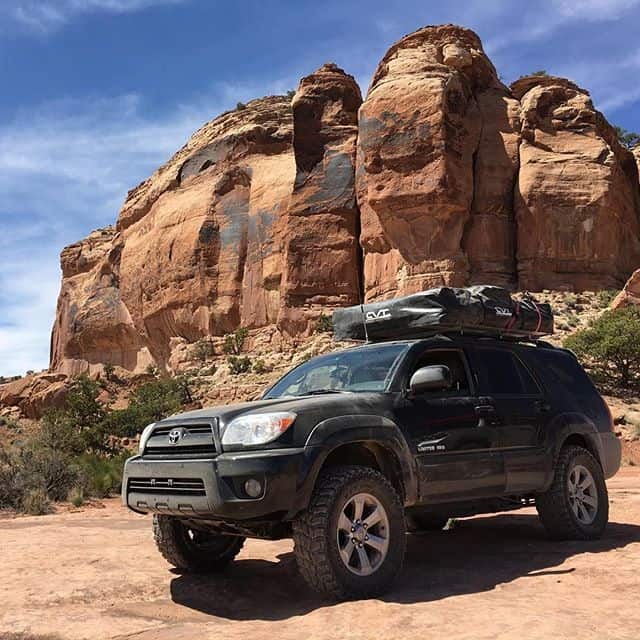 ● Jeep Wrangler Unlimited
Next on our list, we have the Jeep Wrangler Unlimited.

If there is one factor of Jeep vehicles that most people associate with them, it is their amazing commercials. Say what you want about Jeep as a brand overall, whether you love them and recommend them to everyone or whether you feel there are better brands out there, you cannot deny that they know how to make great car commercials.

There is a group of friends, smiling and laughing into the sunset with their Jeep Wrangler Unlimited. It kind of makes you want to go on a camping trip with your friends too, huh? Well, that is basically the gist of their car commercials but it does work not only because of the commercials but also because the Jeep Wrangler Unlimited is a great car to take camping.

The Jeep Wrangler Unlimited is great if the weather is nice and you want to feel the sun and wind on your face because it has a detachable roof. With a nice breeze, good music, and great company you and your group of friends might reenact the famous Jeep Wrangler commercials yourselves.

Next, it is good to know that the Jeep Wrangler Unlimited is able to fit up to five people comfortably.

Lastly, it is good to know that the Jeep Wrangler Unlimited has great ultra-durable tires to scale mountain roads to find the unlimited camping place for you and your friends to settle in.

Not only is the Jeep Wrangler Unlimited great for camping but if you want to detour a bit and take it off-roading then it is also more than capable of handling some tough terrain.
● Nissan Xterra Pro-4X
Coming in third on our list, we have the Nissan Xterra Pro-4X.

Now, this may be quite a questionable choice since the Nissan Xterra Pro-4X has been disconnected in the United States after its 2015 launch.

However, if you are lucky enough to have an older model or if you are lucky enough to be able to find a Nissan Xterra Pro-4X in good condition then please consider taking it camping!

The Nissan Xterra Pro-4X is a great off-road vehicle because it can handle extremely cold weather, even the icy, snowy Northeastern winters.

Unlike other SUVs in its class, the Nissan Xterra Pro-4X is more dependent on colder weather and icy conditions because it is not likely to slip on snowy roads. The Nissan Xterra Pro-4X is a great vehicle for the urban atmosphere and even undesirable atmosphere.

The top roof add-ons are a great addition to the Nissan Xterra Pro-4X. It is also great for storage. This means that you can fit your camping equipment as well as have ample headroom for yourself and your passenger.

The Nissan Xterra Pro-4X also has fold-up rear chairs to create even more storage room as well. Or if you want, you can even sleep directly in your Nissan Xterra Pro-4X if you would like. This would be a great option if you are going on a solo camping trip or if you are only traveling with one other person.

What makes the Nissan Xterra Pro-4X even better is the fact that there is even more storage on the top of the car. Do not forget about the roof rack which is amazing for carrying extra items such as camping equipment, luggage, and even a kayak!
● GMC Acadia
Next on our list is the GMC Acadia.

When it comes to SUVs that are great for camping, it is very difficult to go wrong with the GMC Acadia.

To put it plainly, the GMC Acadia is a tough ride. It can handle almost anything that you throw at it and you will need a car with that kind of capability when you are camping.

As far as the interior goes, you can fit up to seven passengers comfortably. If you are planning on going camping with a group of friends, then the GMC Acadia is the one for you. It is nice and roomy for you and all of your passengers.

However, if you are planning on going on a solo camping trip or if you are only planning on going with one other passenger, then you have about 79 cubic feet of storage all to yourself to use as you please.

You can pack your biking equipment, your luggage, food and drinks, tents, coolers, and even any inflatable items such as kayaks and floaties.

The GMC Acadia also has quite a large clearance as well so the suspension will allow you to drive the GMC Acadia over rough terrains and difficult weather conditions as well. So you do not have to settle on the first sparse camping ground that you see. If there is a place that you want to set up camp at but it is a little bit further and the road is a bit rocky and bumpy, then do not worry because your GMC Acadia can take you there.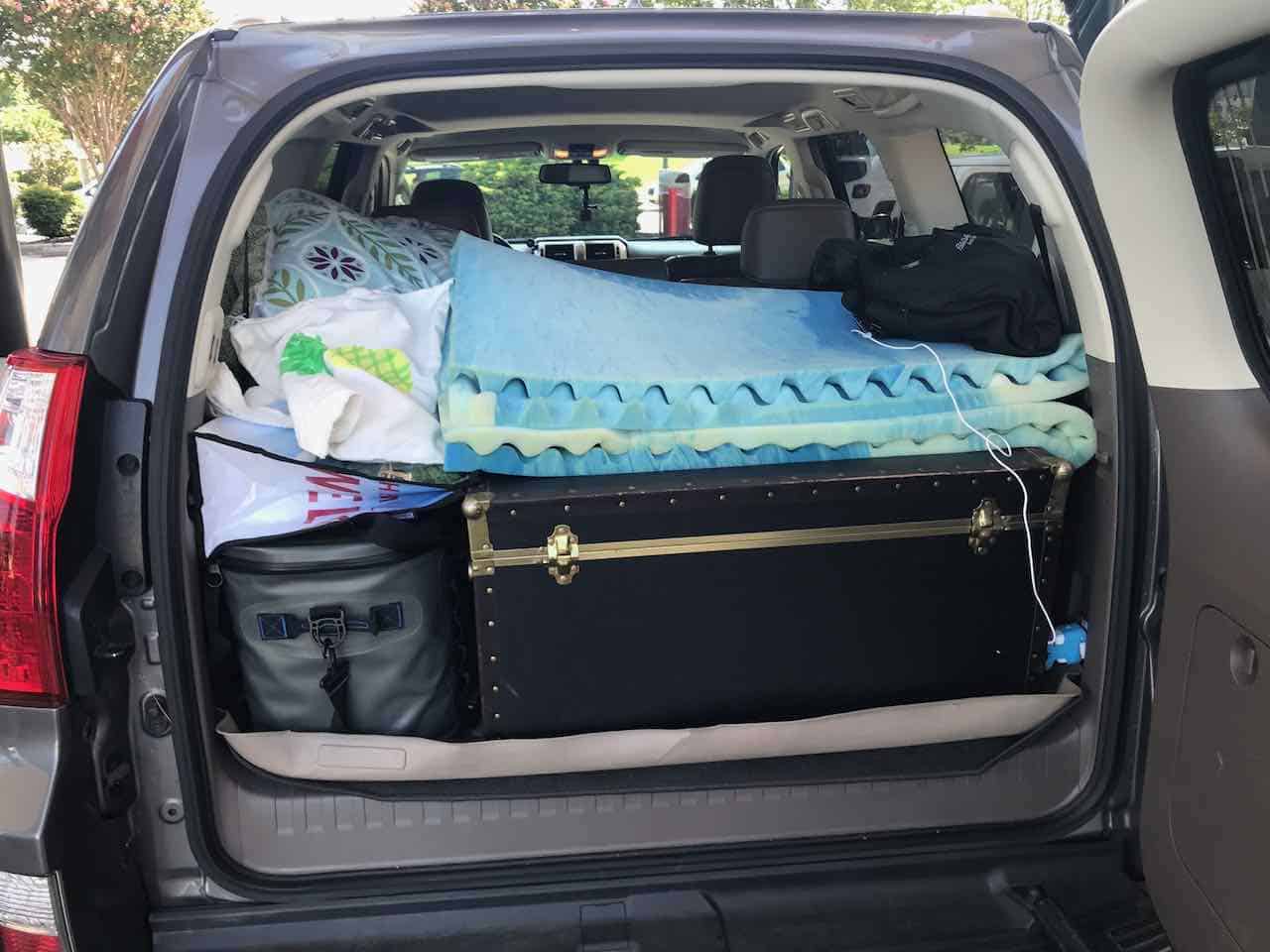 In Conclusion | How Important is It?
Most people may not see the importance of a great camper SUV but if you are an avid camper then you know how important it is to get a vehicle that can perform.
Just because an SUV is strong and may seem capable does not mean that it is ideal for camping. For example, for an SUV to be considered a great camper SUV it has to: be reliable, have 4WD (four-wheel drive), is spacious, has room for storage, and of course be gas efficient. This is a lot to ask for in an SUV, we understand, that is why we made this list.
Going camper with just any vehicle may sound like a good idea but when you are out there in tough camping conditions, you would want an SUV that can not just handle all the small problems but also all the big ones as well.
You cannot go wrong if you stick with one of the SUVs on this list; however, do keep in mind that just because an SUV did not make this list does not mean that it is not a suitable camper SUV.
If you would like more information pertaining to camping SUVs and what to pack while camping, be sure to check out some great camper blogs online. It is always better to be overly prepared than underprepared and that is especially true when it comes to camping.
Happy camping, everyone!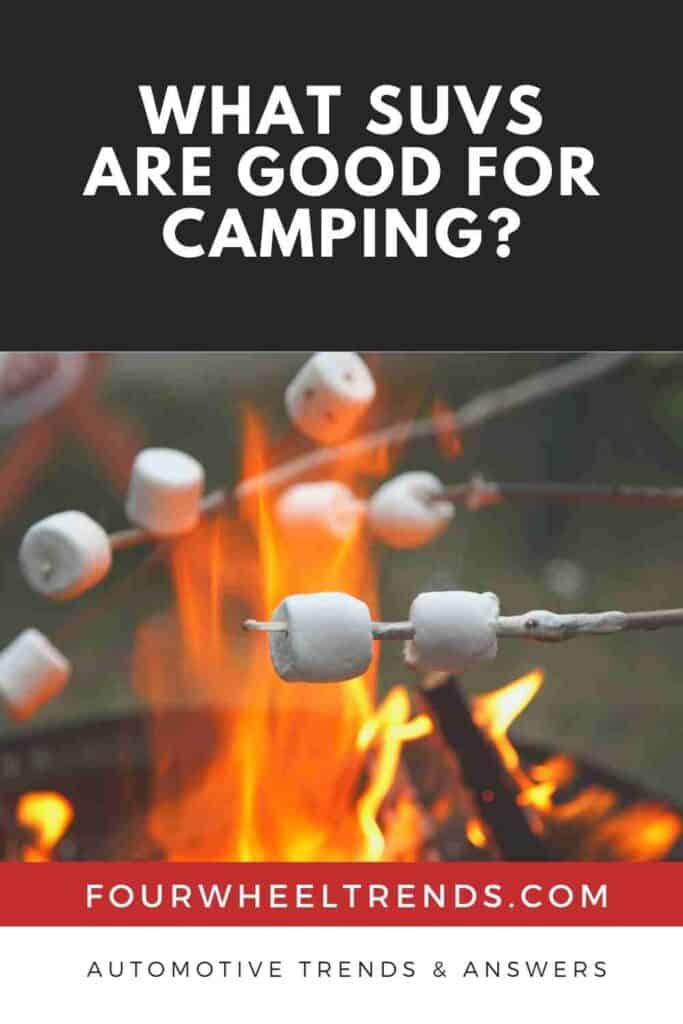 What SUVs Are Good For Camping?