What Trim Levels Come With The Ford Bronco?
This post may contain affiliate links. As an Amazon affiliate, I earn from qualifying purchases.
The first generation of the Ford Bronco rolled off assembly lines in 1966.
After 30 years and five generations, Ford retired the Bronco in 1996 due to declining sales.
The following year, Ford introduced the Expedition as the Bronco's replacement.
Much to the excitement of classic Bronco fans, Ford brought the mid-size SUV out of retirement for the 2021 model year after a quarter-century hiatus.
The new model made a pretty big splash when Ford unveiled it because of the old-school Bronco design.
It's reminiscence of the truck's early models. Its removable roof and doors and boxy shape were an excellent response to Jeep's Wrangler.
So, which Ford Bronco is for you?
What Ford Bronco Should I Get?
The new 2022 Ford Bronco comes in 7 trim levels, including the 2022 Raptor, which will start delivery in the summer of 2022. All vehicles have the option for the Sasquatch package, which adds:
35″ mud-terrain tires
Locking front and rear axles
High-clearance suspension
Bilstein dampers
Here's a quick overview of the trim levels.
Base
The base Bronco is geared toward those who want to choose their customizations.
It's an excellent off-road vehicle with a 7-speed manual transmission, 2.3L turbocharged engine, and five G.O.A.T. (Goes Over Any Terrain) modes.
This trim comes in 2 and 4-door options, although if you're hoping to snag the soft top, you'll need to get the 4-door model.
Starting Price: $29,300
Best For: a driver who wants off-road capabilities without all the bells and whistles.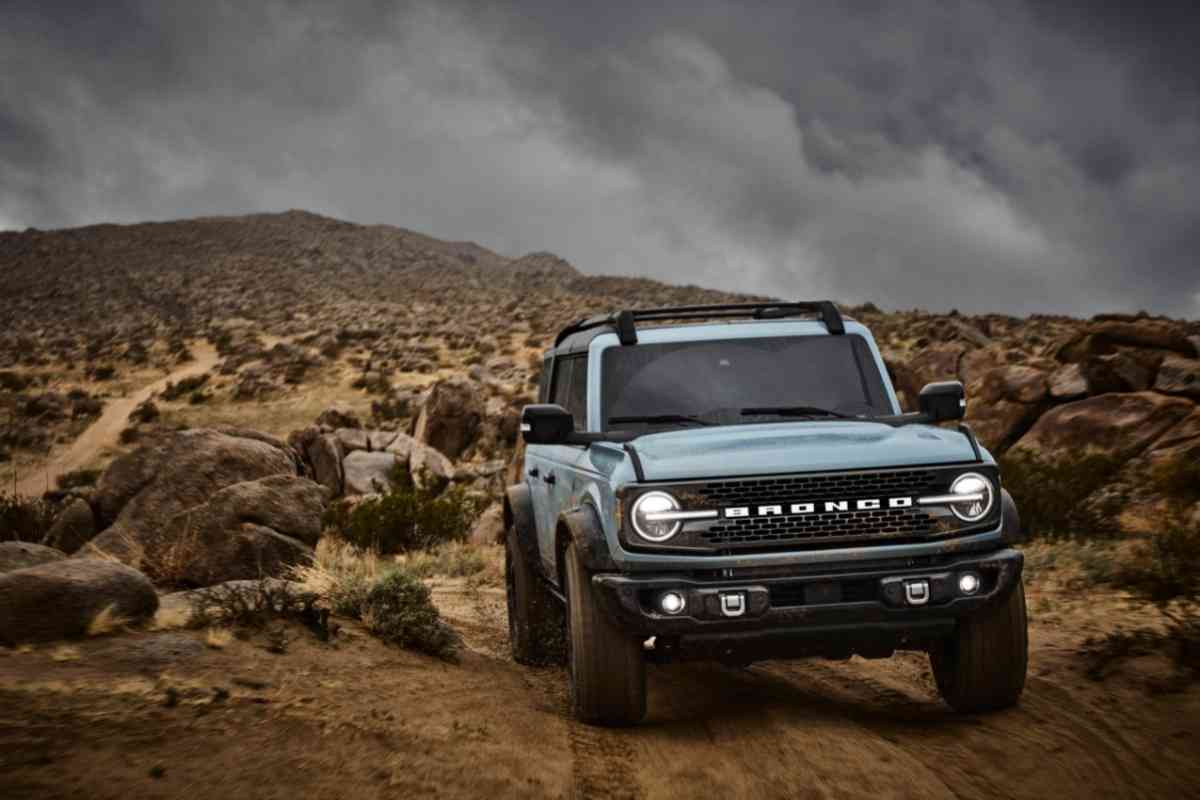 Big Bend
The Big bend trim offers the base model features with added customizations, including an optional 2.7L engine, heated seats, a leather-wrapped steering wheel, and a remote start.
In addition, you can get many upgrades by choosing the Mid Package Equipment Group.
This one also has an additional G.O.A.T. mode, giving you six terrain options.
Starting Price: $33,785
Best For: Someone who wants more off-road flexibility and a few added creature comforts.
Black Diamond
The Black Diamond is ideal if you plan to do a fair amount of off-roading.
This model offers seven G.O.A.T. modes, modular bumpers, rock rails, and upgraded bash plates, along with a 2.3L or 2.7L engine.
Its 17-inch wheels are an inch larger than the Base, and it has marine vinyl seating and wash-out flooring.
Starting Price: $36,450
Best For: Someone who wants a 4×4 for all terrains and circumstances and has no need for luxury.
Outer Banks
The Outer Banks offers the off-road capabilities of the Black Diamond, but with some added style and amenities.
You'll get body-colored fenders and powder-coated steps, plus heated front seats and a great audio system.
It also has added comfort options, including dual-zone climate control, heated seats, and a remote start.
Engine options are a 2.3L or 2.7L V6.
Starting Price: $39,355
Best For: a driver who wants solid off-road options in a comfortable daily driver.
Badlands
The Badlands is for more heavy-duty off-roading and Ford designed this model to be a direct competitor of the Jeep Rubicon.
It has upgraded shocks, a stabilizer bar disconnect, and front and rear locking differentials to offer greater stability on uneven terrain.
This trim level also offers heavy-duty modular bumpers, the choice between 33 and 35-inch all-terrain tires, and several luxury options, including leather seating.
Starting Price: $42,495
Best For: a driver who wants to take off-roading to the next level from the comfort of a luxury interior.
Wildtrak
Designed for desert sand, the Wildtrak comes with the Bronco's Sasquatch package, all seven G.O.A.T. modes, a 2.7L V6, along with everything else offered in the Outer Banks package.
In addition, it has a 10-speed automatic transmission, carpeted floors, and heated seats.
Starting Price: $47,780
Best For: Someone who wants a comfortable vehicle with premium off-road handling.
Raptor
Ford offered the Raptor for the 2022 model year.
Geared for rock-crawling, so to say, calling this model a beast is a bit of an understatement.
You might recognize its 37-inch tires from the F-150 Raptor, which was previously the only vehicle you could get them on.
It also has a more flexible suspension, a 3.0L V6, stronger axles, a high-capacity clutch, 13.1 inches of ground clearance, and Trail Turn Assist.
Starting Price: $69,995
Best For: An off-road pro who wants to tackle every terrain imaginable.
Sport
The Bronco's baby sibling comes in the form of the Bronco Sport, a crossover built on the same platform as the Escape.
It has solid off-road capabilities with better fuel economy and standard all-wheel drive.
It offers an 8-speed automatic transmission and an available Badlands package to up the Sport's off-roading capabilities.
Engine options for the Sport are a 1.5L 3-cylinder or a 2.0L 4-cylinder.
Starting Price: $27,415
Best For: a driver who wants something fuel-efficient and capable at a lower price point.
Why Is the Bronco a Good Truck?
One of my favorite aspects of the new Bronco is that it's sharp.
Sure, it has all the off-roading features you could ask for, but it also has that classic 4×4 style popularized in the mid-20th century with the early Broncos, Humvees, and CJs.
From an aesthetic standpoint, it mashes mid-century function with 21st-century flair.
I also like that Bronco's trim options don't follow the "good, better, best" formula that most manufacturers use.
Instead of choosing your level of luxury and comfort, Ford designed the trim levels around the driver's intended use.
The best part about it is that it's capable. Certain trims make solid options as daily drivers, but mostly, if you want a vehicle you can drive over literally any terrain, the Bronco is it
It handles well, has all the hardware to make the ride comfortable, and still squeezes in a few luxury features, too.
FAQ
Here are a few answers to some questions you might have about the Ford Bronco.
Is the New Bronco Reliable?
Unfortunately, it's too early for any accurate reliability ratings to be released because the new Broncos haven't been on the road very long.
However, there have been two recalls involving the misaligned radar module and improper airbag deployment.
What's the Best Year for the Early Bronco Models?
The 1992 Broncos were some of the most popular of the last generation.
Bronco drivers know this year for the legendary longevity and reliability these models offered.
1992 was also the year Ford changed up the Bronco's body style and added many new safety features, including an anti-lock braking system and airbags.
What Are the Bronco's Major Competitors?
According to J.D. Power, the two chief competitors for the new Bronco are the Jeep Wrangler and the Toyota 4Runner.
All three perform best off-road, and each has plenty of options to make the vehicle yours.
I Plan to Use My Truck to Go Hunting and Fishing. Which Model Should I Get?
Personally, I'd pick up a Black Diamond if I were planning to use it for hunting and fishing.
The wash-out interior is easy to clean, so if you spill fish guts or have a messy doe to cart home, you won't have a problem cleaning your vehicle out.
Wrap Up
So, which Bronco should you buy? Hopefully, I've given you a taste of what the newest incarnation of the classic beast is like. Whether you need something for your day-to-day chores or plan to have it permanently coated in mud, there's a trim option for everyone.