What Used SUV Holds Its Value The Best? (Expert weighs in)
This post may contain affiliate links. As an Amazon affiliate, I earn from qualifying purchases.
All cars depreciate. Used SUVs are always an excellent option for people who need to buy a vehicle but don't want to pay premium pricing. If you do thorough research, you can find hidden gems: low-mileage samples that have already depreciated.
However, it's not only about buying a used SUV; owning vehicles with low depreciation is one way to ensure that you can get the most bucks when you sell them. So, what used SUV holds its value the best? Let's find out.
What used SUV holds its value the best?
The following table summarizes what used SUV holds its value the best:
| | | |
| --- | --- | --- |
| Make | Model | 5-year depreciation (average, in %) |
| Jeep | Wrangler Unlimited | 30 |
| Jeep | Wrangler | 31.5 |
| Toyota | 4Runner | 36.5 |
| Toyota | Highlander | 44.6 |
| Toyota | RAV4 | 44.6 |
| Honda | CR-V | 44.9 |
| Mercedes Benz | G-Class | 45.2 |
| Mercedes Benz | G-Class AMG Edition | 45.9 |
| Toyota | Land Cruiser | 48.6 |
| Subaru | Outback | 50.1 |
We will cover each vehicle individually. But, first, it's vital that we talk about depreciation and why the 5-year mark matters. Depreciation is the difference in value between what you paid for a vehicle when new and what you sold it for.
Vehicles depreciate for various reasons: technology, obsolescence, market value, and the price of new cars. Plus, different vehicle types have different rates of depreciation. Sportscars, for example, have a higher depreciation than trucks and SUVs.
At the five-year mark, the depreciation of a vehicle should be from 55% to 65%.
Since SUVs are the most popular choice these days, they don't depreciate as much. So, let's dive deep into this list of what SUV holds its value best and why.
Jeep Wrangler Unlimited
Average 5-year Depreciation: 30,0%
The used SUV that holds its value the best is the Jeep Wrangler Unlimited, with only 30% depreciation over five years. A lot of factors come into play for this SUV. First of all, it's an icon and has developed a cult following.
The Jeep Wrangler Unlimited is one of the last true offroaders manufactured in America. Besides its rugged looks, it offers a manual gearbox and superior off-roading ability reminiscent of the past.
So, people are willing to pay big bucks for a Wrangler, especially in good conditions. Now, you might be wondering why we separated both the Unlimited and the Wrangler into two distinct categories, and it's important to clarify why.
The Jeep Wrangler and the Wrangler Unlimited differ in the number of doors. The Unlimited has four, while the Wrangler has two.
Why is this important? Well, in the real world, many buyers turn to the Unlimited for the versatility of two extra doors. That's not to say that the Wrangler isn't also a desirable SUV.
Jeep Wrangler
Average 5-year Depreciation: 31.5%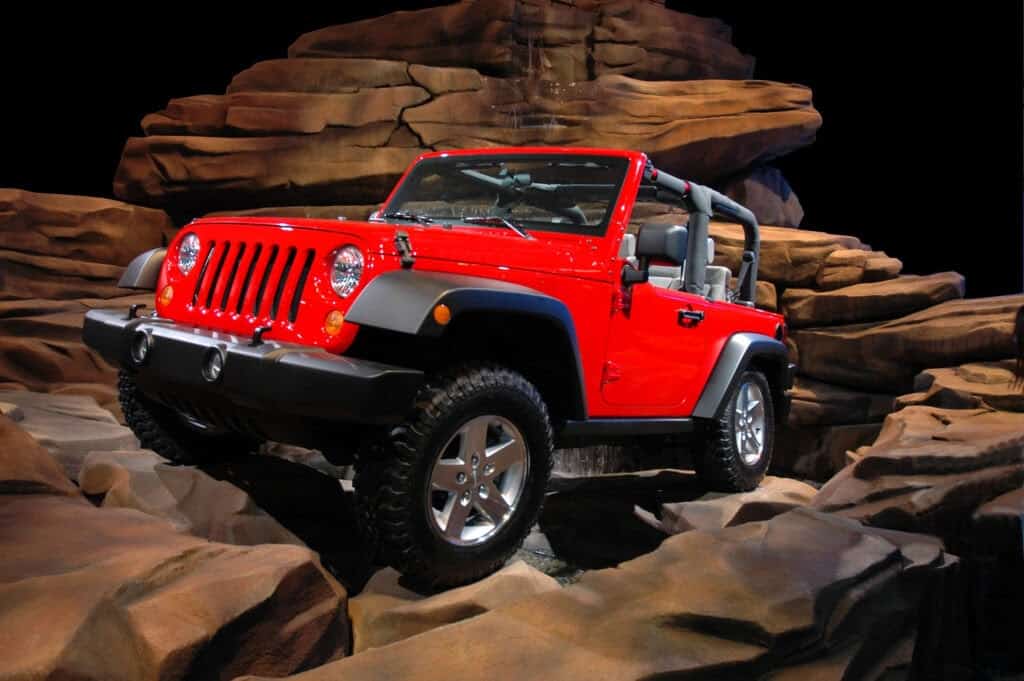 As you can see, the Jeep Wrangler also solidly holds its value throughout five years. People covet the Wrangler because of its cult status, rugged looks, off-roading prowess, and heaps of extras.
The Jeep Wrangler depreciates slightly more in 5-years, compared to the Unlimited, due to having two doors. This lack of access to the rear seats, plus less cargo room, drops its used price slightly. Still, the Jeep Wrangler holds its value amazingly well.
If you're on the lookout for any of these two SUVs, prepare yourself to pay a premium. Though 2020 is behind us, supply chains have suffered. Plus, there are fewer SUVs with a manual transmission.
The Jeep Wrangler offers something less frequent these days. So if you have one, you might have a jewel in your hands.
Toyota 4Runner
Average 5-year Depreciation: 36.5%
The Toyota 4Runner is a veteran. It has body-on-frame construction, plus the reliable 4.0L V6 mated with a rugged automatic transmission.
Granted, it's not the most agile SUV you will find out there. Nor is it the most luxurious. But the Toyota 4Runner can get just about anywhere, as long as you don't mind a floaty ride, slow turning, and a thirsty engine.
The reason why the Toyota 4Runner holds its value so well is because it's reliable. There's very little in it that hasn't been put through many tests.
Plus, the equation hasn't changed in years. So, it's not surprising to find these models with more than 200,000 miles and no significant deterioration.
This model might not last forever. As more manufacturers shift towards efficiency, Toyota might ditch the heavier body-on-frame construction.
So, it should be no surprise if we see the 4Runner reach its end of life soon. So, for the moment, it's best to keep them in excellent condition.
Toyota Highlander
Average 5-year Depreciation: 44.6%
The Toyota Highlander holds its value well because of its reliability. This is a no-frills SUV made to carry and your family almost anywhere. It has an optimal ground clearance and plenty of interior features.
But one of the Highlander's strongest selling points is safety. With excellent performance in NHTSA crash tests, the Highlander is a great option for families.
So, with reliability and safety, no wonder people want the Highlander. But, unfortunately, finding one with low mileage is almost impossible, as people drive these across long distances.
But, distance shouldn't throw you off, as the Highlander can easily surpass the 200,000-mile mark. But, it does depreciate more than the 4Runner because there's more competition in its sector.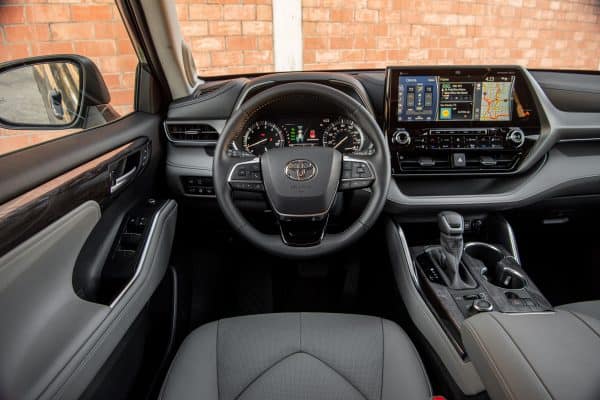 Toyota RAV4
Average 5-year Depreciation: 44.6%
Another Toyota SUV makes this list, and this one comes as no surprise. In a smaller package, the Toyota RAV4 is a popular option for an SUV with decent ground clearance, versatility, and comfort.
The RAV4 has all these traits, plus it's very reliable. So, people want them, even the used models.
The RAV4 faces steep competition in the compact SUV market. But, still, it manages to outrank them thanks to its quality and longevity. If one had to point out a weakness, it is the austere interior. Don't expect to find extraordinary features.
Honda CR-V
Average 5-year Depreciation: 44.9%
Honda has always had an excellent reputation, and the CR-V is no exception. In fact, it holds its value the best out of all Honda Vehicles, except for the Ridgeline.
A lot of factors play in favor of the CR-V, and the first one is reliability. Hondas are almost indestructible. Plus, interiors are more luxurious than the Toyota RAV4, one of its main competitors.
So, why does the CRV depreciate more than the RAV4? There are two main factors: cost and spares. The CRV offers fewer trim levels and, to have the most features, you might have to pay more. But, the RAV4 has more trim levels and more price options.
But, then, there are the spares. Though Hondas are very reliable, any repair you have to do will set you back more than other SUVs, including the RAV4.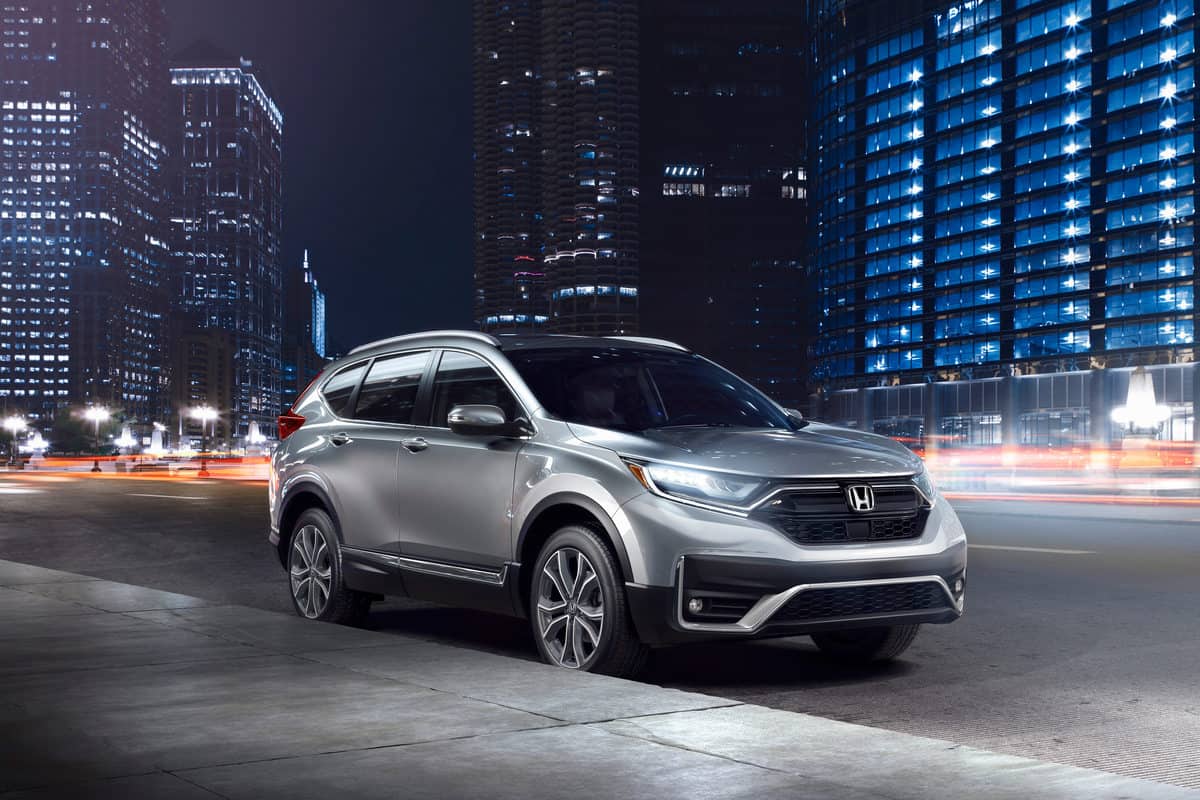 Mercedes Benz G-Class
Average 5-year Depreciation: 45.2%
This list doesn't only include small and mid-size SUVs. We're talking luxury, as well. The G-Class is an icon of the full-size SUV sector, with its unique looks and excellent off-roading ability.
In reality, the G-Class stands in a class of its own, along with the Range Rover and one or two models more. The G-Class offers power, comfort, luxury, and off-roading ability.
Additionally, the G-Class has Mercedes Benz's historical reliability. And, it comes at a cost. Sure, it's the luxury SUV with the least depreciation, but repairs are costly.
Spares are expensive, and qualified technicians are scarce. These are factors that might put off some buyers, even if the G-Class sets you apart.
Mercedes Benz G-Class AMG Edition
Average 5-Year Depreciation: 45.9%
The AMG Edition is in a section of its own because it's a different vehicle from the regular G-Class. The Mercedes Benz G-Class AMG Edition holds its value well because it's scarce, expensive, and impressive.
And, we're not comparing it to other SUVs. The AMG Edition can put some sportscars to shame.
Since the AMG Edition G-Class is more exclusive than its regular counterpart, its value holds up well. Plus, most of these will not see off-road terrain. Though it shares the chassis and body, the mechanical components are a step above its sibling.
The engine, brakes, and exhaust come from AMG, which means more performance and a higher price. So, brace yourself for expensive repairs and spares if you're looking for this buff SUV.
Toyota Land Cruiser
Average 5-year Depreciation: 48.6%
Compared to other full-size SUVs, the Toyota Land Cruiser has a good retention value after five years, and it's no surprise why. It's rugged, comfortable, has a decent interior, and offers excellent off-roading abilities.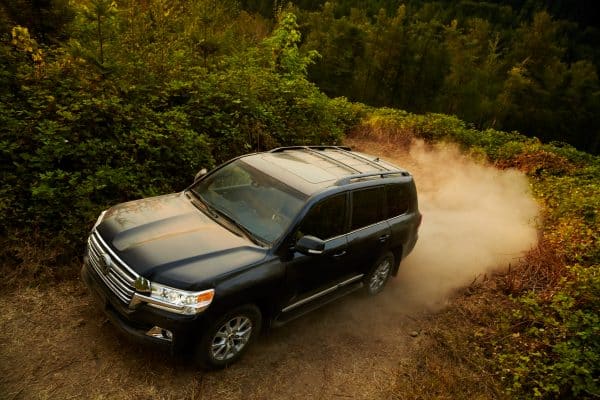 The Toyota Land Cruiser is the epitome of balance between urban and offroad. For years, it has marveled us with its ability to go far and, all the while, in comfort. Plus, its powerplant is tried and true, as the 5.7L V8 is a veteran in the Toyota lineup.
And that's precisely why the Toyota Land Cruiser is a dying breed. When competing with other full-size SUVs, it tends to fall behind and feel primitive. So, it's a strange mix.
As the competition shifts more to luxury and highway comfort, the Land Cruiser sticks to its roots. But, the price for used Land Cruisers might go up. In 2021, Toyota announced that the US wouldn't receive the new-generation J300 anymore.
Subaru Outback
Average 5-year Depreciation: 50.1%
The Subaru Outback should come as no surprise. This SUV holds its value very well when compared to others in its class. This is because Subaru has a long tradition of supreme reliability, comfort, handling, and speed.
With rally in its DNA, the Outback is no exception. As a result, it has earned the highest praise from Consumer Reports and JD Power.
While the Outback's looks are nothing to write home about it, its interior and handling deserve praise. It has plenty of room to fit a family of five comfortably, and its off-roading ability can take them anywhere.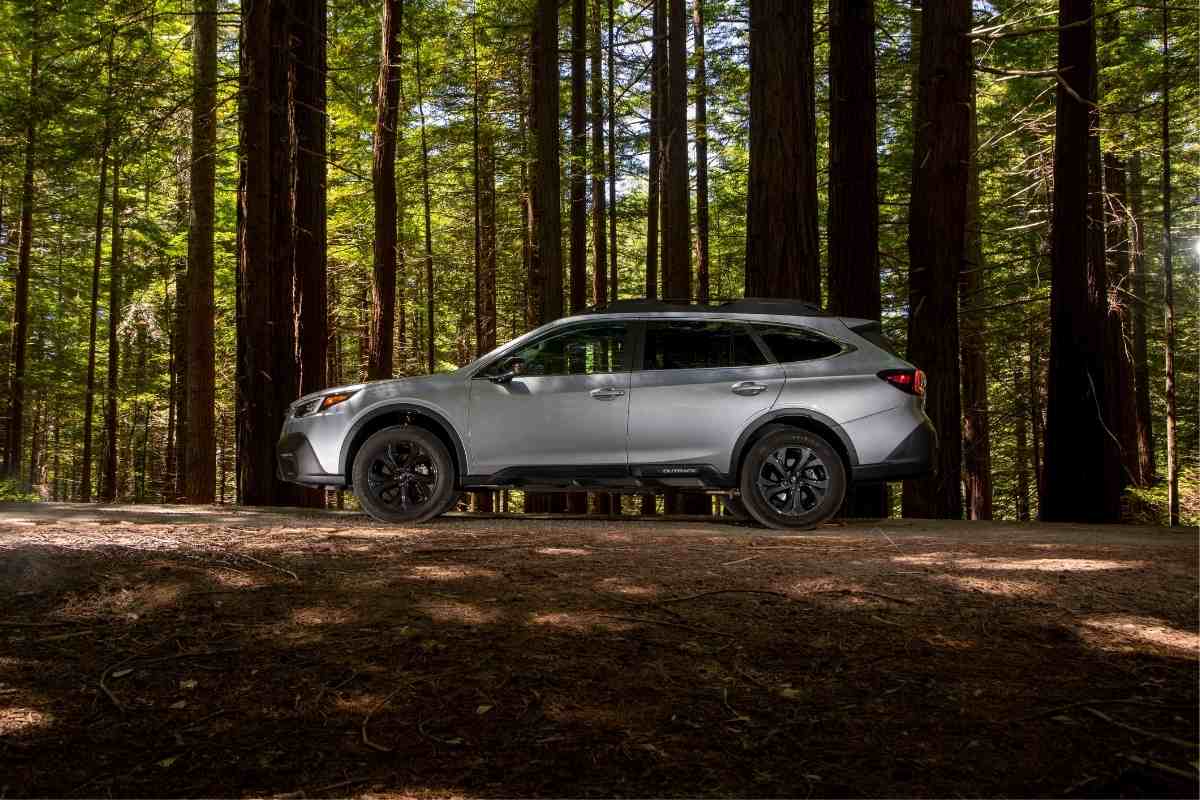 It's due to these conditions that paying a high price for a used Subaru isn't surprising. But, lately, it has seen more fans, as it's a great choice. Still, finding one in good condition is manageable.
These are the ten SUVs that hold their value the best. For references, keep in mind that an SUV will lose, on average, 51.6% of its value in the first five years. So, the vehicles that we've listed here have excellent resale value.
Closing thoughts:
With the SUV market seeing drastic changes since 2020, it's common for people to ask what used SUV holds its value the best. In this article, we answered this and went beyond.
We gave you the ten SUVs that depreciate the less after five years. The list is interesting, varied, and can suit all tastes.
Depreciation is a critical aspect of buying and selling used cars.
Usually, after five years, you can expect a 51.6% drop in value. However, the vehicles on this list perform better than that, some with excellent value.
The SUV that holds its value the best is the Jeep Wrangler Unlimited. It's the entire package that makes it so valuable: looks, off-roading ability, versatility, and Americana.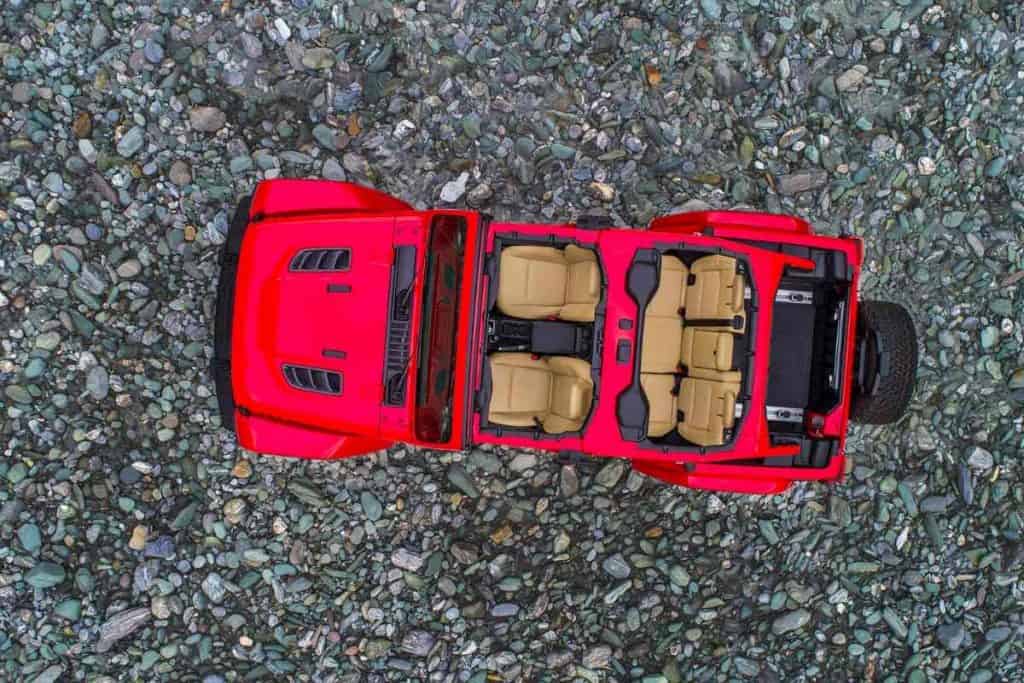 Besides the Wrangler, other brands to consider are Toyota, Honda, and Subaru.
Hopefully, this article helps you find the right used SUV for you. And, if you're selling one, you now know when to charge more.