What's The Difference Between A Subaru Forester and An Outback?
This post may contain affiliate links. As an Amazon affiliate, I earn from qualifying purchases.
Subaru has come out with many different types of SUVs.
Each SUV has different safety features, designs, engines, and interiors to make a variety of cars for you to choose from.
The real question is what is the difference between the Subaru Forester and Subaru Outback?
What's The Difference Between A Subaru Forester and An Outback?
The differences between the Subaru Forester and the Subaru Outback are that the Outback has a higher towing capacity, larger gas tank capacity, and is larger overall. The Subaru Forester has more overall safety features than the Subaru Outback. However, most of the features of the cars are the same.
Below, we'll take a look at the many similarities and differences between the Subaru Forester and Outback.
We'll also see what makes both cars great choices for your next SUV.
The models we will be looking at are the 2021 Subaru Forester and the 2021 Subaru Outback.
The Mechanics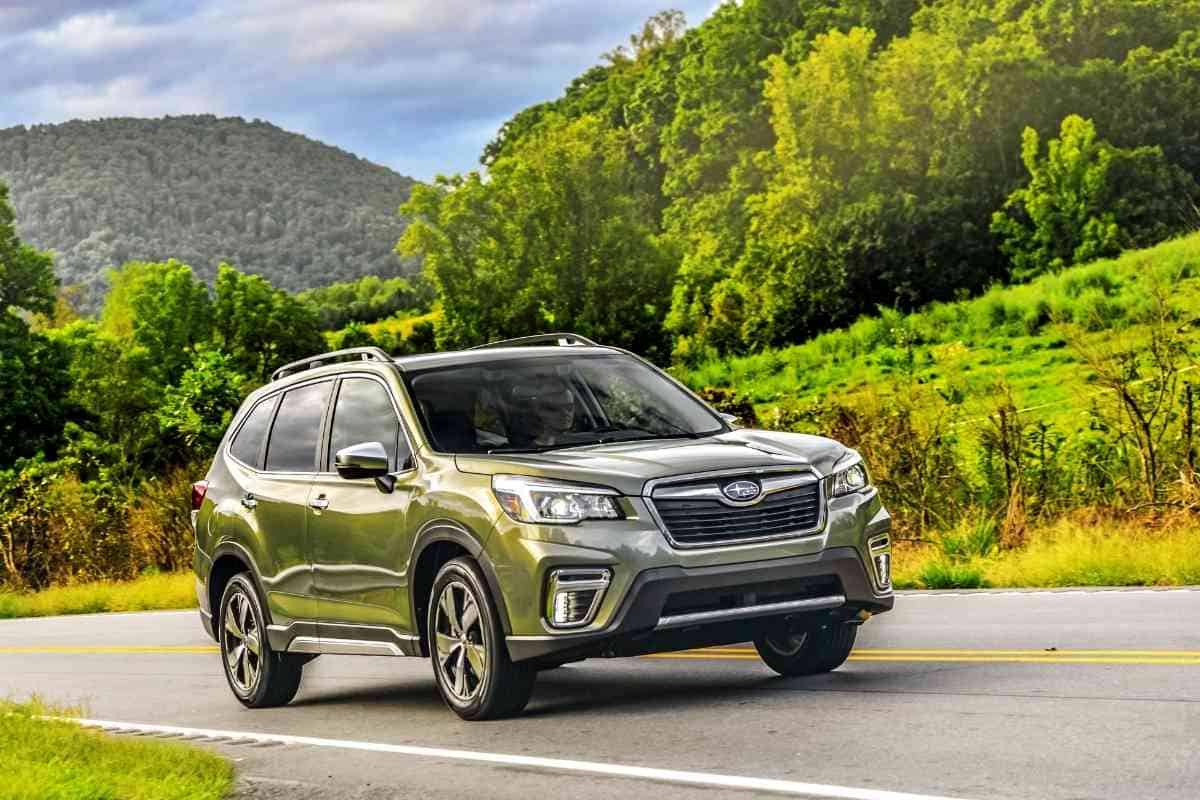 Both the Subaru Forester and Subaru Outback come with a 2.5 liter 16 valve 4 cylinder engine that includes a Dual Active Valve Control System (DAVCS).
They both have 182 horsepower and 176 lb-ft torque.
Both vehicles also have the Linaertonic Continually Variable Transmission (CVT), which means that the transmission can do more than a normal transmission can.
Both vehicles also have all-wheel drive rather than front-wheel or rear-wheel drive.
Some other great systems that both of these vehicles have include a Traction Control System (TCS), Active Torque Vectoring, and Vehicle Dynamics Control (VDC).
They also have great fuel economy with up to 26 mpg in the city and 33 mpg on the highway.
The Subaru Outback has a towing capacity of 2,700 lbs, which is about 1,000 lbs more than the Forester.
It also has a higher fuel tank capacity at 18.5 gallons, so you won't have to go to the gas station as often as you would if you had a Subaru Forester.
What really makes the Outback worth the price is X-Mode, which the Forester doesn't have.
This mode increases the vehicle's ability to perform on high and low friction surfaces, as well as snowy or muddy roads.
Despite the Forester only having a towing capacity of 1,500 lbs, it does have a Trailer Stability Assist which applies proper braking to certain wheels while towing in dangerous situations.
When it comes to fuel tank capacity, it is a little behind, only having 16.6 gallons.
The Exterior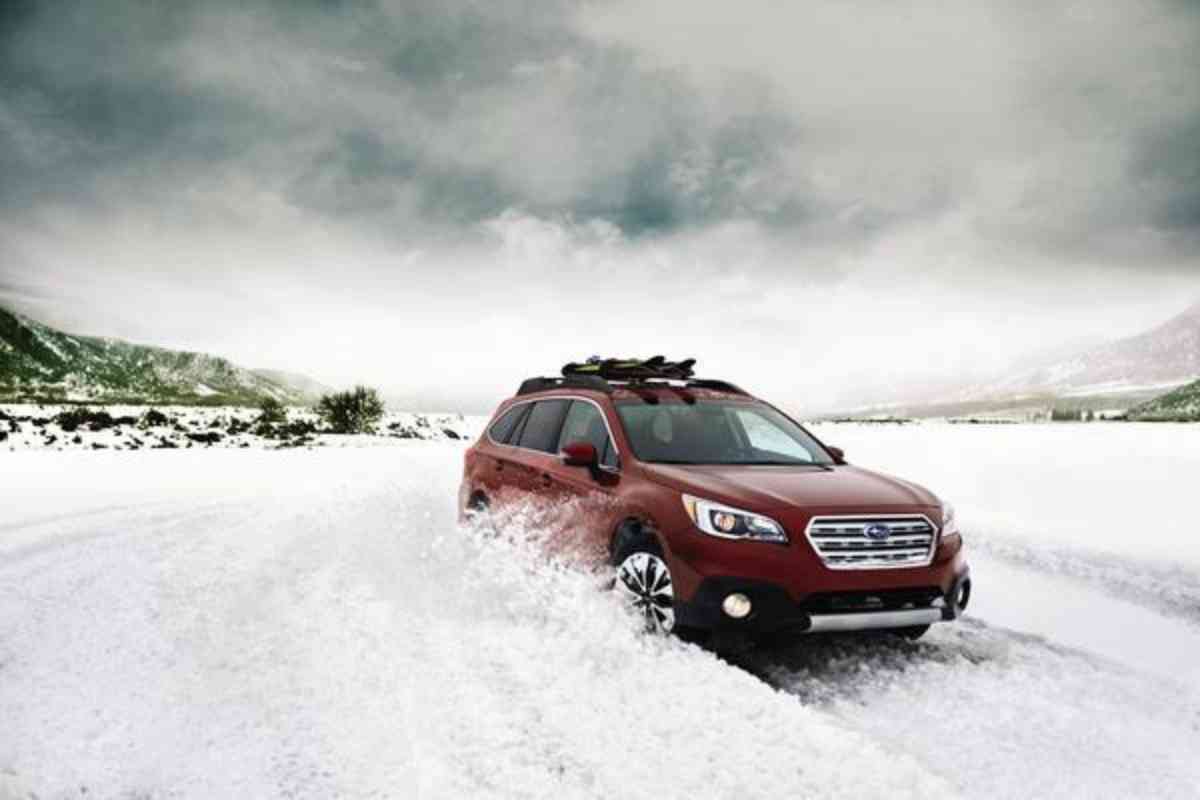 Both of these vehicles only offer 17-inch wheels and come with a spare tire.
They also have LED headlights, moveable side mirrors, and two front and one back windshield wipers.
When it comes to the size of these vehicles, the Outback is bigger; it is 191.3 inches in length, 73 inches wide, and 66.1 inches tall.
The Forester is ever so slightly smaller at 182.1 inches long, 71.5 inches wide, and 68.1 inches tall. This gives the Outback slightly more cargo space and interior cubic feet, but just slightly.
The Forester also has one major feature that the Outback doesn't: a moonroof. 
The moonroof is a tinted version of a sunroof that still lets the sun in while preventing those sitting beneath it from being blinded.
Comfort and Ease
What is the point in buying a reliable vehicle if it isn't comfortable? Luckily, both of these vehicles offer many systems that allow you to drive comfortably.
They both come with adjustable front seats and folding rear seats to give you a bit more room for yourself or extra cargo in the back.
Unfortunately, neither vehicle has leather seating, only the standard cloth.
Both of them also only have USB charging ports in the front and not the back.
On the bright side, both vehicles come with the STARLINK Multi-media system that lets you connect your iPhone or Andriod so you can display your route, make calls, send texts, and listen to music hands-free.
Also, if you don't want to worry about reading over to the console, both vehicles will have some controls on the wheel for your convenience.
There aren't many differences between these two vehicles when it comes to comfort and ease, because no matter what Subaru you get, you deserve to have a comfortable and easy drive.
Safety Features
Both vehicles come with a Brake Assist and Brake Systems Override to prevent crashes and slow the vehicle to a stop if the car senses danger.
They also have automatic on and off headlights to make sure you can see clearly at all times.
These headlights will also adjust their brightness to the time of day or amount of light needed to see through certain weather conditions.
The Subaru Outback and Forester also come with:
Lane centering
Adaptive cruise control
Pre-collision braking
Lane departure warning
Sway warning
Lane keep assist
Electronic brake-force distribution
Brake assist
Brake system override
Traction control
Tire pressure monitoring
Rear-view camera
The Subaru Outback has a Hill Descent Control system (HDC) that automatically maintains the vehicle's speed while it goes downhill
The Subaru Outback also has headlights that will also automatically come on when you use the wipers to ensure the best visibility while driving.
It also prevents windows from pinching your little ones' fingers with a system that will stop the window from rolling up if there is something in the way.
The Subaru Forester does have a couple of systems that the Outback does not have
One is the Subaru Intelligent Drive or SI-DRIVE.
This improves engine and transmission control.
It also comes with an Auto Start-Stop system that will stop the engine from running while the vehicle is idle or stopped to prevent the car from using too much fuel or energy.
Conclusion
Between these two amazing Subarus, the best is the Subaru Outback.
It just has a bit more of everything than the Forester, such as towing capacity, gas tank capacity, room in the vehicle, and a couple of small safety systems that really make driving a little safer.
Although the Subaru Forester does have more advanced safety features, those features mostly affect the engine and aren't ways that prevent the driver from crashing.
Both vehicles do have amazing safety features and extra comforts, but the Outback is the better car in the end.