Which Is Bigger: A Kia Telluride Or A Sorento?
This post may contain affiliate links. As an Amazon affiliate, I earn from qualifying purchases.
Kia's Telluride and Sorento are spacious and roomy SUVs, trending among the top-selling vehicles. But which is Bigger, Telluride or Sorento?
Starting your brand and need a vehicle with a large cargo and seating capacity for your transportation needs? Or are you looking for a comfortable and spacious family vehicle for an exquisite cross-country touring experience? Like these, SUVs are a popular choice for many people due to their comfort and luxuriousness, but which of these two vehicles suits your needs best?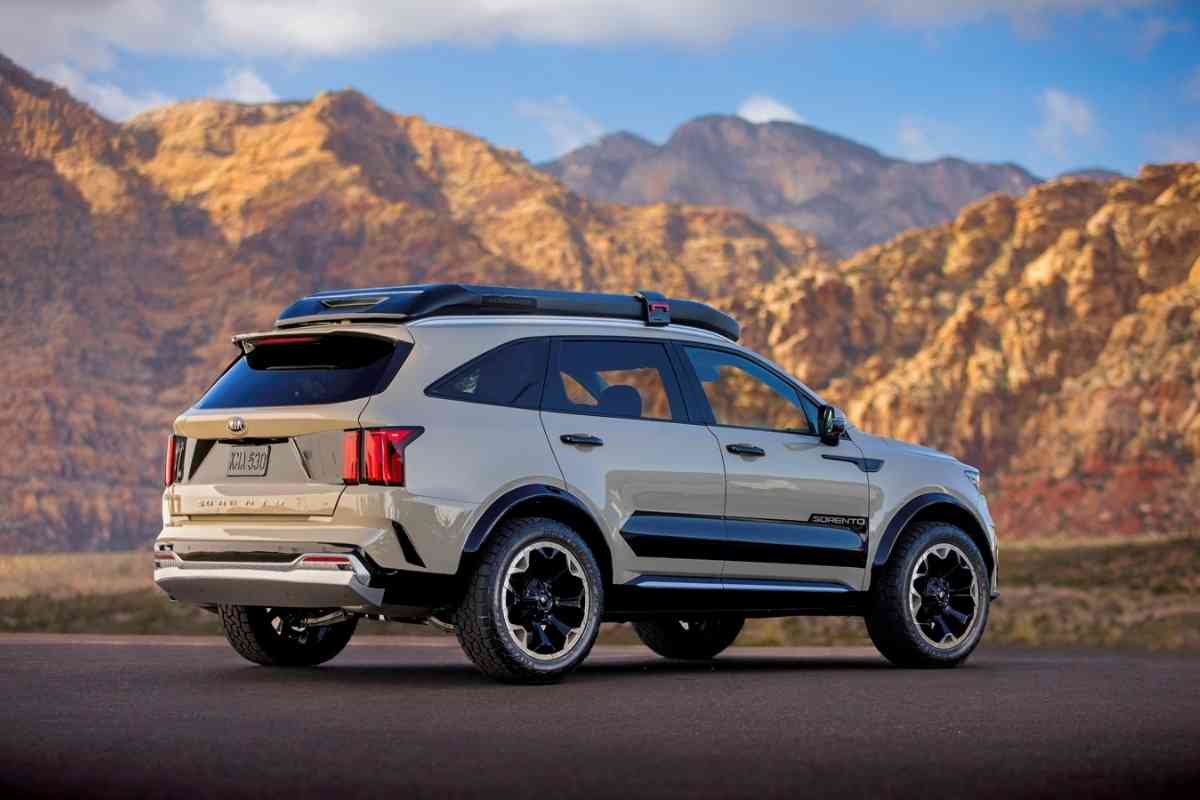 Table of Contents
Is A Kia Telluride Or A Sorento bigger?
While both Telluride and Sorento have three rows for seating, the former is larger with bigger cargo space and passenger room. Telluride's space behind the second and third row is 26.23 cubic ft and 11.18 cubic ft, respectively, while Sorento's space measures 22.13 and 6.59 for the same spaces.
Both of Kia's three-row SUVs are their most valued SUVs and have everything you can need in a vehicle: Power, performance, comfort, mpg, luxury, horsepower, safety, good fuel economy, and driving pleasure. So, it is only natural to compare both of them for space if this is one thing you can not compromise on.
After extensive research and analysis, we have put together this guide to help you in your decision-making. The information used in this guide is obtained from the most authentic resources.
Telluride vs. Sorento: Cabin, Third Row and Cargo
Our primary concern for the guide is determining which of these two SUVs is bigger. The Telluride is the biggest SUV in the Kia lineup.
While we have already established that the Telluride has a bigger overall size, let's explore the factors that make this SUV bigger than Sorento: Cabin, Third Row, and Cargo.
Cabin
Both SUVs' interiors have a unique style and space. While the Sorento obviously has less room overall, its cabin is smaller but cozier. It depends on the driver's size and preference.
Some people like roomy cabins despite having to stretch to place their arms on armrests and have a good grip on the wheel while maintaining a comfortable footing on the pedals. These are the dimensions for Kia Sorento's first row:
Headroom: 40.3 inches
Legroom: 41.1 inches
Shoulder: 59 inches
Hip Room: 55.5 inches
You will experience surreality as soon as you sit in Telluride immediately after sitting in Sorento. You will feel like you got several inches shorter.
That's what Telluride does to people, and the Telluride keeps getting better year after year. Now compare the Sorento's front row dimensions mentioned above to Telluride's front row dimensions mentioned below:
Headroom: 39.5 inches
Legroom: 41.1 inches
Shoulder: 61.6 inches
Hip Room: 58.9 inches
While both vehicles' head and leg rooms are similar, the shoulder and hip rooms are significantly larger in Telluride, giving you a comfortable space to move around and not feel stuck in one area.
Third Row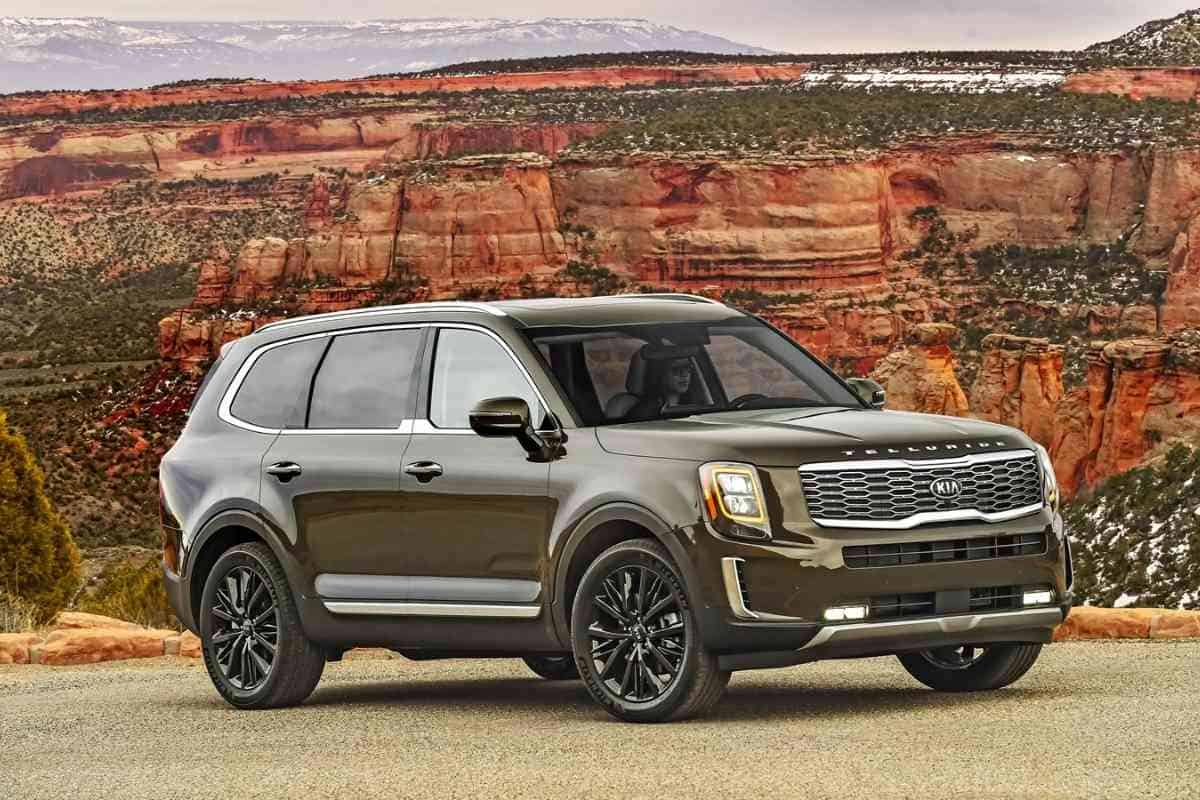 Although both SUVs have a gigantic appearance, you can determine just by looking at them that the Telluride wins this round of the third-row space and comfort.
Telluride has 26.23 cubic feet of space behind the second row, so you have plenty of legroom, and you can sit very easily and not feel jet-lagged even after hours of drive.
The seats are soft with a good seating position that keeps you laid back instead of upright.
The third-row passengers have all the comfort options that the other two rows of passengers will enjoy—an armrest on each side, two cup holders, and a charging port for your plugin needs.
Besides that, large windows on each side are essential elements that are very important in making the third-row experience good.
Many passengers can feel catastrophic if they do not have an outside view. Another much-needed element in the third row that Telluride offers are the adjustable ac vents.
In comparison, it's not a surprise that the Sorento has less legroom. Sorento's space behind the second row is 22.13 cubic ft, which is 19% less than the Telluride. Not only that but the shoulder and hip rooms are also less.
More room gives Telluride enough space to mount a separate center seat in the third row, lacking in Sorento.
On the upside, it has enough space for two people to enjoy the ride comfortably with a cup holder on each side and a charging port.
On the downside, the windows are smaller, and there is not a single ac vent for the third row
You're hot, catastrophic, and you want to get out. Luckily, it's easy to get out. All you have to do is push a button on the second-row seat, and the seat will quickly slide forward, giving you ample space to crawl out.
While the Telluride is the clear winner for this round, Sorento is not so far behind in the next.
Cargo
If you are going on a road trip and can't find a decent place to sleep, Sorento offers more than enough room for napping. With all the last-row seats down, Sorento offers an impressive space of 75.5 cubic ft.
However, the storage spaces on both sides affect the overall storage space and give you less room. If that impresses you, wait till you see Telluride with its hatch lifted and seats down.
If you are taller, broader, and need more space, the clear choice is Telluride, with 87.5 cubic feet of cargo space.
Obviously, there is enough room in both SUVs with all the seats dropped. However, Telluride has more cargo space when the seats are up. It has nearly 12 cubic feet more space behind the third row than Sorento.
Which SUV Should You Get?
Both Telluride and Sorento have multiple trims to choose from. Telluride has four trim levels, but all with the same drivetrain. In comparison, Sorento has the X-Line off-road package in addition to the six various trim levels.
If you're curious if the Telluride can tow a camper, it definitely can. It has a towing capacity of 5,000 lbs.
Depending on its trim and options, Kia Sorento has a starting MSRP of $30,565 and can go up to $44,290.
In comparison, the latest Kia Telluride starts at $33,415 and can go up to $48,724 depending on its trim and option packages.
Telluride and Sorento are Kia's footprints toward innovation and technology in the SUV industry. While they have a noticeable price difference between the SUVs, style, comfort, space, and luxury are aspects for which both vehicles have excellent scores. We hope this guide was helpful in your decision-making.
As Telluride is the obvious choice for a bigger car, your needs may align better with Sorento, which is equally valuable.