Which Jeep Has the Highest Horsepower?
This post may contain affiliate links. As an Amazon affiliate, I earn from qualifying purchases.
If you are a potential car buyer who places a high value on comfort, durability, or both, then it may be worth looking into a Jeep.
Jeeps are highly versatile both in their selection and in the design of the individual vehicles themselves.
Jeeps are an excellent choice if horsepower is at the top of your priority list.
Several models have above-average numbers, but this may leave you wondering, "Which Jeep has the highest horsepower?"
Which Jeep Has the Highest Horsepower?
The 2021 Jeep Grand Cherokee Trackhawk has the highest horsepower out of any other Jeep, coming in at 707 horsepower. The vehicle uses a Supercharged 6.2L V8 Engine, which allows it to move 645 pounds per foot.
The Trackhawk might be an excellent choice if you are in the market for a comfortable and reliable car with a high horsepower that has a towing capacity of up to 7200 lbs.
Keep reading to learn more about this model and other fantastic Jeep options and how they compare.
Defining Horsepower
When looking at the various specifications involved in purchasing a Jeep, you must know exactly what you are looking at.
This is especially important when it comes to horsepower, as this has much to do with how a vehicle feels when a driver is controlling it behind the wheel.
A vehicle's horsepower is the power output that its engine produces.
The power to move 550 pounds a distance of one foot in one second and the power to move 33,000 pounds a distance of one foot in one minute will determine the car's horsepower.
Horsepower is an important consideration in purchasing a vehicle because the number will determine many different key factors that concern its performance.
A few of these factors are as follows:
Rate of acceleration
Towing reliability
Fuel economy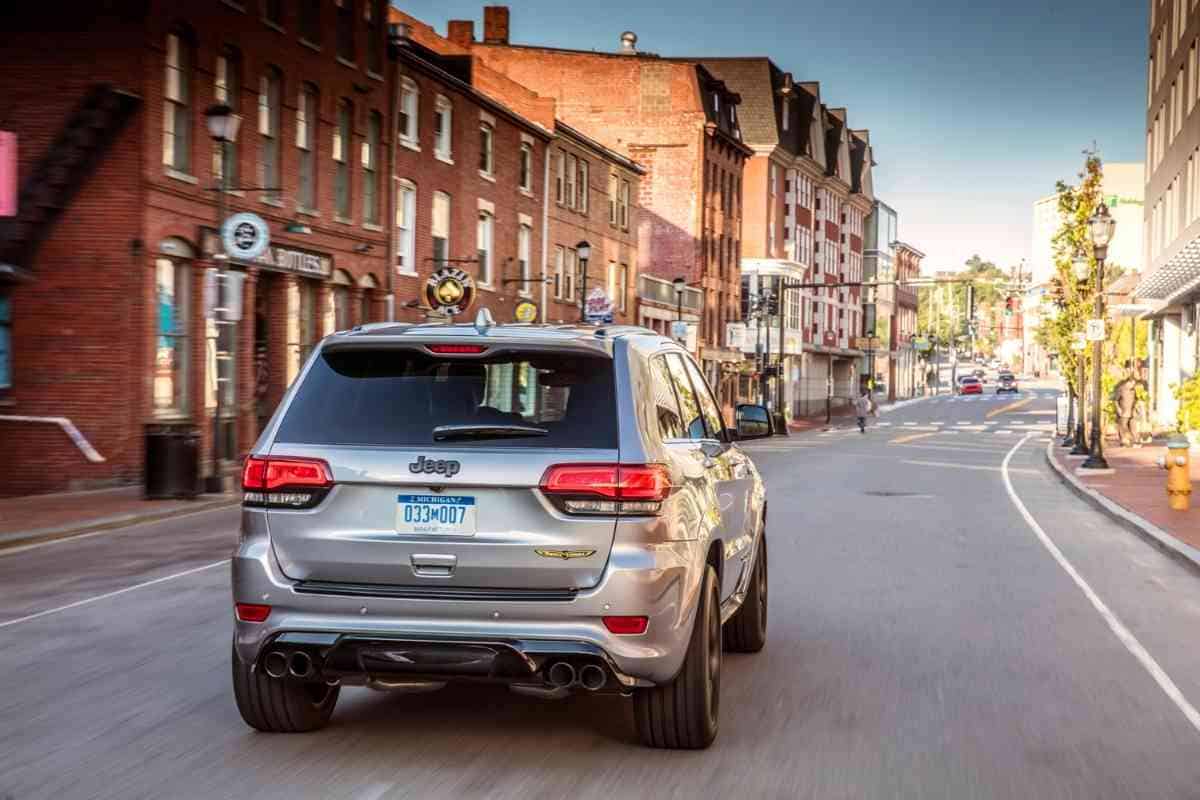 The 2021 Jeep Grand Cherokee Trackhawk
The 2021 Trackhawk is an exceptional SUV with excellent interior and exterior features that operates with an extraordinary amount of power.
The Supercharged 6.2L V8 Engine that provides the car with 707 horsepower ensures that the Trackhawk does every aspect of its job smoothly and efficiently.
Let's take a closer look at the other features of this model.
Track-Ready
The Jeep Grand Cherokee Trackhawk's design includes several track-tuned upgrades for quality performance, a substantial amount of which are consequential of the Supercharged 6.2L V8 Engine.
The high horsepower of the vehicle allows for an acceleration rate of zero to 60 miles per hour in just 3.5 seconds.
This high rate of acceleration packs both the smooth and fast punch that puts it on the same level as a standard race car.
Racecar cockpits have even imbued this vehicle's interior, making it so that the inside of the car looks and feels just as sleek and track-ready as all of the car's capabilities.
Engine Settings
The supercharged 6.2L V8 engine equips the Trackhawk with five different settings for drivers to choose between depending on their specific needs:
Sport
Track
Snow
Tow
Custom settings
If you intend on using the "tow" setting on the engine while driving, you should note that the Trackhawk has a substantial towing capacity of up to 7200 pounds.
Braking System
Given that the Trackhawk moves so powerfully, you'll be glad to know that the speed and acceleration from the engine can be met with just as much power from the braking system to bring it to a safe and smooth stop.
The 2021 Jeep Grand Cherokee Trackhawk uses Brembo Brakes with fifteen-inch front rotors and six-piston front brake calipers to ensure that the braking power is just as strong and efficient as the horsepower.
More Performance Details
There are quite a few more noteworthy details to the vehicle's design that increase the quality of the Trackhawk's performance.
The Launch Control feature allows a driver to get the most out of the track performance abilities with a solid launch and straight-line acceleration.
The Quadra-Trac Active On-Demand 4×4 System carries the vehicle very smoothly over any terrain, even at the torque of 645 pounds per foot that the Trackhawk's engine provides.
Performance pages allow you to keep track of several different stats on how your vehicle is performing, as well as what sort of services it may need to maximize its performance.
Runner-Ups for Highest Horsepower
The 2021 Jeep Grand Cherokee Trackhawk takes quite the lead when it comes to Jeeps and horsepower.
However, if you decide that this is not the car for you, then read on to see some other Jeep options with higher horsepowers than the rest.
Most of these high horsepower vehicles are Jeep Cherokees of different years.
Jeep Grand Cherokee SRT (WK2)
The Jeep Grand Cherokee SRT uses a 6.4L V8 gasoline engine. Its horsepower comes in at 462 hp. This is a significantly smaller number than that of the Trackhawk, but it is still a very solid horsepower.
The acceleration rate will take the SUV from 0 to 60 miles per hour in 3.6 seconds, which is .10 seconds less than the Trackhawk.
Jeep Grand Cherokee SRT8 (WK)
The SRT8 falls right under the SRT with a power output of 419 horsepower that comes from its 6.1L V8 gasoline engine.
The SRT8 will climb from 0 to 60 miles per hour in just under five seconds.
Jeep Grand Cherokee 5.7 V8 Hemi (WK) and Jeep Grand Cherokee 5.7 V8 Hemi (WK)
These Cherokees are tied with their power output, producing 347 horsepower each. They both use a 5.7L V8 gasoline engine.
Both of these Jeep Cherokees will go from 0 to 62 miles per hour in 7.1 seconds, which is by no means unimpressive but is no match for the Trackhawk.
FAQs
If you're looking to buy a Jeep and still have some questions, check out the quick answers below.
What is the fastest Jeep?
Due to the high-performing engine and the exceptionally high horsepower, the 2021 Trackhawk is also the best Jeep on the market in terms of its speed capabilities.
Is the Grand Cherokee Trackhawk better than the Grand Cherokee SRT?
The Grand Cherokee Track is better than the Cherokee SRT when it comes to overall performance.
The power output difference of 707 horsepower and 462 horsepower shows the difference in capabilities between the two vehicles.
Is the Grand Cherokee Trackhawk a luxury vehicle?
While the Trackhawk does have luxury components to its design, it is not considered to be a luxury vehicle.
How much does a 2021 Jeep Grand Cherokee Trackhawk cost?
In general, a 2021 Trackhawk will start at $87,895. However, as is the case with all car purchases, the price will vary depending on many different factors.
How much will a Jeep Grand Cherokee cost to maintain?
The average annual repair cost on this vehicle is about $522.
This cost is above average for SUVs.
Are Jeeps good cars to buy?
In general, yes, Jeeps are excellent cars to buy that will provide both drivers and passengers with a comfortable and well-run driving experience.For more information, take a look at my guide on what's good and bad about Jeeps in general.