Which Jeep is Better: YJ or TJ?
This post may contain affiliate links. As an Amazon affiliate, I earn from qualifying purchases.
Are you new to Jeeps?
Are you thinking of getting one but are perplexed by the options? Worry no more.
This article will provide you with a detailed analysis of the TJ and YJ to help you make the most viable decision between them.
Which Jeep is Better: YJ or TJ?
Generally, the Jeep Wrangler TJ is better than the YJ. The TJ has more off-roading capabilities, is larger, and has more advanced technology. The TJ is a similar Jeep model at a more affordable price.
However, both can serve the same purpose with almost the same intensity. Which vehicle you choose, however, will depend on your own budget and the features you are seeking.
The YJ and TJ have obvious similarities, such as their purpose.
They were both made to cruise through challenging terrain.
However, they also have quite some differences, making it clear that they come from different generations.
These differences are what we are going to focus on today.
For instance, how does the exterior of YJ vary from that of TJ? The same question will also apply to their engine options, transmissions & gearing, dimensions, off-roading capabilities, background, and price, among others.
Once we analyze these differences, then and only then will you know which Jeep fits you best. As earlier stated also, the two are from different generations meaning that the technology used by them is different.
So, will you want something more sophisticated or one that has withstood the test of time?
Without a doubt, however, the YJ and TJ jeeps are among the most reliable vehicles in the United States today.
You will never go wrong choosing them over other SUVs in the market if you are a hardcore off-road enthusiast.
You will ascertain this once you land on one and compare it with others. They are advantageous in several ways.
The most important thing about them is that they are durable and can serve you for a long time before replacing them.
Also, it will depend on the type of gearing you like.
Some people love manual gearing because it keeps them engaged more than automatic ones.
And those who prefer automatic gearing do so because of the convenience it brings along.
Therefore, let's jump into the differences between YJ and TJ without further ado.
Jeep YJ Background
The YJ was invented and launched in 1986 to replace the CJ, which was becoming infamous among many users.
Therefore, Jeep aimed to create something that would appeal to most people and increase sales.
It is important to note that the YJ was the first Wrangler to be sold in the US.
As an outcome, Jeep Wrangler made something more street-friendly with increased axle width, track bar, and sway bars.
Its ground clearance was also reduced to enhance comfortability when driving in the street.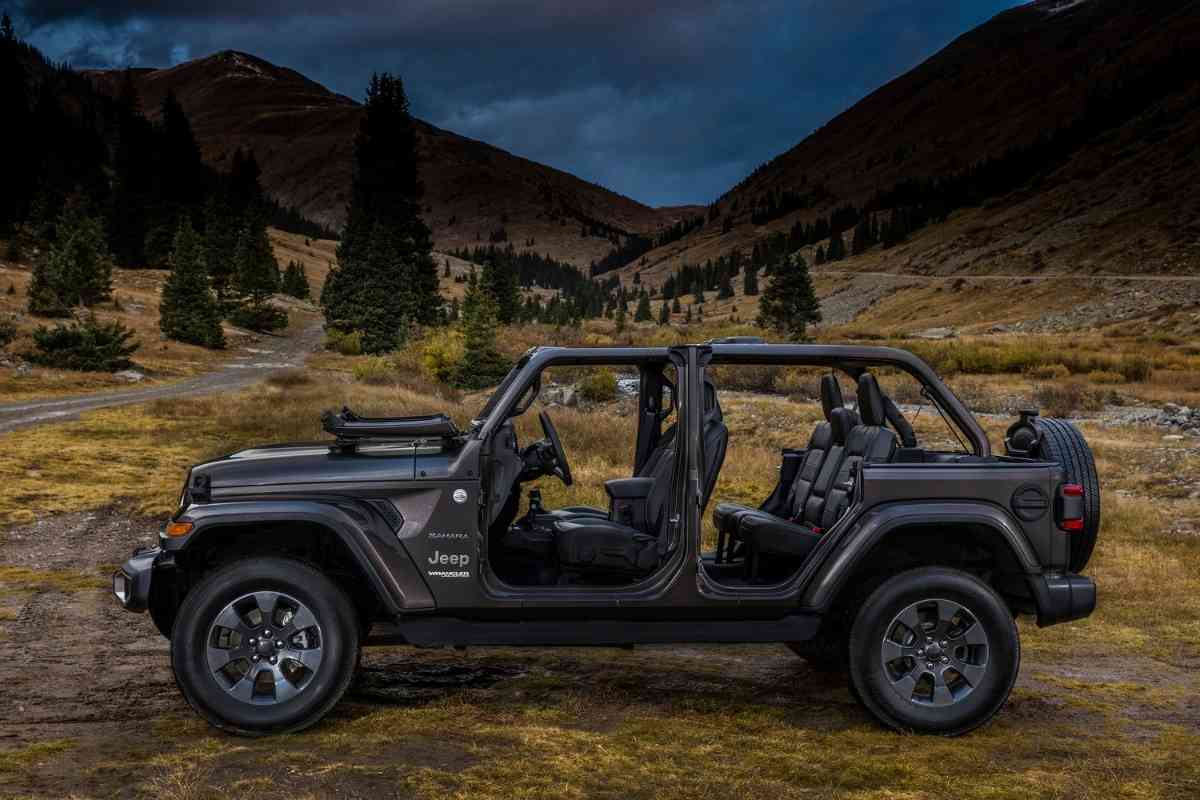 Jeep TJ Background
This model was made between 1997 and 2006, and it was the second Wrangler in the US market after the YJ.
The TJ perfectly reflects the typical Wrangler because most of its design cues are borrowed from the Civilian Jeep (CJ).
Exterior Comparison
It is easier to differentiate between the YJ and the TJ based on their physical appearance. The dead giveaway difference of the YJ is its square headlights.
However, there are more physical differences as follows.
The grille slots of the YJ are a bit taller than those of a TJ.
They are also slightly bent, while those of a TJ are straight.
On the YJ, the turn signal lights are located just beneath its headlights. For the TJ, they are on the right and left sides of the headlights.
The YJ's windshield wipers rest exactly on the windshield, while those of a TJ lie flat on the hood. The hood of a TJ is also distinctive.
Engine Options
At first, transitioning from YJ to TJ was relatively slow. That is because the TJ was carrying over 2.5-liter straight-four and 4-liter inline-six engines.
Later on, in 2002, they were replaced by DOHC 2.4-liter.
Below is a table to illustrate these options.
YJ Engine Options
ENGINE HORSEPOWER (hp) TORQUE (lb-ft)
4.2 L AMC straight-6 112 210
2.5 L AMC straight-4 121 135
4.0 L AMC straight-6 190 220
2.5 L AMC straight-6 130 139
TJ Engine Options
ENGINE HORSEPOWER (hp) TORQUE (lb-ft)
4.0 L PowerTech 16 190 235
2.4 PowerTech 14 147 165
2.5 PowerTech 14 120 140
One important thing to remember is that these Jeeps have evolved a lot, which means that a 1993 YJ engine may not be the same as a 2000 YJ engine. A 1993 one has no anti-lock brakes. However, they still function the same and are both very effective.
Transmissions and Gearing
The YJ and the TJ have several transmission options. It is assumed that each model comes with a manual option and an automatic option.
However, the majority of them have been manual for quite some time. Below is an illustration table.
YJ Transmission Options
TRANSMISSION OPTION
5 Speed Aisin AX-5 Manual
3 Speed TorqueFlite TF904 Automatic
5 Speed Peugeot BA- 10/5 Manual
3 Speed TorqueFlite TF999 Automatic
5 Speed Aisin AX-15 Manual
TJ Transmission Options
TRANSMISSION OPTION
5 Speed Aisin AX-5 Manual
3 Speed TorqueFlite 30RH Automatic
6 Speed Chrysler NSG370 Manual
3 Speed TorqueFlite 32RH Automatic
5 Spped Aisin AX-15 Manual
5 Speed New Venture Gear NV1500 Manual
4 Speed Ultradive 42RLE Automatic
5 Speed New Venture Gear NV3550 Manual
6 Speed Chrysler NSG370 Manual
Dimensions
There is not much difference in the sizes of TJ and TY. They only deviate a bit because of the weight of their engines and transmission options as well.
The dimensions are shown in the table below.
DIMENSION TJ YJ
Width 68.3 66
Wheelbase 93. 4 93.4
Curb Weight 3,092 – 3, 857 lbs 2,855 – 3,241 lbs
Length 151.2 – 154.9 151.9 – 153
Height 70.2 – 71.1 69.6 – 72
From these dimensions, it is clear that the TJ is somewhat bigger than the YJ.
Off-Roading
The YJ has a Dana 35 rear axle, and its front has a Dana 30 axle.
The TJ also has similar characteristics, except its rear is made of a Dana 35c axle.
Its Rubicon has the option of having a Dana 44 both in its rear and front axles.
The significant difference between them is in their suspension and frame. The frame of a TJ has 100 percent capability to increase torsional stiffness.
The stiffness is enhanced by its extra 8-inch lift.
The YJ uses leaf springs, while the TJ applies a four-corner Quadra-coil suspension.
Price
The price of TJ is almost twice that of a YJ.
TJ price range between $10,000 and $12,000.
On the other hand, the YJ costs between $4,000 and $7,000.
Conclusion
From the above comparisons, you now have a clear picture of how the two Jeeps vary from each other and can easily choose which one you want.
For instance, if you are on a tight budget but still want a Jeep, the YJ will be a better option.