Which Midsize SUV Can Tow A Camper?
Midsize SUVs are a popular choice for many drivers out there. Some can haul seven passengers and carry a considerable cargo load, yet they are smaller than their full-size counterparts. Because of these characteristics, many people look to them as an option. But, though they're smaller, people still expect midsize SUVs to tow considerable loads. So, in this article, we'll discuss which are the best for towing campers.
Which midsize SUV can tow a camper?
Thanks to their powerful engines, many midsize SUVs can tow a camper. These include the Dodge Durango, Land Rover Defender, Lincoln Aviator, and Nissan Pathfinder. The list is long, so we'll give you the full details further down in this article.
Since an average camper weighs 5,200 pounds when empty, it's not outside the realm of possibility for most midsize SUVs. But, you have to consider that, most likely, you're going to put additional weight from water, gear, and food.
It's best to assume that the average camper will weigh 6,000 pounds with food and water. But, as we'll see further down in this article, other features can increase the weight.
The midsize SUV is a popular segment, so it's hard to list all of them. This article will focus on the vehicle's highest towing capacity. There are other variables that you might look for, such as comfort and luxury.
So, before we get into which midsize SUVs are the best for towing, let's talk about how much campers can weigh.
How much do campers weigh?
Campers are great for the weekend escapade or a long trip, depending on the size. But, since there are so many models out there, it's hard to define an average weight.
It's customary to consider that the average weight for a camper is 5,200 pounds when empty. With this size, you will find that an option can fit most requirements. But, you have to add weight in the form of gear and water.
Most campers come with a 48-gallon freshwater tank. Considering that a gallon weighs 8.30 pounds, you can expect an additional 400 pounds of weight. But, then, there's food. So a safe consideration is that you will conservatively add an extra 400 pounds when you include food and other equipment.
So, in total, it's a safe bet to increase the camper's weight by 800 pounds. Now, let's see some real-life examples.
A 19-feet long box camper can weigh 3,715 pounds with no gear or water, 4,515 pounds fully loaded.
A 23-feet long box camper can weigh 3,974 pounds with no gear or water, 4,774 pounds fully loaded.
A 24-feet long box camper can weigh 5,118 pounds with no gear or water, 5,918 pounds fully loaded.
A 32-foot long box camper can weigh 7,705 pounds with no gear or water, 8,505 pounds fully loaded.
There are additional features that increase weight. For example, if your camper has powered slide-outs, you can expect the pounds to add up considerably. These are spaces that slide out of the trailer to increase the interior space.
A single slide-out can increase the camper's weight by 800 pounds. So, it's best to factor these into the overall weight.
But, there are a lot of ratings, such as the dry weight and GVWR. So, which one do you consider?
Most manufacturers state the dry or unloaded weight. This is the weight of the camper with nothing inside it, no water, and no gear. It rarely works as a reference because, chances are, you're going to load it before setting off.
The Gross Vehicle Weight Rating (GVWR) is the maximum weight the camper can weigh. It's best to use this as a reference and not exceed it instead of using it as the towing weight.
If your camper has a slide-out, water, food, and gear, you can consider the dry or unloaded weight and add 1,500 pounds. If it doesn't have a slide-out, you can add 800 pounds.
So, now we know that an average trailer can weigh about 6,000 pounds if it doesn't have a slide-out and 6,700 pounds if it does. So, let's find out which midsize SUVs can tackle the job of towing it.
Midsize SUVs with an exemplary towing capacity
As vehicles get bigger and bigger, it can sometimes be confusing to know which size category they belong to. Currently, midsize SUVs can be considered within the D-segment. These are vehicles that can carry up to seven passengers but must carry a minimum of five.
They also have bigger engines and more power. But, they usually aren't on the top-of-the-line in these numbers.
Many manufacturers offer midsize SUVs, so the list can be quite long. In fact, you can find some magazines rating one as compact, with others rating them as midsize.
For this article, we're going to talk about those that excel in towing capacity. Keep in mind that, to reach this performance figure, some models require upgrades such as towing packages. So be sure to check the manufacturer's specification for the highest towing capacities.
Dodge Durango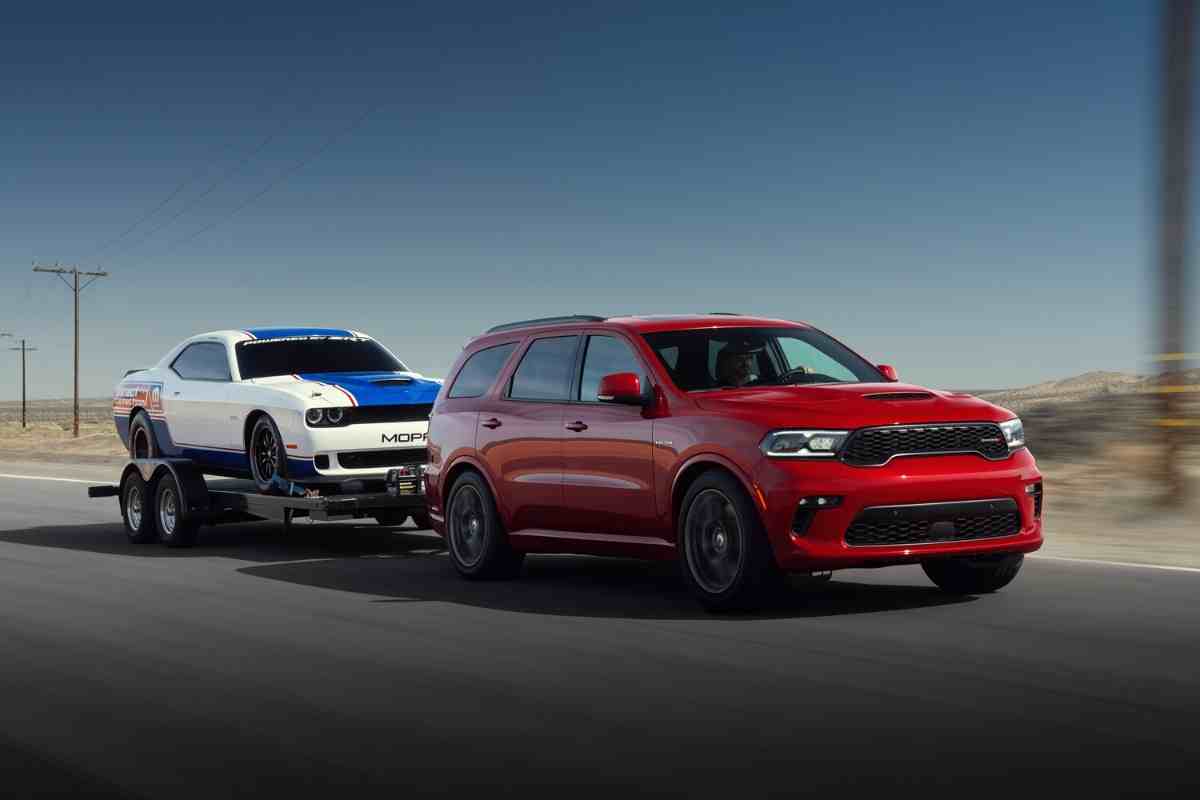 This SUV combines brute force and a comfortable interior. But, it's hard to categorize because, though it falls into the midsize category, it can tow much more than even some of the full-size SUVs in the market.
Its ride is smooth, and it can carry seven people in three rows comfortably. However, the interior isn't as luxurious as other options, especially when compared to European vehicles. So don't expect a smooth and agile ride.
The Durango's party piece is its power. First, it comes with a standard V6 that puts out 295 horsepower. Then, you can jump to a 5.7L Hemi putting out 360 horsepower or the powerful SRT version, which has over 700 horsepower.
With the basic engine, the Durango tows a respectable 6,200 pounds, an average of 1,000 pounds above the rest of the competition. The most capable version can tow up to 8,700 pounds, competing with the full-size market.
Land Rover Defender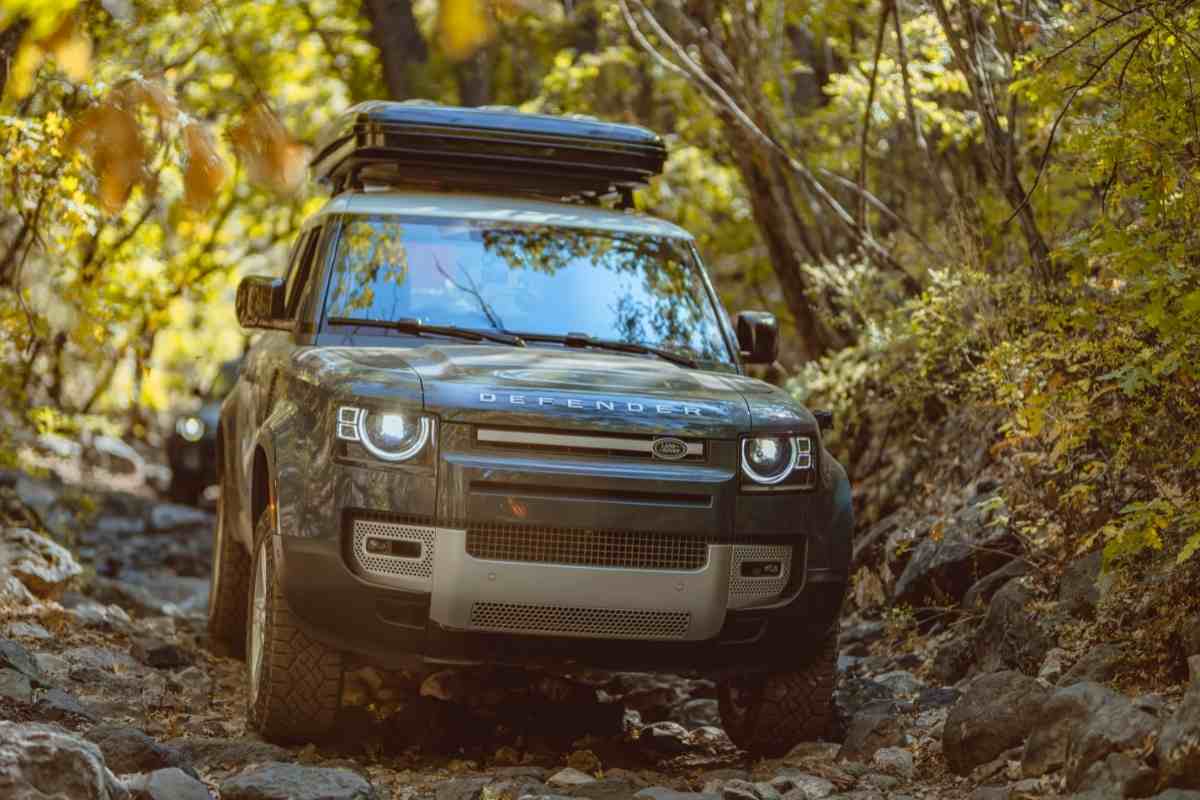 The Land Rover Defender had a much-acclaimed rebirth after years of absence in the US market. With an aggressive overhaul and new capabilities, this rugged SUV is sure to impress.
As it's tradition with Land Rover, the Defender comes with many trim levels (eight, in total). But it starts at $47,000, with a 3.0L Turbo Inline-Six and four-wheel drive. Putting out 340 horsepower and 332 lb-ft of torque, the Defender can tow a maximum of 8,201 pounds.
It has definitely improved on its ride and handling from previous generations. But don't expect this to be sporty or handle great on the corners. Instead, it's still a rugged offroader that can behave adequately once you take on the highway.
Land Rover Discovery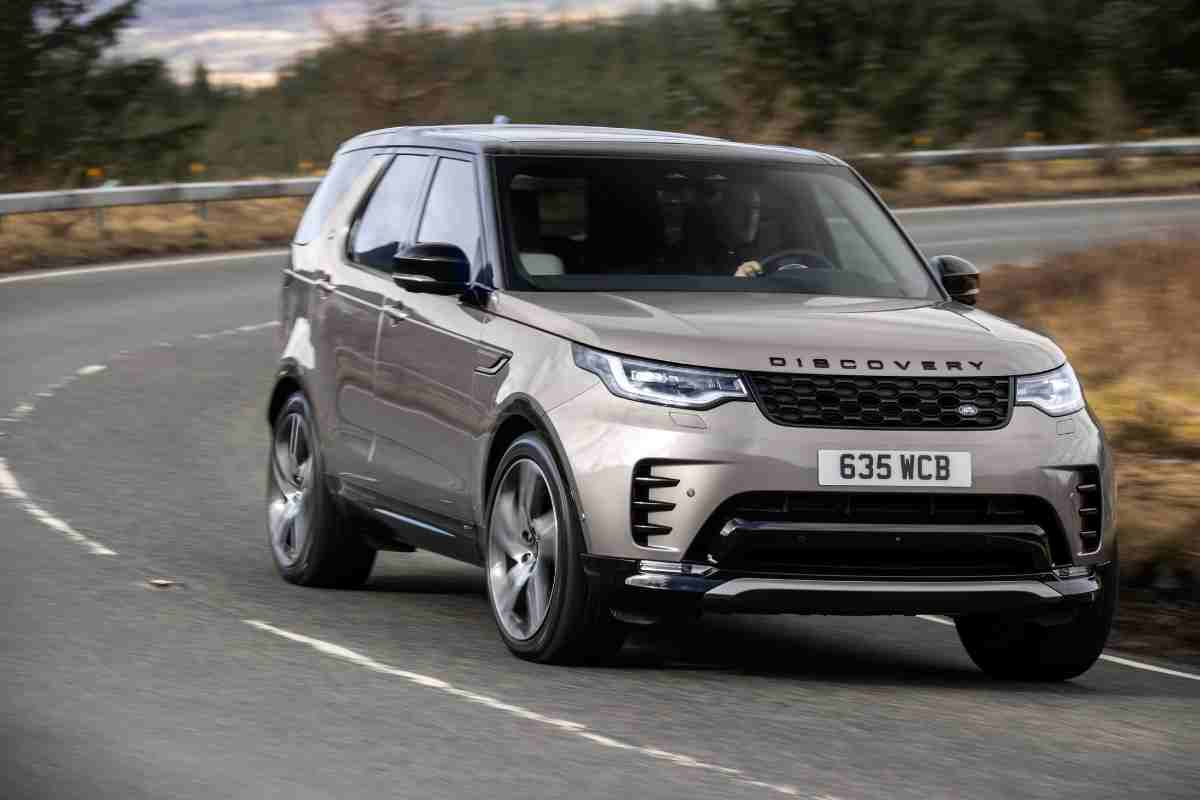 If you want a Land Rover but prefer a more civilized version, you can consider the Discovery. For thirty years, this SUV has taken people to all corners of the world in style. But it doesn't mind getting its hands dirty.
The Discovery shares the engine and many of the offroading capabilities with the Defender. In addition, it offers ample seating for seven, a luxurious interior, and a wide array of driver aids and features.
It's an expensive SUV, starting at $55,000, but for that, you get a vehicle that stands out of the crowd. Just like the Defender, the Discovery can tow a maximum of 8,200 pounds.
Porsche Cayenne
The sporty German SUV not only can blast down the highway or windy roads but can also tow a heavy load. Thanks to its 3.0L V6 and AWD system, the Cayenne sits in the upper range of pulling capacity.
This SUV isn't the first one you consider when you think about hard work. But, it can do so in luxury. It comes in six trims, starting at a hefty $66,000, and only sits five.
You can opt for the more powerful V8, which allows it to tow a maximum of 7,770 pounds. But expect to pay a premium for those bragging rights.
Jeep Grand Cherokee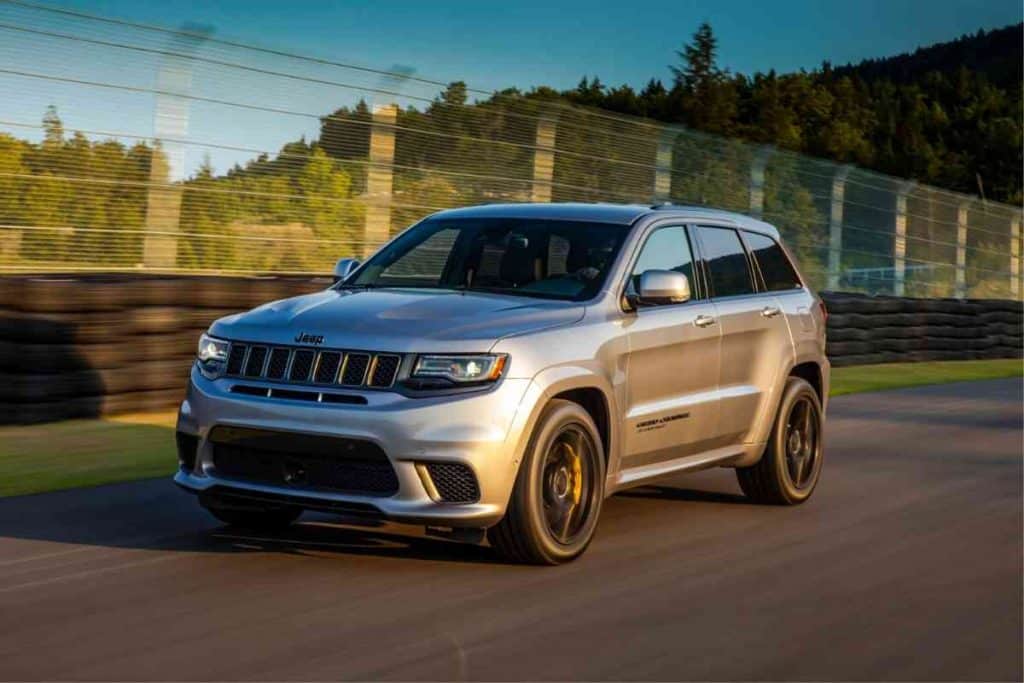 This veteran of the SUV market has slowly migrated towards a sportier vehicle, sharing some of its platform with the Alpha Romeo Stelvio. It offers comfort and impressive at a fraction of the cost of its European counterparts.
But, do expect a lower quality and more basic interiors. Also, since it comes with various trim levels, you can expect the prices to escalate quickly from the starting price of $34,000. Some of the more expensive Cherokees can go for $90,000.
These include the Trackhawk that puts out an impressive 707 horsepower. But, it's a heavy ride that can't match the performance of the Durango.
Most versions can tow up around 6,000 pounds. But the most powerful versions can give you 7,200 pounds of pulling capacity. Not bad for a hefty SUV that has a thirsty engine.
The SUVs that follow are close to the limit of 6,700 pounds that we had as an average for campers, including gear, food, water, and a slide-out. So the following list refers to vehicles that can tow smaller models.
Midsize SUVs with a good towing capacity
The SUVs on this list won't let you down in the towing department, but campers can be heavy. So, most of these will tow below the 6,700-pound limit.
Lincoln Aviator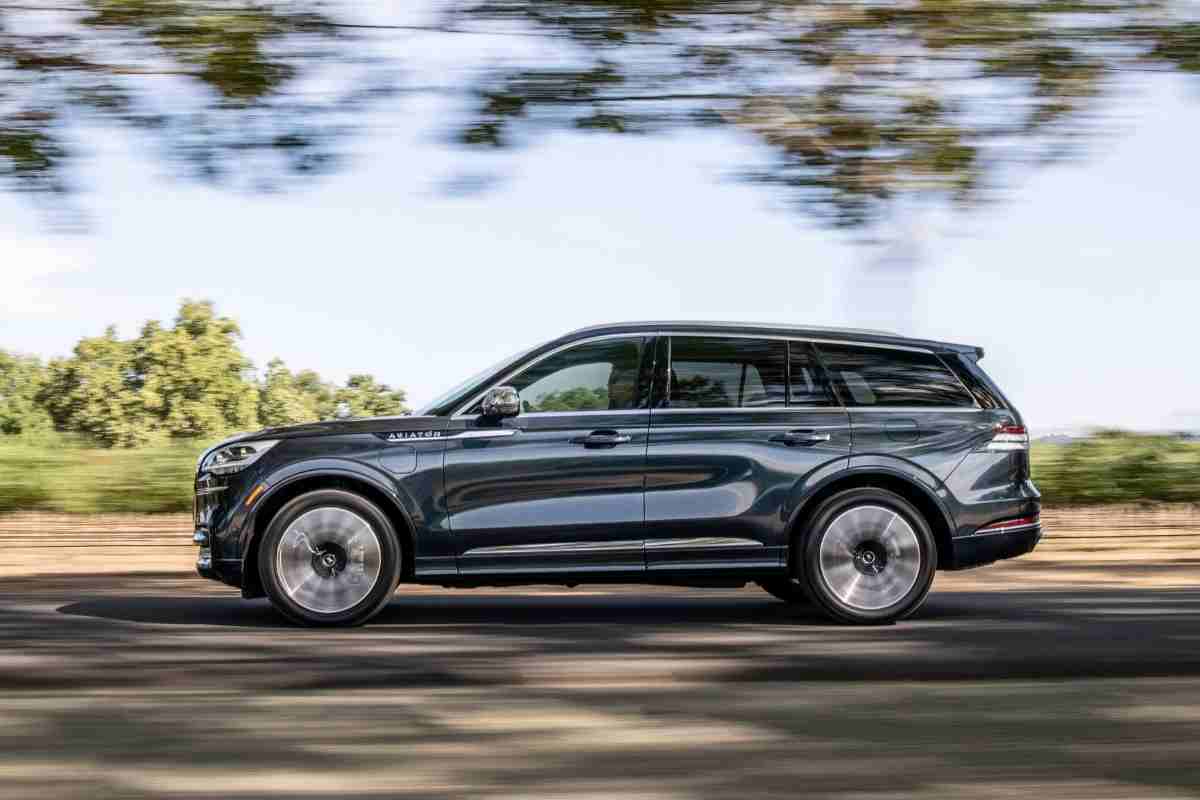 Lincoln is Ford's luxury brand, and the Aviator is no exception. It's got a comfortable and roomy interior, even for the seven passengers that can fit inside. However, its starting price is higher than others in this list, starting at $52,000.
Ford, and Lincoln, have centered many of their mid-sized vehicles around the V6 family. The Aviator comes with the 3.0L Twin Turbo V6 that can put out more than 400 horsepower. This translates to a quiet ride and a vehicle that can accelerate swiftly when it needs to.
This engine also sets it apart from other midsize SUVs. It's the most basic engine, and it already produces very respectable towing capacities. You can expect the Aviator to tow 6,700 pounds, just enough to pull an average trailer with gear, food, and water, plus one slide-out.
Interestingly, the Ford Explorer is mechanically similar to the Lincoln Aviator. But it doesn't have the same towing capacities. In fact, Ford's midsize SUV only comes in with 5,600 pounds, placing it far behind in this list.
Nissan Pathfinder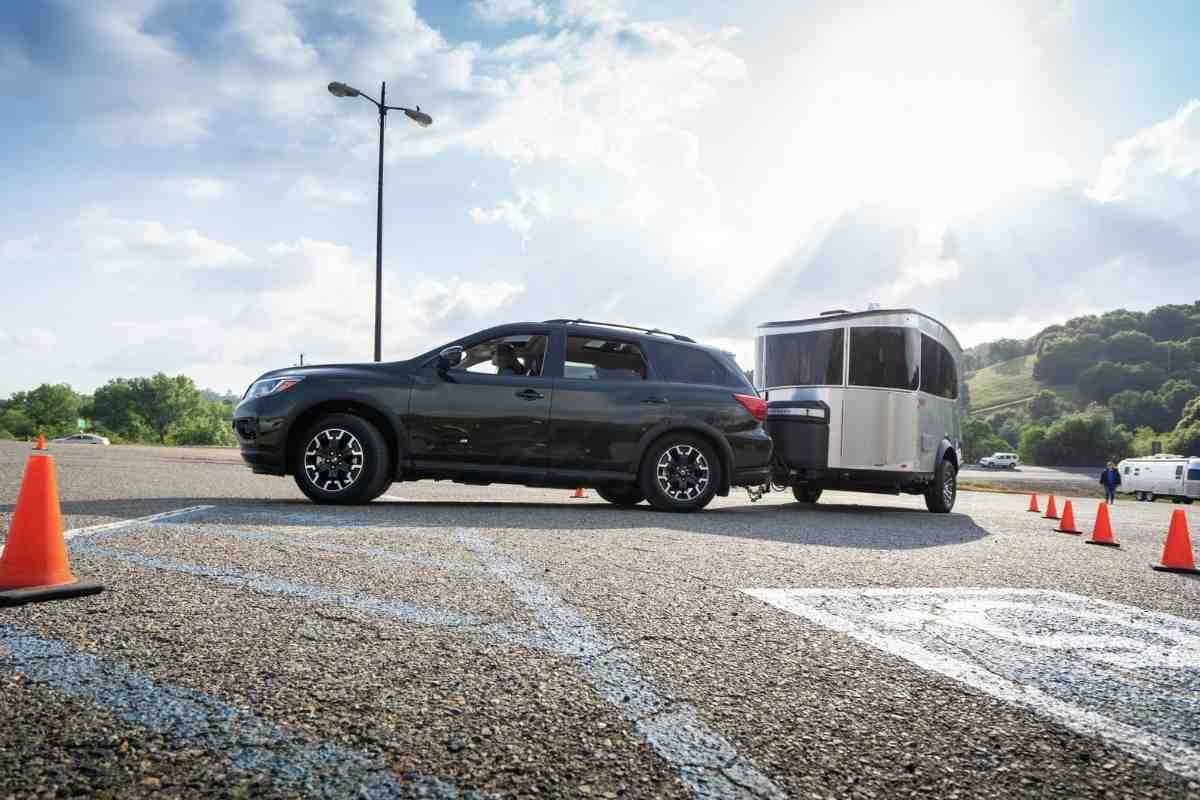 One of the underdogs in this list is the Nissan Pathfinder. The Japanese brand has seen a drop in sales in the past years due to management decisions and average build quality. But the Nissan Pathfinder is still a name that echoes in the SUV segment.
It comes with three-row seating and still possesses respectable offroading ability. But, it stands out for coming with four-wheel-drive or front-wheel-drive instead of RWD as many of the competitors.
The Pathfinder is also one of the cheapest of the group. The starting price is $30,500, topping out at $47,000. Unfortunately, there's only one powerplant, Nissan's tried-and-true 3.5L V6.
With it, you can expect to tow 6,000 pounds, which is enough for smaller and empty mid-sized campers.
Genesis GV80
Genesis, Hyundai's luxury brand, came to the show storming. Its GV80 looks the part and comes with a comfortable, upscale interior and excellent on-road handling. Sure, it's not the most rugged of the bunch, but it can duke it out with many European competitors on this list.
You can choose between two powerplants, the 2.5L and 3.5L V6 options. Both put out more than 300 horsepower for adequate acceleration. Mated with the company's history of automobile manufacturing, you encounter excellent handling.
With a starting price of around $50,000, it's not the cheapest of the bunch. But it doesn't intend to be. In fact, Genesis is aiming to carve a name for itself in the luxury sector.
Towing is a respectable 6,000 pounds in the most potent version. So, you cannot tow bigger campers with this configuration, but it will still get the job done with smaller options.
How the competition stacks up
We've seen plenty of SUVs in this article. Some of them have excellent towing capacities and some, come with very respectable performance. But, we have to remember there are a lot of options in this sector.
So, the following table summarizes what we've discussed, plus it includes some competitors that we didn't mention in detail.
| | | |
| --- | --- | --- |
| Make | Model | Towing capacity (pounds) |
| Dodge | Durango | 8,700 |
| Land Rover | Defender | 8,201 |
| Land Rover | Discovery | 8,200 |
| Porsche | Cayenne | 7,770 |
| BMW | X5 | 7,200 |
| Jeep | Grand Cherokee | 7,200 |
| Lincoln | Aviator | 6,700 |
| Nissan | Pathfinder | 6,000 |
| Genesis | GV80 | 6,000 |
| Ford | Explorer | 5,600 |
| Honda | Pilot | 5,000 |
As you can see, most of the midsize SUVs on this list will pull an average-sized camper. The midsize SUV is a vehicle intended to combine the best of all worlds, and it isn't exactly designed for hard work.
So, if your camper falls into these weight categories, you're doing great. However, if you plan to tow something heavier, you should look for bigger SUVs or trucks.
Closing thoughts
With the rising popularity of SUVs in the United States, it's common to ask yourself whether you can tow a camper or not. This article not only answers this question but gives you an array of vehicles so that you can compare their towing abilities.
Campers can be light, but once you start loading them, the pounds can tip the scale and exceed your towing capacity. So, be sure to understand how much your necessary gear weighs.
Most of these vehicles can do the job well. Plus, with so many options on the market, you can be sure that you'll find a midsize SUV that's right for you.