Which Used Crossover SUV Is The Best?
This post may contain affiliate links. As an Amazon affiliate, I earn from qualifying purchases.
When buying a used crossover SUV, there are many things you want to consider when finding the best fit for your and your needs. 
Some things to consider are buying from a reputable dealer, looking at the safety and security features, how many miles are on the car, seating, cargo, AWD vs 4WD, towing, and more.
So, considering these factors, which used crossover SUV is the best?
When it comes to safety and reliability, the Toyota Highlander is your best bet. With some of the highest safety ratings across the board, you can rest assured that this is a used car that will give you the best bang for your buck. It has proven to be a reliable vehicle over several years.
Many people have been satisfied with their purchase of a used Highlander.
But if this vehicle doesn't work for you, we've also included the top 5 used SUVs below, so you can find the perfect match for your situation.
First and foremost, let's explore some details about the Toyota Highlander! According to the National Highway Traffic Safety Administration (NHTSA) this vehicle scores a 5/5 overall safety rating, which makes it one of the safest for you, whether it be a 2012 or a 2019 model.
The Toyota Highlander has ample cargo space measuring at 16 cubic feet and even more when you put down the second and third row of seats.
At most, it offers 83.4 cubic feet of storage! Though it might be a tight squeeze and is not the roomiest, the Toyota Highlander can fit up to 8 people total! The highlander also gets 20-36 mpg in the city and up to 27-35 mpg on the highway.
The towing capacity is up to 5,000 pounds with different driving modes such as eco, normal, snow, and sports mode.
The engine also provides 295 horsepower, which is considerable.
Some cons are that this vehicle doesn't get the best miles per gallon, it can be a tight squeeze in the back, and it's overall a more expensive purchase even if you buy it used.
Overall though this is the best choice for storage, safety, and other fun features such as a push start and heated seats.
The average price for the 2021 year model for this car is $39,858-$50,990.
Audi Q3
The 2019 and 2020 Audi Q3 has also received a 5/5 star rating for safety from the NHSTA.
Not only is it safe, but it is also a quiet and comfortable ride that feels good to drive and ride in.
However, compared to the Highlander, the Audi has less cargo space at 16.71 cubic feet.
Though it has less cargo space it offers considerably more comfortable seating, even accommodating the needs of taller people.
Some other features include Bluetooth, parking sensors, optional drivers assistance, and blind-spot mirrors.
Some other cons of the Audi Q3 include the fact that it has a gas mileage of 20 miles per gallon for the city and 29 on the highway, small cargo space, and it also has a bit of a learning curve if you're not up to date on your technology.
The average price for the 2021 year model for this car is $38,497-$43,955.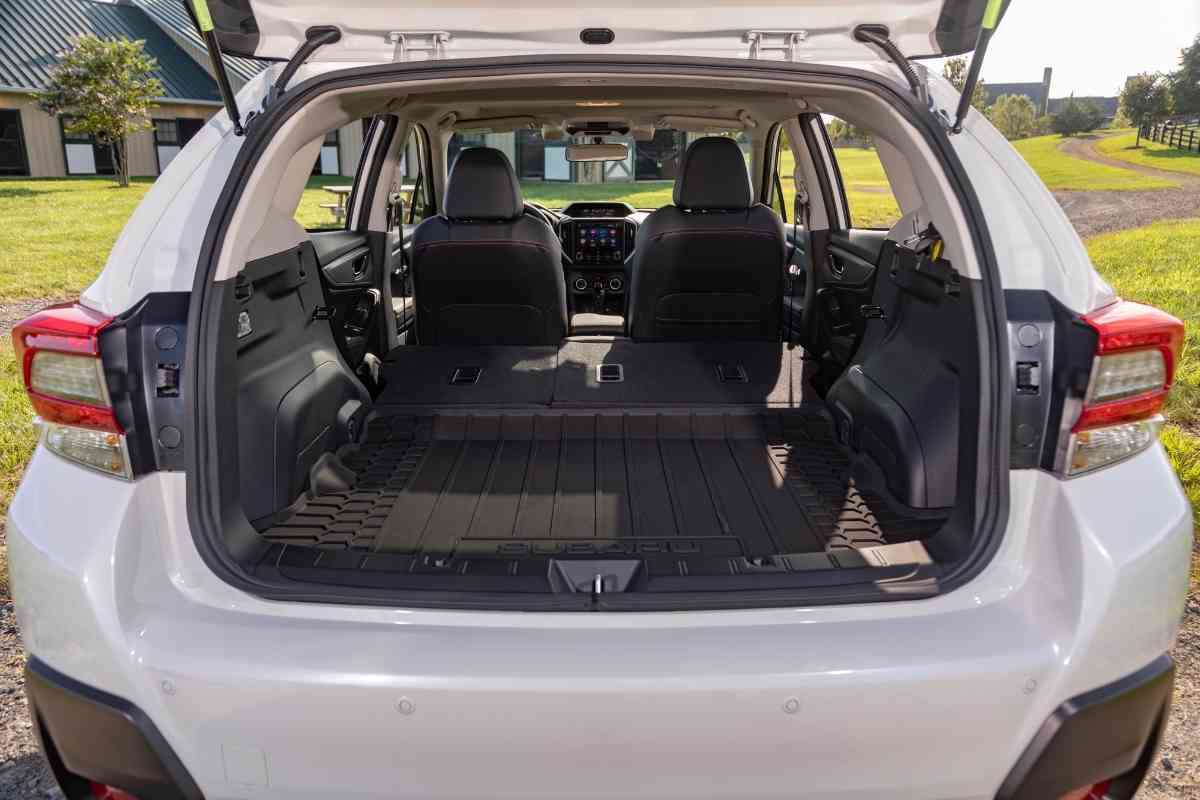 The 2021 Subaru Crosstrek also received a 5/5 safety rating from the NHSTA.
In addition to having AWD, the Crosstrek also has high ground clearance, which is perfect if you like to go off-roading.
As far as cargo space is concerned, the Crosstrek has 20.8 cubic feet behind the rear seats and a total of 55.3 cubic feet with the seats folded down.
The Crosstrek also provides a quiet and comfortable ride, is user tech-friendly, has a large range of visibility, and also has great child accommodations.
All of these features combine to create a great family-focused vehicle.
The horsepower sits at 152-182 and this vehicle has a towing capacity of 1,000-1,500 pounds. Some cons include an average amount of cargo space, as well as slower acceleration and a gas mileage rating of 22-28 mpg in the city and 29-34 mpg on the highway.
The average price for the 2021 year model for this car is $27,499-$33,447.
Honda CR-V
5/5 score from the NHSTA should be standard as far as safety, and the 2006 Honda CR-V has received that safety rating as well.
The Honda CR-V shifts smoothly between gears and has a wonderful average fuel efficiency of 30 mpg.
It gets between 27-40 mpg city and 32-35 mpg highway with a horsepower of 190.
Benefits of the CV-R include a spacious interior that doesn't leave anyone feeling too cramped. The massive cargo space is always a huge pro to this vehicle as you get 39.2 cubic feet as a base and 75.8 cubic feet when all the seats are folded down.
Some cons of this vehicle include a lower than average towing capacity of 1500 pounds.
Depending on what you might need to tow, this might not be enough for you.
Another downside can be the finicky touchscreen and automatic climate control that doesn't always maintain the temperature you'd like.
The average price for the 2021 year model for this car is around $28,075.
Mazda CX-5 2012
Along with its 5/5 safety rating from the NHSTA, the Mazda CX-5 has a ton of wonderful features.
Some of these include a 187-227 horsepower rating, and a towing capacity up to 2000-3500 depending on the year and trim.
It also has great miles per gallon sitting at anywhere from 22-25 mpg city and 27-31 mpg highway.
Other great features of this vehicle include its turbo-powered engine and its climate-controlled seats which make it feel upscale.
It is one of the more luxurious feeling crossover SUVs not only on the inside but the outside as well.
It comes with a nice touchscreen and great g-vectoring control that provide a smoother ride.
This quiet vehicle is a great contender against its competitors.
Some cons include below-average cargo capacity which sits at only 31 cubic feet.
Also despite the luxurious feel, it can feel a little cramped with legroom if you are sitting in the back.
The average price for the 2021 year model for this car is $27,031-$35,994.