Can A Lincoln Navigator Tow A Boat?
The Lincoln Navigator is a powerful car that people love for its engine as well as how well it rides. It is classified as a luxury SUV and we can understand why.
If you love your Lincoln Navigator and want to take it camping or on some long road trip with you, then you might be wondering about its towing capacity. You might also wonder if its towing capacity is enough to tow a boat. We understand those questions because you are not the first nor will you be the last to ask this question!
Can A Lincoln Navigator Tow A Boat?
The Lincoln Navigator's towing capacity is 6,200 to 8,300 lbs, so it can probably tow an average size boat you may take out for the day with your family. However, there are a number of factors at play that require a deeper look into the question of whether or not the Lincoln Navigator can tow a boat.
We already know that Lincoln Navigators can tow most campers, but the last thing you want is to lose your boat on the highway halfway to the lake, so let's find out whether your particular Lincoln Navigator can tow a boat.
How Much Can A Lincoln Navigator Tow?
This question has several answers. The quick answer is: between 6,200 to 8,300 lbs, depending on the towing package, the trim level, and the drivetrain your Lincoln Navigator has installed.
Towing Package
The heavy duty towing package that's available with the Lincoln Navigator can greatly increase towing capacity, as well as making towing safer and easier. With it's cutting edge traction-assist technology, each wheel receives just the correct amount of torque to tow just right.
With the standard towing package, you'll be able to tow between 6,200 lbs and 6,600 lbs. With the heavy duty towing package, you'll be able to tow anywhere from 8,100 lbs. to 8,300 lbs. These variances are influenced by your trim level and drivetrain.
Tim Level
The Lincoln Navigator comes in seven different trim levels:
Base Trim Level
Select Trim Level
Select L Trim Level
Reserve Trim Level
Reserve L Trim Level
Black Label Trim Level
Black Label L Trim Level
The trim level you have will determine which of the two drivetrains your Lincoln Navigator comes with, even though they all come equipped with a 3.5 L V6 engine.
Drivetrain
The Lincoln Navigator comes in two different drivetrains
The 4×2 drivetrain or
The4x4 drivetrain.
Depending on which trim level you choose, you will either get the 4 x 2 or 4 x 4 drivetrain. If you are wondering why the drivetrain matters, one of the most important reasons is whether you want to flat tow your car or dolly tow it.
We will not dive into the specifics too much but if you would like to learn more about flat towing or dolly towing or both, we would suggest clicking here.
So all in all, you can expect at a minimum a towing capacity of around 6, 200 lbs. That is quite impressive but is that enough to tow a boat though? To answer that, we have to first figure out how much a boat weighs-or at least an average estimate. So let's get onto that!
How Much do Boats Weigh?
There are many different types of boats and each boat varies in weight and size. The tricky part about determining an average is that the weights vary from as light (we say light as in relative to boats, not the actual weight) from 400 lbs to as heavy as 100,000 lbs (no, we are not joking).
Here is a list of some of the most popular and common boats as well as their respective weights.
Aluminum Fishing Boats: 300 to 500 lbs
Bow Rider: 3,000 to 3,500 lbs
Cabin Cruiser: 12,000 to 16,000 lbs
Cuddy Cabin: 3,000 to 5,000 lbs
Deck Boat: 3,000 to 5,000 lbs
Fiberglass Fishing Boats: 1,500 lbs to 2,500 lbs
Pontoon Boats: 3,000 to 5,000 lbs
Sailboats (14 feet to 20 feet): 400 to 800 lbs
Sailboats (20 feet to 30 feet): 4,000 lbs to 8,000 lbs
Skiffs: 300 to 900 lbs
Wake Boats: 3,000 to 5,000 lbs
So as a rough estimate, boats weigh anywhere between 300 lbs to as much as 100,000 lbs. We are not going to use the 100,000 lbs boat as an estimate since a boat that weighs that much cannot get towed- not even by the biggest trucks. So let's just say that the average weight for boats varies between 300 lbs and 16,000 lbs.
Can a Lincoln Navigator Tow a Boat?
Now it is time to put two and two together. If the Lincoln Navigator's towing capacity is anywhere from 6,200 lbs to 8,300 lbs and the average boat weight is anywhere from 300 lbs to 8,000 lbs then we can confidently say that the Lincoln Navigator can indeed tow a boat.
This is especially true if you wish to tow a small to medium size boat. However, if you want to tow a larger boat then we do not think that the Lincoln Navigator will be the car for you.
Please do keep in mind that you should not maximize your vehicle's towing capacity. This is because it will damage your car in the future and this does not just go for the Lincoln Navigator but for any car that you wished to use for its towing capacity.
For example, if your Lincoln Navigator's maximum towing capacity is 7,000 lbs then we would suggest aiming to tow a car, boat, or trailer that is 20 to 30 percent lighter than that.
Is The Lincoln Navigator The Car
For You?
If you love your Lincoln Navigator and want to know if it can tow a boat then your love for your Lincoln Navigator probably grew tenfold. Unless you are trying to haul around a heavy 8,000 lbs to 16,000 lbs boat then your Lincoln Navigator can get the job done. If you are hoping to tow a small aluminum fishing boat around that is no problem for the Lincoln Navigator. 
Please note that this is the towing capacity for the current 2020 Lincoln Navigator. If you own an older model, we would suggest looking into your driver's manual to see if the towing capacity has changed or has somewhat stayed the same.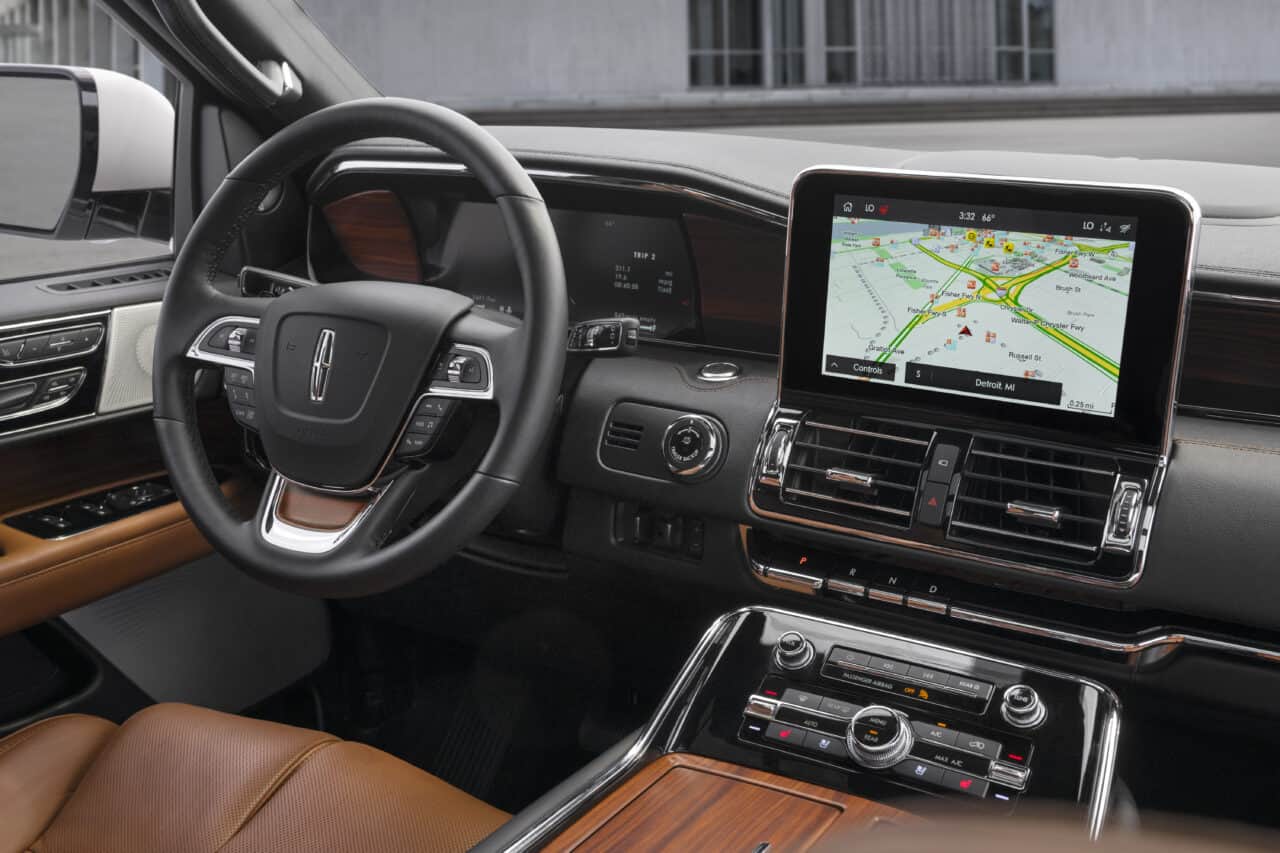 If you have lost your driver's manual then we would suggest checking online. Sometimes some websites have PDFs of older vehicle driver's manuals.
We hope that you have found this article both informative and interesting if you either own a Lincoln Navigator or if you are thinking of buying a Lincoln Navigator.