What are the Best Years for the Honda CRV? (Revealed!)
This post may contain affiliate links. As an Amazon affiliate, I earn from qualifying purchases.
Looking to buy a used Honda CR-V that can tow your camper or boat but unsure which one to get? While this is usually hailed as one of the best small SUVs on the market, there are a few model years that do not perform as well as the others. So, what are the best Honda CR-V model years? The 2005-2006 Honda CR-Vs are highly rated by drivers for their reliability. Buyers looking for something newer will want to check out the 2015-2016 CR-Vs, which are also known for their reliability and superior handling capabilities.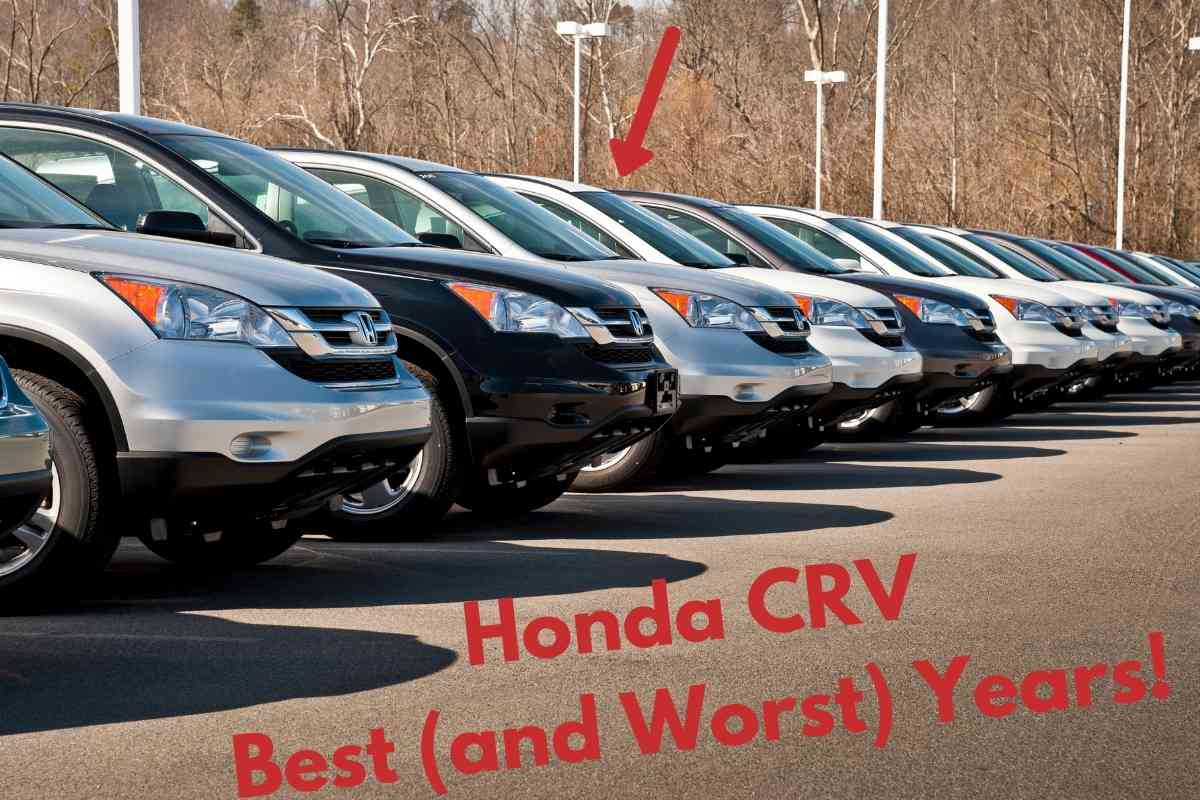 Table of Contents
What are the Best Years for the Honda CRV?
Buyers who don't mind older vehicles should look into the 2005-2006 CR-Vs. They are known for their reliability, strong fuel economy, and powerful engine performance. The 2015-2016 CR-Vs are regarded for similar reasons and have a few more tech-y features equipped.
What exactly makes the 2005-2006 and 2015-2016 Honda CR-Vs the best model years? And which ones should you avoid? Read on to find out.
Worst Years for Honda CRV
The two model years that have received the most consumer complaints are the 2007 and 2011 Honda CR-Vs. There have been numerous reports of the A/C compressor failing, the tires not wearing evenly, and the doors experiencing problems with the locking mechanisms.
That said, these years did come with great safety features and got a high NHTSA and IIHS safety rating in the event of collisions or a crash.
There is not a whole lot of cargo space, and visibility out the rear is limited due to Honda giving the CR-V a steeper slope to its roofline. Drivers also have to put up with a lot of obnoxious road noise, which is one of the most common problems.
Consumers have made specific complaints about the 2010 and 2011 models having random oil consumption issues. The piston rings seem to be at the core of the problem, and this actually led to Honda having to extend their warranty coverage for them to eight years or 125,000 miles.
Electrical system errors, problematic automatic transmission control modules, and steering wheel console and side airbag deployment issues all constitute the recalls made on the 2010 Honda CR-V.
Best Years For Honda CRV
The 2005-2006 CR-V models are some of the best. They lacked a V6 engine option, but in spite of that, they are regarded as being strong performers.
Many owners have made them last well over 200,000 miles. Acceleration is a bit boring, sure, but buyers often are surprised by how minimal the repairs are on these CRVs. 
The HVAC system is regarded for working incredibly well and lasting for a long time without any issues. The A/C kicks in as soon as it is turned on and runs cool. The heat is seamless as well.
Overall, the 2005-2006 CR-V models are relatively inexpensive to own.
Buyers do not normally need to sink much into repairs, and these model years tend to list between $3,500 and $4,000 for one in good condition.
More Recent Model Years
Buyers wanting something newer might want to check out the 2015-2016 Honda CR-Vs. The CR-V received a mid-cycle refresh for 2015, bringing newer features, a few styling updates, and better fuel economy.
The 2.4-L 4-cylinder engine was tweaked to perform even better with the CVT, giving the vehicle more fuel efficiency and torque.
Even with all-wheel-drive equipped, the CR-V could get a combined 26 gas mileage.
The 2015 model also saw a new power-adjustable passenger seat for the EX trim level and above and a standard rearview camera.
New front and rear fascia were sculpted, and LED running lights were tacked on.
The 2015-2016 CR-Vs have relatively few consumer complaints. The only qualm buyers took was that the suspension was stiffer than expected.
There was also some road noise that seeped into the cabin at higher speeds, engine vibrations, and rough idling.
But, again, repairs were few and far between as well as inexpensive. Most issues have been easy for buyers to smooth out at the mechanic shop.
To avoid the vibrations, stick with the 2016 CR-V. The manufacturer seems to have smoothed out the vibration issues in the 2015 for the 2016 model year. 
The seats are not the most comfortable for long drives, according to some buyers, but they are grateful not to be vibrating the entire way. Most buyers seem genuinely pleased with their purchases and still have their CRVs.
2020
The 2020 Honda CRV can run easily over 300,000 miles. This 2020 car gets 28 mpg in a city and 34 mpg on the highway, which is an improvement over the past years. It is a compact vehicle but offers many benefits of a compact SUV.
Although it is a smaller car, you will be saving a lot of money on gas. The Honda CRV seats five people and offers two rows of rear seats. There is a generous amount of legroom, and it is a practical small family vehicle. The roomy car has great seating space and easily fits your entire family in the car.
The back seats can fold down and double the space for road trips. The car can fit car seats for small children and has an adjustable driver's seat.
This practical vehicle offers some good features inside the car. It can come with Bluetooth, a USB port, and apple car play. This car is small enough to get through the busy city or tight parking. It has quick acceleration and handles corners well. The brakes are easy to control, and you can get to your destination in a hurry.
The car can easily get over a curvy road and still run smoothly. The engine is excellent because it is not too loud, and it is still easy to talk and have a conversation in your car.
The 2020 Honda CRV has front and rear door openings that make it easy to enter the vehicle. Some other benefits of the car are the lane departure warning systems when drifting, forward collision warning, adaptive cruise control, the rearview cameras that can show multiple angles, airbags, and traction control.
If you would like to upgrade the car, you can get a touchscreen and a large speaker system. The car offers the perfect amount of room. If you are thinking about buying this car, you made the right choice.
The CR-V's Early Days
In 1997, Honda decided to bring the CR-V to North America, as they had seen success with it in Japan since releasing it in 1995.
It was built off the Civic's platform utilizing an SUV design. There was originally only one trim level, the LX (which now serves as the base trim). Its 2.0-liter straight-four B20B generated a power output of 126 hp and 133 lb-ft of torque. 
The CR-V got revamped in 1999, including a totally revitalized exterior and more color options. 2000 saw a Special Edition release in North America.
 In 2001, the second generation of CR-Vs was introduced, based on the seventh-generation Civic's design. A more powerful engine was equipped, and for 2002 and 2003, Car and Driver named it the Best Small SUV.
2005 saw the next facelift, and a drive-by-wire throttle was added. AWD was also improved, which is why consumers tend to rate the AWD models for that year so highly in terms of handling capabilities.
2006 marked the start of the third generation, which ushered in a new rear liftgate and the 2.4-L inline-four engine.
The 2010 refresh was less than a hit, although new tech features like hands-free Bluetooth were added to the mix.
Best And Worst Years Honda CRV
The Honda CR-V has a reputation based on strength and reliability. A few model years are worse than others, but many of them are pretty decent vehicles. If age is not an issue, try to find a 2005 to 2006 CR-V, as those years were a real sweet spot for Honda. The 2016 is particularly well-liked as well, keeping many of the tech made newly available on the 2015 but losing the vibrations that plagued that model year.
Overall, the Honda CR-V prices reasonably for models in good condition, so you will not have to spend all of your savings just to get the vehicle. You will probably have enough left over for insurance, the plate and tabs, and any minor repairs that need to be done. Repairs themselves tend to be minimal, and CR-Vs can last well into the 200,000-mile range. And don't forget, these vehicles are capable of towing some smaller campers! So hitch up and have fun.