1980 International Scout II Center Console Upgrade
This post may contain affiliate links. As an Amazon affiliate, I earn from qualifying purchases.
When it comes to classic SUVs there are plenty of options to choose from, certainly, everyone is familiar with Jeeps and Broncos (the big guys).  Their market continues to be red hot and aftermarket upgrades and reproduction parts are relatively easy to obtain. 
What if your classic was produced by a smaller, now defunct manufacturer and the youngest version of your classic was produced 42 years ago?  Enter my dilemma: I own a 1980 International Scout II. 
Thankfully Scouts have remained an affordable option over the years, but as popularity has increased, so have prices.  The last International Scout II rolled off the Fort Wayne, Indiana assembly line on October 21, 1980. 
The handful of Scout "Light Line Dealers" have done a nice job offering reproduction and NOS parts over the years, with several dabbling in purpose-built improvements.   One area that hasn't been tackled is a Scout-specific center consoles.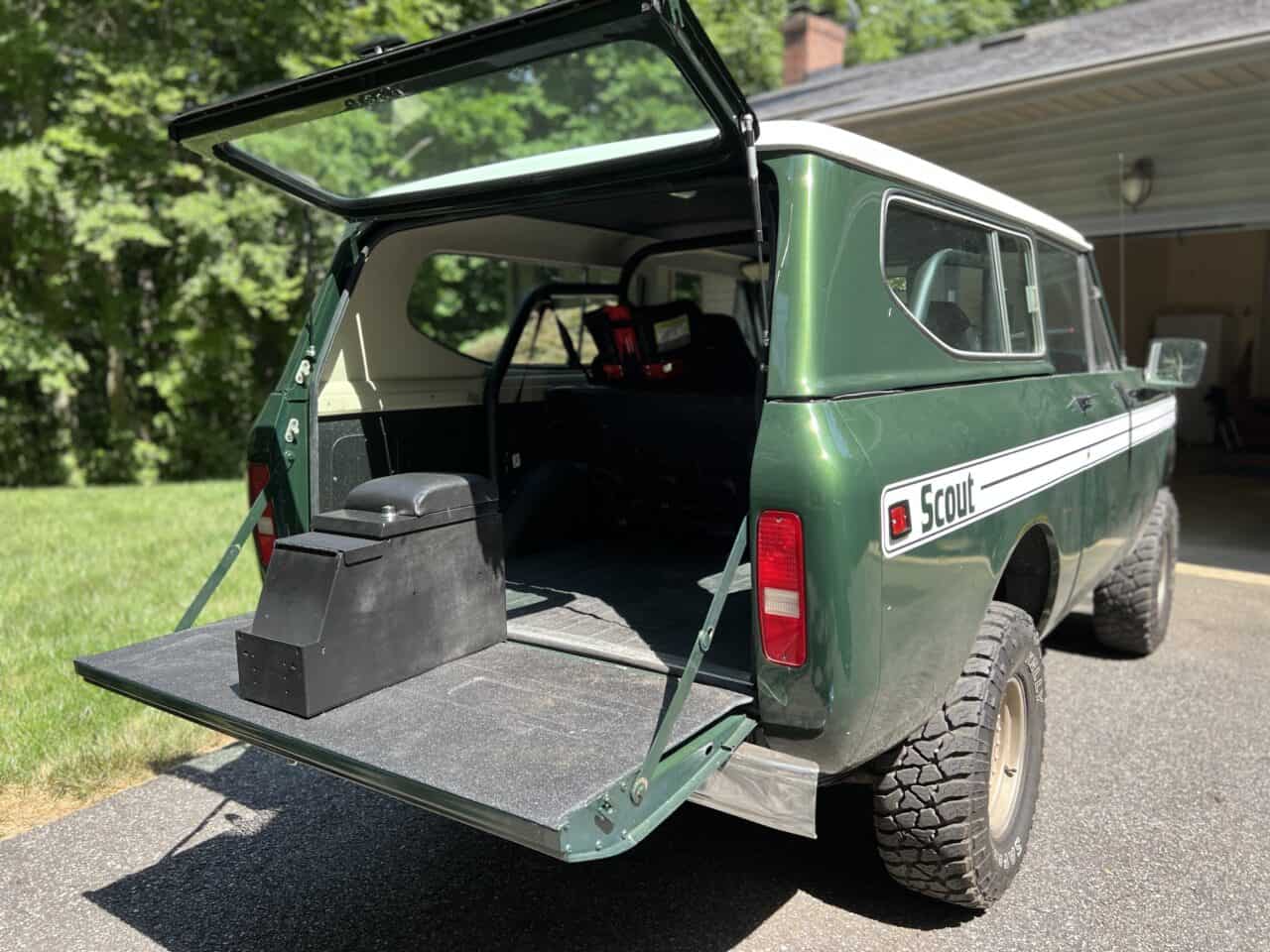 The original center console in a Scout II is little more than an open bottom box that bolts to the floor with a flip top lid. The top-mounted cup holders are shallow and no match for the size and shape of modern cups (though I doubt they held period-correct beverages well either).
Imagine taking a turn too fast and losing the contents of your beverage, it's a problem every Scout owner has encountered a time or two. It's with this problem in mind that I started researching aftermarket console upgrades.
I had a few specific requirements:
Metal construction (no plastic)/Attractive Design – I wanted it to look at home in the Scout, not like I pulled it out of a soulless fill-in-the-blank sedan from the local pick-n-pull.
Lockable – I'll take all the extra security available, especially if I decide to install a soft top down the road.
Padded Arm Rest – I'm 6'2" tall and wanted a comfortable arm height
Cup Holders – big enough to hold a large drink from any drive-thru or my favorite double wall insulated tumbler without fear of tipping over.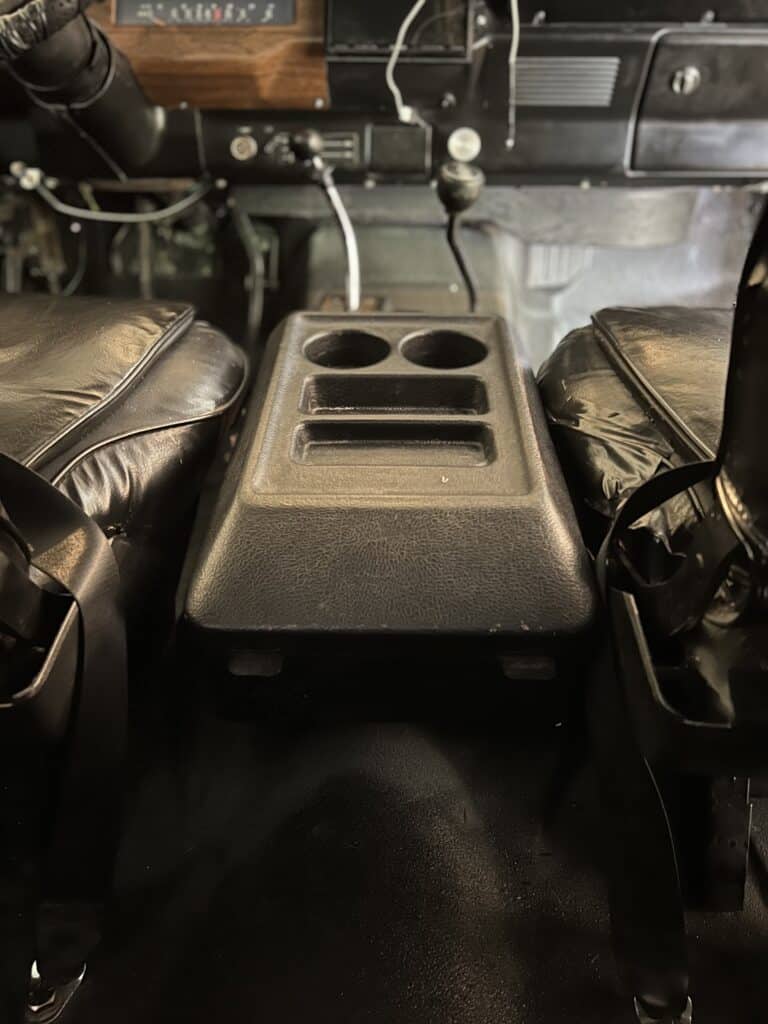 Enter Tuffy Security Products.
In my search I learned that Tuffy Security Products has been making vehicle-based security products in the US since 1989, including many brand-specific options (you Jeep and Bronco owners don't know how good you have it!). What I really like is that they also produce universal center consoles in various widths and colors.
The original Scout II console is 10" wide, but I decided to go with the 8" "Universal Deluxe Stereo Center Security Console" to allow for flexibility in seat options when I upgrade in the future.
In addition to meeting all of the specifics I was looking for, this console also has lockable space for an aftermarket radio (a great option if you want your classic to look period correct or if you just want to hide the upgrades from curious passersby).
I already have a modern head unit installed so I'll likely use that space for buttons/switches for future add-ons.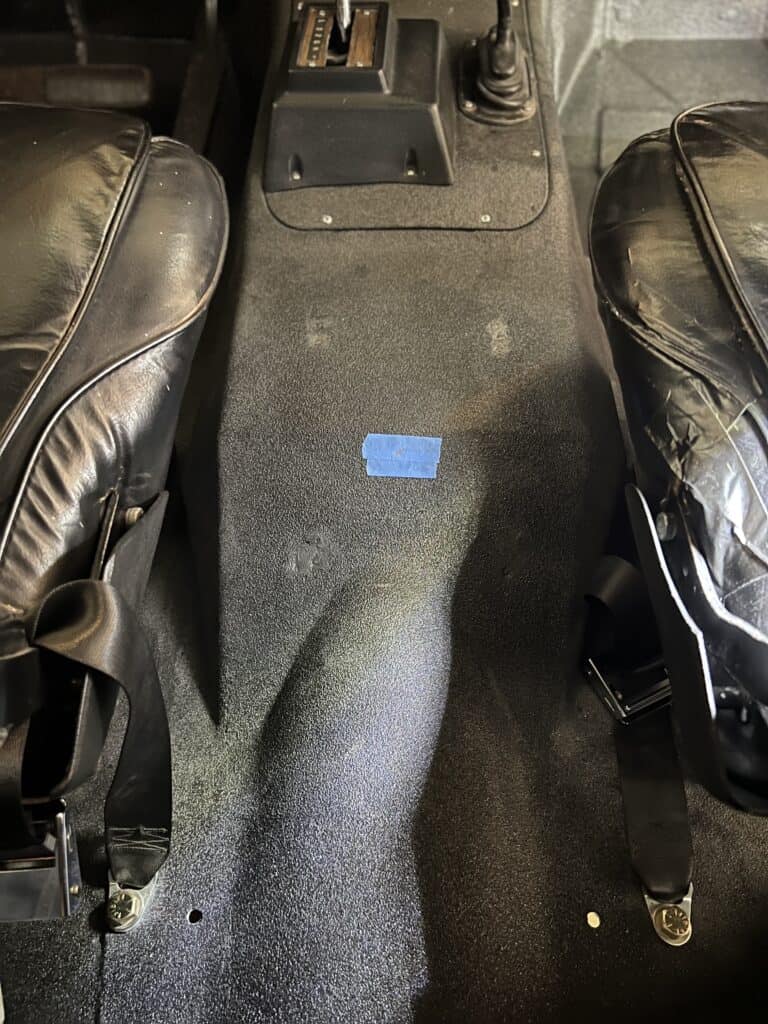 Install:
The folks at Tuffy include all necessary hardware needed to install the universal console, but you will need a drill, drill bits, a few wrenches, and some silicone if you have small holes to patch.
In my case I also benefitted from the assistance of my two sons. The installation was pretty straightforward. Here are the steps I took:
Remove the old console.
Fill any existing holes with silicone to prevent water from coming inside (black silicone in my case to match the spray in bed liner I had applied (Scouts are notoriously rust prone, if this thing is going to rust out after all the work that's been put into it, it won't be from the inside!).
Install the rear bracket – the console comes with a mounting bracket for the rear, I mounted this to a Scout-specific aftermarket adapter to help aid in placement over the transmission tunnel. The Scout adapter isn't a "must have" but helped me nail the placement and fit.
Install cupholders – the cupholders can be mounted at 3 different heights on the front, I suggest determining the location of the console and then adding the cupholder so you know the correct height.
Measure! Measure!! Measure!!! – you're about to drill holes in the floor of your vehicle, get it right!
Drill baby drill.
Install bolts – tighten down bolts as needed and apply a little extra silicone around the openings for good measure!
Install seat belt holders – in my opinion, this is an underrated feature, it's nice that my belts are slamming on the floor anymore.
After installation: I ordered a few add-ons to further customize the console to my needs:
Rear Cup Holder – the console is pre-drilled to add a cupholder on the back, now the kids have someplace to put their drinks (almost anything to make the Scout more enjoyable for the kids is under consideration)! Scratch that, except for running boards, sorry boys, you're going to have to grow a little taller, we're not getting running boards!
Gas Strut Kit – this isn't a "must have", but the armrest/top is pretty heavy and with young children, I decided to add this on to reduce the chance of one of them slamming their hand accidentally in the lid.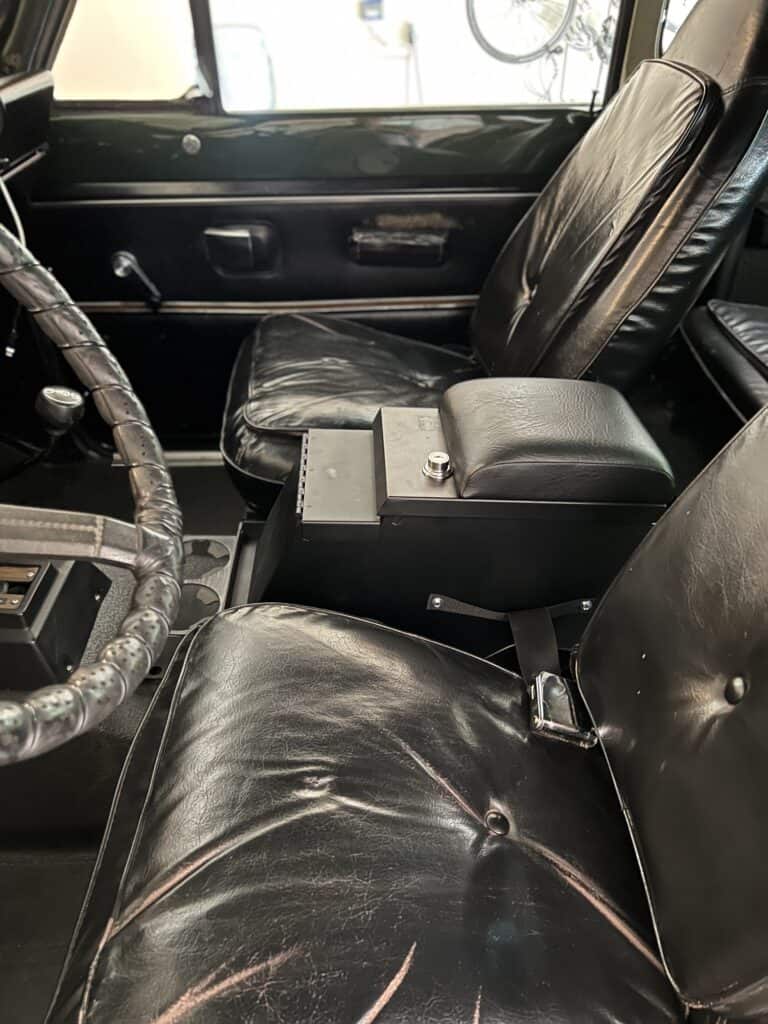 Conclusion:
I've had the opportunity to put some miles on the Scout since installing the Tuffy console and my biggest regret is that I didn't do it sooner.
I love how it looks in the truck, it blends in perfectly, like it should have been there all along. The modern-sized cupholders are a massive improvement over stock and the console has plenty of lockable room. I can't recommend this upgrade enough!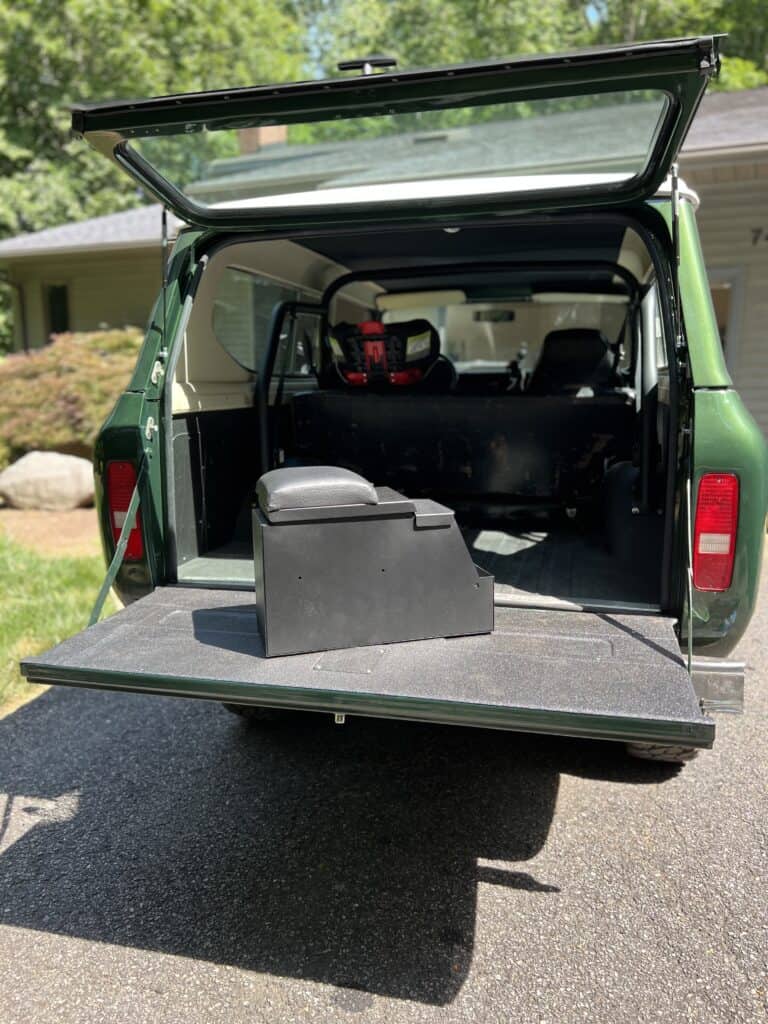 Scout Resources
If you're thinking about buying an International Scout or already have one, I highly recommend a few resources:
"International Scout Encyclopedia: The Authoritative Guide to IH's Legendary 4×4" – this is a must-have for your collection! It's a thorough history of the International Scout with many pictures and specifications.
International Truck Service Manual (make sure to pick the correct one: Scout 80/800, Scout II (several options here, including years and Diesel).
Parts: Find a "Light Line Dealer" – these are authorized resellers of IH parts. I've ordered parts from most of the major vendors with good success, a few I like are:

IH Parts America

Super Scout Specialists

Anything Scout

Scoutco LLC (I'm partial to Scoutco, Mike and team did the majority of my restoration)

GRC Fabrication

Binder Boneyard (Dan also does a great podcast that tackles a lot of relevant topics, ear muffs for the kids though)