Jeep Wrangler Sound System Upgrade Using The Factory Jeep Radio
Everybody that owns a Jeep Wrangler knows the factory Jeep sound system needs a little something extra to be enjoyed at highway speeds. The brand new Jeep Wrangler JL has the option for an upgraded Alpine system, and even it can benefit from a few sound system upgrades.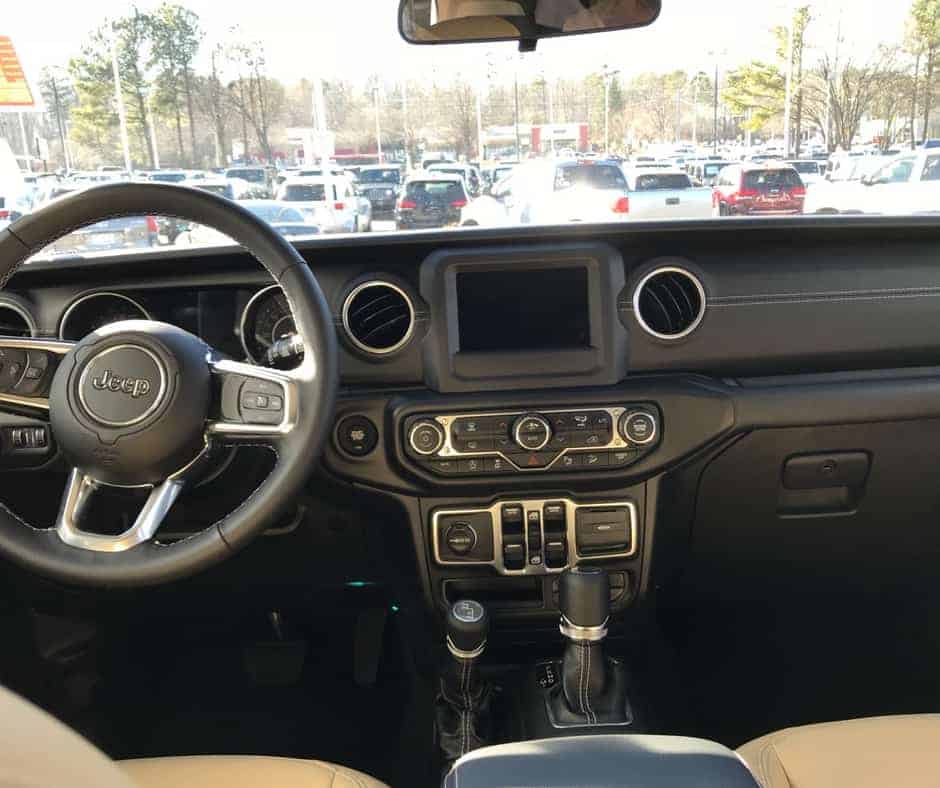 Table of Contents
Upgrading A Jeep's Sound System
You can upgrade a Jeep's sound system by adding an amplifier and a soundbar and by upgrading your rear, dash, and surrounding speakers. There are tons of different options available, but you should consider keeping the factory Jeep and simply upgrading your sound system around it.
In this article, I will highlight the process I used on my 1993 Jeep Wrangler YJ stereo system. I will show you the Jeep speakers, the Bluetooth marine amplifier, and the powered subwoofer I used to create a stealth factory-looking Jeep sound system that keeps the factory Jeep Wrangler radio and give you all the info I have to help you upgrade yours.
If you own a Jeep Wrangler TJ, LJ, JK, or even the new JL, this article will still provide inspiration for your Jeep stereo build.
Jeep Radio Upgrade: Why Keep Your Jeep's Factory Radio
I wanted to keep the factory Jeep radio for two main reasons. The first is that I love originality in older Jeeps. This Jeep is a 1993 YJ, and it is starting to hit the classic/antique age. I purchased this Jeep for its originality, and it has low miles at just 50k when I purchased it.
The second reason I wanted to keep the stock Jeep radio was as a test. It's easy to do a Jeep Wrangler stereo upgrade if you just want to go out and buy a new one with all the fancy wi-fi, smartphone compatibility, hands-free calling, yada yada. I have a passion for bringing old Jeeps back to life. I also love music and mostly stream audio from sources like Apple Carplay, Spotify, Sirius XM, or Amazon Music.
Since all three of these music sources are streaming services, I knew I needed Bluetooth to be able to play the music in my Jeep YJ.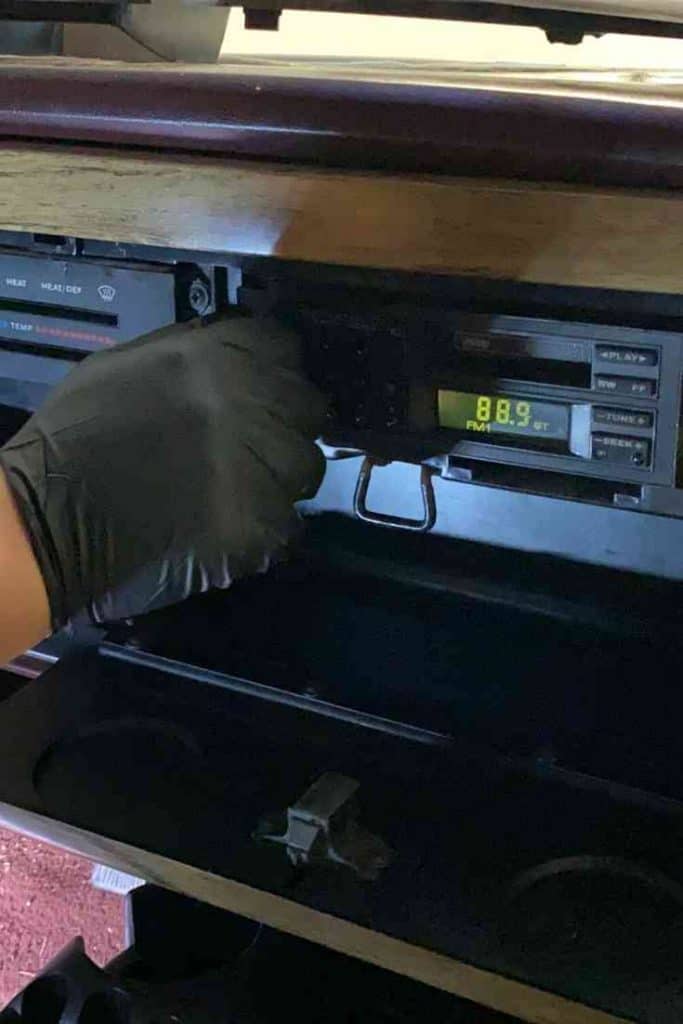 If I could figure out a way to add Bluetooth to my Jeep sound system and keep the factory radio, then I should be able to add Bluetooth in a similar way to all of my other Jeeps, including the classic Jeep Grand Wagoneer and any other Jeep without Bluetooth.
Adding An Amplifier To A Jeep Sound System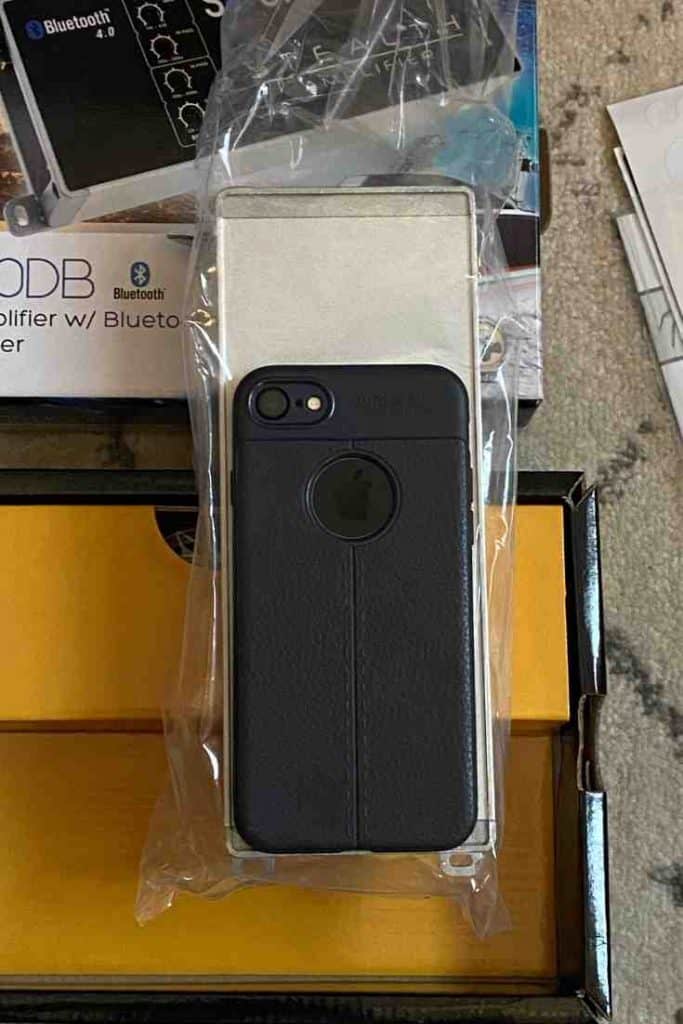 I had a clear vision of wanting a "heard but not seen" sound system for my Wrangler. It simply had to be stealth except to the ears.
The Best Amplifier For A Jeep Sound System
Bluetooth: The amplifier must offer built-in Bluetooth functionality to stream my favorite music sources
Marine Grade: Since it is a Jeep Wrangler and the odds of getting caught in the rain (or crossing a creek) are higher than a normal car amplifier
Small Size: I would like to hide it behind the dash if possible.
Powerful: Sometimes small results in a lack of power. I want enough power to drive speakers at a loud enough level to enjoy music while driving at highway speeds.
Kenwood 45 watts x 4 channels
Last update on 2023-12-02 / If you click this affiliate link and make a purchase, we earn a commission at no additional cost to you.
This was the first amplifier I considered. It's the amplifier that I most researched. Everything about this amplifier setup seemed to fit what I was looking for in my stereo upgrade.
The only thing I was concerned about was having enough power to run the speaker setup I wanted to use. My goal was to run six speakers, and I had concerns the 45 watts x4 would not be powerful enough.
As a result, I kept doing research.
Soundstream 90 watts x 4 channels
Last update on 2023-12-02 / If you click this affiliate link and make a purchase, we earn a commission at no additional cost to you.
This Soundstream Bluetooth amplifier was the second amp I considered for my stealth audio build. It, too, checked most of the boxes. It was small, marine-grade, had Bluetooth, and most of all, it was small.
I purchased mine from Crutchfield because I appreciate their one-on-one tech support, and this was the first time I had done a DIY sound system install in a Jeep Wrangler or any vehicle before.
Sure, I probably paid more at Crutchfield than on Amazon, but the value of the support was worth every penny to me in the end.
I installed the amp, but there was a lot of white noise during quiet points between songs. Working with Crutchfield tech support, we decided to run several experiments. One was to try using an amplifier I already owned.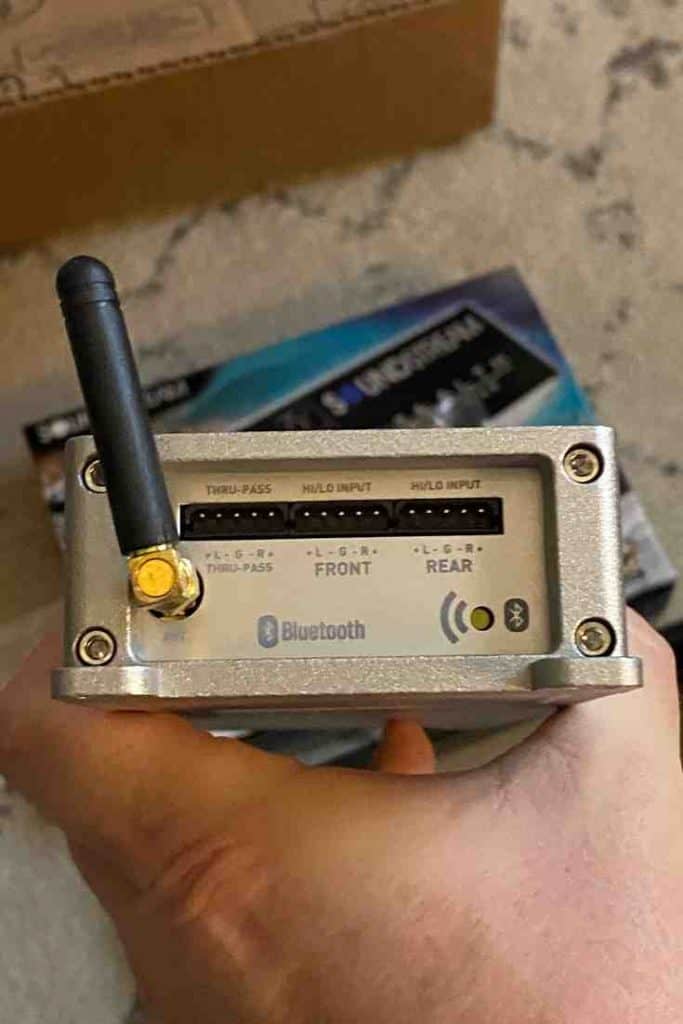 It was my plan to use this next amplifier to upgrade the sound system on my boat in the Spring.
However, because we were getting a lot of white noise in the Soundstream amp install, we decided to hook up this next amp as a test.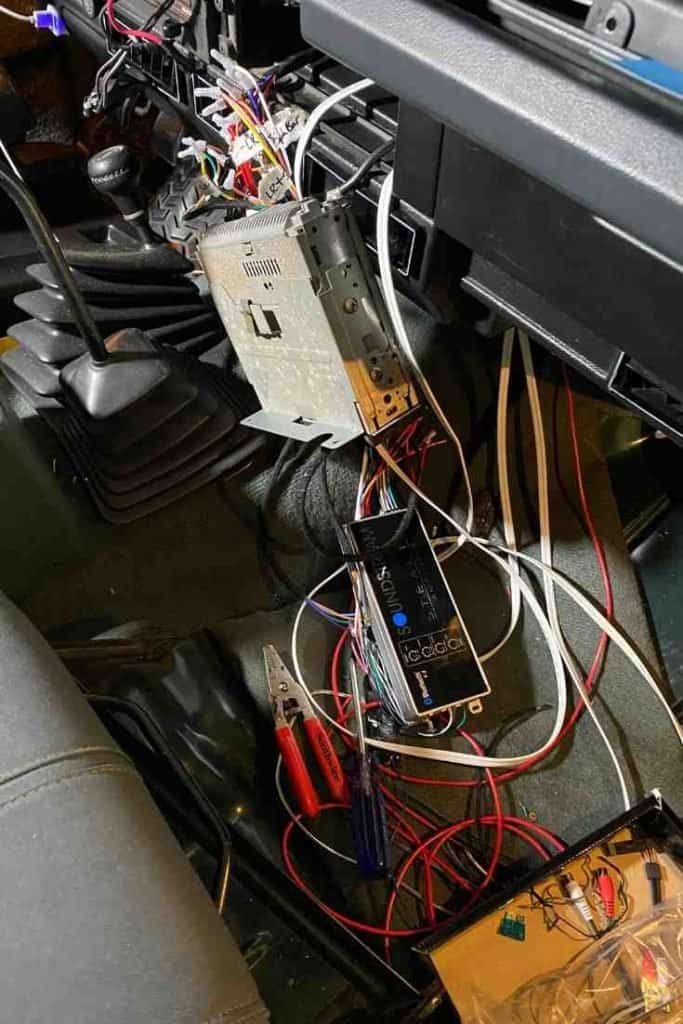 Rockville 8 Channel 1500 watt Marine Bluetooth Amplifier
Last update on 2023-12-02 / If you click this affiliate link and make a purchase, we earn a commission at no additional cost to you.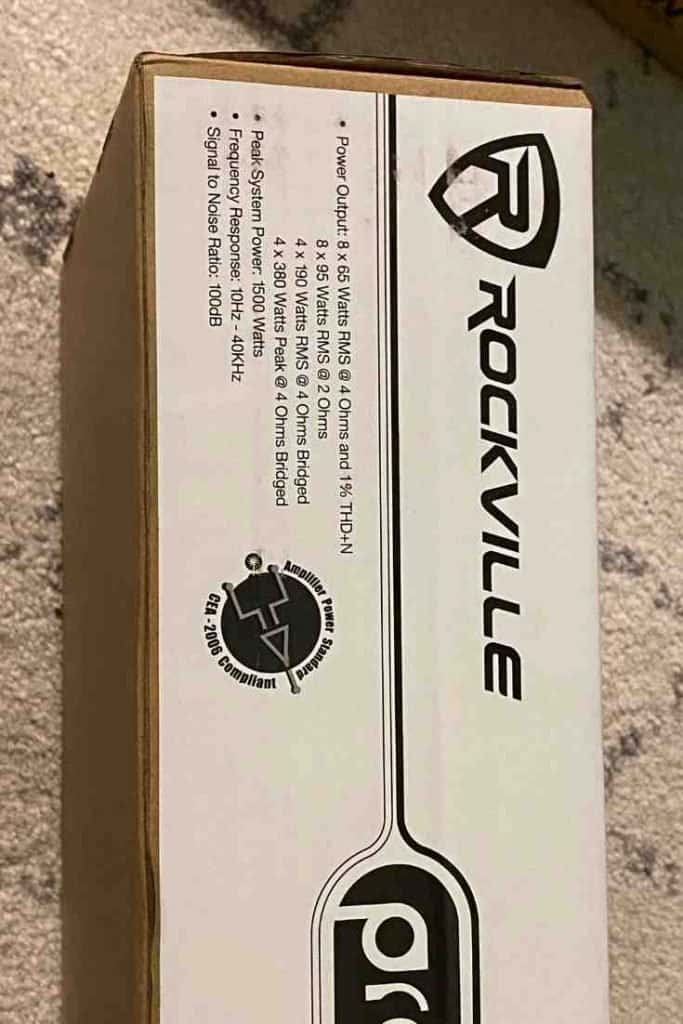 I have 8 speakers on my boat and no Bluetooth, so this was the perfect marine amplifier for my boat. I never considered the idea of using it in my Jeep.
Thankfully, the box was still in the garage, so it was easy enough to unhook the Soundstream amp and set up the Rockville Audio amplifier as a test.
Sadly, it too had the same white noise as the Soundstream. This way, I knew it was not just a Soundstream problem but rather something else.
Working with Crutchfield support, we ran a lot of tests, I even tested it on my workbench away from everything else, and it still had the white noise.
As a result of all the testing, I just decided to live with it because the audio sounds great when it's playing and I can deal with a little white noise between songs.
After setting up the Rockville amp, I liked it a lot and decided to proceed with using the Rockville amplifier for my Jeep stereo build and return the Soundstream amp.
The Rockville Amp checked all but one of the boxes I wanted for my new Jeep amp. It was marine-grade and powerful, but it was not nearly as small as the Soundstream amp.
As a result of the size and weight of the Rockville amp, I knew there was no way I could install it behind the dash.
Because of this, I decided I needed a new location, and I went with installing the Rockville 8-channel amplifier under the back seat of my Jeep.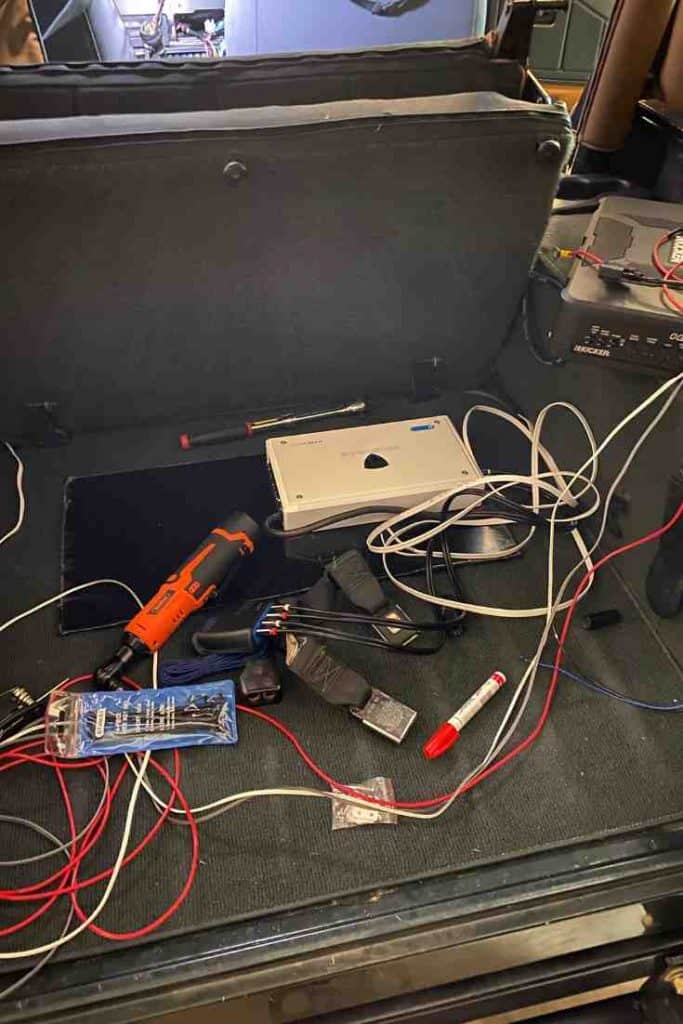 Having 2 kids, I knew I would probably never take out the back seat, so this turned into a good stealth location.
Also, by having the amp easily accessible, I could easily make setting adjustments along the way without having to pull the dash and get into awkward positions trying to reach the output controls.
The Best Jeep Speakers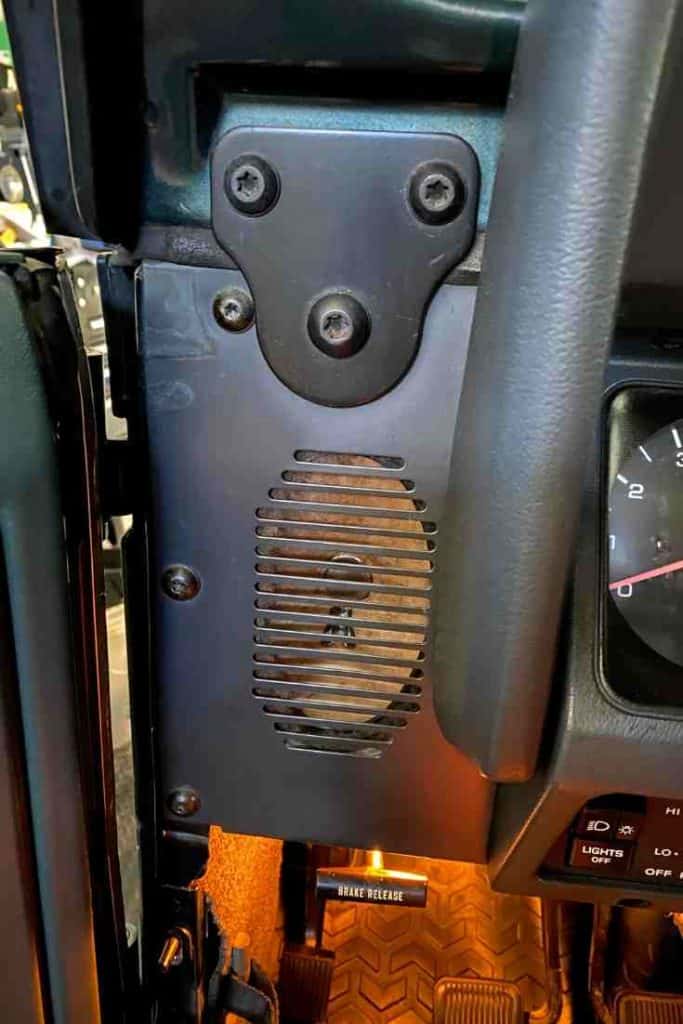 Adding aftermarket speakers to a Jeep Wrangler is one of the best upgrades a person can do to their Jeeps. This holds true for Jeep YJ, TJ, LJ, JK, and even the new JL.
This is because the factory is not installing the best components for their factory speakers. The factory speakers are often made with paper cones that easily break down in a Wrangler.
If you still have the factory sound system in your Jeep, start with speakers. It will make the most immediate improvement in sound quality.
After your speakers are improved, then you can move on to the amplifiers and radios to get the most out of your speakers.
Upgrading Front Dash Speakers On A Jeep Wrangler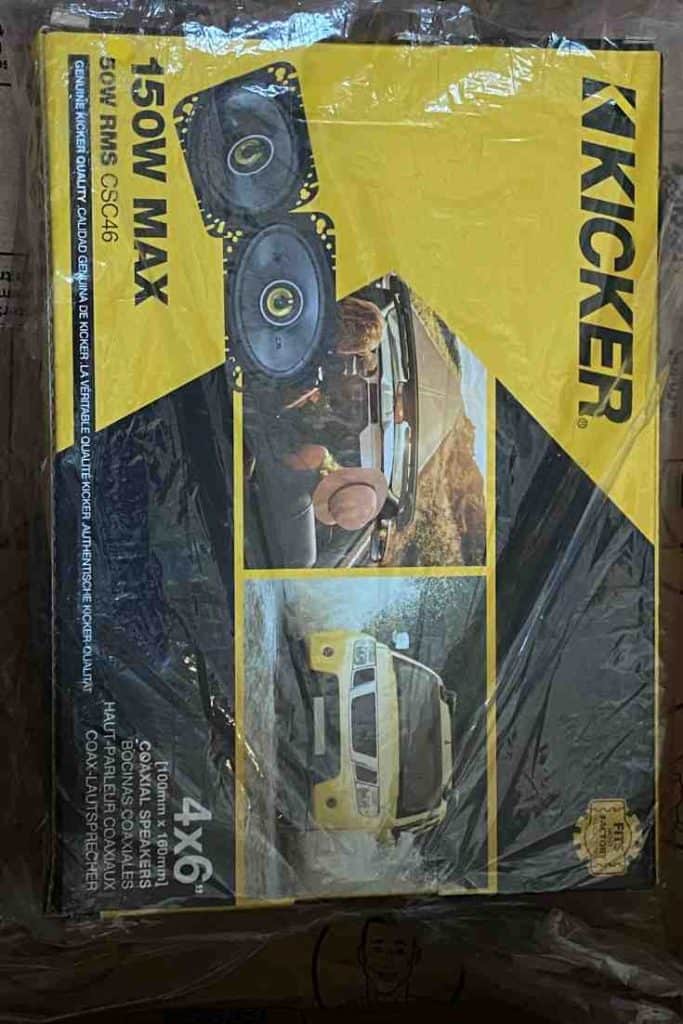 For my setup in the Jeep Wrangler YJ, I already had some 1990's era Polk 4″ round speakers installed in the factory roll bar. I was prepared to upgrade these if needed, but they sound really good, so no need to spend the money.
I would have put Polk or Kicker speakers in that location, so for now, I will live with them until they fail.
Kicker vs. Polk 4×6 Speakers For The Jeep Wrangler
Last update on 2023-12-02 / If you click this affiliate link and make a purchase, we earn a commission at no additional cost to you.
For the front dash speakers in the Jeep, I purchased these kicker speakers.
It was between the kicker 4×6 speakers and Polk 4×6 speakers. I really like Polk marine grade speakers, but the kicker 4x6s were on sale, and in my mind, I could not justify spending nearly 2x the price for the Polk.
If the price was close to the same amount at the time I was buying, I would have purchased the Polk speakers because I have always had good luck with their speakers.
Hopefully, these Kicker 4×6 speakers will hold up. On the Jeep forums, the Kicker speakers are popular for front dash speakers in YJs and TJs.
The Best Sound Bars For Jeeps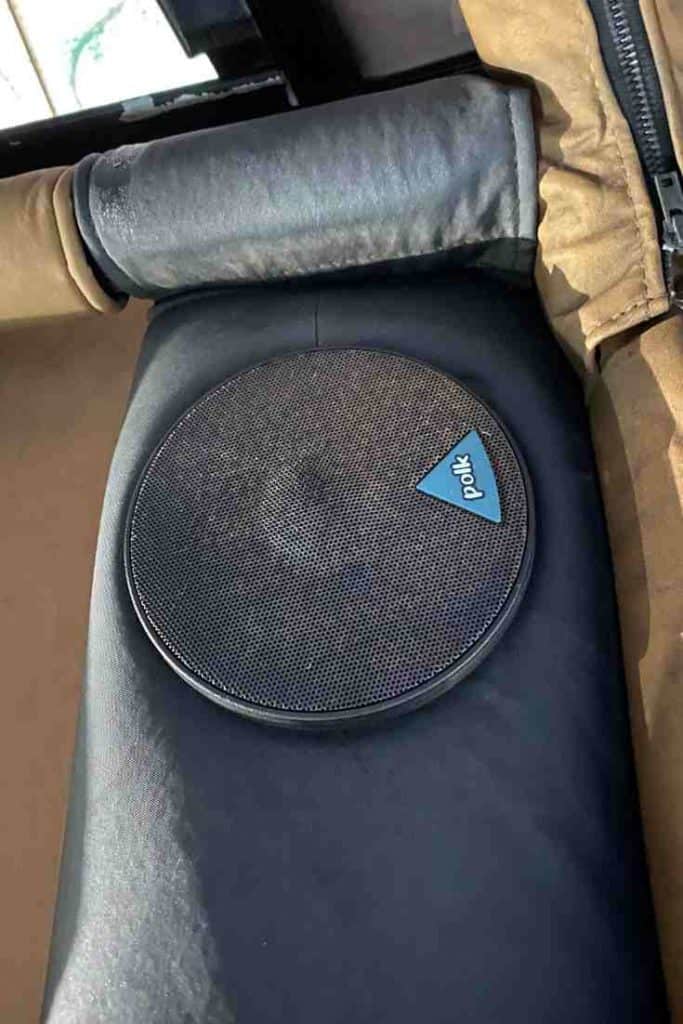 If you need soundbar speakers, I really like the Polk DB series marine-grade speaker for a Wrangler. As you know, our Jeeps are frequently exposed to the elements, even if it is just a brief rain shower where we forget to put the top up.
Regardless of how our Jeeps are most more likely to be exposed to elements that are bad for stereo components and especially speakers.
For this reason, I suggest purchasing these Polk Marine speakers for your soundbar.
Last update on 2023-12-02 / If you click this affiliate link and make a purchase, we earn a commission at no additional cost to you.
As I mentioned above, when I need to replace my soundbar speakers, this is what I will most likely be using in its place.
If you have a Jeep Wrangler JK or TJ, you can purchase a larger size speaker than the 4″ speaker used in the Jeep YJ soundbar, but I would still suggest going with a DB series Polk speaker.
Rear Jeep Speaker Upgrades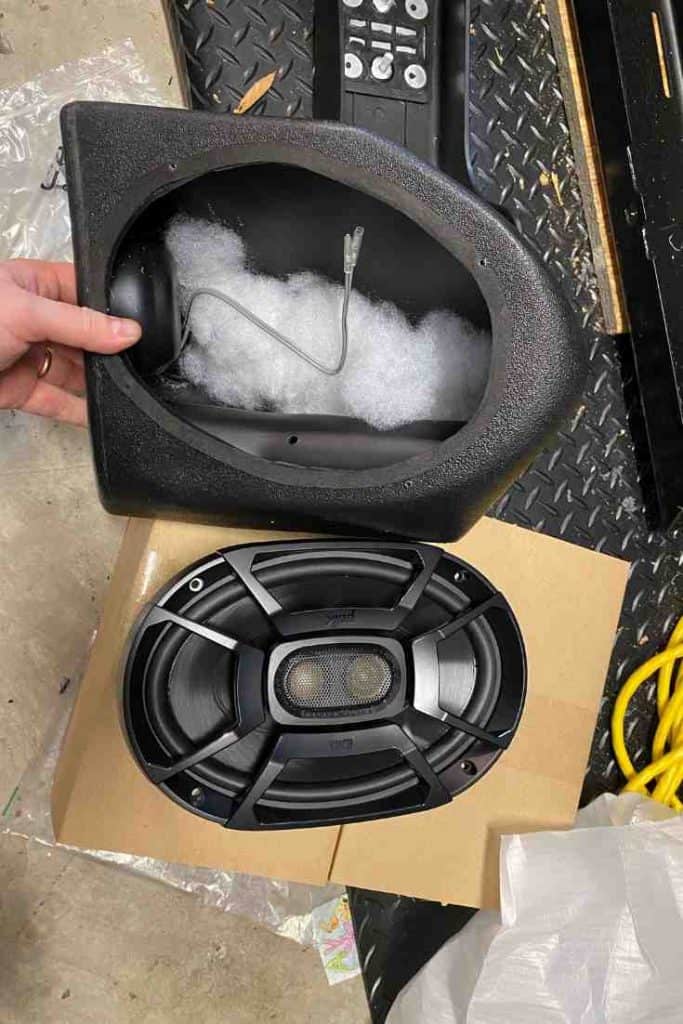 I have recommended Polk speakers for the front dash speakers and the soundbar, but I have not actually purchased any for this 1993 Jeep Wrangler Sahara build.
Last update on 2023-12-02 / If you click this affiliate link and make a purchase, we earn a commission at no additional cost to you.
That all changes with the new 6×9 are I am adding to the YJ.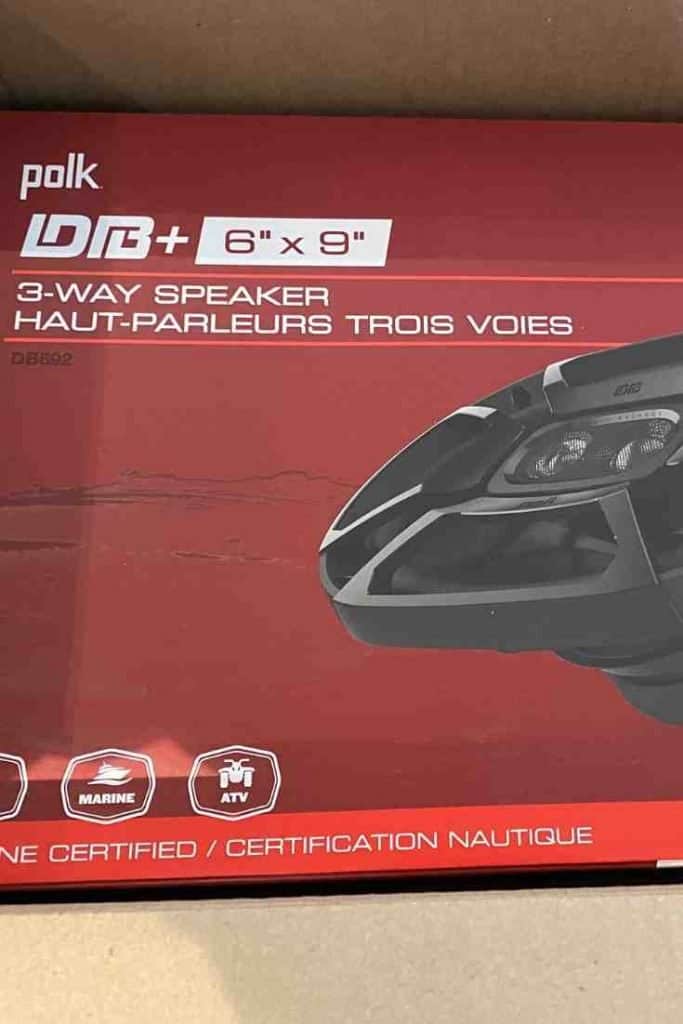 I purchased these Polk 6x9s to go in speaker wedges like these in the back of my Jeep.
Last update on 2023-12-02 / If you click this affiliate link and make a purchase, we earn a commission at no additional cost to you.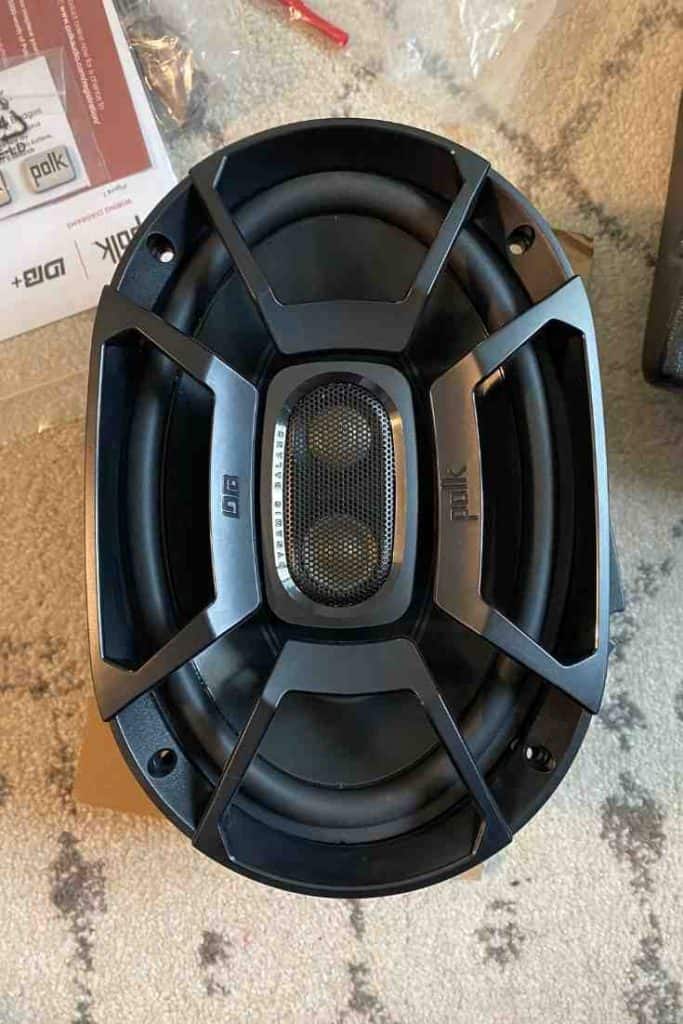 They sound amazing, and even if you don't want to add a subwoofer like I will be doing, just adding these 6x9s will add quite a bit of lower-end bass than the front 4×6 or 4″ soundbar speakers ever could.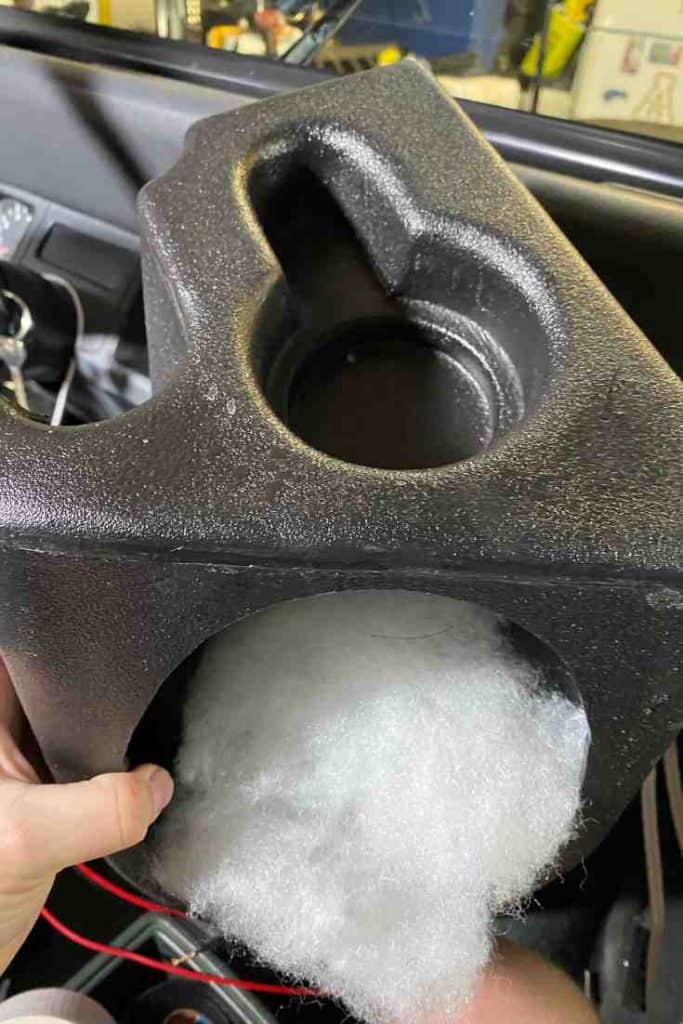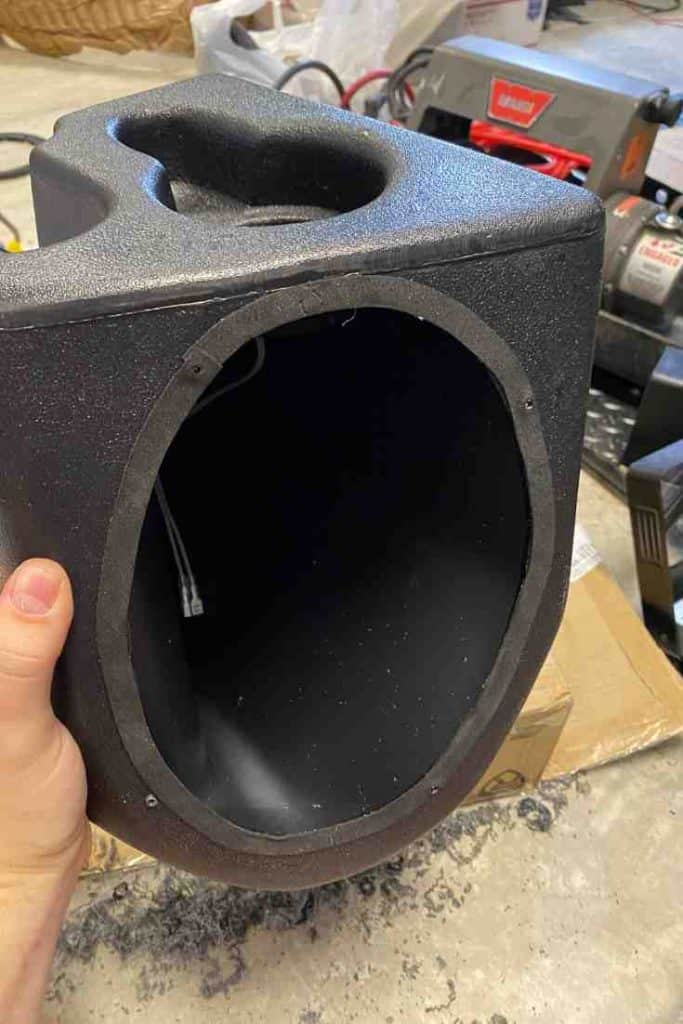 Just go ahead and buy these!
Yes, you could pay less and put these cheap 6×9 speaker boxes on your fender wells, but then everybody knows you have a sound system installed in your Jeep, and you are a target for thieves.
Last update on 2023-12-02 / If you click this affiliate link and make a purchase, we earn a commission at no additional cost to you.
Trust me, I know.
I think this is the reason why my first sound system was stolen from my Jeep Wrangler. The speaker boxes were easy to see in the parking lot. Stealth matters in a Wrangler, and these sound wedges should have been offered as a factory upgrade as far as I am concerned.
The Jeep Radio Upgrade
My objective from the beginning of this Jeep sound system build was to preserve the factory radio, not buy a new radio.
What should you do if your factory radio does not work, you don't care about preserving the factory radio, or you just want something better?
Don't worry, I've got you covered here too.
In my 2005 Jeep Wrangler LJ build, which never made it to the blog because I did not own the Jeep very long (that's a story for another day), I installed a Kenwood Radio that had Bluetooth and sounded amazing without using an amplifier.
Last update on 2023-12-02 / If you click this affiliate link and make a purchase, we earn a commission at no additional cost to you.
I never got to build out the complete sound system before I sold that Jeep. The only article I published related to the Unlimited TJ (aka LJ) was about Jeep radios.
Bonus Reading Material: These three radios will certainly make your Jeep sound system rock if you are looking for a new head unit.
Adding a Powered Subwoofer To A Jeep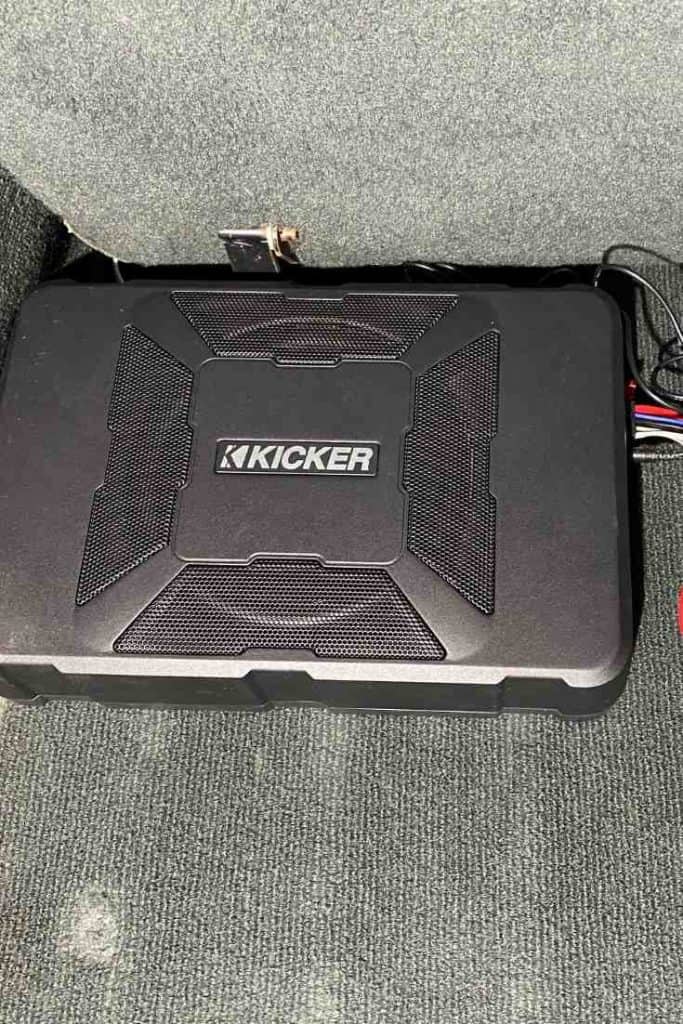 I love the feeling of low-end bass. My ears probably do not work as well today as a result of all of the years in high school listening to loud bass, but that's okay. I still like it.
For this YJ build, I no longer need to shake glass in vehicles ten cars away from me. Now all I need is solid bass to fill out the music and to still feel that low-end vibrations.
For this reason, I decided to turn to a powered subwoofer.
I have always been a purist when it comes to subwoofers, big boxes, and lots of power, but there was no way I could do this and keep the sound system stealthy.
Fortunately, a powered subwoofer is a perfect solution for bringing respectable bass into small spaces.
I chose to go with the Kicker 8″ powered subwoofer after reading the reviews on Amazon.
Last update on 2023-12-02 / If you click this affiliate link and make a purchase, we earn a commission at no additional cost to you.
Installing A Powered Subwoofer In A Jeep
The installation of the powered subwoofer was very easy. Anybody (and I do mean anybody) who wants an easy way to add extra bass to their factory or aftermarket Jeep stereo system should consider adding a powered subwoofer.
Powered subs come in all shapes and sizes. Bazooka tubes like this one are known for their booming (but not really tight) sounding bass.
Last update on 2023-12-02 / If you click this affiliate link and make a purchase, we earn a commission at no additional cost to you.
My buddy used to run one, and it definitely provided a ton of bass in a less expensive package.
However, after using this 8″ Kicker Hideaway powered subwoofer, my bet is it will work for most people, and it is easy to hide under a seat or some other stealth location.
To install the Kicker-powered sub, you simply run a power and ground line. Then you tap into either your front or rear speakers wires to get your input into the sub.
It really is that easy.
Of course, I had to be different. Well, not that I had to do it differently just for the sake of being different, but I ran the Rockville 8-channel amplifier, and I only have six speakers installed.
Because I had 8 channels, only six speakers, and the powered sub was sitting directly beside the amplifier, I chose to run speaker wire from channels 7 and 8 directly to the powered sub.
Sure, the power from the amp does nothing for the powered sub (at least, I don't think so), but it made my life easy to do it this way, so that's how I did it.
Installing An New Amplifier In A Jeep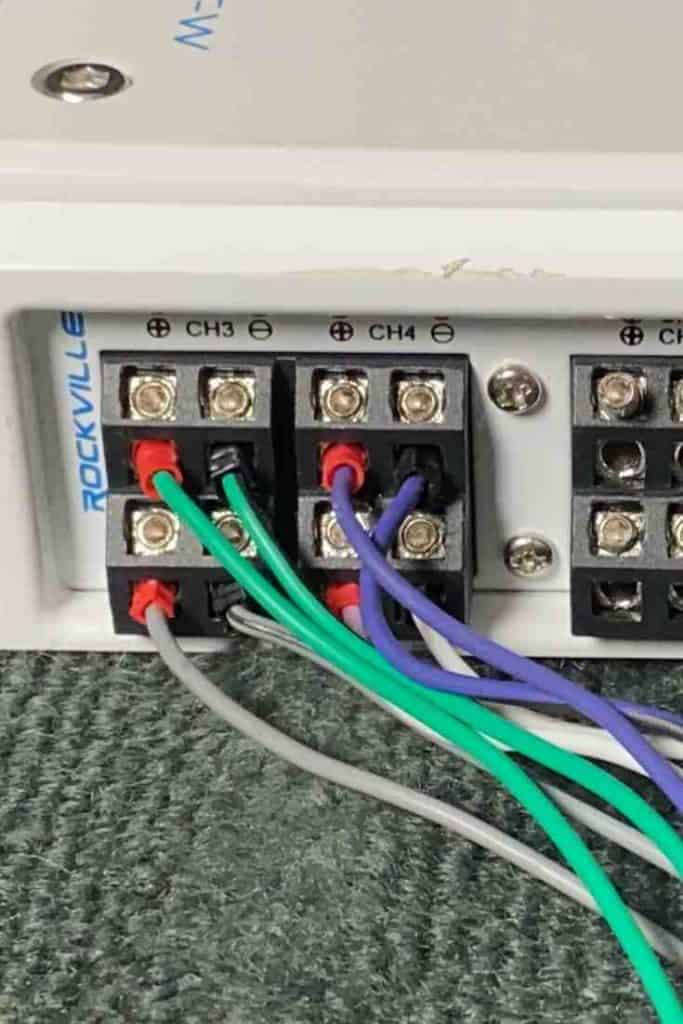 Whether you are installing an amplifier in a YJ, TJ, JK, or JL, the process is fairly similar. You need your amplifier to operate between your radio and your speakers.
Without an amplifier, your radio will provide power to your speakers. Factory radios do not have a lot of power output, so that's one of the reasons amplifiers make such a big difference in a sound system.
To make the amplifier work, you have to get the sound from the radio into the amplifier, and then the amplifier enhances the sound and pushes it out to the speakers in your Jeep.
As a result, you will need to cut wires in order to make this work. If I had used the Kenwood or Soundstream amps, then I might have been able to tap into the factory wires and put the amp behind the dash.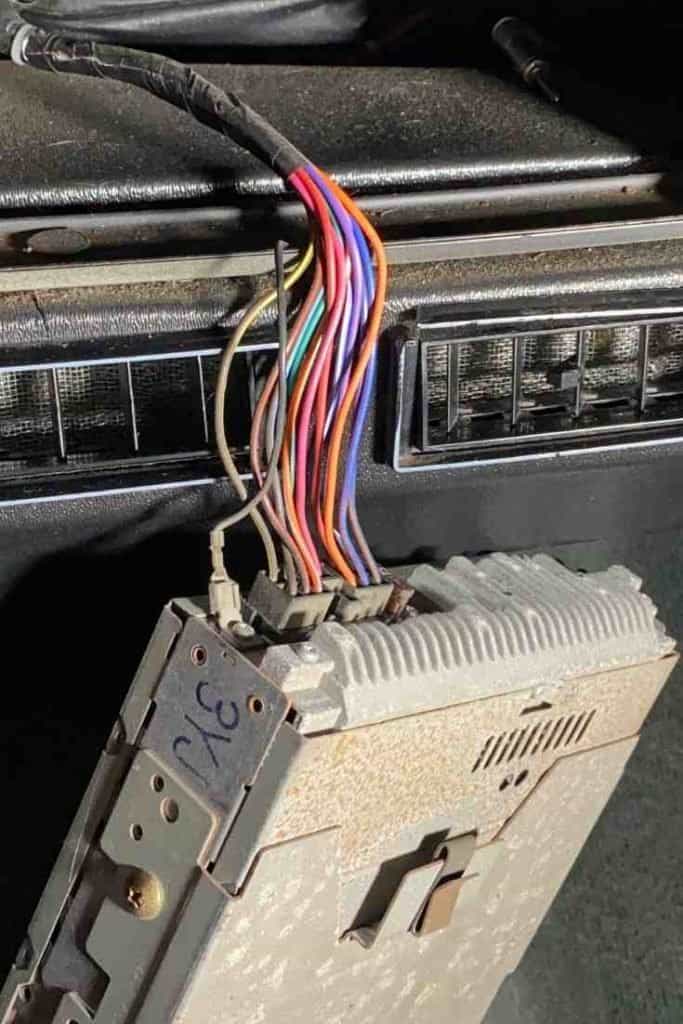 Remember, this was my original plan for the YJ stealth stereo build.
The unfortunate part of deciding to use the bigger amp and put it under the back seat is the need to run 4 gauge power from the battery all the way to the cargo area.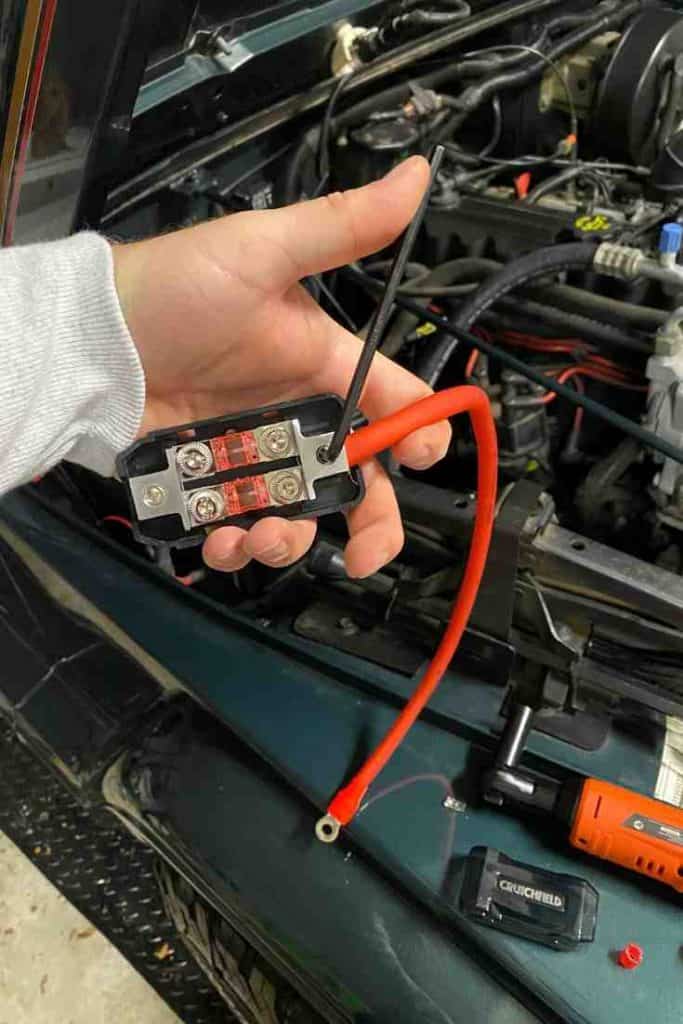 Also, I need to get the radio signal to the amplifier in the back.
Then, I have to run wires from the amplifier back up to the front to tie them back into the factory speaker wires to get sound out to the speakers.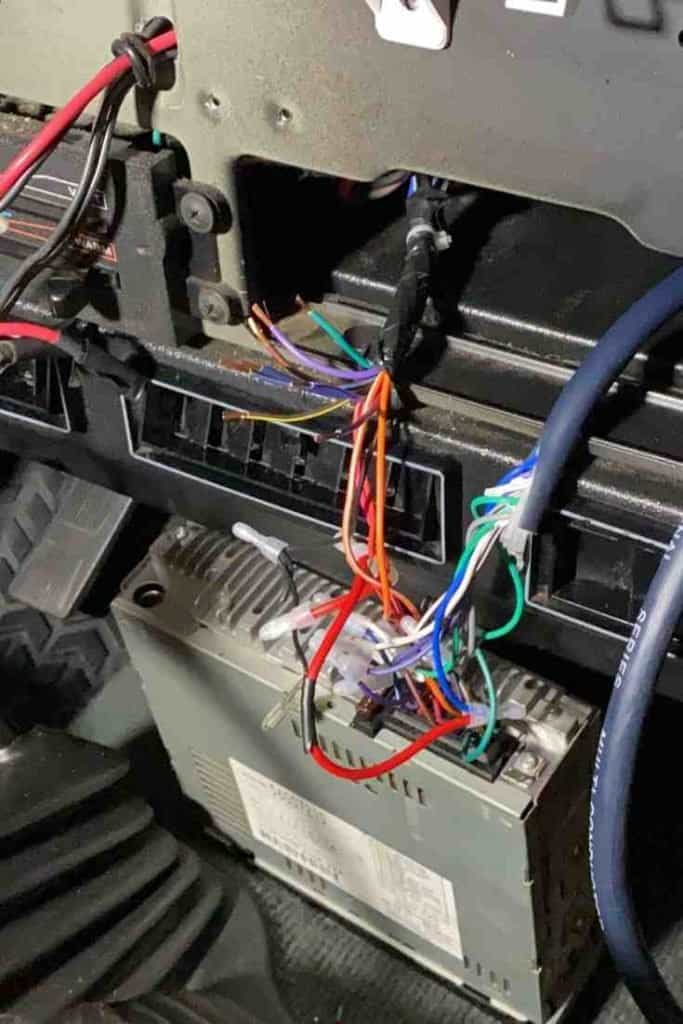 One bonus of installing the amp in the back of the Jeep was it made running the speaker wire to the rear speaker wedges really easy. I still had this 14 gauge marine speaker wire left over from a project on my boat, so that is what I used.
Last update on 2023-12-02 / If you click this affiliate link and make a purchase, we earn a commission at no additional cost to you.
Wiring An Amplifier To A Jeep Radio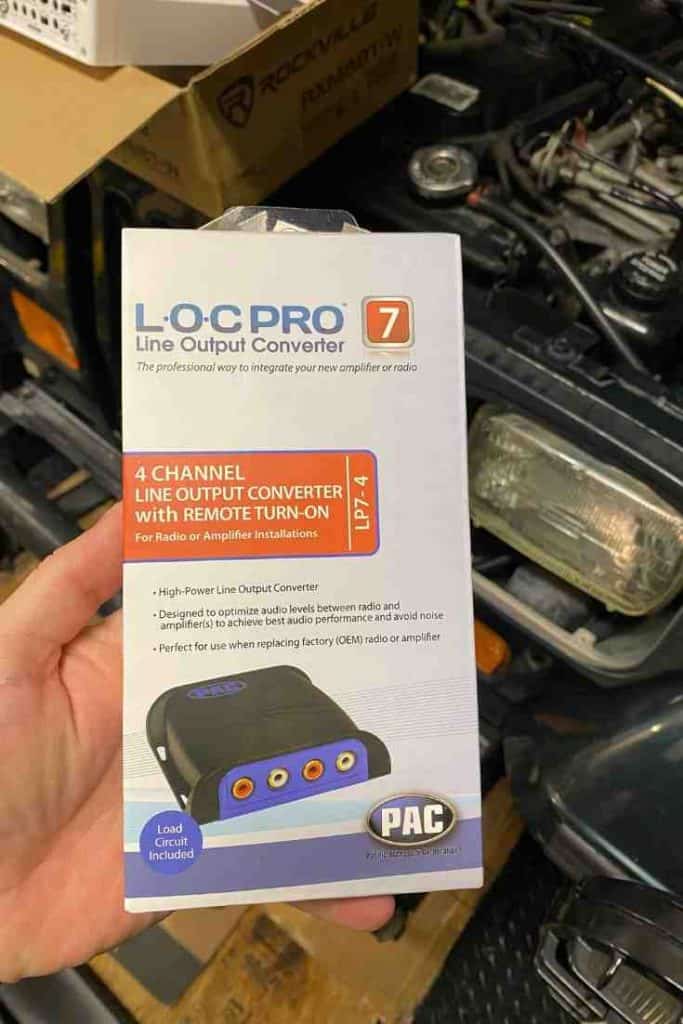 The Rockville amp requires RCA input from the radio. This is a challenge that you must overcome when dealing with most factory radios.
Most stock radios that come from the factory do you come with RCA outputs to add amplifiers. As a result, you need what is called a line output converter.
I first bought a SCOSCHE SLC4 Car Stereo Speaker 4-Channel Audio Lineout Converter. I thought that would be the way to go, and it may be a great unit, but I watched a few very negative YouTube videos about it the product from this seller, so I got nervous.
Remember, this was my first stereo system install, and I did not want to make a mistake. I watched many more install videos and read a ton of reviews. As a result, I chose to go with this Pac Pro Series line output converter (LOC) from Amazon.
Last update on 2023-12-02 / If you click this affiliate link and make a purchase, we earn a commission at no additional cost to you.
Both the Scosche and the PAC got 4 out of 5 stars. I never installed the Schoche, so I cannot give an opinion if one is better than the other, but I can say the PAC was very easy to install, it has two gain controls on it, and everything hooked up super easy.
From the line output converter, I ran these 12-foot 4-channel RCA cables from the LOC behind the dash, under the carpet, and up to the amplifier in the back of the Jeep.
I think these RCA cables worked well because the line was not too thick, and it was all hooked together, so it lays down flat under the carpet.
I was worried that too many cables going under the carpet would make it bulge and look bad. Thankfully, with my setup, this was never an issue.
Wiring Jeep Speakers From Your Amplifier To Your Radio
In the last step, we used RCA cables to get the radio signal to the amplifier. Now we have to get the amplified signal back to the speakers.
To achieve this, support at Crutchfield suggested using 9-wire speaker wire. Because I already had everything and I was talking to support over the weekend, I needed to get the wire quicker than Crutchfield had the capability of shipping it to me, so I got this version from Amazon with one-day delivery via Amazon Prime.
Last update on 2023-12-02 / If you click this affiliate link and make a purchase, we earn a commission at no additional cost to you.
I hooked 8 of the 9 wires (no need to hook up the blue remote wire) to the speaker output plugs on the amplifier and ran the 9-wire cable under the carpet and behind the dash so I could crimp it to the factory speaker wires and get the signal out to the 4 factory speakers (front 4×6 dash speakers and 4″ soundbar speakers).
Connecting A Powered Sub And Amplifier In Your Jeep
To some extent, I described how both the power sub and amplifier are connected via speaker wire for sound, and they both need power and ground to work.
What I did not describe is how I actually hooked them up to make for an easier install.
I purchased this 4-gauge amplifier install kit from Crutchfield to hook up the amplifier in the back of the Jeep. Then I got these y-splitters so I could distribute power to both the amplifier and subwoofer without running two power lines through the firewall to the battery.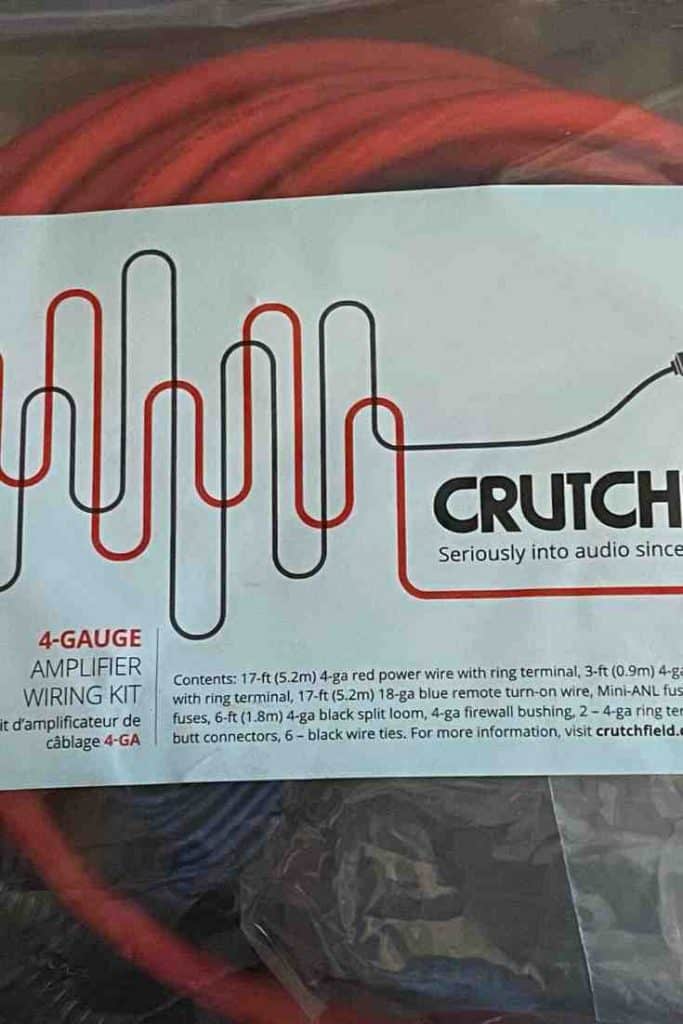 I did the same thing with the ground. I did learn that some devices work better with their own separate ground, but when I tested it, I found no difference in hooking the subwoofer and amplifier to the same ground.
If you are having sound problems with your install, try using a separate ground and see if that makes any improvement.
As of the time of writing this article, I have not trimmed the speaker, power, or ground wires for the powered subwoofer. I want to live with it installed under the back seat for a while to make sure that is the best location for my needs.
If I find that the back seat muffles the sound coming out of the sub too much, I can always move it and see if it does better located under the Jeep's driver seat.
You would not want to mount a powered sub, amplifier, or anything under the passenger seat of a two-door Jeep Wrangler.
This is because the passenger side is the side where the seat moves forward the most to let passengers get into the back of the two-door Wranglers.
Just something to consider before you install your stereo system in your Jeep.
If you have a 4-door Jeep Wrangler Unlimited, then installing equipment under either the driver or passenger front seat should work out just fine.
Hiding Jeep Sound System Wires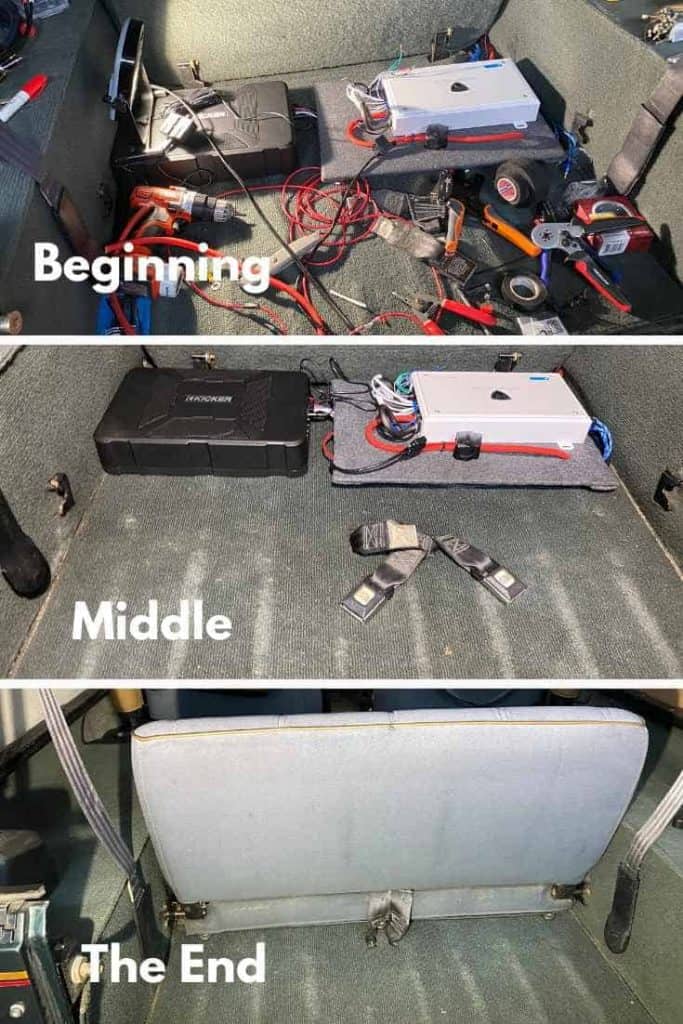 Throughout this entire process of installing a stealth stereo system in my 1993 Jeep Wrangler YJ, I have watched a TON of YouTube installation videos. Getting a wiring harness and hiding it behind an enclosure is an art.
Some of them look like crap, and others look like amazing works of art.
I knew I wasn't capable or patient enough to turn my build into a work of art, but I did want to clean up the look a little bit and make the installation look a little better.
Also, I did not want to drill into the body of the Jeep, so I came up with an idea.
My Amplifier Mounting Solution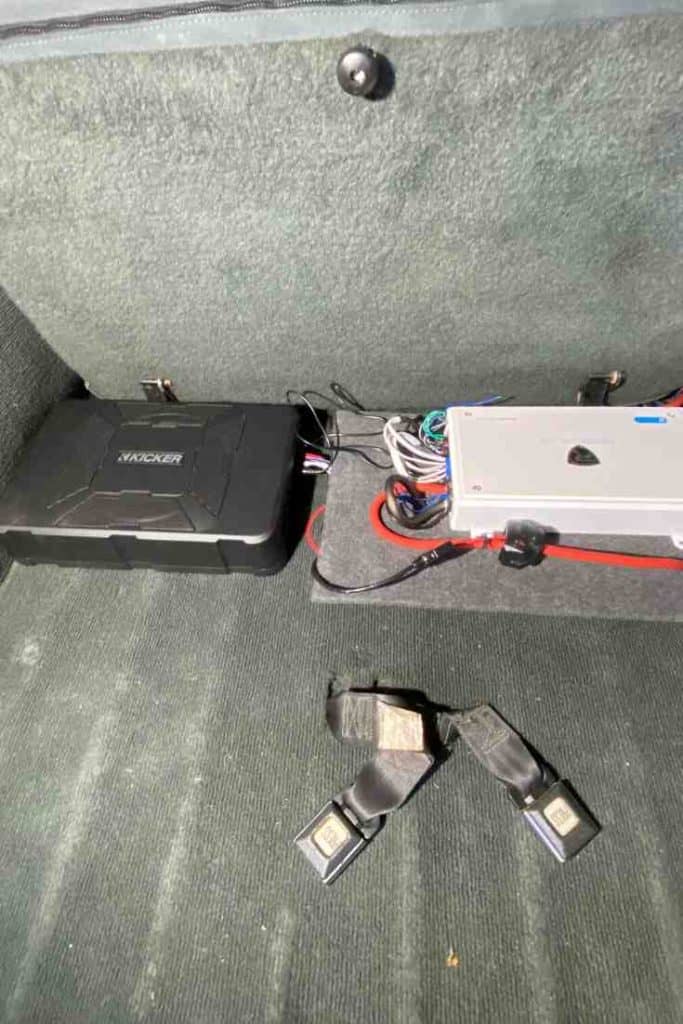 I had a piece of black acrylic in the garage that I had from a prior project. I decided to use it to create a mounting bracket for the amplifier and then hide all of the loose wires underneath.
In hindsight, let me save you some agony. Acrylic is NOT the right material for the job. Go to the hardware store and buy some wood.
This said, I got creative and made it work well enough for my purposes. I was able to cut it to size, drill holes for the wires to go through, and then glued wood on the bottom to serve as legs to keep in the extra wires and also raise the amplifier up higher off of the body of the Jeep.
Remember, I did not want to bolt or screw the amplifier to the body of the Jeep. For all you serious car audio installation guys, I know you think I am crazy, but here's what I did instead.
Raising the height of the amplifier using the wood and acrylic base allows the seat to actually hold the amplifier and everything tightly in place.
I measured so that the height of the amplifier will be perfectly fit between the cargo area floor and the rear seat bottom.
This way I can bounce around on a trial and not worry about the amplifier getting loose or damaged. The one fear it does introduce by not being bolted down is the fact it makes it easier for a thief to take.
I do understand that risk, but it is a risk I am willing to take.
Closing Thoughts
To wrap this article up, I keep asking myself, now that I have completed my first Jeep stereo system installation, would I do it again?
That is a tough question. I pretty much completed five different installations between the two amplifiers, testing the Bluetooth functions and trying to remove the white noise present in the system.
Knowing what I know now, it would have been a much better use of my time and money to simply hire someone like Best Buy or another local installer to do the work.
With this said, I learned a ton! I would suggest if it is your first time, shop at Crutchfield because their installation support is excellent.
As an experienced stereo system installer, you can save some money buying through Amazon, but there is no support offered, so that is why I was thankful to have Crutchfield helping me out.
So, would I install a sound system again in the future? Absolutely.
I plan to purchase another Rockville Audio marine amp to install this spring in my boat, and I would not hesitate now that I know what I am doing to do an install on another vehicle.
The best part is that I know exactly what I am doing now, so the next stereo system installation should be super easy to complete.