The 6 Best Vacuums For Car Detailing And How To Choose!
If you like to have your car detailed frequently, it can be quite expensive. It is cheaper to do it at home. So, what are the best vacuums for car detailing? When surveyed, many vehicle owners revealed that they can spend anywhere from $98 to $30ama0 or more per session when they want to get their vehicle detailed by a professional detailing service. The range in cost depends on the size of the vehicle, the location of the detailing business, and the types of services requested. Services like waxing, steam cleaning, and polishing, can add up and create quite a large bill. Many vehicle owners find that by detailing their vehicles themselves, they can save hundreds of dollars a month. Part of doing a professional-level detailing job at home involves vacuuming the interior. If you are looking for a new car vacuum, then you may want to consider a vacuum designed specifically for vehicles.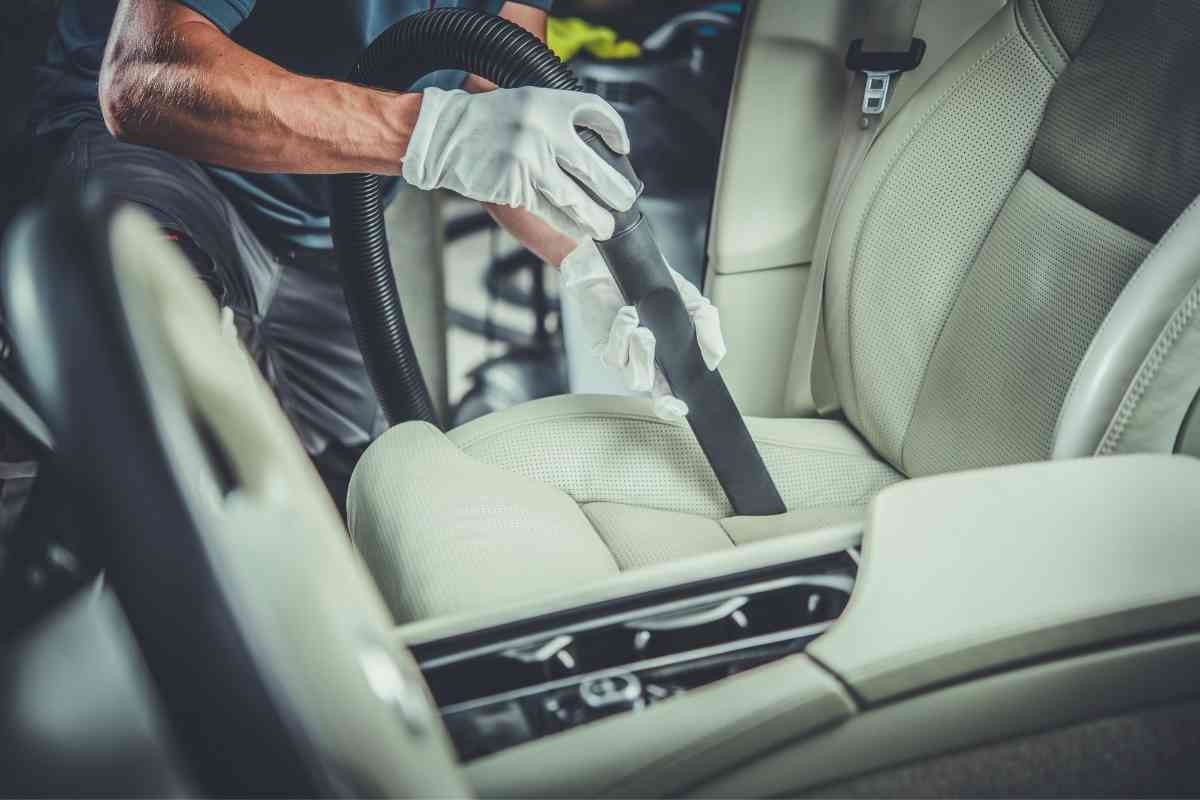 Table of Contents
What's the best vacuum for car detailing?
The best vacuums for car detailing in 2022 include the following vacuums:
Vacmaster Wet/Dry Vac
Bissell Wet Dry Car Vacuum
Stanley Portable Car Vacuum
Armor All Wet/Dry Vacuum
Opolar Cordless Air Duster and Vacuum
Craftsman Wet/Dry Vac
One of the main purchases you will have to make if you are looking to do your car detailing yourself at home is a vacuum cleaner. You could always use your home vacuum cleaner. However, it may be best to use a vacuum that is specially designed for car detailing, that comes with some additional features and/or attachments that a home vacuum cleaner may not, and that is a vacuum that can remain in the garage, allowing you to not mix outside dirt and debris with your inside vacuum.
Doing so may expose your home's interior carpets to outside first, dust, and pollen. If you or a family member have allergies, then you will for sure not want to track outdoor allergens in the home. So how do you know which detailing vacuum cleaner is best for you and your vehicle?
Let us take a deep dive into what you will want to consider and look for in a vacuum that you plan to use for detailing your car, as well as break down the specifications of some of the best-detailing vacuum cleaners currently available.
The best vacuums for car detailing in 2022
As mentioned before, some of the best brands for car detailing vacuum cleaners include raftsman, Vacmaster, Bissel, Stanley, Armor All, Black and Decker, Opolar, and Orfield. Let us take a look at what consumers are buying in 2022 as we lay out the best vacuums for car detailing in 2022.
1. Vacmaster Wet/Dry Vac
The Vacmaster Wet/Dry Vac is a 5.5 horsepower vacuum with five gallons of capacity and a durable corrosion-resistant polypropylene canister. Many people love the power that this vacuum contains as it makes it easy to clean up dirt and debris from the interior of the vehicle, including dog hair and other hard-to-vacuum substances.
The vacuum has both wet and dry capabilities, therefore, it can be used to clean any type of mess, even pet accidents that should happen to occur on your beloved seats.
The vacuum weighs approximately 13.5 pounds, and it does not come mounted on wheels. Not being mounted on wheels allow you to easily set the vacuum down in your vehicle while you are using it, however, when you are simply moving it around the garage, you will need to carry the 13.5-pound machine by its handle.
The Vacmaster Wet/Dry Vac only comes corded. However, the cord is an impressive 18 feet long to make its reach more accommodating for the user. This vacuum can be found for sale on Amazon as well as many other online and brick-and-mortar retailers across the US and Canada.
2. Bissell Wet Dry Car Vacuum
If you are looking for a new wall-mount car detailing vacuum cleaner to install in your garage, then you should know that many consumers strongly recommend the Bissell Wet Dry Car Vacuum. This wall-mounted comes with all the desired features that typically come with wall-mounted vacuums. Power, convenience, and versatility.
The Bissell Wet Dry Car Vacuum comes with a 12-amp motor, an extra long 32-foot vacuum hose, and seven different attachments to help make reaching dirt and debris in even the tightest pockets easy. The attachments are ideal for vacuuming floors, mats, carpet, upholstery, and even vinyl dashboards and cupholders.
There is a four-gallon canister that can hold both wet and dry messes and the canister is semi-translucent to make it easy to know when it is time to empty it.
One feature of this wall-mounted vacuum that sets it apart from the competition is the fact that it can be converted into a blower. Use the blower function to clear out dead leaves from under the hood or to blow out dust and debris from your garage floor. Installation is simple and can be done yourself within a few minutes.
3. Stanley Portable Car Vacuum
Stanely is a trusted brand that has been making industrial tools, household hardware, and vacuum cleaners for decades. The Stanley Portable Car Vacuum is a favorite among vehicle owners who are looking for a powerful but lightweight vacuum to give their vehicle interior the best detailing and cleaning possible.
The horsepower motor provides the incredible suction power to help clean up both wet and dry spills from inside your vehicle.
Although the vacuum is extremely powerful with the three-horsepower engine, it only weighs 8.65 pounds making it easy to maneuver and transport. The three-gallon tank is also large enough to store a lot of debris without the need of emptying the canister in the middle of the job.
The biggest downside of the Stanley Portable Car Vacuum is the extra short power cord. The power cord is only six feet long. Having a six-foot restriction on where you can place your vacuum while it is being used may be quite inconvenient for many.
That is why it may be best to make sure you own a heavy-duty extension cord that you can use to extend the range the vacuum has. Other than that, the Stanley Portable Car Vacuum has been top-rated year after year for professional and individual use.
4. Armor All Wet/Dry Vacuum
Another trusted brand in the automotive world is Armor All. The Armor All Wet/Dry Vacuum would make an excellent addition to any garage for someone looking to complete all their vehicle cleaning needs at home. The lightweight and portable vacuum come in at only seven pounds, making it easy to carry around as you move throughout your vehicle.
Additionally, the vacuum comes with six different accessories and attachments that can easily be stored on the body of the vacuum, making it easy and convenient to switch attachments in the middle of a job. The different attachments are ultra-narrow and just the right shape and size to find dust and dirt in every little crack and corner of your vehicle.
They also are made to work on any type of material from leather to cloth.
The main complaint about the Armor All Wet/Dry Vacuum is that it has been reported it can clog easily. The design of the vacuum neglected to leave enough space at the connection point between the canister and the vacuum hose meaning that larger debris like paper can easily clog the vacuum during use.
5. Opolar Cordless Air Duster and Vacuum
The Opolar Cordless Air Duster and vacuum is a different kind of handheld vacuum than maybe what you are used to seeing with a dustbuster or other popular type of handheld vacuum. This little gadget is extremely powerful and acts as not only a vacuum but as an air duster as well. The vacuum is powerful enough to suck up dirt and dust and the air duster is efficient and blowing out dust found in the vents, window sills, and dashboard.
This cordless air duster and vacuum comes with a few different attachments that are uniquely designed to be ultra-small and shaped perfectly to get to all the hard-to-reach places that a car possesses. Easily vacuum between the seat cushions, under the seats, in the cup holders, and in the door frame cracks. The most works at an astounding 60,000 RMP to create both powerful sucking and blowing wind force.
One last feature to mention about this device is that the battery is actually quite long-lasting and it can be easily charged with a USB device including a car charger that plugs into a cigarette lighter or USB port if your car has them. This little portable vacuum/air duster weighs only 0.87 pounds and it can be found for sale on Amazon and many other online retailers.
6. Craftsman Wet/Dry Vac
Although the Craftsman Wet/Dry Vac is considered more of a shop vacuum that would be best used in a woodworking or mechanics shop, it can still make a wonderfully powerful vacuum ideal for cleaning the interior of work trucks and large vehicles that can create quite a mess.
The motor boasts 6.5 horsepower of pure suction power that will not leave behind any debris the first time over. There is also a blower port on the back of the canister which means you blow out larger debris from your vehicle or garage with ease.
The main downside of the Craftsman Wet/Dry Vac is that it is incredibly heavy and does not travel well. If you purchase this beast, the chances that it is leaving your garage are pretty slim. However, if you are looking for the most powerful car detailing vacuum available, then this Craftsman is ideal.
What should you look for in a car detailing vacuum?
When you first decide you are ready to start detailing your car at home, one of the first purchases you will need to make is for a new car detailing vacuum cleaner
before you start your search, it is important that you understand that a car detailing vacuum is not the same thing as a shop vacuum. A shop vacuum is a heavy-duty vacuum cleaner used to clean spills and garage floors that may have larger pieces of debris like wood shavings, leaves, and loose nuts and bolts. Shop vacuums can also handle liquids.
A car detailing vacuum is something completely different. A car detailing vacuum is specifically designed for vacuuming the floors, seats, dash, and every corner of the interior of a vehicle. Additionally, you will not want to mix whatever it is you use your shop vacuum to clean up the interior of your car.
By using a specified car detailing vacuum, you can ensure you are not tracking in outside dust and debris that your shop vacuum has been used for in the past. So, with so many car detailing vacuums available for purchase, how do you know which one is best for you?
When you first shop for a new car detailing vacuum, you may notice that there are all different types of vacuums. Vacuums can come as a handheld, canister. upright, or wall-mounted. Let us take a closer look at these different types of vacuums and what makes them different from one another.
Wall-mounted vacuum
Wall-mounted vacuums are typically the most powerful type of vacuums that you can find. The vacuum itself is mounted onto the wall in your garage along with the canister that collects all the dirt and debris you suction from the floors and seats of your vehicle.
These vacuums come with extra long hoses to make it possible for you to reach every corner of your vehicle's interior. However, you still will want to think about where exactly you mount the vacuum in order to make sure it is in a central location that makes it easy to detail your entire vehicle.
Wall-mounted vacuums typically come with several different attachments and an extra-long flexible hose. These vacuums tend to be the most expensive, however, they are the most powerful and easy to use since the body of the vacuum is stationary.
Most wall-mounted vacuums do not take kindly to liquids, so if you are trying to clean up some spilled soda or melted snow, you may have to take your vehicle into a professional detailing shop to clean liquid spills and stains.
Hand-held vacuum
Hand-held vacuums have many advantages and disadvantages when compared to the other vacuum types. Hand-held vacuums are lightweight, portable, and often cordless, making them extremely convenient to maneuver. You do not necessarily need to be in your garage to use them. As long as the battery is charged, you can take your hand-held car detailing vacuum cleaner anywhere to clean up dirt and debris from your vehicle's interior.
The main disadvantages of hand-held vacuum cleaners include the fact that they generally lack suction power, cheaper models tend to have low battery life, and the nozzles can be awkward and too bulky to fit into all the little nooks and crannies you are going to want to get into to give your vehicle the best detailing job possible.
Canister
A canister vacuum is what most people would typically call a shop vac. Although a shop vac is not the most ideal type of vacuum to use for detailing your vehicle, it can work pretty well if used properly. A canister vacuum typically plugs into a wall with a long extension cord.
The canister contains a powerful vacuum motor that is mounted on a set of wheels so that the vacuum can be wheeled around to where it is needed so the flexible hose and attachment can reach the area to be cleaned.
Canister vacuums often come in both a dry-vac and/or wet-vac model making it possible to clean up any type of mess that may occur in your vehicle. The main downside is that the hoses on canister vacuums tend to be much shorter than wall-mounted vacuums making them awkward to use at times when you trying to clean your car.
Upright
Upright vacuums are what you most likely will find in a person's home that is used to clean carpets, rugs, and hardwood or tile floors. They often come with a hose and several attachments for vacuuming couches and other furniture and some people try to use them for car detailing.
It is not recommended to use an upright vacuum for detailing your car. Upright vacuums often come with extremely short hoses that make using them in a vehicle quite difficult.
Additionally, the shape of the upright vacuum can make using the vacuum in the garage to detail the car very awkward. It may fall over, get in the way, and basically just be a pain to work with. It can make a detailing job on your vehicle much more difficult than it needs to be.
Once you decide on what type of vacuum you are looking to purchase for detailing your car, then you will need to consider the features each vacuum contains and how that may be beneficial to you.
Some of the questions that you may want to be asking yourself include what kind of attachments would be best for detailing a car? What attachments come with this particular vacuum? What capacity do you need? Should you go with a cordless vacuum or opt for a plug-in vac? Will you need to clean up a lot of liquid spills in your vehicle or mainly just dirt and debris? These are the types of questions that are important to consider before making your final purchase.
What kind of features do car detailing vacuum cleaners have?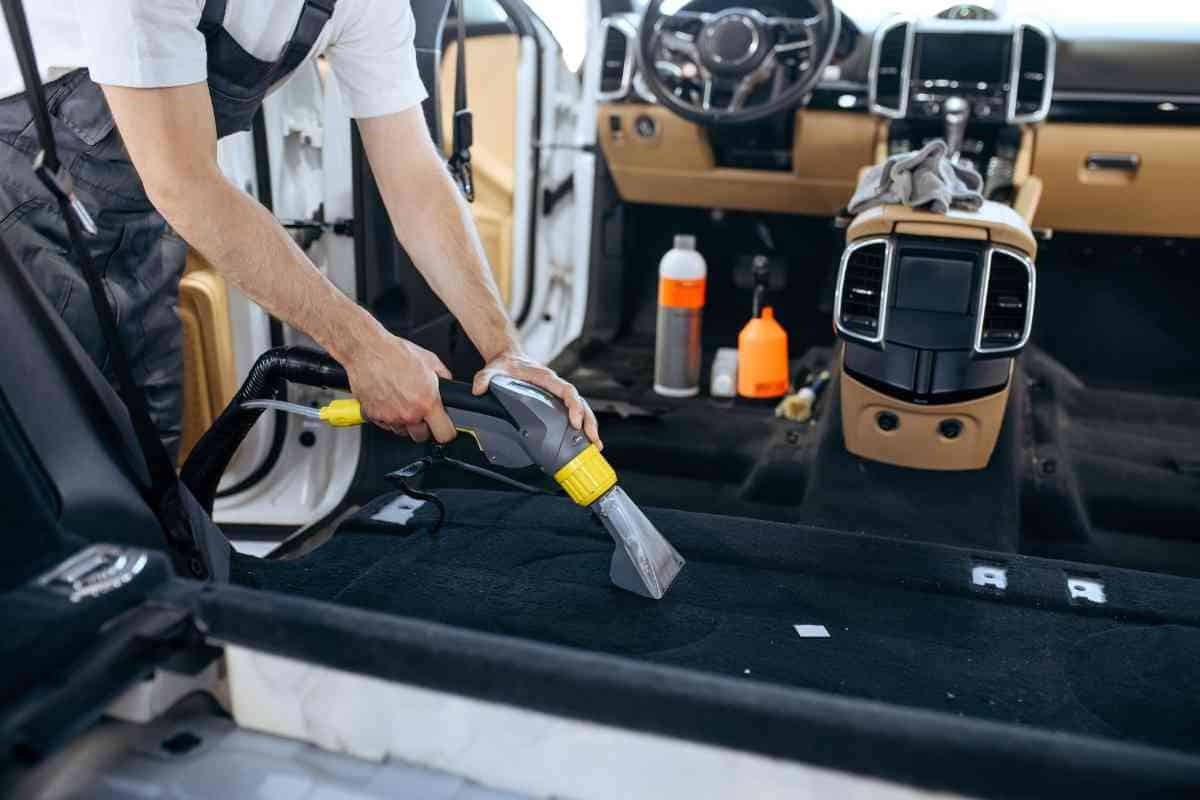 When you are looking at purchasing a new car detailing vacuum, first you need to decide on the vacuum type.
Do you want to splurge and go for the wall-mounted vacuum cleaner because of its incredible power and capacity? Or, do you want to go for a handheld vacuum cleaner that is easy to maneuver and that can be used anywhere as long as the battery is fully charged?
Once you have decided on the type, it is time to take a look at what kind of attachments the vacuum has, its capacity, if it's cordless or not, if it can handle both wet and dry spills, and what kind of noise the machine produces. Let us break down these features in a little more detail to better understand why you would want to review them before making your final purchase.
Vacuum attachments
As anyone who has vacuumed their car before, you know that there are so many little cracks and crevices in your vehicle that can be impossible to clean unless you have the proper attachments. Additionally, when you are trying to clean your seats and even the floor of a car, sometimes a normal vacuum attachment is not enough.
It is best to have a brush attachment to help brush out some of the dirt in the seats and the floor to the surface so the dirt can more easily be sucked up by the vacuum.
When you are shopping for different vacuum cleaners, take a close look at what kind of attachments come with the vacuum cleaner.
Do they have smaller attachments that can be used to get into the cup holders and door handles? Do they have brush attachments to work the dirt out of the seats, floors, and cloth ceiling? Is the hose going to be long enough for you to make sure you are comfortable when you are detailing your car?
It can be argued that the attachments are the most important aspect of a car detailing vacuum cleaner. It is not necessarily about which vacuum comes with the most attachments, but rather which vacuum comes with the attachments that you are going to need and use the most.
Also, if the hose is not going to be long enough for your comfort while using it, then you may want to see if the vacuum cleaner has the capability to accommodate after-market attachments like an extended vacuum hose.
Capacity
Vacuum capacity simply refers to the amount of dirt and debris that it can hold before it needs to be emptied or before the bag needs to be changed. The larger the capacity, the more vehicles you can vacuum before needing to empty the canister.
When it comes to wall-mounted vacuums, you can opt for a much larger capacity if you wish because you do not have to lug the beast around the garage when you are using it.
f you are using a hand-held vacuum, then the larger the capacity, the heavier the machine will be which can make using it much more difficult.
When it comes to canister vacuums, typically they are mounted on wheels so weight is not much of a concern, however, the larger the capacity the larger the vacuum will be which then can create issues when it's time for storing the vacuum when not in use.
The key is to choose a vacuum capacity that best fits your intended use and that is best for the type of vacuum that you end up purchasing in the end.
Cord vs Cordless
When you are vacuuming your vehicle, having to deal with an electrical cord that can get in the way or become a tripping hazard is not ideal.
When it comes to hand-held vacuums, there are many cordless models that you may want to consider. If you are looking at a wall-mounted or canister vacuum, then the higher-powered motors require to be plugged in because they draw a lot of electricity when being used.
Cordless handheld vacuums are quite common. Often, they come with a wall-mounted charging station where you can simply leave your vacuum to be charging whenever not in use. Cordless handheld vacuums can be extremely convenient when it comes to moving around the interior of your vehicle, however, there are some drawbacks to be aware of as well. For example, handheld vacuums that run on battery alone tend to be weaker and battery life can be limited. For the best experience, you will want to make sure your handheld vacuum is fully charged before use.
Wet vac vs Dry vac
If you are looking at purchasing a hand-held car detailing vacuum cleaner, then you may not have the option to purchase a wet/dry vacuum that is capable of cleaning up both wet and dry spills. Typically, it is only the wall-mounted and canister-style vacuums that have the wet option.
If you are thinking that you may need to clean up wet spills in your vehicle just as frequently as dry, then you may want to consider purchasing a wall-mounted or canister vacuum with both wet and dry capabilities. If you are only looking to clean up dry messes like dirt, dried leaves, and other debris, then you can choose from any type of vacuum since all vacuums are dry vacuums first.
Noise
Vacuum noise is not only annoying to you, your family, and your pets, but it can be damaging to your ears if you are not careful. All vacuum types can be quite loud when it comes to noise. If you are concerned about vacuum noise, then you may want to inquire about vacuums that are specially designed for noise reduction.
How much do car detailing vacuum cleaners cost compared to home vacuums?
When it comes to vacuum prices and how they compare between car detailing vacuums and normal household vacuum cleaners, the prices can be quite similar.
Whether you are purchasing a vacuum to be used for your vehicle or one to be used for your home, you will find that there are both inexpensive and expensive models. Inexpensive models may have smaller capacities, less suction power, and may be constructed from cheaper plastics and internal components. More expensive models may have more features like more and better attachments, longer-lasting batteries, lightweight but durable frames, and the ability to clean up both dry and well messes.
Is it worth it to buy an expensive car vacuum?
If you are planning to do the car detailing for all of your family's vehicles, then yes, it may be wise to invest in a more expensive heavy-duty car detailing vacuum that will last you and your family a long time.
A heavy-duty wall-mounted vacuum with a large capacity, several attachments, and an extra long hose may cost more upfront, however, due to its heavy-duty design and durability, it should last a very long time if properly cared for.
Additionally, the added power that a wall-mounted vacuum can supply can make detailing your vehicle much easier and more efficient.
Having a cheaper vacuum where you need to go over the same spots over and over again because it lacks the power to suck the area clean efficiently, can take up your time and make detailing your car a several-hour affair. Plus, since you will be saving so much money by not paying between $100 and $300 every time you want to take your car in for a detailing, you can justify paying the upfront costs for the better vacuum.
It is not just wall-mounted vacuums that are worth spending the extra cash on. Basically, every type of vacuum has cheap models and expensive ones. Typically, you get what you pay for. For example, a cheaper handheld vacuum may come with a weak battery or not be able to pick up dirt because the motor is small. A more expensive handheld vacuum often will come with an ultra-powerful battery, be lightweight and easy to maneuver, and have a low charge time.
What are some of the most reliable car vacuum brands?
Some of the longest-lasting and best customer-related car vacuum brands include Craftsman, Vacmaster, Bissel, Stanley, Armor All, Black and Decker, Opolar, and Orfeld. These brands dominate the vacuum market, and overall, they tend to hold up to their reputation of being durable, reliable, and effective when it comes to cleaning dirt and debris from the interior of vehicles.
Where is the best place to buy a car detailing vacuum?
Depending on the type of car detailing vacuum you are looking for, you can typically find a quality deal online or in a home improvement store like Lowes, Menards, or Home Depot.
Also, be sure to check out your local auto parts stores as well as big box stores like Walmart, Target, or Costco
If you are looking online, then Amazon usually has good bargains. Also, you can search the online store of almost any home improvement or big box store to see what kind of prices they have on some of the best car detailing vacuum cleaners available. Be sure to shop around to ensure you are finding the best deals. Also, consider purchasing an extended warranty that covers replacements and repairs if there is one available.
What is a HEPA filter vacuum?
If you or a family member has allergies, or if you have pets who leave fur and dander in your vehicle, you may want to invest in a car detailing vacuum that comes with a HEPA filter.
A HEPA filter is a high-efficiency particulate air filter that removes a minimum of 99.97% of pollen, mold, dust, bacteria, pet dander, and other airborne contaminants. Although car detailing vacuums that use a HEPA filter often come with less suction power, you will know that when it is working, it is removing and filtering all the nasty airborne particles that can irritate you or your family member's allergies.