539 miles, 9 hours, and 13 minutes behind the wheel of my favorite (and only) 1987 Jeep Grand Wagoneer.
So here's the story…
7 Dads and 11 Daughters went up to the NC Mountains camping for two nights at a remote campsite with no running water or electricity, but we did have an outhouse.
When I say outhouse, I truly mean an outhouse. It was a hole in the ground with a toilet seat. I don't want anyone thinking this was a "glamping" trip. We will save that for when the Mom's are invited.
For our mountain adventure, the girls and I thought it would be fitting to take the 1987 Jeep Grand Wagoneer.
Like Jeep people always say, my kids will never remember getting 35 mpg, but they will always remember riding in Dad's Jeep!
This was our 4th year camping and last year we camped out on Shackleford Banks at the coast for two nights with the wild horses and giant raccoons, but that is a story for another time.
This year we camped up in Pisgah National Forest at the Curtis Creek Campground. The campsite was remote enough that there was no cell coverage. It was a great way to be forced to unplug for two days.
Here's a view of the map:
The only issue we ran into was we couldn't call or text home to let the Mrs. know we arrived safely. Hence the cover photos inclusion of "Don't tell Mom".
Or maybe we said don't tell Mom about one girl sliding down the mountain head first, and the other daughter's extra smores by the campfire. Now that I think about it, maybe I just dreamed those things happened. 😉
The Jeep did great during the entire trip. It was beautiful the whole time except for Saturday night around 9 pm when it poured down rain. We just took it as a sign to get all of the girls to bed at a decent time since they were up late the night before.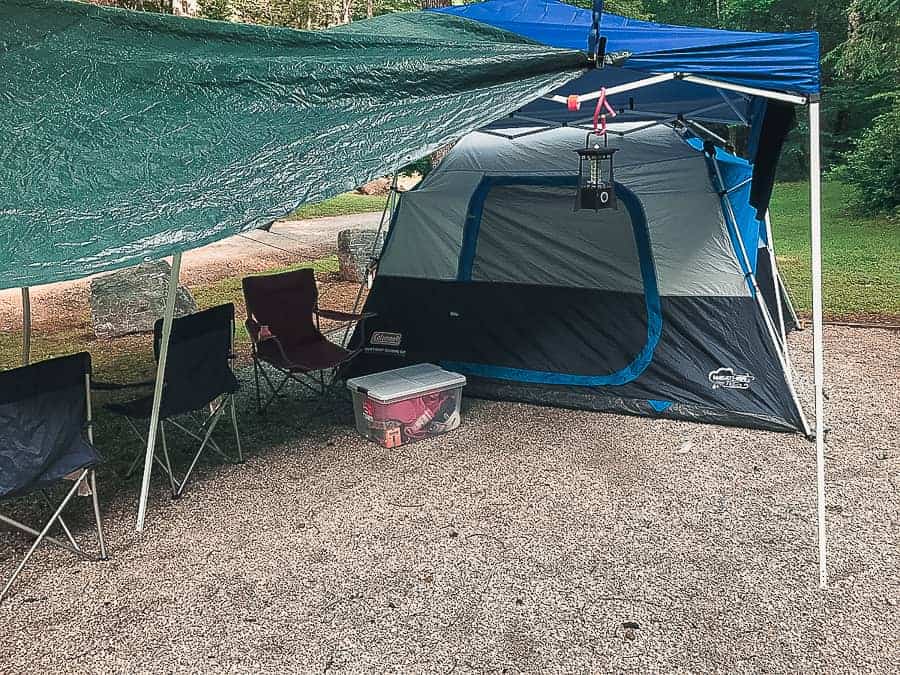 There was one problem though.
I let a bunch of the girls take their dinner up to our tent to sit under our pop-up tailgate tent since it was starting to rain. What I didn't think about was making sure they cleaned up their trash. This is important because where we were camping is a bear sanctuary. Even in the rain, I have a strong suspicion a bear could smell four or five half eaten juicy hamburgers!
Needless to say, I was picking up the trash during the heaviest of the rain and putting it in the giant metal bear-proof trash bins.
Fortunately, we never got visited by bears (not even smokey the bear, but we did see the sheriff — not our fault, I promise. Remember don't tell Mom! 😀 )
The ride up the Mountain
Heading up the mountain the Jeep did great. For those who have driven a Grand Wagoneer, you know it has a three-speed transmission. One of the things I love about these Jeeps is how they are always pulling. They can do 70 or even 80 mph on the highway, but it's always pulling. Let off the gas and it's like someone pulled out a parachute.
I try not to put too many miles on the Jeep since it still has less than 100k miles on the clock. However, this long road trip was a great way to figure out what the gas mileage is on my Grand Wagoneer.
You may recall a prior post here where I got 14 mpg during a prior trip.
This time, I didn't get quite as high gas mileage, but I did achieve a very respectable rating.
I got 12.65 miles per gallon heading up the mountain mostly on the highway with posted speed limits of between 55 to 70 miles per hour.
Driving Through the Mountains
It takes a lot of gas to get these big Jeep Grand Wagoneer's moving. Once they are up to speed the engine can keep the momentum going. However, when you have to slow down at every tight curve and then accelerate into the straightaways as if you were driving a high-end sports car, that's when these Jeeps get thirsty.
Don't laugh…
The Jeep averaged 8.49 miles per gallon driving up, down and around all of the peaks and valleys when we were in the mountains.
While this was by far the lowest rating of the trip, it was also the most fun!
We went from an elevation of 4,460 feet up along the Blue Ridge Parkway at the Curtis Valley Overlook, down to 2,200 feet where our campsite was located in the valley. While the elevation change was impressive, the best part was how we got down into the valley.
We went down a single lane dirt trail 6.4 miles with countless switchbacks, washouts, (small) rocks, washboards and more. While it would rank as easy terrain for most offroad enthusiasts, but for a guy with a restored Jeep Grand Wagoneer, it was just the right amount of ruggedness but without fear of damage to the Jeep.
The trail required two hands on the wheel and it wasn't very scenic so I never took a photo to share, but here is a map view:
Driving Down the Mountain
If you are still reading, you are probably wondering what the gas mileage for the Jeep Grand Wagoneer will be going down the mountain. If it was respectable going up the mountain, really bad, but somewhat expected driving around the mountains, then it must be great rolling down the mountains. Right?
That might seem logical, but…
It's not really the truth.
Remember how I mentioned these Jeeps only have a three-speed transmission and it is always pulling. Well, this holds true going down the mountain too.
Sure, I can coast down some on the steepest downhill slopes, but the aerodynamics of these beauties was never a consideration when they were designed.
Good looking, yes. Aerodynamic, no.
Okay, enough excuses for these 30-year-old machines (see how I added one more for good measure)…
The Grand Wagoneer was able to achieve an average fuel burn of 13.19 miles per gallon.
Are you surprised?
I was.
I really thought the gas mileage would have been better than a 4% improvement.
With this being said, I was a little worried all of the gear, food, and supplies for three people to remote camp for three days and two nights could have pushed the whole trip average into the single digits.
Thankfully, when I calculated all of the fill-ups and miles traveled, the average miles per gallon the Jeep Grand Wagoneer got equaled 11.51 MPG.
Sure, it isn't the most efficient, but that's not the reason I own the Jeep. I own it for the memories. The memories I have as a child in my Grandfather's Jeep and now the memories my kids will have spending time with me in my Jeep.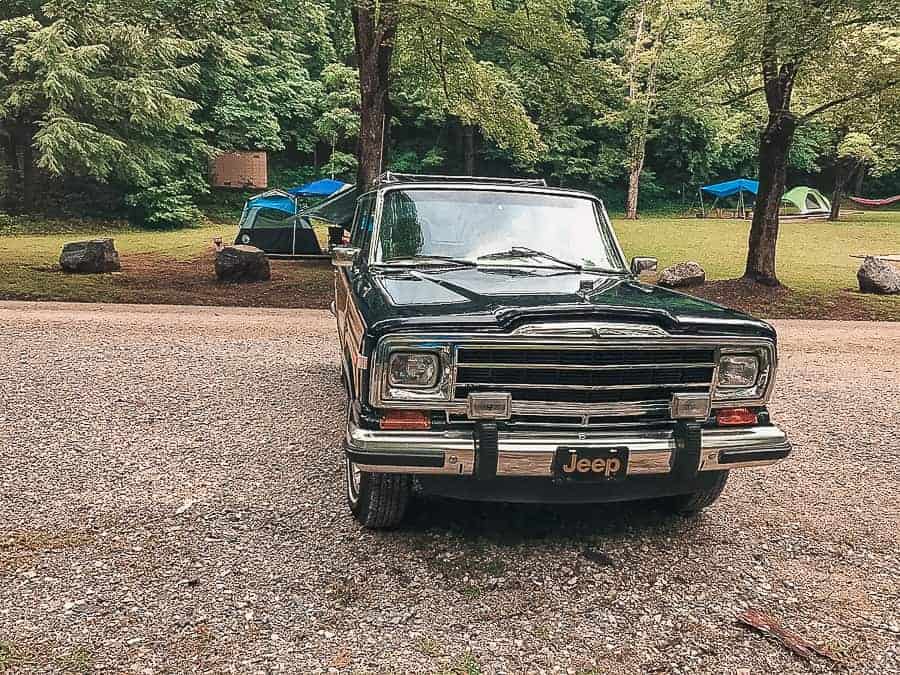 Here are some of the photos I took while we were on our trip.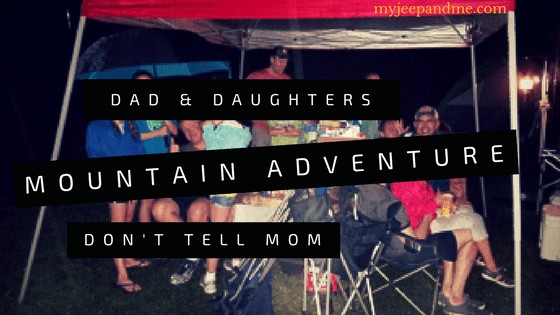 7 Dads, 11 Daughters and 1 Jeep – A Mountain Adventure