Best Exhaust for Dodge Ram 1500
This post may contain affiliate links. As an Amazon affiliate, I earn from qualifying purchases.
Dodge Ram 1500s are high-quality trucks that will do their job remarkably well, and as such, they deserve high-quality care and features.
There are a dozen benefits of having an exhaust system (such as reducing harmful gases and noise that might irritate people around you and perhaps even you.
Let's take a look at what your exhaust system options are for your Dodge Ram 1500.
The best kind of exhaust system for a Dodge Ram 1500 is usually a cat-back or direct-fit which both fit the 1500 better than other systems. Good exhaust systems include the Flowmaster Direct-Fit, TotalFlow 314633, Corsa 14405, and several other products that have been highly rated.
Now that you know what kind of exhaust systems are available, you are doubtless wondering which one you should buy and the factors you should use to determine which one is right for you.
Below, you will find a few recommendations as well as some tips that should help you to choose which exhaust system will suit your truck best.
Hopefully, by the time you are through you will have a better idea of which one you should pick!
Best Exhaust Systems
As mentioned before, several exhaust systems work well with Dodge Ram 1500s.
There are not only several products that you can choose from, but also several different types to choose from.
It's important that you know which of these works best before you invest.
Here are a few tips.
Types of Exhaust Systems
The first thing you should know is the types of systems that are available.
There are five general categories including high performance, single exit pipe, dual rear exit, dual side exhaust, and opposite dual exhaust.
There are also a series of what are called aftermarket exhaust systems that are more focused on making the most of your engine's power.
Aftermarket exhaust systems include cat-back, axle-back, and header-back.
These are the most popularly used exhaust systems for Ram 1500s because of their ability to conserve energy, limit harmful gases emitted by the vehicle, and lessen any irritating noises that the car might make (pick the right pipes, though, because some of them make the noises high pitched!).
The cat-back and direct-fit options are most popularly used for Ram 1500s, not only because they conserve energy, but also because they fit 1500s the best and accentuate their sporty look.
However, you can choose from any of them if you so choose.
You can learn more about each type of exhaust system here.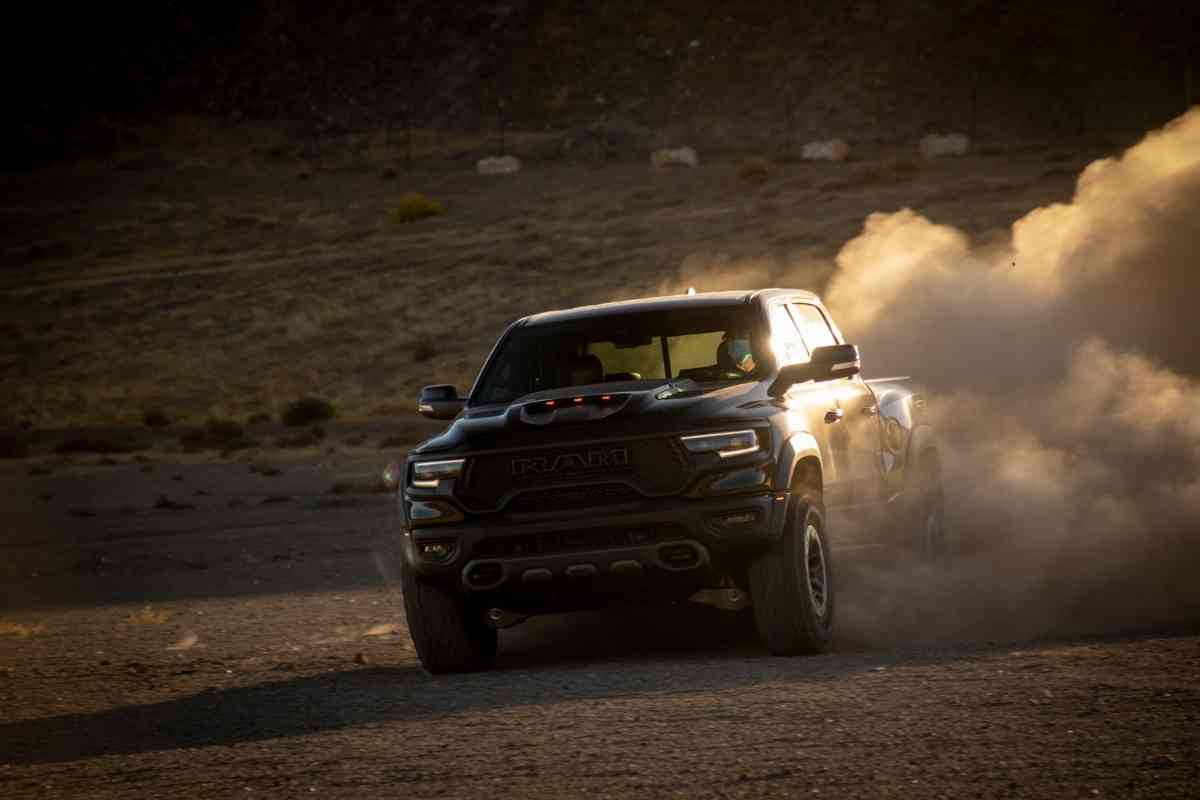 Recommended Products
Again, choosing an exhaust system is largely a matter of personal preference, but there are still some products that the experts would recommend as well.
Here are a few popular options:
| | | |
| --- | --- | --- |
| Borla Stainless Steel Cat-Back | $1,000.00 | 4.6 out of 5 |
| Flowmaster Direct-Fit | $410.77 | 4.7 out of 5 |
| MagnaFlow Performance Exhaust | $935.00 | 3.7 out of 5 |
| TotalFlow 314633 | $278.88 | 4.5 out of 5 |
| Colt Exhaust | $231.00 | 4.2 out of 5 |
| Corsa Cat-Back | $1,392.00 | 5.0 out of 5 |
Each of these has varying prices and as you can see, there is a pretty large selection available.
The one you pick should depend on the look you want as well as which one fits your truck the best.
Each of these is a good option, so your personal preferences are all that's left to deal with!
What Should I Consider When Choosing an Exhaust System?
After what's been talked about, it seems pretty easy to choose an exhaust system, and it is.
However, many factors must be considered when you are deciding on exhaust systems such as the look you want for your truck, the sounds it makes (or prevents), and several other things.
Here are some tips.
Once you have chosen an exhaust system type, you need to decide between single or dual pipe options.
The only real difference between the two is as the name suggests: single systems have one pipe and dual systems have two pipes.
Your choice between the two of these things is mostly a matter of how you want the exhaust pipes to look on your truck.
The next choice you'll have to make is the choice between an H-pipe and an X-pipe. According to drive55.org, these are two types of crossover pipes that help the truck to control and balance exhaust flow.
The decision you make between the two of these will determine the sound your truck makes.
Why is that important? Well, if a truck makes a calm purring sound, it's not likely to sound intimidating or cool, unless that is something you would prefer.
If you choose an X-pipe variety, you will likely be getting a higher-pitched noise coming from your truck.
An X-pipe will tone down the truck's roar and keep it at a low hum.
Choosing an H-pipe will preserve that low growl that is often so beloved by truck owners.
It is considered to be more of an intimidating, intense sound that generally suits trucks better.
Of course, the preferred sound is completely a matter of opinion, but the truckish growl is generally the more popular of the two.
However, despite personal opinion, you will know that you have found a good quality exhaust system when the sound is neither too quiet nor too overpowering both outside and inside the truck.
If it is too loud, that might be uncomfortable.
If it is too quiet, you may miss the lack of the sound of power behind that 1500 engine.
You should also pay close attention to the material of your exhaust system.
Most if not all exhaust systems are manufactured using stainless steel, but the compositions of their construction are different.
Your exhaust system should not show any signs of rust or corrosion (at least not early on).
They were meant to withstand that kind of thing so if you start to notice rust creeping up on your tailpipe, you may want to consider getting it replaced just as soon as possible.
Keep close tabs on your truck and you'll be just fine!