What Is The Best Steering Stabilizer For The Jeep JK? (Wrangler Mods!)
This post may contain affiliate links. As an Amazon affiliate, I earn from qualifying purchases.
The Jeep Wrangler is an icon within the offroading community. Combining legendary looks with exceptional offroading abilities, the Wrangler is one of America's few remaining true 4x4s. Plus, the platform is ideal for modifications, so there are plenty of aftermarket parts. Some can be pretty important for your Wrangler. Though it's an icon, the Jeep Wrangler isn't perfect. One of its weak spots is steering and handling, especially in modified vehicles. We've all heard of the feared Jeep wobble, and it's a real threat, and steering is one of the culprits.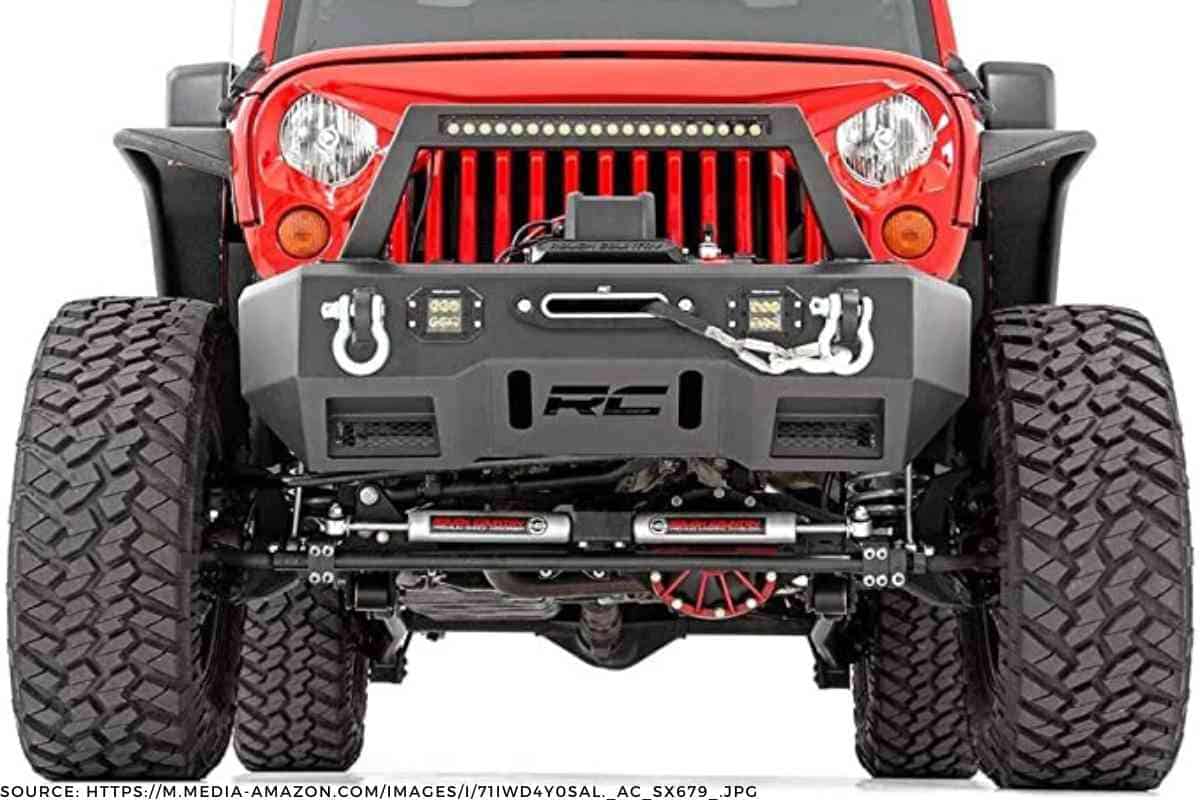 Table of Contents
What's The Best Steering Stabilizer For A Jeep JK?
Some of the best steering stabilizers for the Jeep JK are the Bilstein 5100 Series, the Rough Country N3 Dual, the Daystar Heavy Duty, the Fox 2.0 IFP, and the Teraflex Steering Stabilizer.
You're changing the driving characteristics whenever you modify a Wrangler or any vehicle. Aspects such as ground clearance, angle of attack, and stability are now different, impacting the handling characteristics. Fortunately, there are many ways to fix any issues when modifying your ride.
The most important way to do so is by getting the best components within your budget. The better your modifications are, the better your Wrangler will behave. For example, the stabilizer is one of the essential components of your Jeep.
A steering stabilizer is in charge of dampening the wheels' side-to-side movement. Therefore, it keeps the steering aligned, plus it helps in reducing vibration.
If you're changing your ride height by adding bigger wheels or a lift kit, the steering column angle changes, impacting the front wheels.
So, whenever you're changing the tires, upgrading the steering stabilizer is ideal. There are two kinds, a single-steering stabilizer, and a dual-steering stabilizer. Choosing one depends on the use you'll give your Wrangler.
What's the difference between single-steering and dual-steering stabilizers? It all comes down to the number of dampeners each one has. A single has one dampener, and the dual has two. These two dampeners further smooth the ride and cancel out vibrations.
Choosing a single or a dual steering dampener is easy. Those who will fit 33-inch tires, at the most, and use their rides on more accessible surfaces with limited offroad activity, will find that the single-steering works best. However, dual-steering is ideal for those who will put their Wranglers to the test, fit larger tires (35-inch or more), and tackle snowy and muddy terrain.
Now that we've seen how steering stabilizers work and why they're essential, it's time to choose the right one for you.
Fortunately, the market has grown; now, plenty of options fit all budgets. This article reviews some that we consider the best, but remember that others are out there.
What to look for in a steering stabilizer?
Often, finding the right stabilizer for your Wrangler depends on many factors, such as those we've explained before. So whenever you're looking for one, consider these aspects.
Compatibility
Buying the right steering dampener seems obvious, but with so many options, it's always safe to check for compatibility. This is particularly important with Wranglers. Though different generations can look alike, there are vital differences between them.
Reputation
In the world of Wrangler modifications, brands have built a reputation, some of which are pretty solid. So, feel free to buy a brand just because it has existed for decades. In fact, that's a good sign, albeit it's not the only one.
Build quality
This is vital for your steering stabilizer, especially if you're putting your ride through the works. So, if you can, check them out. Look for solid components; yes, heft is usually a good sign. Also, the dampeners should move with fluid motion. Here are some of the best steering stabilizers for the Jeep Wrangler JK.
The Best Steering Stabilizers For The Jeep JK
Teraflex Steering Stabilizer
Last update on 2023-09-29 / If you click this affiliate link and make a purchase, we earn a commission at no additional cost to you.
The Teraflex Steering Stabilizer is one of the best options, thanks to its advanced building materials and solid construction.
One of its most robust features is its ability to reduce vibrations to close to zero, and that's not all. The Teraflex is also extremely easy to install, allowing novice mechanics to install them quickly.
The Teraflex does have a caveat, and it's a big one. It will not fit stock Wranglers. In fact, this option is ideal for those with modified Wrangler JKs. So, keep that in mind whenever buying one.
Bilstein 5100 Series Steering Stabilizer
No products found.
Bilstein is a brand known for its quality and durability. So, you know that you're getting a good component. The 5100 Series is ideal for the Wrangler JK, and, as opposed to the Teraflex, it does fit stock and modified Wranglers.
However, there's another caveat with this one, which is the opposite of the TeraFlex.
You can only install this stabilizer with 35-inch tires or smaller ones. So, if you're looking for a good stabilizer for your daily driver, this option is ideal.
Rough Country N3 Dual Steering Stabilizer
Last update on 2023-09-29 / If you click this affiliate link and make a purchase, we earn a commission at no additional cost to you.
If you're going to really put your Wrangler to the test, then you need the toughest components out there, and few can compare to Rough Country.
The N3 is one of their best products, and it can fit both 2WD and 4WD JKs from 2007 to 2018. In addition, it's super easy to install and designed for modified Wranglers only.
In fact, it needs a heavily modified vehicle, as the minimum lift kit should be two inches and larger tires.
Daystar Heavy Duty Steering Stabilizer
Last update on 2023-09-29 / If you click this affiliate link and make a purchase, we earn a commission at no additional cost to you.
The Daystar Heavy Duty stabilizer is excellent for those who want a step above the standard. Its construction allows for heavy use but easy installation.
It can easily fit stock JKs, and there's no need for modifications or adjustments to the mounting brackets, so anyone can install them in no time. Plus, it's solid and can take a pounding, making it an ideal choice for anyone looking to get into this world of modified Wranglers.
Fox 2.0 IFP Steering Stabilizer
Last update on 2023-09-29 / If you click this affiliate link and make a purchase, we earn a commission at no additional cost to you.
Fox made its name in motocross and later expanded to other markets, including the world of 4×4 mods. They've developed the 2.0 IFP stabilizer, which is exceptionally durable, easy to install, and can take a beating.
It's ideal for larger tires and modified Wranglers, and don't be fooled by its aluminum body. The Fox 2.0 is one of the most solid dampeners, with a price that's hard to match.
Steering Stabilizer For Jeep JK
The Jeep Wrangler is an icon in the offroading world. So, there are plenty of modifications out there. That being said, every upgrade can change the handling characteristics.
So, the steering stabilizer is one of the most popular upgrades out there.
This component helps keep the wheels aligned, lower vibration, and smooth the overall feel.
If you're planning on lifting your Wrangler a lot, then it's almost a given that you will have to fit a new stabilizer. So, finding the right one is ideal.
This article showed you five great steering stabilizers for the Jeep Wrangler JK. Keep in mind that there are other options out there. In fact, it's one of the most popular upgrades out there, and this can be both good and bad.
When choosing an upgraded steering stabilizer, remember that most of them are designed to fit specific conditions. These can include whether your Wrangler is modified or not, the size of your tires, and the lift kit that you have.
The good thing is that if you know these factors, then choosing one is easy. This article gives you the tools to buy the best one for you.