Chevy Equinox 3 Car Seats: Will The Fit? (Explained!)
This post may contain affiliate links. As an Amazon affiliate, I earn from qualifying purchases.
You have three kids who are your joy and light, but you need an SUV that can accommodate three car seats. Can a new Chevrolet Equinox fit three car seats? With your family growing, you know you will need to find a vehicle that will help you transport everyone in your crew. While there are lots of different SUVs to choose from, not all of them are equipped to handle three car seats on the second row. The last thing you want to do is shell out a lot of money for an SUV that cannot handle your needs or allow you to transport your children safely.
Will 3 car seats fit in a Chevy Equinox?
The Chevy Equinox can fit 3 car seats so long as they are not particularly wide seats. While there are only two lower anchor positions, there is a middle tether on the back of the middle seat. Only a forward-facing booster seat that can be tethered and used with a seat belt should be considered for the middle position.
Improperly secured car seats are still a deadly cause of death for children in car accidents. Even though car safety has evolved over the years, you still want to make sure that every one of your precious babies can ride securely and comfortably in the back seat.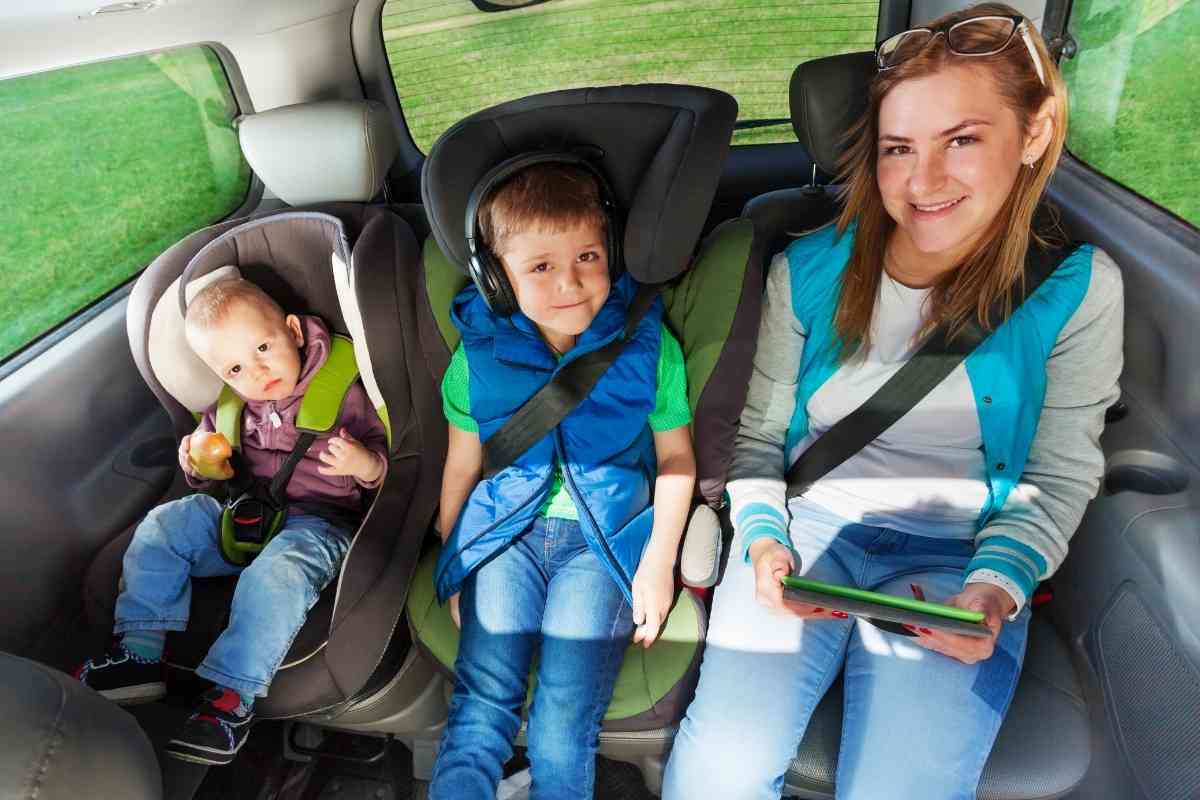 Is there enough room in the Chevy Equinox? What types of seats will fit? What about the middle seat? Is it cramped? Short of hauling all of your car seats to the dealership and doing an installation yourself, how can you be sure if the seats you have will fit?
Well, there are lots of questions, and we will attempt to give you some basic answers in this article.
What Is The LATCH system?
Beginning in September 2002, automakers were mandated to install Lower Anchors and Tether for Children, which is a system of being able to connect car seats to the frame of the car. This system was designed to allow parents to latch the car seat so that the seat would not fly forward in case of an accident.
The ability of the children to maintain an upright position in an accident minimizes the potential for severe injury and saves lives, just as seat belt usage does for adults.
Why Is the LATCH System Important?
Unfortunately, many parents are using the system incorrectly or not at all. A study in 2017 by the IIHS (Insurance Institute for Highway Safety) found that 59% of all car seats in use were not installed correctly.
Des[ite national educational programs designed to teach parents the importance of securing their children into appropriate child restraints, there appears to be a lot of work that still needs to be done.
Just consider some of the data that the NHTSA has compiled in a report about auto accidents in 2020 to understand the need for this kind of safety system.
Every day, three children die from an auto accident (380 are injured)
In 2020, 38,824 were perished in car crashes, and 1,093 were children under 14 years of age.
Childhood deaths from car accidents were up 3% from 2019.
In 2020, 65% of children riding with unrestrained adults were also unrestrained.
What Kind of Latch System Does the Equinox Have
The Chevrolet Equinox is equipped with two lower anchors for each outboard seat. These anchors allow direct connection of the car seat to be hooked to the vehicle frame.
Once properly secured, the car seat does not slide forward when there is a sudden stop. This system can keep the child's position stable during a crash. For an examination of the Equinox and its ability to fit three car seats, see the post on fourwheeltrends.com
There are three back tethers behind the second-row seats and can be used to secure forward-facing car seats for toddlers and older children. These tethers work in conjunction with the seatbelts in the Equinox. However, while the outer seats have lower anchors, only a forward-facing unit should be used in the center seat position with the single tether.
In most states, a car seat should be used with the LATCH system until the child is over seven years old. A regular seatbelt will suffice for any older child. (Every state has regulations concerning car seats and the age at which children must be retrained. For a visual map of these requirements, go to saferide4kids.com.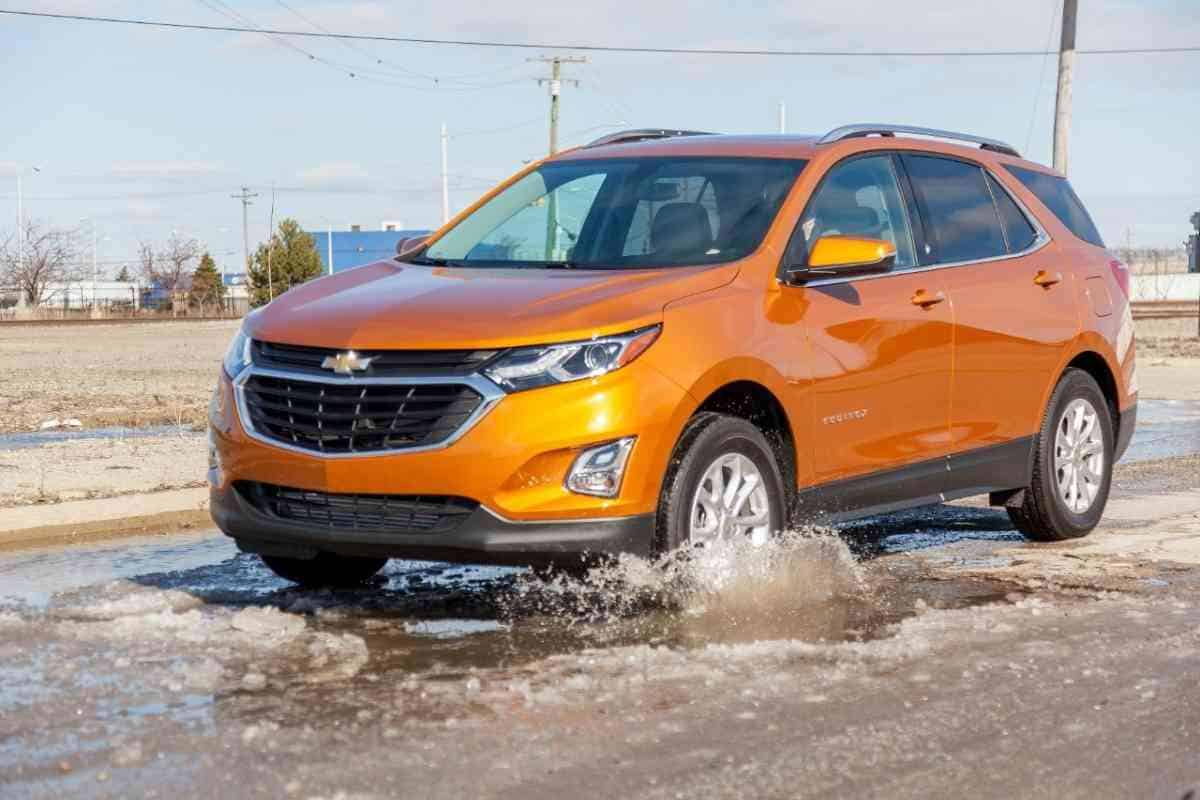 Will Three Car Seats Fit Comfortably?
This is a million-dollar question, and the answer depends on the type of restraint you are using. Since the middle seat must be a forward-facing booster, your options are limited.
For example, if you have triplets under two years of age that require rear-facing units, then the Chevrolet Equinox is not for you. Other SUVs offer more space and are better suited for the purpose. For a list of SUVs that can fit three car seats, see the article on fourwheeltrends.com
The best thing to do is to take your car seats to the dealership and try to fit them in. This idea is time-consuming and a hassle, but it is truly the only way to know if the model of car seat you own and are using will work. Before you head to the dealer, you can measure the distance (if your present car accommodates the three car seats).
Is the Equinox a Safe Vehicle?
The folks at IIHS rated the 2022 Equinox, and the vehicle received an A in its child restraint system. The Equinox also received a lower rating for the updated side impact crash test. (The crash dummy's head hit the B pillar).
Consumer Reports also tested the 2022 Equinox and rated it 74 out of 100. It is one of their recommended small SUVs.
What Kind of Car Seat is Best for My Child?
Generally, you want to match a particular type of car seat to the age of your children. For an excellent discussion of the different kinds of car seats available and an explanation of each, see the NHTSA.gov website.
Rear Facing Car Seat
Your child aged 1- 3 should be in a rear-facing car seat for the best protection. The car seat is anchored to the car's frame and designed for minimal fuss. The child car seat has a cradle that moves with the child and will protect their neck and head in the event of a crash.
Many car seats have bases that can stay in the car and a detachable carrier designed for easy removal.
Forward Facing Car Seat
This car seat is for children 3 – 7 years of age. It is designed to allow the child to face forward and is anchored either by the lower anchors or rear tether (or both). The seat has a harness that straps the child into the car seat.
Booster Seat
This simple seat is usually backless and elevates the child in a standard seat so that a regular seatbelt can be used. Be sure to determine that the seat belt's shoulder strap does not come across the child's neck. If it does, you must move them back to the forward car seat for a while.
After a child reaches 8, most states will allow them to be buckled in by an adult seat belt. Again, you need to be mindful of how the seatbelt's shoulder strap fits around your child's torso.
If they are smaller and the strap crosses their head or neck area rather than across the shoulder, they should stay in the booster until they have grown large enough to sit in a regular seat safely.