What is the Difference Between Ford Expedition and Lincoln Navigator?
When it comes to vehicles that are similar in make and model but are made by different companies, it can be hard to understand how they are different. This is the question when it comes to differentiating the Ford Expedition and the Lincoln Navigator.
The Ford Expedition and Lincoln Navigator are similar vehicles in terms of size and appearance, but the Navigator is known for its luxurious interior, special features, and extra horsepower. They vary in price, with the Lincoln Navigator being approximately $28,000 more expensive.
In this article, we will discuss the many similarities of the Ford Expedition and Lincoln Navigator, including size and storage capacity. We will also address the different features of each vehicle, including engine power. Hopefully, this will help potential buyers make a more informed decision about which vehicle is right for them.
Ford Expedition: The Utilitarian Choice
The Ford Expedition is marketed as a "sport utility vehicle," and utility really is the keyword here. If you had one of these as a kid, you know that there were always comfortable seats, plenty of room to spread out, and maybe a little screen in the center of the car where you could watch your favorite movies.
In total, the Expedition can hold about 105 feet of cargo, which is a couple of feet more than the Navigator holds. The Expedition also has better gas mileage, expending about 17 miles per gallon in the city and 24 miles per gallon on the highway.
If you want a car that is durable enough to trek off-road every once in a while, the Ford Expedition may be a good choice. Their special control track feature limits off-road slippage and the heavy-duty radiator enables you to rev the vehicle up hills or rocky gradients.
It has hill start assist and descent control for off-roading as well. And, speaking of durability, the Ford Expedition can haul a boat or trailer that weighs up to 9,300 pounds without any difficulty.
Lincoln Navigator: A Luxury SUV
While the Ford Expedition and the Lincoln Navigator are very comparable in size, there's no competition as to which vehicle looks more lavish. That award definitely goes to the Lincoln Navigator. You only have to take a glance at their website gallery to see how luxurious the Navigator's interior really is.
With posh leather seats, a seamless user-friendly dashboard, and large windows on the top and sides (called the Panoramic Vista roof), the Navigator makes for an unbeatable driving and riding experience.
Inside, the Navigator can hold approximately 103 feet of cargo. Among its many extra features is the 5 drive modes, including settings like "Excite" and "Conserve," which allow you to drive according to road conditions and, as the manufacturers say, your mood. Talk about luxury!
On some of the models, a sixth mode, (slow climb), is available for drivers who want to use their vehicles to tow heavy trailers as well.
Features of the Expedition
This vehicle starts at $50,595, or $567 a month, with the priciest model clocking in at about $83,000.
The Expedition, while a very utilitarian vehicle, is no stranger to style either, with sky view windows, the option of leather seats and a leather-wrapped, heated steering wheel, and heated front "captains" chairs. Various wood accents in the front also give the car a sort of rugged elegance.
Some features of the Expedition include auto high-beam headlights, which brighten automatically in the dark and turn off at the approach of other vehicles, a 4G LTE hotspot that up to 10 devices can connect to at a time, and an entertainment system on the back of the front headrests.
You can also select PowerFold seats, which come down to incorporate more cargo space at the push of a button. There are also smart-charging USBs and wireless charging features.
Features of the Navigator
This vehicle starts at $78,645, or a monthly payment of $923, and increases to over $101,000 for the Black Label variety. With the Lincoln Navigator starting at a $28,000 price jump from the Ford Expedition, you can expect to see some enhanced features.
Of the two vehicles, the Navigator definitely has more, offering heated leather-trim front and second-row seats, automatic temperature control, forward and reverse sensors, and automated headlights.
It offers the same wifi feature as the Expedition, which accommodates ten devices at once and operates up to fifty feet away. The Lincoln Way app also allows you to unlock and stop/start your car from wherever you are.
This feature also helps you locate your vehicle if you can't find it.
It has PowerFold seats in all its models, and a seamless front dashboard with Apple CarPlay and Android Auto allows you to sync your phone in order to access apps and contacts easily while you drive. This vehicle also includes a 14-speaker audio system.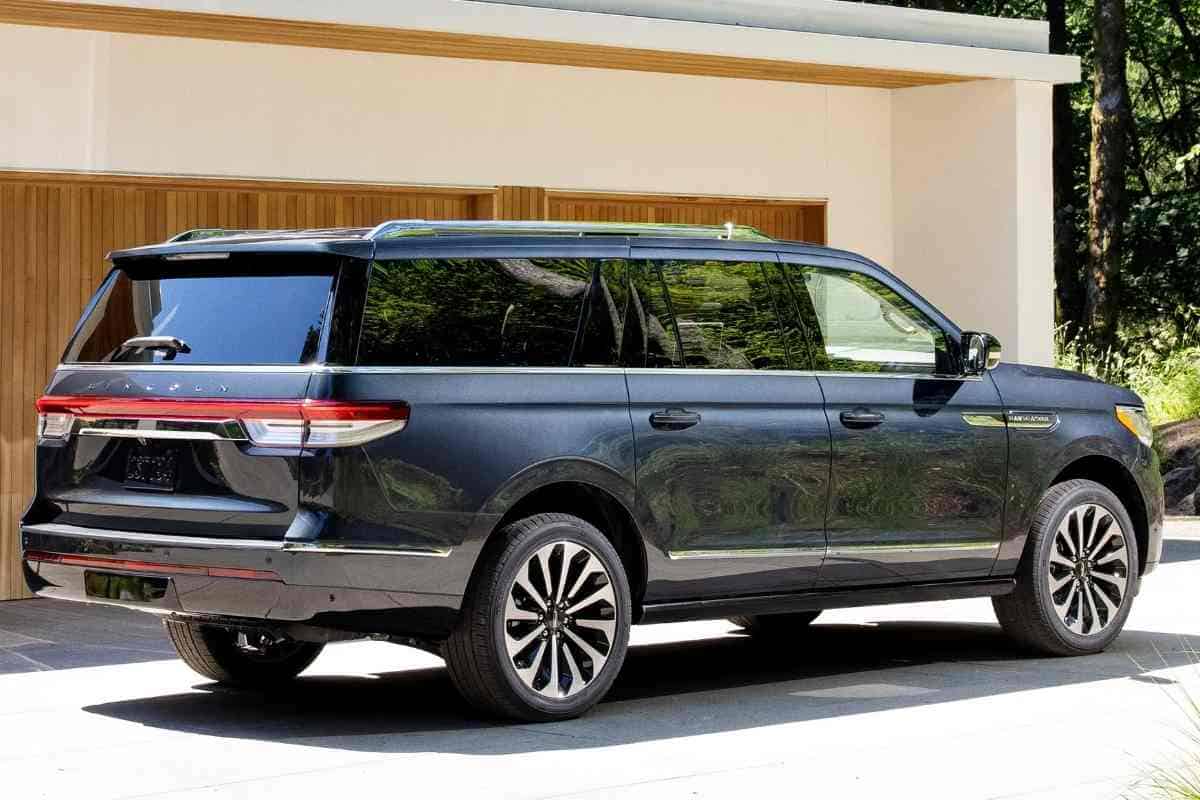 Comparing the Engines
The engines of these vehicles are similar, but there are some crucial differences. The Ford Expedition's engine boasts 400 horsepower and 480 lb/ft of torque.
For some reference, a typical American car has between 180 to 200 horsepower, so that is a massive difference indeed! Horsepower affects a vehicle's rate of acceleration and its overall performance, so this is an important distinction.
The Navigator's engine can produce 450 horsepower and 510 lb/ft of torque- meaning that despite the bulk of the vehicle's exterior, this vehicle can really move. 
Despite its slightly lower horsepower, we are pleased to say that the Expedition enjoys twin-to-air intercooler turbochargers, according to Ford's website, meaning that when going up hills, the Expedition is granted a surge of power, on-demand.
If you're looking for a powerhouse of an off-roading vehicle with great gas mileage and impressive weight pulling capacities, then the Ford Expedition might be the vehicle for you.
This car definitely has a more functional feel, with lots of easy buttons and a dashboard that, while not as pretty, feels foolproof.
If, on the other hand, you favor a vehicle that is sleek and seamless, with the same size as the Expedition but with more engine power and additional features, then the Lincoln Navigator certainly could fit into your life and become the car of your dreams.