Check it out, Car Reviewer Doug DeMuro is talking Jeeps vs Porche 911…
In recent weeks I've gotten hooked on Youtube Videos. I decided to cut the cord on my AT&T UVerse TV service (I still have the AT&T fiber internet–not a recommendation) and use various streaming services. It's not perfect, but it has definitely changed my viewing habits. I used to flip channels and find nothing. Now, I watch mostly YouTube videos when there isn't a game on I want to watch.
Through my time spent on YouTube, I have gotten hooked on watching Doug DeMuro's car reviews. Doug has a quirky almost childlike excitement about the vehicles he reviews. I think its one of the reasons he has over 1 million subscribers on YouTube.
As I was clicking around, I noticed Doug posted a video titled, "Here's Why Everyone Loves the Jeep Cherokee XJ". While maybe not EVERYBODY loves the XJ, the reality is it is a classic in the Jeep world.
A collection of Jeep Cherokee XJ Pictures Courtesy of Fiat Chrysler Corporation:
For those asking why some people may not like the XJ, it's purely a Jeep thing. All Jeep owners think their Jeep is the best. Some owners drive SJs, YJs, TJs, JKs, etc. and every single Jeep owner things their Jeep is the best. Don't believe me? Just ask one of us.
All kidding aside, the Jeep Cherokee (XJ) does have a special place in Jeep's heritage. Doug DeMuro points out that the XJ may have started the mid-sized "crossover" SUV market. (Okay, someone has got to tease their XJ buddies about driving a "crossover' SUV! lol)
I used to ride to school in my neighbors red Cherokee for two years until I got my license and just like Doug said, there wasn't a lot of leg room in the back. Thankfully, I usually got there first and got to ride in the front more often than not.
Sorry, I got sidetracked a little going down memory lane…
Bottomline, Doug discusses the quirks, benefits and other thoughts about the Jeep Cherokee XJ in his video and I thought you may enjoy watching it as well.
Do you agree with Doug DeMuro? Hate something he said? Did he get his overview right or wrong?
Whether you agree or disagree with Doug, let me know in the comments below.
Here's Doug DeMuro's Video:
Hey Doug, if you read this, thanks again for permission to share your video!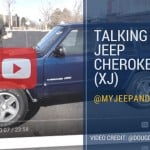 If you want to follow Doug or see any of his other quirky videos, you can find him on twitter @DougDeMuro or on YouTube.
How viewers find this page: Jeep Cherokee XJ, Car Reviewer Doug DeMuro, Jeep Cherokee Pictures