5 Easy Steps To Clean Car Windows WITHOUT Leaving Steaks!
This post may contain affiliate links. As an Amazon affiliate, I earn from qualifying purchases.
When you are trying to clean your car windows, but don't want to leave any streaks, there are several steps you should follow to make your job successful. We've all had that moment, right? You've just finished buffing and polishing your afternoon away, excited that your car is going to look sparkling and new. Just as you are about to put away your last product, you look up and see it…your windows are all streaked and actually look worse now than when you started.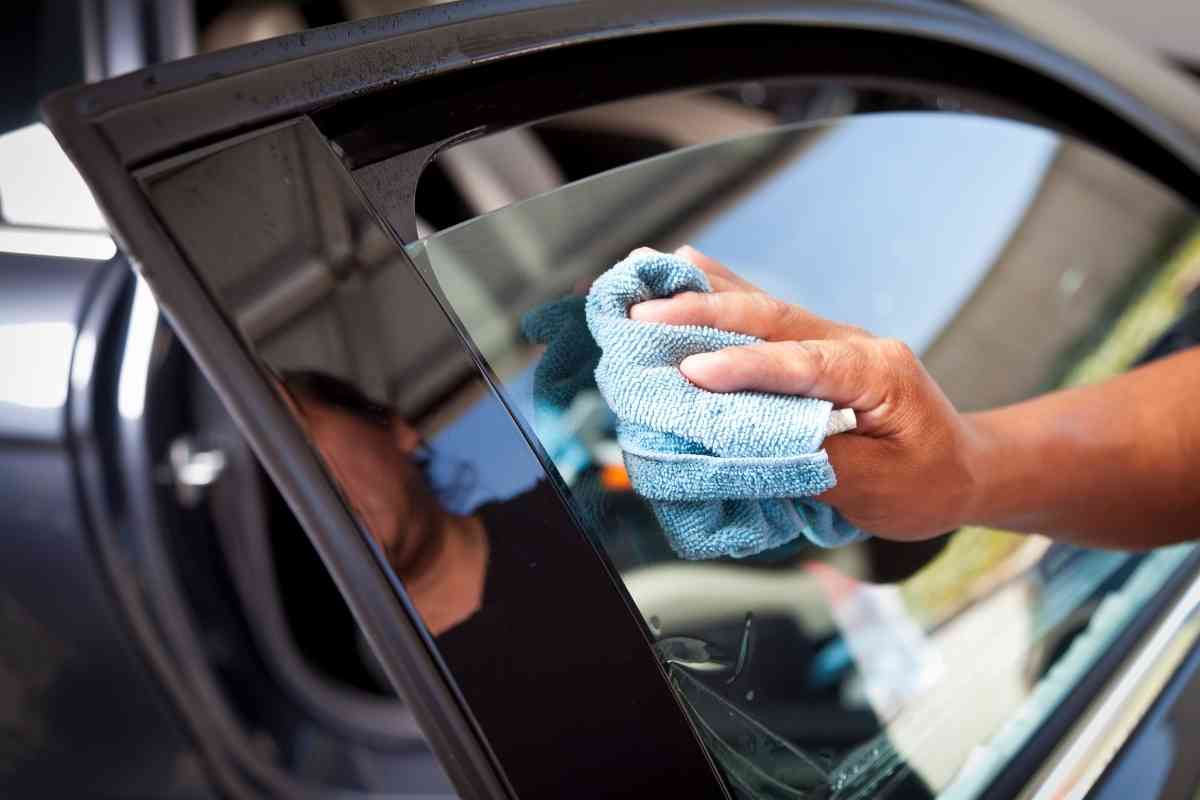 Table of Contents
How do you clean car windows without leaving streaks?
Here are the steps you need to take to clean your car windows without leaving streaks:
gather the right cleaning agents
use the right towels
pick the right place to clean your car
know the right order in which to clean
take your time
Spending the time and money to clean your car can be a rewarding way to spend an afternoon, but not if it results in your car looking less than ideal afterward. No one wants to waste their time or hard-earned cash on something that isn't going to give them the results they want, so making sure to take the right steps to get streak-free windows is important before you set off to clean your car.
I am a bit of a self-diagnosed clean freak, and that follows into areas that are outside my home as well. Getting the best clean I can, for the appropriate amount of time and effort is important to me. Walk through the steps with me to a fantastic, streak-free clean every time you detail your car.
How Do I Clean Car Windows Without Streaks?
Americans love our cars. And we love keeping them clean.
In fact, there are over 60,000 car washing establishments across the United States, and the industry as a whole is worth more than 33 billion dollars.
Yes, that's a lot of car washes.
Not only that, but Americans are accountable for 43% of the world's car washes.
But, more and more of us want to wash our cars at home.
It's increasingly expensive to take your car to a car wash facility. For a decent car wash, with interior and exterior cleaning as well as tires and polish, you can expect to pay somewhere around $35 to $50, depending on where you live.
Instead, let's learn how to tackle car cleaning on our own, and see if we can keep some of that cash in our own pockets!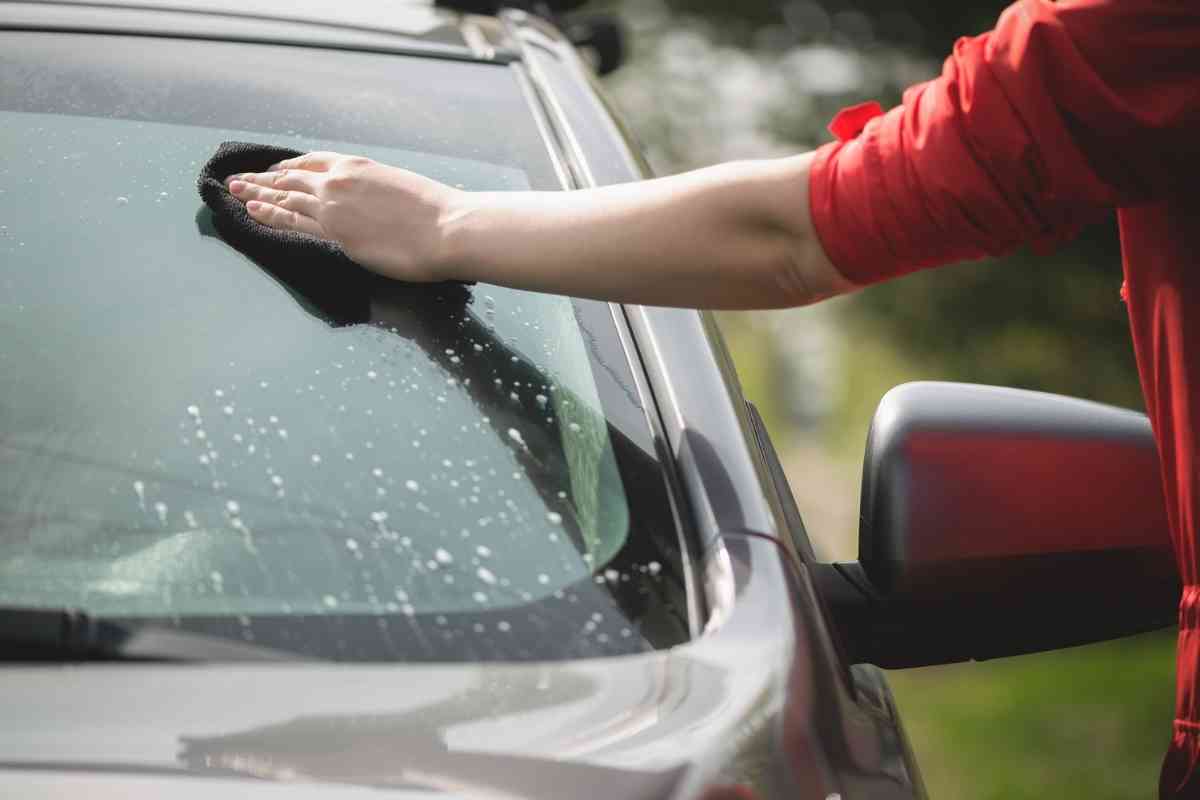 1. Gather the Right Cleaning Agents
Before you can ensure that your car's windows are going to be streak free, you need to make sure you start with the right products.
Yes, there is a lot on the market.
Last update on 2023-09-28 / If you click this affiliate link and make a purchase, we earn a commission at no additional cost to you.
But make sure you spend the time and research them will ensure you don't waste money or time on the wrong ones.
In order to clean your windows effectively, look for a soap cleaning product that has Isopropyl Alcohol in it (also known as rubbing alcohol). You may also look for one that has vinegar, which can also work wonders on your windows.
There are plenty of products on the market, and finding the best one for you, your car, and your budget will be important if you hope for a streak-free finish every time you pull it out to use it.
2. Use the Right Towels
Here's another step that may not seem like a big deal, but is super important to the end result of your car's windows being streak-free and clear as can be.
As important as your glass cleaner product is, so too is the type of towel you use to apply it.
Many people think that paper towels or newspapers are best for cleaning glass of any smudges, streaks, or dirt.
But this is actually not true. Not only can newspaper and paper towels leave residue behind on your car windows, they could also potentially leave small scratches in your car window that will later have to be buffed out.
Instead, invest in a handful of microfiber towels to use when you're trying to get a streak-free shine from your car windows.
Last update on 2023-09-28 / If you click this affiliate link and make a purchase, we earn a commission at no additional cost to you.
Microfiber towels have more absorbency than traditional towels and they won't leave any residue, fibers, or shards of paper behind. They are also very gentle, not at all abrasive, and still get the job done.
Microfiber cloths can be purchased online or at any home goods or auto store. Even better is that they can be washed (in the washing machine or by hand) and used many times over – even for cleaning items other than your car windows! 
3. Pick the Right Place to Clean Your Car
This may seem kind of insignificant, but it's important if you want your windows to be streak-free when you are done with your car detailing job.
When and where you clean your car will make a big difference in how streaky not only your windows look, but other parts of your car as well.
For example, if you decide to clean your car in direct sunlight, the products will evaporate faster, causing them to leave behind residue that is then hard to see. When you go to wipe down the area you just cleaned, it's going to be more difficult to know what you're looking for until it's too late and the sun has already dried it.
Choosing a cloudy day to detail your car, or picking a spot of shade to park it in will help alleviate the problem of streaks because you will be able to see what you're doing more clearly, and the product will tend to stay on your vehicle for longer. Then, you can take your time and make sure that all residue is wiped clean from the window as well as other parts of the car.
4. Know the Right Order in Which to Clean
Here's the big one. Now that you've gotten your appropriate cleaning supplies, clean microfiber towels and a good spot to clean, it's time to get down to business.
Most car detailers will tell you to follow this style to get a streak-free clean on your car windows.
First, focus on your interior windows. Start from the center of the window, and slowly move outwards, making circular motions as you go.
Take a pause every few motions and check your progress. If you see any streaks beginning to form, firmly go back over that area in a different direction than the one you just used to clean it the first time.
Next, move to your exterior windows. These will usually be more difficult because of added dirt and bugs and everything else that your car picks up along its journey.
Use the same motions to clean these, remembering to stop from time to time and see if any streaks are forming.
When you are done with each window, give it a moment to fully dry, then use a clean microfiber towel to run it over the surface one more time.
5. Take Your Time
The last step for streak-free windows is to remember to not rush and allow yourself to take the necessary time to get the true spotless clean you are looking for. This is not a project to be squeezed in between other tasks.
There's nothing wrong with stepping away from the project for a moment and coming back when everything has had a good minute to settle and dry.
After all, you've invested your money and time in cleaning your car and windows…use an extra couple of minutes to make sure you have the streak-free clean you're looking for.