2021 Jeep Grand Wagoneer
What would it take for the future Jeep Grand Wagoneer to be a success?
As the owner of a classic 1987 Jeep Grand Wagoneer, I really want to like the future Jeep Grand Wagoneer. However, I have been critical of the early comments coming from Fiat Chrysler Automobiles (FCA) and Jeep executives due to my fears of a Jeep Commander repeat or a Dodge Durango clone. Here's a link to my earlier article, 2019 Jeep Grand Wagoneer is Going to Fail (and why).
Thankfully, as more information comes out, it appears the odds of a total Grand Wagoneer failure is starting to disappear. With this said, the objective of Jeep is not to avoid failure. The goal for Jeep is to produce a blockbuster vehicle with the future Jeep Grand Wagoneer. They want a Jeep that will completely dominate the luxury SUV segment created by the original Grand Wagoneer back in the 1960's. The question I keep asking myself, can Jeep and FCA actually produce the right vehicle?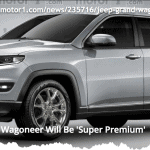 What Should Jeep Include in the Future Jeep Grand Wagoneer?
This is the question I posed to over a thousand owners of the original Jeep Grand Wagoneer. Most responders own the highly collectible 1984 to 1991 models. With forty-two responses, here is a list of the top five most requested features.
Top 5 Most Requested Future Grand New Jeep Wagoneer Features:
So What Do I Personally Want to see in the Future Jeep Grand Wagoneer?
I pose this question because the way I see it, I am the perfect target market for the new Jeep Grand Wagoneer. I check all of the boxes for being a buyer and future owner of the future Grand Wagoneer. The question still to be answered is, will I want to buy it when it comes out?
Here are the things I will look for in 2021:
I want a big luxury SUV that allows me to haul my wife, two kids, their friends, our dog and all of our junk stuff anywhere we want to go on the road or off.
Here are my requested New Jeep Grand Wagoneer features:
Cup holders: Yes, lots of cup holders.
Soundproofing: Quieter than my Lexus GX 460.
Locking Differential: At least one locking differential — just in case.
Air Suspension: I know they can be expensive to maintain, but it really adds to the ride quality and they are already on the new Ram pickup.
Size: Similar in size to my old 2003 Toyota Sequoia, but better brakes and fuel economy. Note the Sequoia had a fully functioning sliding rear tailgate glass. (

I loved that vehicle and my father still drives it today!

)
Tailgate: Sliding glass in the tailgate. It doesn't have to fold down, but the glass needs to slide. This is the item I am least worried about, but anyone who owns an original Wagoneer knows about the sliding glass tailgate window.
Seats: Most importantly, Jeep absolutely must provide the most comfortable seats in any vehicle period. This includes both the front and back seats. The driver's seat needs to sit up tall like a proper SUV, be able to see out over the tiny little economy cars and be wrapped in pure luxury for hours on end. I want to forget I am going to be stuck in the car for three hours driving to the beach. I want to look forward to the experience.
Value: This is my biggest fear about owning the new 2021 Jeep Grand Wagoneer. It needs to hold its value. The Jeep Wrangler, Toyota Land Cruisers, and the Large Lexus SUVs have a great track record for holding their value. If Jeep can build it right and help hold values up, I think they might be able to justify the high price tag figures they are throwing around. At the very least, don't let the values tank like a Land Rover.
When Will We Ever Know More About the Future 2021 Jeep Grand Wagoneer?
The short answer is I don't know. I signed up with FCA to get notices of updates, and I will do my best to provide any updates when available. I know that a few articles just came out quoting Jeep CEO, Jeff Manley as saying it will be positioned well above the Jeep Grand Cherokee and called the new Grand Wagoneer,
Super Premium.
We shall see if and or when it gets announced in 2019.
If you would like to read more about the future Jeep Grand Wagoneer, Car Scoops and Car and Driver have released articles in March 2018, saying the new Jeep will go after the Cadillac Escalade and GMC Denali. This is great news and it aligns with my comments back in 2016 about what the new Jeep should and should not be. I just hope the entire team over at Jeep gets the future Jeep Grand Wagoneer right because I would like to have one sitting in my driveway before my kids grow up and go to college – lol.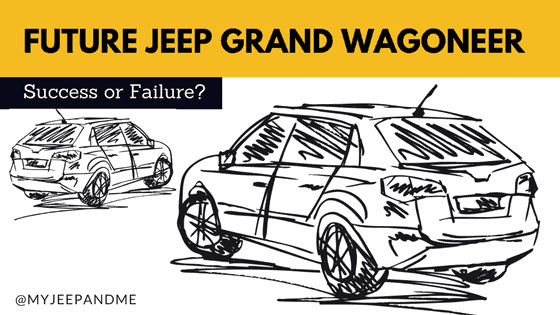 Topic: 2019 Jeep Grand Wagoneer, 2020 Jeep Grand Wagoneer, 2021 Jeep Grand Wagoneer, Jeep Grand Wagoneer 2018