How Much Do Lift Kits Cost? A Complete Guide
This post may contain affiliate links. As an Amazon affiliate, I earn from qualifying purchases.
Introduction
So you're looking to buy a lift kit for your truck, but the consistent question in your mind is: "how much do lift kits cost?"
Factoring in the price of this latest purchase is important, and you should get the best bang out of your buck.
Depending on your car's model and year, there are multiple lift kits out there to explore. However, in this guide, we're going to be tackling a few of the most popular lift kits for the major brands of US-based trucks.
Different Types of Lift Kits
Every lift kit has various features and additions. Your vehicle type and what size tire you'd like to fit onto it are both contributing factors in choosing the right lift kit for you.
Body Lift Kits
These kits have a set of spacers that part the frame from the truck's suspension. The entire body of the car will lift higher. But the suspension will remain the same height, so there's no added ground clearance. Overall, you'll achieve the lifted look but there's no real advantage for off-roading, designed specifically for street or freeway use.
Suspension Lift Kits
These kits are meant to create space between the factory suspension or replace the components entirely. Taller coil springs, torsion keys, or lift blocks are just a few examples. While generally more expensive than body lift kits, these kits are ideal for off-roading or four-wheelers.
Leveling Kits
As implied by the name, these kits level out a truck from the front to end. These eliminate the angle, or rake, that trucks normally have and can improve towing. These are purely for appearance, but can allow larger tires, and are meant for drivers who make trips to work, run errands, or haul loads.
Keep reading to find a possible match for your current vehicle, price range, and needs.
Ford F150
Product description:
Price: ~$65
Dimensions: 8 x 8 x 6 inches
ASIN: B00I50553E
Reasonably priced and designed for your Ford F150, this lift kit will raise the front of your truck by two inches. This kit is made out of aluminum (as many of these kits are) and powder-coated black to match factory suspension.
It does not require strut or coil disassembly, and unlike some lift kits that crack, this product is high quality and one of the strongest on the market. MotoFab provides the hardware and instructions to ensure a quick and easy installation within two hours.
Cons:
Affects steering. Parts wear out after use.
Product description:
Price: ~$2,000
Weight: 232 pounds
ASIN: B07PPW42HB
This lift kit is made out of stainless steel and cast iron which contributes to the price. Regardless, it raises your F150 a whopping six inches. Rough Country prides itself in unmatched performance, protection, and style. This product gives you a lot of ground clearance, and shock absorbers are perfect for on and off-road use.
The front lift knuckles maintain factory drivelines, and their fabricated blocks are stronger, lasting longer than other lift kits. Additionally, anti-axle wrap rear blocks maintain ride quality.
Cons:
Has to be installed by a certified technician to avoid safety hazards
Ford Ranger
Product description:
Price: ~$1,490
Dimensions: 27.25 x 20 x 24 inches
ASIN: B000O3L0Q6
Moving on to Ford Rangers, this lift kit is installed in the rear position. Superlift shocks not only give your Ranger support and lift, but it also looks great once installed.
While not giving as much clearance as the previous model, this Superlift kit raises your truck four inches. This kit could take about 8–10 hours to complete when professionally installed. Instruction and hardware are included if you're confident in your mechanical abilities.
Cons:
Product description:
Price: ~$90
Dimensions: Unknown
ASIN: B07SPDYVXS
This front suspension leveling lift raises your truck three inches and is compatible with 1998-2007 Rangers. The manufacturer recommends measuring vehicle ride height before and after as well as getting an alignment because the compressing springs can be dangerous if installed incorrectly.
This lift kit improves the look of your vehicle while increasing ground clearance. It's designed to fit larger custom rims and tires, in addition to maintaining the ride quality and comfort of your Ranger. Made from aluminum and given a special anodized coating, this product has resistance against oxidation and corrosion.
Cons:
Inexpensive, unstable ride
Chevy Silverado
Product description:
Price: ~$130
Dimensions: 8 x 8 x 6 inches
ASIN: B0156T83UI
This MotoFab lift for your Chevy Silverado is crafted from aluminum and cast iron. It can raise your truck three inches in the front and two inches in the back. Its qualities are similar to the first lift mentioned since the brand is the same, yet this one is compatible with 2007–2018 Silverados.
MotoFab guarantees the safest and highest quality, with materials that outlast others. Their lifts are tested and proven in the harshest conditions.
Cons:
Too much stress on CV axle joints
Product description:
Price: ~$250
Dimensions: 24.75 x 13.5 x 6.75 inches
ASIN: B008R53CTQ
Like the previous Rough Country product, this model includes forged torsion keys, and you're able to install this lift kit at home with a straightforward bolt-on ability. Rough Country places safety first, advising to check the bolts and nuts for tightness after the first 500 miles, then again every 1,000 miles.
This lift kit has a 10-stage variable valving high-pressure nitrogen-charged system, making it function well off-road or highway driving. It's durable and faster-cooling with tensile strength and rubber bushings. This kit gives your truck an aggressive and taller look with a painted exterior.
Cons:
Chevy Colorado
Product description:
Price: ~$430
Dimensions: 39.37 x 39.37 x 19.69 inches
ASIN: B07DD159H9
This lift kit is designed for 2004–2012 Chevy Colorado trucks. It comes with adjustable lift steel torsion keys and two stealth gas shock absorbers. Another perk is that it includes free red shock dust boots alongside the additional hardware. Its lift steel shackles are black powder-coated. Finally, this lift kit is meant for Z71 models, and it requires torsion bar suspension.
Cons:
Front shocks may not fit, are shipped separately
Product description:
Price: ~$560
Dimensions: 28.75 x 21.25 x 7.75 inches
ASIN: B07PGLK4RS
This ReadyLift kit is created from alloy steel and provides a mild lift to your Chevy Colorado (3.5"). Once applied, it gives a great look with a slight angle for towing and hauling. They claim to have an unmatched curb appeal that gives a rugged appearance to your capable mid-size truck.
ReadyLift kits are affordable and innovative, maintaining the factory ride and not altering the handling. Their lift kits are produced to withstand the various tasks these durable trucks endure. Furthermore, steel upper control arms are included. Adjusted ball joint pivot angles ensure your suspension won't be affected by the lift.
Cons:
Rubs heavily on the sway bar, wheel well
Jeep Wranglers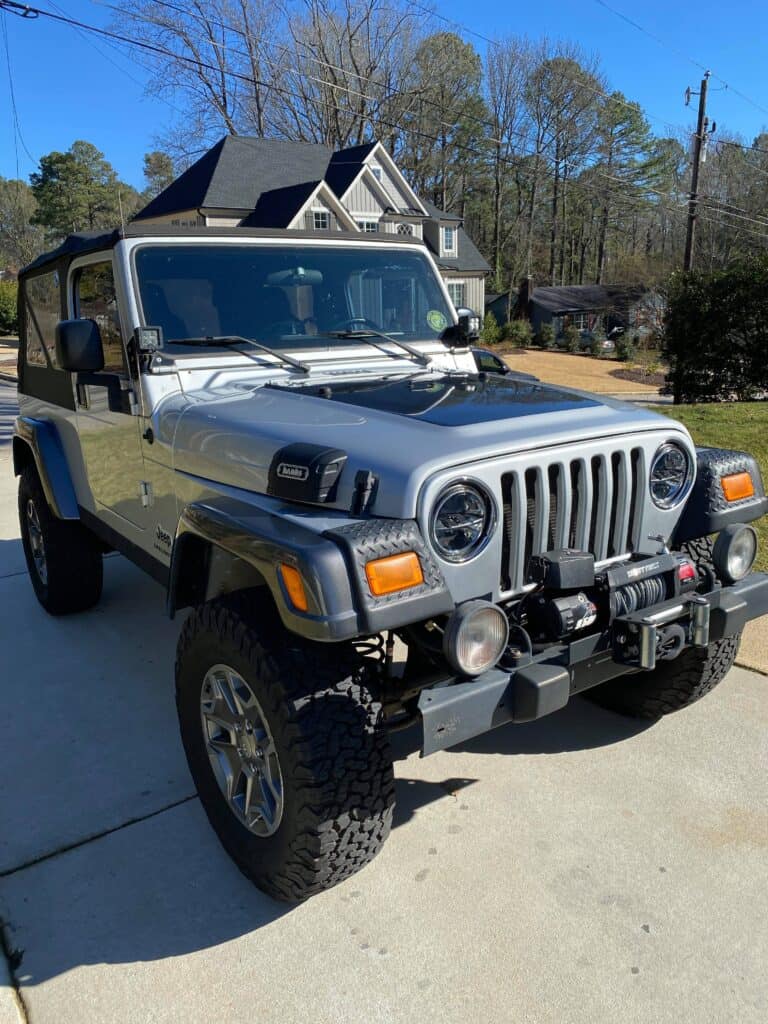 Product description:
Price: ~$200
Dimensions: 28.75 x 6.25 x 7.5 inches
ASIN: B0777YVQWL
Giving a 2.5" lift to the rear of your Jeep Wrangler, this kit has a track bar relocation bracket and extended sway-bar links. You can apply coil spring spacers and shock relocation brackets in the front and back to enunciate this design.
Another perk about this Rough Country model is that it comes with spring retention, meaning the kit will stay in place during extreme activities. These kits are popular and easy to install, giving a new look and capability with great value and unmatched service.
Cons:
Failing parts, confusing instructions
Product description:
Price: ~$968
Dimensions: 24 x 18.25 x 14 inches
ASIN: B006D9W95G
This TeraFlex product is ideal for Jeep Wranglers because it provides 2.5" lift coil springs and shock absorbers. Additionally, this kit has rear sway bar links and a heavy-duty rear track bar axle bracket. It comes with the necessary hardware to install within 4 hours and, once placed on your truck, can run up to a 35" tire.
Once hooked up to your Wrangler, it will give proper driveshaft clearance, and it's vehicle specific so that the drivability and performance don't suffer.
Cons:
Rust. May require exhaust spacers
Jeep Gladiators
Product description:
Price: ~$1,715
Dimensions: 48.25 x 11.5 x 16.25 inches
ASIN: B0825Y9BVF
Another ReadyLift product, this kit will give a lift to your Jeep Gladiator by four inches in the front and three in the rear. Once installed via the bolt-on method, this lift kit can sport up to 37 x 12.5-inch tires. It comes with everything you need to lift your Gladiator and is designed perfectly for both on and off-road.
ReadyLift's kits are manufactured for peak performance and are well developed, being engineered and tested for months. You'll retain the factory dual-rate springs and can lift your Gladiator at a great value with a kit specifically tailored for this vehicle.
Cons:
Product description:
Price: ~$312
Dimensions: 20 x 7 x 6 inches
ASIN: B07VWRT51K
Another possibility for a Jeep Gladiator lift kit is Skyjacker, whose product retains factory-ride quality and is another bolt-on installation ideal for 4-door Gladiators. In this kit, you'll receive 2.5" front metal spacers and one-inch rear metal spacers.
You will also get front shock extensions, front extended sway bar end links, and front bump stop extensions in this kit. Another advantage of Skyjacker is its grade 8 mounting hardware.
Cons:
Unclear instructions, mounting issues
Toyota Tacoma
Product description:
Price: ~$105
Dimensions: Unknown, unlisted
ASIN: B07NDNW61V
Able to fit on 1995-2004 Tacomas, this Torch lift kit has front strut spacers, rear tapered lift blocks, extended U-bolts, and hardware. Instructions come with this bolt-on kit, so any do-it-yourself mechanic can install this at home in 2–4 hours.
You will get a three-inch lift which enhances the Tacoma's look. The rear also can lift two inches. Torch uses fabricated steel blocks which maintain the driveline while making your car able to withstand maximum load capacities.
Cons:
Be wary of your car possibly not lifting the entire three inches after installation
Product description:
Price: ~$406
Dimensions: Unknown
ASIN: B07DD18PJJ
Compatible with 2005–2020 Tacomas, as stated in the title, this kit will provide a 3-inch raise in the front and a 3-inch raise in the rear for an even lift. Fabricated steel powder-coated strut spacers and angled blocks ensure a lasting and smooth ride.
This kit also has multiple other elements, such as skid plate spaces, zinc-coated U-bolts, and nitro gas shock absorbers. You have the option to choose other available block sizes.
Cons:
2018 Tacoma may experience error codes with lift kits
Toyota Tundra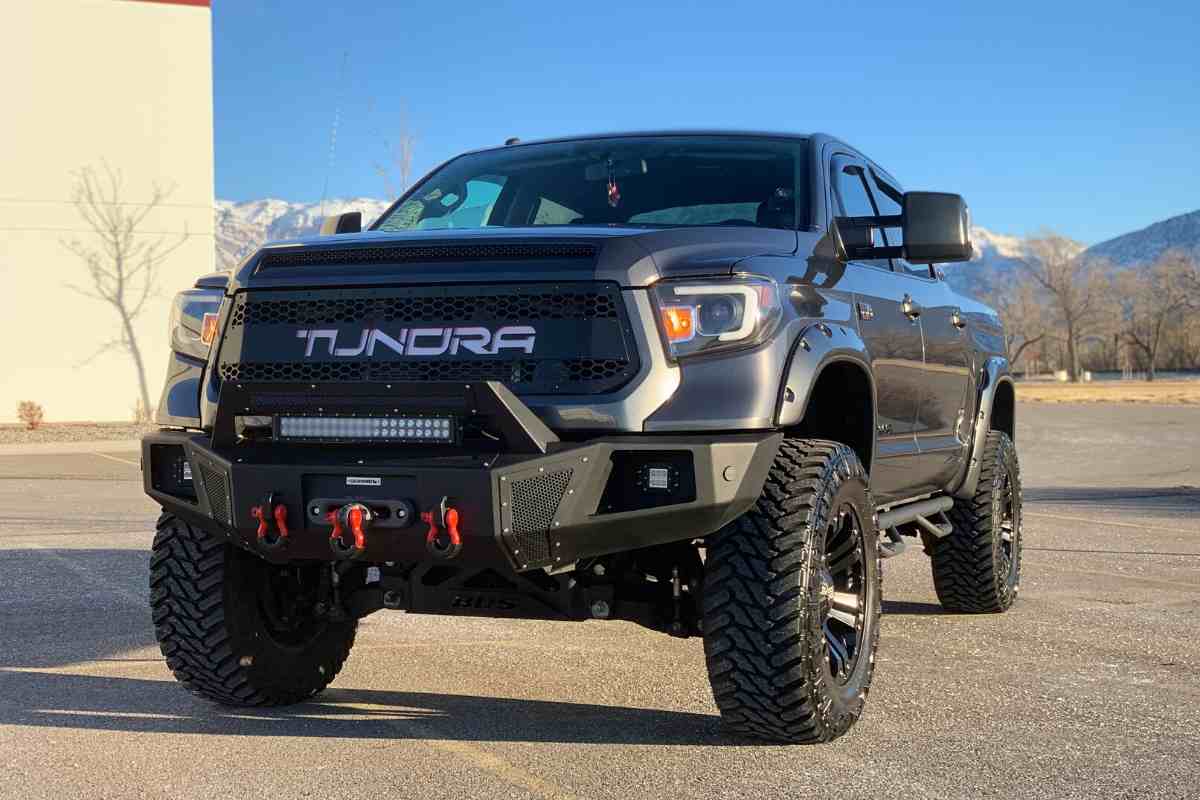 Product description:
Price: ~$175
Weight: 19 pounds
ASIN: B07MZ8YPRJ
Fitting 1999–2006 Tundras, this kit has TRD suspensions, T6 billet aluminum strut spacers, and high-strength steel tapered lift blocks. Lifting your Tundra a total of six inches (three in the front, and three in the rear), it takes 2–4 hours for installation with the included hardware and no need for special tools.
Square bend U-bolts and a brake proportioning valve relocation bracket increase the quality and ride comfort. Supreme Suspensions uses the latest in metal fabrication technology and applies a special coating during production to prevent damage from different elements.
Cons:
May need an additional socket installed
Product description:
Price: ~$50
Dimensions: 5.4 x 5.4 x 4 inches
ASIN: B06ZYMZ19K
Another kit that fits 1999-2006 Tundras, this KSP model raises your truck two inches. Using aircraft-grade aluminum and 10.9 grade solid bolts that prevent corrosion, this kit is easy to install and gives a formidable appearance with the benefit of extra ground clearance. It's compatible with various models and is constantly updated to ensure safe driving.
Cons:
Different production batches cause inconsistencies, like misalignment
Dodge Ram 2500
Product description:
Price: ~$271
Dimensions: 16 x 12 x 4 inches
ASIN: B01B4JXS0Y
Moving onto Dodge trucks, this kit gives three inches of lift without changing the existing suspension components. In other words, the stability will not be affected, and your driving will remain smooth after the 7–8 hour installation.
Once applied, the driver can use larger tires with improved clearance, and this kit ensures that the truck's center of gravity will remain lower than other comparing kits. It also has fiberglass reinforced nylon lift blocks that combat high pressure and gives more strength to your Ram 2500.
Cons:
Dodge Ram 1500
Product description:
Price: ~$575
Dimensions: 9.99 x 9.99 x 9.99 inches
ASIN: B01MYBAWM3
Made from aluminum, this last ReadyLift kit gives a rear lift of four inches, allowing a maximum of 35 x 12.5-inch tires. Fitting 2009-2017 Dodge Ram 1500 4WD trucks, this kit comes with tubular upper control arms, and drivers can achieve that coveted "Ram Tough" look.
This company makes kits that are the fastest and safest to install with inexpensive ways to lift your vehicle.
Cons:
Nissan Frontier
Product description:
Price: ~$1,000
Weight: 140.2 pounds
ASIN: B079Y6DYGD
Rough Country is a top lift kit choice for several cars, and it's understandable, based on its performance and protection. This Nissan Frontier lift kit has a high clearance cross member in addition to fabricated blocks that last longer compared to cast blocks.
This lift kit comes with a durable skid plate that protects against obstacles when off-roading. Finally, this kit comes with nitrogen-charged shocks and complies with the factory track width while not needing to drill or cut when installing.
Cons:
Unsatisfactory customer service
Final Thoughts
So, how much do lift kits cost? It varies. Some are more inexpensive, in the $50–$100 range, while others are mid-range ($270–$575), and the rest can be as costly as $1,500 to $2,000.
You additionally have to factor in what truck, model, and year you drive, but even if this general list didn't provide you with the exact lift kit you're looking for, feel free to conduct your research to find the perfect match for your vehicle.
After taking a look at this guide, you hopefully have a better understanding of what the price range is for different lift kits. The majority of the time, the cost reflects what specific features you're getting.